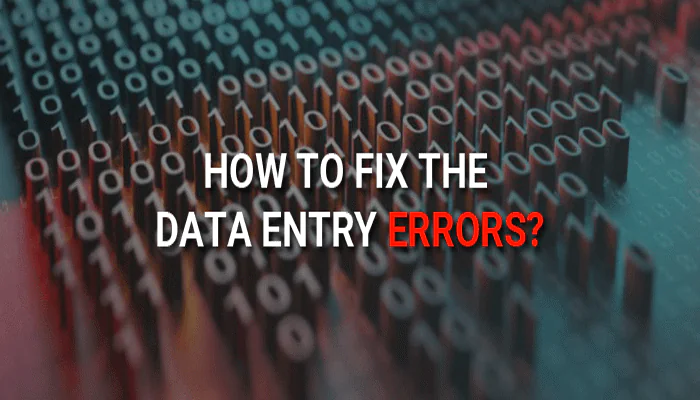 How to Avoid Manual Data Entry Errors?
Being a part of this modern digital age, it has become extremely essential to maintain data integrity while searching for new business content. To keep data relevant, error-free, and ready-to-use demands an eye for detail to make better business decisions daily. However, handling such an enormous amount of data is not as easy as it sounds. In traditional data entry mechanisms, the process is carried out under pressure to meet deadlines. This results in increased chances of inaccurate data entries. Even with data automation, keeping data 100% accurate is still a challenge for many businesses out there. It costs money to reduce data entry mistakes but it cost two times more the budget and time to fix inaccurate data entries and add revised data in its place.
Business enterprises and large co-operations deal in overloaded information at a fast pace every day. During data processing of such a huge amount of data, the risk of data loss and errors is maximized many folds. After looking into multiple small and large businesses strategies, the blog presents a clear picture of proven plans and maps to eliminate the chance of errors within manual data entry business patterns.
10 Strategies to Prevent Manual Data Entry Errors
Like any other business there exist both pros and cons of the traditional data entry process as well. The important part is that how to minimize or even prevent data entry errors from ruining your days-long data entry effort? The answer to this is quite extensive and includes few tips to overcome data entry complexities to ensure 100% data accuracy. These tricks include –
Hire Sufficient Staff
It doesn't matter how much your in-house data entry team is capable and efficient in handling data, there is always room for mistakes by the law of humanitarian flaws. We tend to make errors under pressure by lagging behind schedule. When employees overwork, or are tired, overwhelmed, and stressed they are vulnerable to become resentful towards their work. Hence, it is important to take notice of these facts and hire sufficient staff to easily distribute the workload.
Provide a Comfortable Working Environment
A comfortable work environment can't be taken for granted at any cost. Employees tend to perform much better in a friendly and supportive environment that promotes learning more than just getting the job done. Mundane or repetitive tasks often are not understood properly and can lead to blunders.
For example, typing fatigue or eye pain can hinder the understanding ability of a person than usual capacity which can result in inaccurate data entries by fault. Therefore, it is best to take responsible measures to provide ergonomic support in employee workstations and ensure sufficient breaks for mind relaxation.
Ensure that the Work is Double Checked
Generally, it is advised to have a standard operating procedure for double-checking data entries right after the manual data entry work. This helps to remove unwanted data entry errors in time. Most supervisors and managers think of data re-entry as a painstaking task on its own. Double-checking of data spreadsheets or files can reduce the possibility of manual data entry errors and at the same time save you tons of solid cash from spending on extra data re-entry procedures.
Timely Update the Automated Systems
If you are part of an organization that utilizes data automation for harvesting large volumes of data, it is important to note that every system makes mistakes! This is due to negligence in updating the software at regular intervals. Nonetheless, it is deemed essential for data specialists to ensure all data automated systems are updated and safeguarded against viruses.
Identify Source of Data Inaccuracies
The best tip to unplug the data entry gap is by identification of both external and internal data inaccuracy sources. Right from estimating incorrect data values to analyzing data values across multiple databases and time-bound updating of software systems helps in fixing data entries quickly.
Set Realistic Accuracy Goals
Another prescribed tip is to set realistic business data goals which can be achieved without making errors on a day-to-day basis. In this way, the business management team can actively formulate new and improved data entry solutions for the entire data entry team. The team can evaluate its performance based on data capture, accurate coding, and data entry output.
Leverage Appropriate Software Tools
Intelligent Character Recognition (ICR) and Optical Character Recognition (OCR) are useful software tools to lessen the data entry workload of data entry operators. Such software tools are adept in extracting intended data from numerous datasets available online. Lesser typing is directly proportional to fewer data entry errors.
Consider Automated Error Reports
Automated errors reports are useful features of advanced software, which accurately analyze data entry accuracy. Leveraging such tools wisely gives your business an ultimate edge over your competitors concerning precise data, time, and money. It further proves worthy when you are dealing with similar data projects. Just like, for instance, the social security number of a person carries 9 digits. If the data entry operator enters fewer figures then in this case the software instantly automatically alerts and updates the staff by locating the data entry error.
Maintain Robust Standards for Data Entry Accuracy
Adopting robust techniques and tools can enhance your data entry standards and ensure that your business data conforms to all preset standards such as geocoding, data profiling, matching, linking, data monitoring, etc to increase data quality at every instance of the data entry process.
Choose the Right Outsourcing Partner
If you are still pondering over "how to prevent manual data entry errors?", the best tip is to outsource the maximum of data entry projects and save yourself from the repetitive task. Outsourcing a professional data entry service provider saves you from a bandwidth of data entry problems which will make you feel glad that you don't have them!
Conclusion
The blog focuses on providing you with tested strategies to avoid making manual data entry errors and mistakes. Several tricks are mentioned above that good suit data entry challenges faced by businesses of all sizes and domains. You can employ any of the tips and experience a visible change in your manual data entry results right away. All these data entry tips and tools enable you to stay error-free while dealing with big data sets.
How ITS Can Help You With Data Entry Service?
Information Transformation Service (ITS) provides convenient Data Entry Solutions regardless of any additional investment of staff, resources, or infrastructure. By outsourcing your Data Entry Projects to us your company will be blessed with high-quality and diverse data entry-related options. Such quality service enables your data to be entered in various desirable formats with repetitive, inaccurate, incomplete, grammatically nonsensical words replaced to form better semantic clarity and understanding. Irrespective of the size and complexity ITS Team defines customized packages to directly answer specifically your business big data projects. If you are interested in getting ITS Data Entry Services you can ask for a free quote!