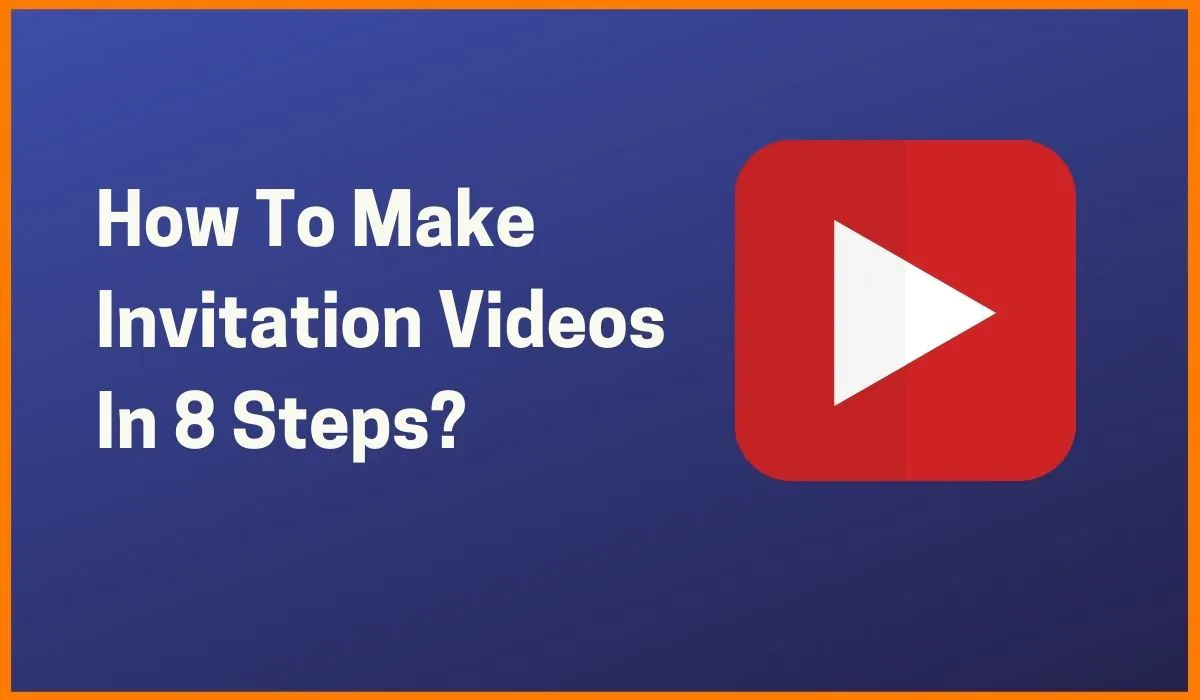 8 Steps to Adequately Create a Compelling Video Invitation
Videos are strong and more interactive than pictures. They are more impressive than a popular form of art on paper. Videos are attractive and appealing. With the help of ongoing technology and graphics, the world is slowly turning its focus toward visuals. Creating effective and colorful videos is attention-seeking.
Sending a visual invitation to your audience might turn more delightful and engaging. It communicates your needs and desires to your audience. It can initiate a strong message of your company in a playful manner reaching the required audience. If you are creative in your head and can hire videographers to bloom out an effective video invitation, generate it. Create your videos online with popular editing apps. It might do wonders for your brand and its ideals.
Why Should You Send Video Invitations?
It Is Tempting
Video invitations fetch guests' attention to their posts. It is a combined effect of style, themes, and narrative.
Viral Effects
Your videos are engaging due to the effects of visual imagery. Creating personalized invitations through videos and adding suitable effects of images can take your videos to a whole different level. Alluring and captivating videos are a positive impact on your business.
Sound Implementation
Your videos are executed functionally with supreme audio. Suitable sound changes your narrative. The invitation strikes a beneficial chord and balances your video adequately. All other elements of your message must be exclusively incorporated and included in the video content in order to entice and impact viewers.
Instant Communication
Video invitations transfer faster and smoother within a regular interval of time. It helps in giving a brief and detailed message without exaggerating and reduces boredom.
Online Reply
Videos give you a smarter reply to your invitations within a fraction of a second. It helps you to create a budget and an estimate of the number of audiences interested in your event.
Ecological
Videos are an enticing and beguiling method of communication. It saves paper and attracts mass audiences. Wedding cards are going out of trend, and graphic invitations are turning to be the talked about topic of the town. It is biodegradable and environment-friendly.
The Cheapest Way of Invitation
Video invitations spread rapidly on different social media platforms. It is more enthralling than paper invitations and helps in increasing audiences for your events in the making.
Increases Creditability
Video invitation acts as a symbol of recognition and gives a reputation to the audience watching them. Invitation maker makes your job easier and helps you implement it effectively. It acts as a source of acknowledgement and recognition.
Video can be used to spread the word to target communities without blending objects or performing insane stunts. Your product's visibility and influence can be increased if your videos are compelling and shared on social media.
How to Create a Video Invitation
Video invitations are an informative and enticing memorandum. A lukewarm set of graphics, images, templates, and prolific individuality can help you create interesting video content and attract captivating audiences. This can be done easily using various tools available online like an good online video editor. This tool has all the features at one place to create a compelling video invitation. Choose your themes in accordance with your content and your video is ready to capture wild hearts.
Choose the Template
The spark of creativity can come to you anytime. You just need to rely on them. The style and design are the two effective factors in choosing the template. Your online tool surface will provide varied templates for smooth editing and designing. You don't have to worry about coming up with all the ideas yourself since it's premade.
A variety of templates are available, and you can choose one that feels right for you. Then you begin editing it until it is exactly what you want. A template with the right combination of color, style, and design will give an adequate theme for the video. A template makes your job easier and gives you an easy production of the video.
Create a Compelling Story
The story is an important aspect of the video. The narrative and the sequence of events make your story captivating. You need to fill in your video the message effectively for a clearer portrayal and add the proper venue and time of the event.
Finish your story in sequential order and use prominent captions. For your baby's birthday invitation, adorable pictures of your baby and his special moments will add color to your event.
Attach Images
Images can give a better effect to your video. A stunning set of images boost your video invitation. Organically add images to your invitation with captions for better video construction. Images give you a captivating and charming texture to your invitation.
For example: When it comes to wedding invitations, images of cheerful couples and pre-photoshoots can give you a better taste of the invitation. Customizing your images with added color and tone will contrive your invitation.
Personalize With the Images
Personalized images will help you customize the video invitation effectively. Custom-made invitations might liven up and energize the audience.
Key messages including "on this special occasion" and "we are waiting for your response," might highlight the importance of the audience. Personalizing images with your delightful video can make the message sound more effective and eye-attractive.
Add Music and Audio
The next step to your video invitation is adding music. Audios and music touch the audience more briskly than any other mode of communication. So many audiences are captivated by the music and relate to it deeply.
Choosing the right audio for your video invitation is required and is a necessity. If your audio doesn't go in accordance with the video invitation, it will fail to captivate the audience and connect with them.
Add Special Effects
Online editing apps and animated features will customize your videos. If you have the right editing skills and filter special effects on your video bucket, it's not necessary to hire professional videographers to make an invitation.
If you are creative in your head and can create content out of the box, video invitation can be cheaper.
Add Details
Annexing relevant details and adequate information will construct your videos functionally. You have already worked on the necessary spheres of video invitation.
Adding the required details will take you closer to finishing your video invitation. The time, venue, and date should be highlighted in bold for easy comprehension.
Add a Finishing Touch
Proofread and edit your video before sending the invitation through different platforms. Do not forget to check on the necessary fonts and templates. Your video is your creativity.
The method with which you present it lies in your hand. Watch it completely and give a thorough examination before submitting it.
The Final Word
Video invitations are growing in its popularity. Let's leave the redundant methods of invitations and move to fast-paced technology for a better visual invitation. You need not necessarily hire a videographer for your videos. You need clarity and a rapid flow of ideas to work on it.
Moreover, you can create online invitations without much investment. Enrich the taste of video making and bustle yourself with a target to charm the audience.