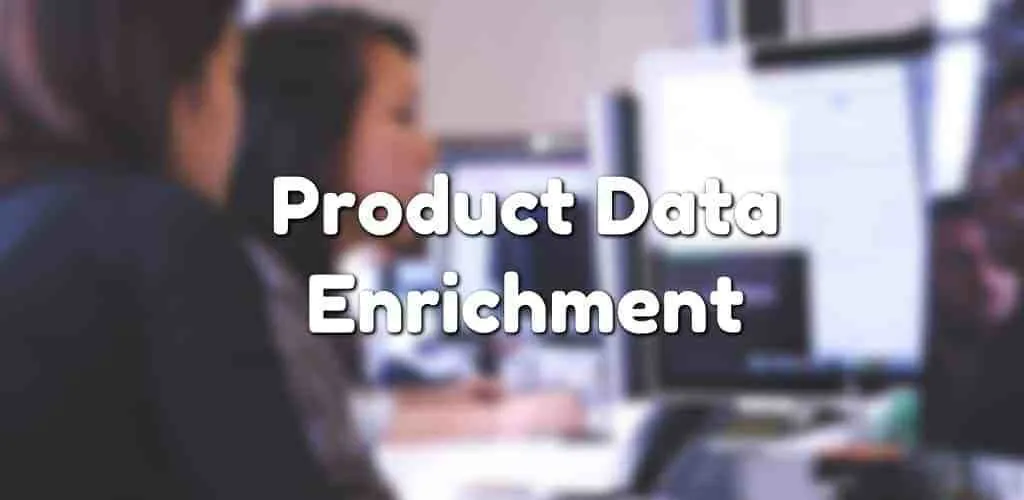 What is Product Data Enrichment?
A product is the heart of an e-commerce company to enlarge their business. In this case, depending upon old school product description or data is not going to get you anywhere. For starters, it is best to consult online resources to get to know a little bit about enhancing the qualities of your product. Furthermore, quality data can be obtained via searching for loads and loads of websites or social media. Research as tough as it sounds is not pleasing to anybody especially when you have other business affairs to handle. Been there and done that let me tell you the secret to get all your product data enrichment needs availed with less effort. At first, let us begin with a more basic introduction to Product Data Enrichment.
What is Product Data Enrichment?
Product Data Enrichment is nothing like the usual product enrichment; it includes certain enhanced features of product valuable information which entitles to the customer's interests such as Variety of color, Size chart, measurements, quantity, related products of interest and accessories going with that product.
It is the type of data that proposes to customer needs and fills in the gap between the customer and the company. The right way is to plan how customers relate to your products by keeping yourself in the shopper's shoes. When a shopper plans to buy a product or an item, anticipate maximum information for that particular product from the seller. In the case of online purchases, the expectation of buyers gets increased because they cannot touch the product. Therefore, they explore every detail of the product by spending a lot of time on an eCommerce store. An Online store must include product details with product data uniformity such that it can appeal to your prospective customers. If you own a retail business then you must focus on the quality of your product data as it is the best solution to enhance the chances of your product landing in the customer's shopping cart.
A technical data expert compares details with your competitors and fills the gaps by extracting missing product attributes from manufacturer Websites, PDF document,s and Hard Copy.
Types of E-commerce Product Data Enrichment Services
Product Data Enrichment Service is not one service, Rather it is an amalgamation of whole different variety of services. Such varieties ensure perfection from top to bottom of your product description page, hence adding up to be an all in one effective strategy to market your products around the globe. Such sub-categories include:
Product Taxonomical Classification
An orderly categorization of products is as essential as product selling is. The more clarity you provide to the customer, the more he or she is interested in your product. UNSPSC (United Nations Standard Products and Services Code®), NRF (National Retail Federation), ARTS (Association for Retail Technology Standards), etc are a range of different classification schemas which you can be employed for the arrangement of products on a webpage.
Data Auditing
Data Auditing of any product data proves beneficial for the elimination of all inconsistencies that might render your data incompetent and uninteresting for the customer. The Standard of the data on your website is of paramount significance. It has been shown that one in every eight customers avoid making a purchase from any given website due to forged, inappropriate, or confusing information provided to them. It is hence, important to employ the latest technology to surf through incompetent data and make it reliable for product usage.
Data Cleansing
A service that can clean your master data files and generate extra-ordinary results is what an e-commerce store craves. Dealing with data that works benefiting both product sales and customers' interests in the bid dream. It is human to make mistakes – and data entry is no exception. Our team will meticulously comb your data to ensure there are no typographical errors, spelling mistakes, and such slip-ups.
A data specialist can scan your data thoroughly to make sure there are no duplicate entries, and remove any that we do find. Additionally, standardization of data is done through the customer lens and expand all abbreviations, other than those that can easily be identified. By "Standardize Data", the semantic meaning is that data entries such as manufacturer name, abbreviations, attribute values, units of measurement, consistent and easily understood values. Just like, for instance, Extra Large could be standardized to XL.
Content Enrichment
Enrichment of the already existing product data can be done better via a combination of reference databases and product data-sheet. Use of mapping tools that can search and map SKU's to generate catalogs with other classification schemas. Meaningful data can be transported into portable formats for safety and favoring fast accessibility such as PDF, CSV, XLS, etc. We can also format the output as required by the customer (XLS, XML), etc.
Product Data Enrichment Service provides not only sufficient and detailed knowledge about the specific brand product but also works through to make up the customers mind in order to buy it. It is formulated in focus of some group or sect of potential buyers and to cater to their needs. Such a tip will considerably distinguish you from your competitor marketing houses.
Product Data Benchmarking
Keeping your product data up-to-date is a huge challenge. The nature of data keeps changing with time and it takes quite an effort to maintain and respond to that change in trends simultaneously. Make sure to keep your product data up to date with fresh content to enhance performance as this is very important to any retail company's success. A variety of data tracking/analysis services to investigate and quantify website performance, visitor behavioral patterns can be used to track any indecent data activity or fault.
Benefits of Outsourcing Product Data Enrichment Services
There are numerous benefits of outsourcing Product Enrichment Tasks. Quality product data is every product manager's right. Professional service ensures consistency in your E-Store. It creates accuracy of data eliminating all major and minor malfunctions occurring within product data. Outsource product data enrichment services to us and convert your visitors into a regular customers by empowering the content of your product pages. When choosing a product data enrichment service it is important to keep notice about progress from the project manager who converses with you on regular basis. Furthermore, a notable service accommodates your tough work routine providing you exceptional results within limited time frames.
How ITS Can Help You With Product Data Enrichment Service?
Information Transformation Service (ITS) has been providing Product Data Enrichment Services for a considerable amount of time now. Our E-Commerce ITS Team Professionals very well understand all the Online Marketing Strategies and will provide you your interest-based solution under highly cost-effective packages. We validate data, eliminate any sign of duplication of data, and add exciting product images to enhance its face value. We standardize all the units of weights, size, dimensions, and attribute value to maintain the consistency of your E-store.
Here at ITS, We have sectioned a well-trained ITS Team that can match international standards with outputs that speak volumes of our excellence and proficiency in the field of Professional Content Enrichment. If you are interested in ITS Product Data Enrichment Services, to proceed further ask for a free quote!