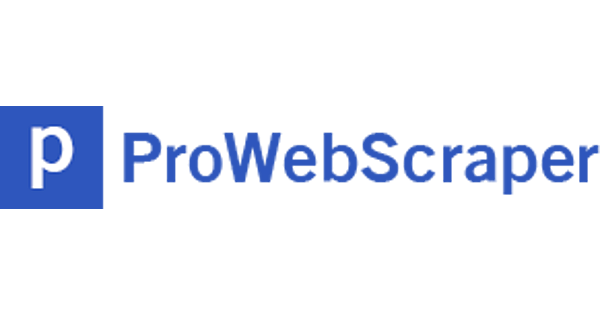 How to use ProWebScraper for web scraping?
Web scraping, often known as web content extraction, has countless uses. It enables you to grow your business multiple times with the help of web data regardless of whether your company is new or already established. Well, one can find numerous web scrapers, we will discuss ProWebScraper in this post.
What is web scraping?
For those who might not completely understand what web scraping is, it is the process of obtaining data from a website by utilizing patterns in the code that makes up the page.
We can collect unstructured data from the internet via web scraping, process it, and save it in a structured fashion. This may take the shape of different file types, including CSV, JSON, txt, and others.
Benefits of web scraping
1 Cost evaluation
Pricing tactics are crucial to keeping a firm competitive and can decide the success of a particular product. Analyzing data on product pricing in the market can therefore be quite advantageous for businesses. Web scrapers are widely employed by businesses to gather information from market leaders and rival companies so they may more effectively monitor their competition. It also aids in the development of effective pricing strategies. It also enables organizations to react rapidly to changes in the market caused by price.
2 Market analysis
Since it has a large impact on sales, market research is a crucial component of business management. Companies frequently use web scraping to quickly and efficiently get enough data to carry out thorough market evaluations since it's crucial to employ the most pertinent and accurate data possible while conducting market research. Web scraping also gives access to vast amounts of recent data that depicts market situations.
3 Collecting email addresses
Consumer email addresses are readily available on open websites. This data can be gathered and organized in a database via web scraping. Customer email addresses are important pieces of information that the marketing team can utilize to reach out to their target market. Email marketing is generally a successful strategy that can raise sales and draw in new clients.
4 Research and development
Web scraping is a tool that research and development teams can use to gather data for analysis and subsequent development, including statistics, performance indicators, and consumer feedback. Employees in research and development can also modify the HTML to seek particular data.
What is ProWebScraper?
ProWebScraper is one of the most effective online scraping tools available these days. Web scraping is a simple exercise, thanks to the point-and-click feature that is used to collect data. With its powerful capabilities, such as automated IP rotation, and data scraping from js-rendered webpages, and HTML tables, ProWebScraper can scrape 90% of internet domains. The "Free Scraper Setup" service, through which committed professionals will create scrapers for users within two hours, is what sets ProWebScraper apart from competing products.
Users have free access to all functions and are able to scrape up to 1000 pages. The lowest prices are available with ProWebScraper, starting at $40 for scraping 5,000 pages.
What makes ProWebScraper unique?
ProWebScraper has become a standout solution at this point. It operates differently than any other tool and yields results right away.
First off, its point-and-click interface is incredibly user-friendly and makes web scraping simple for you. Complex web scraping operations can be completed without any technical expertise.
Sometimes, tools work well for one or two errands, but when you try to scale them up, you end up being dissatisfied. ProWebScraper stands out due to its exceptional scalability in this situation. You can scale up your web scraping jobs in any way while still getting the data in a quick and easy manner.
Your scraper may become inverted when a website's HTML structure changes. In other words, it prevents you from web scraping and requires you to restart the scraper. ProWebScraper has developed the feature of notifications whenever an HTML structural change occurs on a website in order to prevent this. This makes it possible for you to monitor a website while on the go. You may keep getting updated info to stay one step ahead of your rivals.
Setting up Prowebscraper
You can create potentially sophisticated online scrapers without writing a single line of code thanks to Prowebscraper, an easy-to-use, scalable web scraping tool, and service.
We'll need to create an account with prowebscraper, so visit their registration page and sign up for a free account before we can begin exploring all these goodies. They generously enable up to 1000 web pages to be scraped in their free plan. Additionally, the technical support staff at prowebscraper will walk you through using your first web scraper without charging you extra if you run into trouble.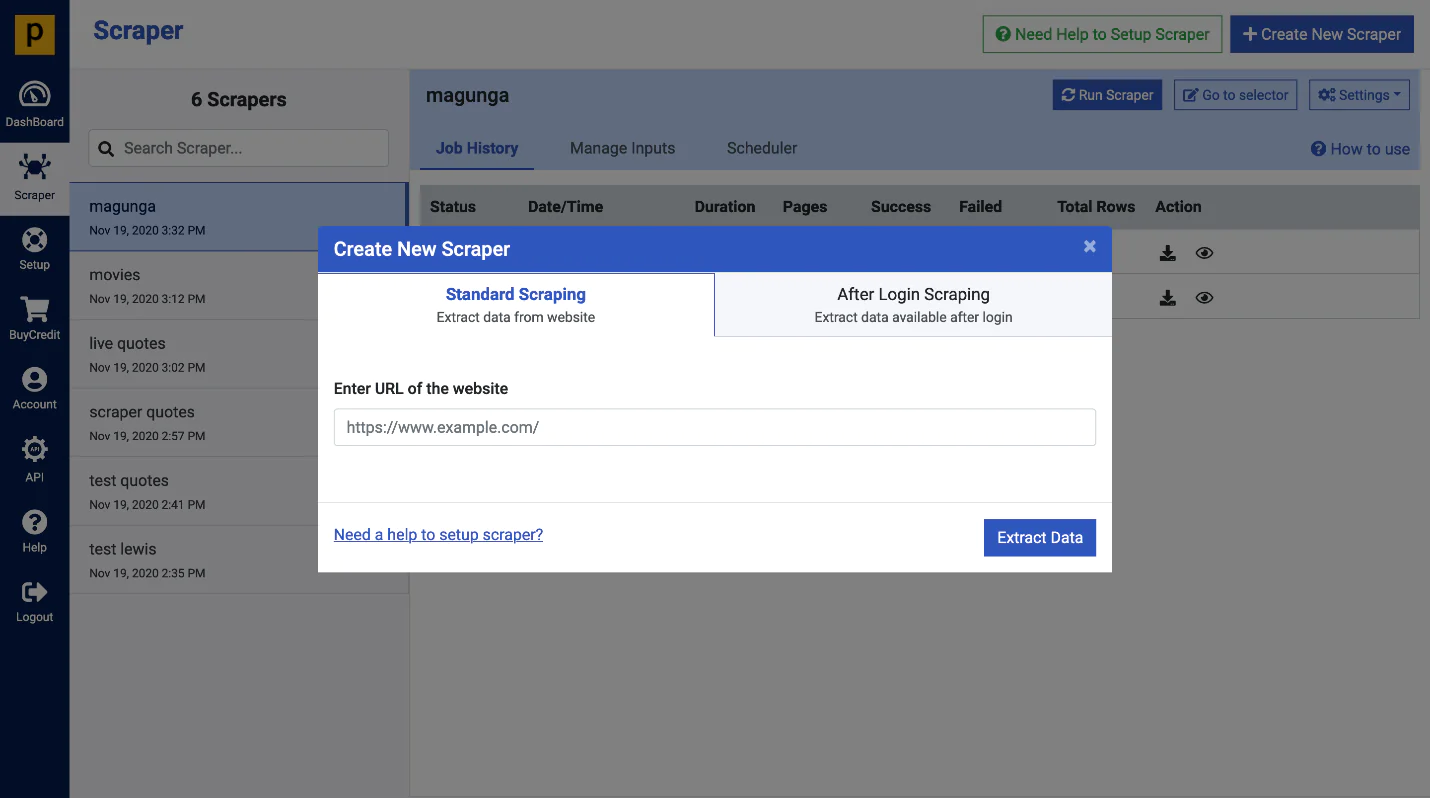 How to use ProWebSracper for web scraping?
Step 1: Copy and paste into ProWebScraper
Visit the webpage where you wish to collect data from. Paste the URL into the ProWebScraper after copying it. The scraper will then create an extractor to gather the required information from the desired URL.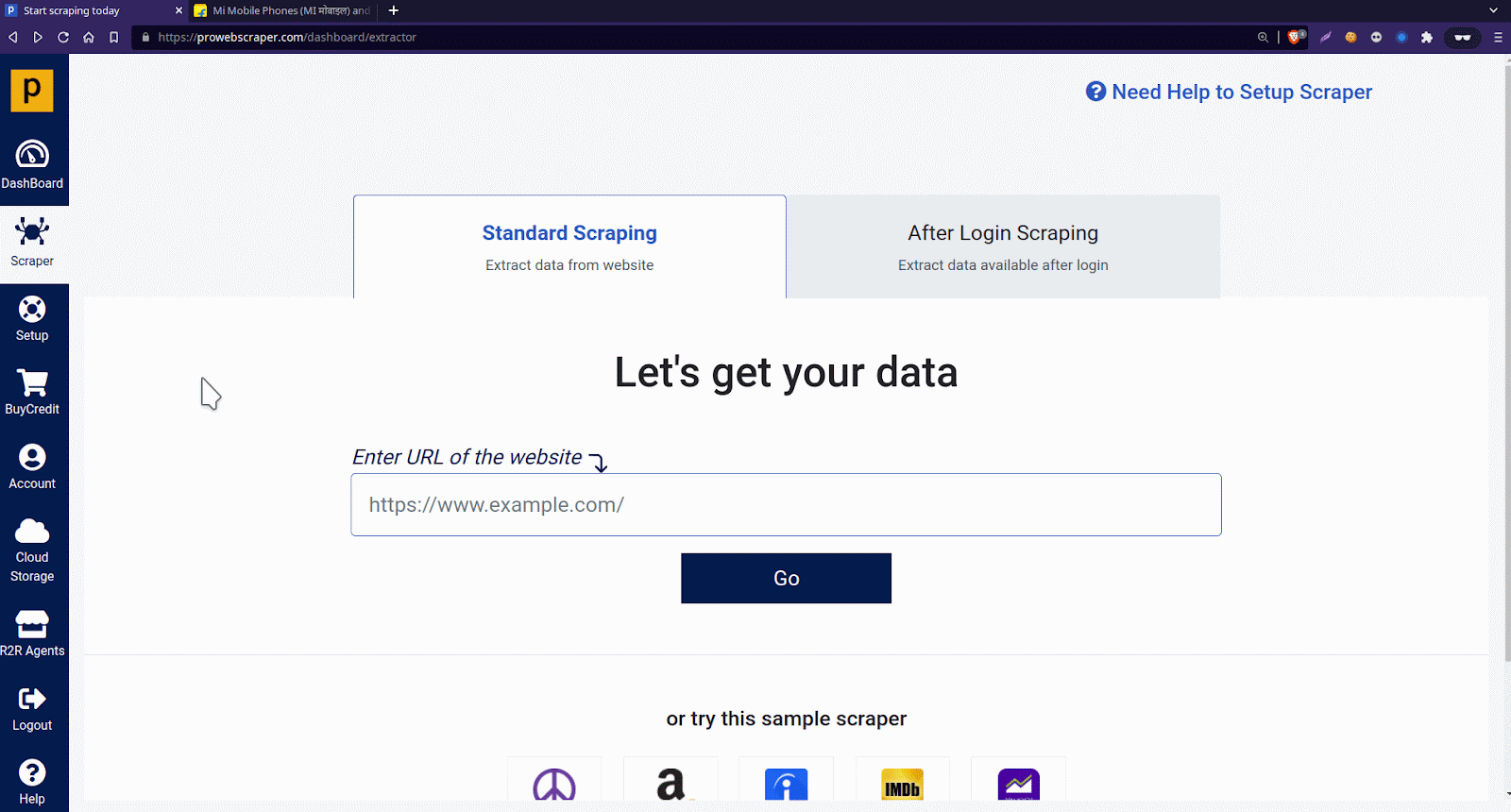 Step 2: Choose the data that you wish to scrape
ProWebScraper will open the website for you and let you scrape the data from there, as you will see.
You must first click on the data you want to scrape in order to get started.
Let's say you want to scrape the product names. After that, you must point and click on any product's title.
You'll see that the page's titles have all been chosen automatically.
Column settings allow for column renaming.
An "Add Column" button is located at the top of the page and can be used to scrape additional data. To rename it, click on it and then additional data, such as "Price."
Similarly, to that, you can repeat the procedure to scrape other data from the same page.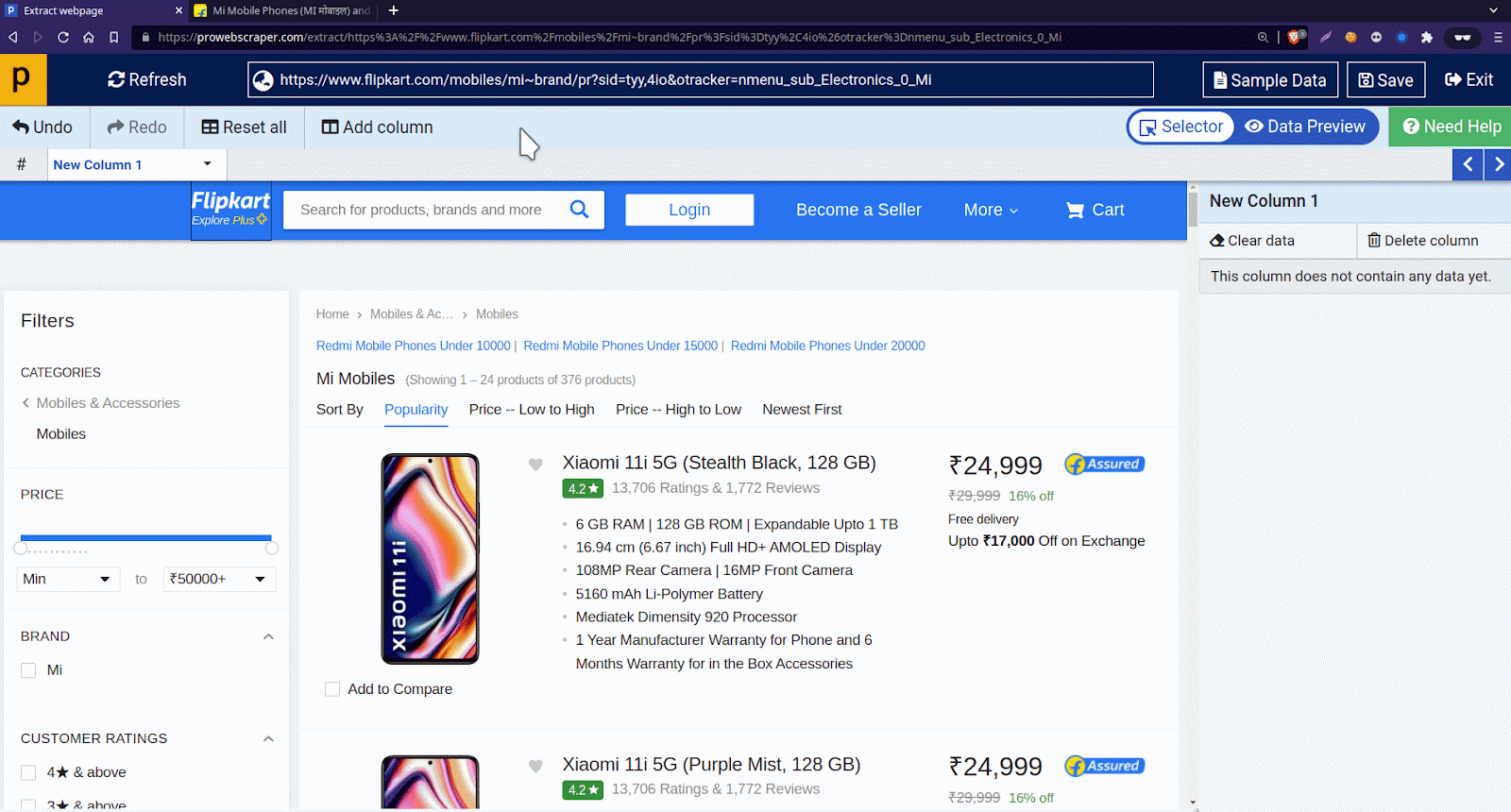 Step 3: Save and run
The Save button can be found at the top of the screen on the right. Click it. A dialogue window will become visible on the screen.
Click the "Save and Run" button after entering the name of the scraper.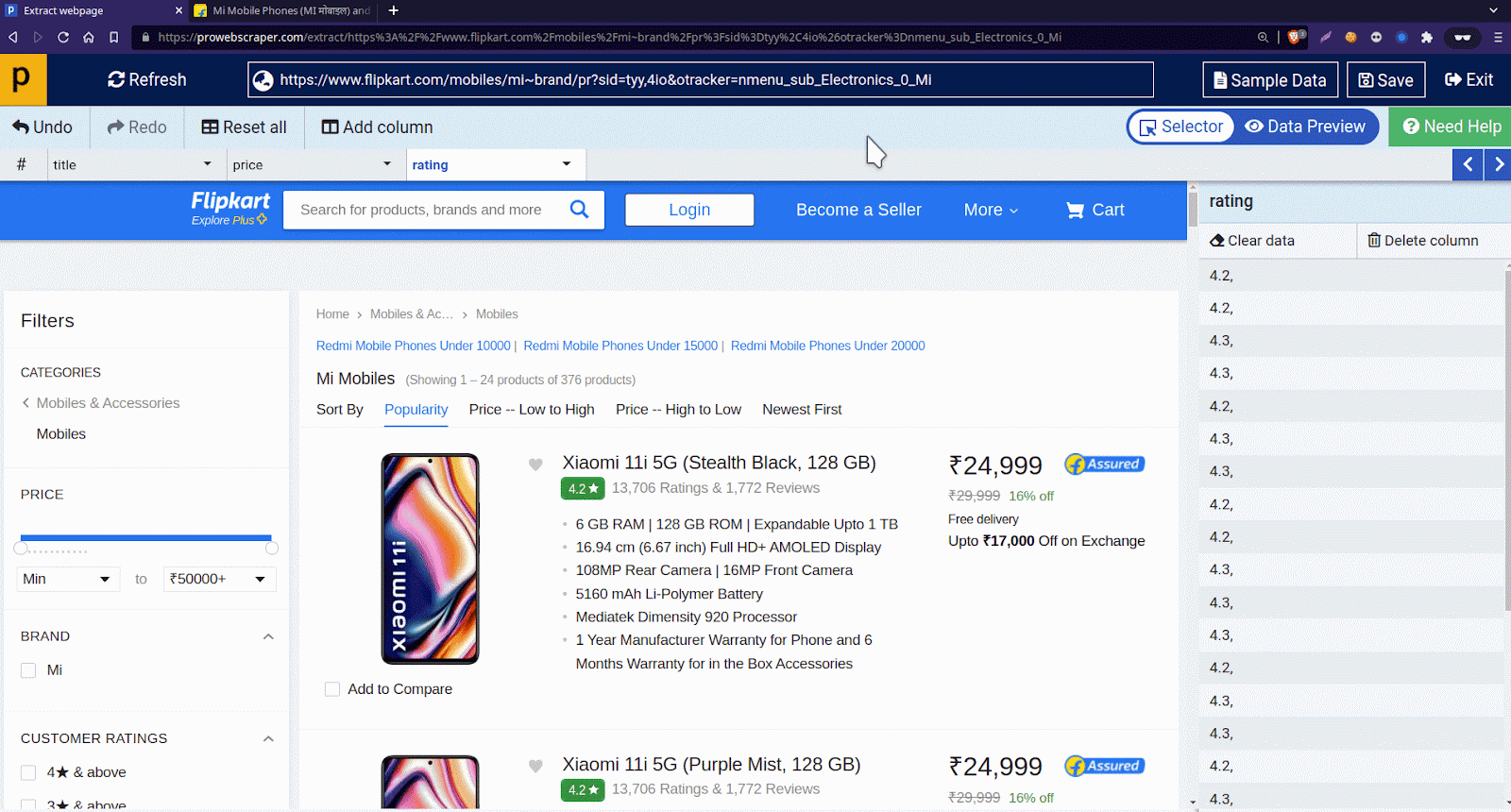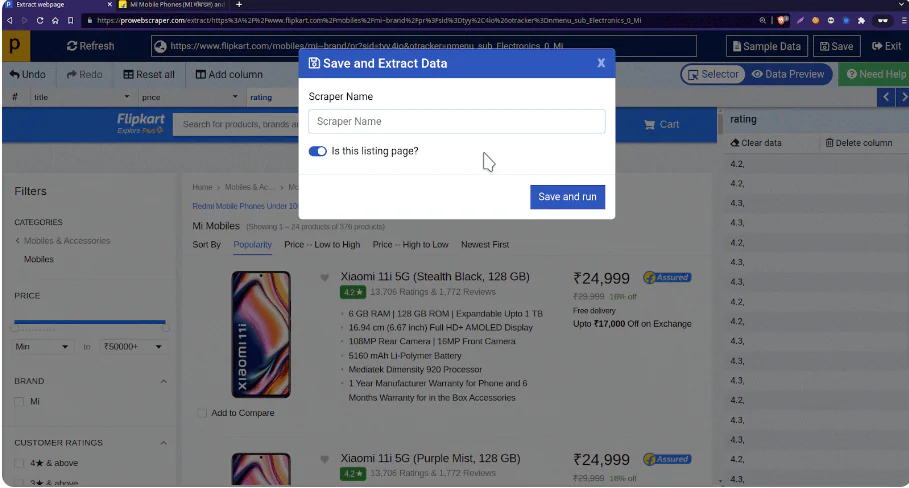 The ProWebScraper will be processing the data for you, as you can see. The Status column has "Running" written in it.

Step 4: Data downloading
When the processing is finished, the 'Running' in the status column will change to "Finished."

After that, you can obtain a preview of the data scraped file. If everything appears to be in order, you can download the data in CSV or JSON format, depending on your requirements.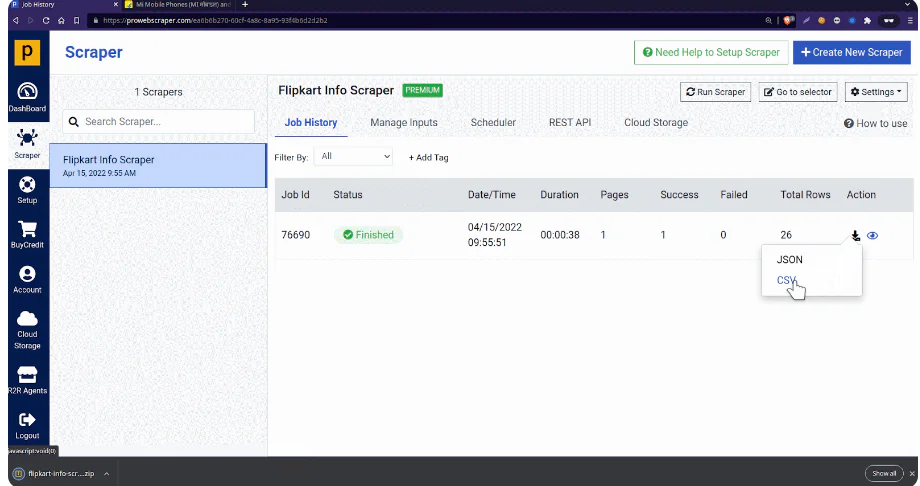 As a result, it only takes four easy actions to swiftly scrape the relevant website data.
What are the next steps?
You can continue with the subsequent stages after you feel comfortable with web scraping.
1 Bulk Scraping
With the same user interface, web scraping technologies also let you scrape numerous URLs simultaneously. You may scrape 100 websites for free using ProWebScraper. Additionally, it offers bulk web scraping to make your job simpler.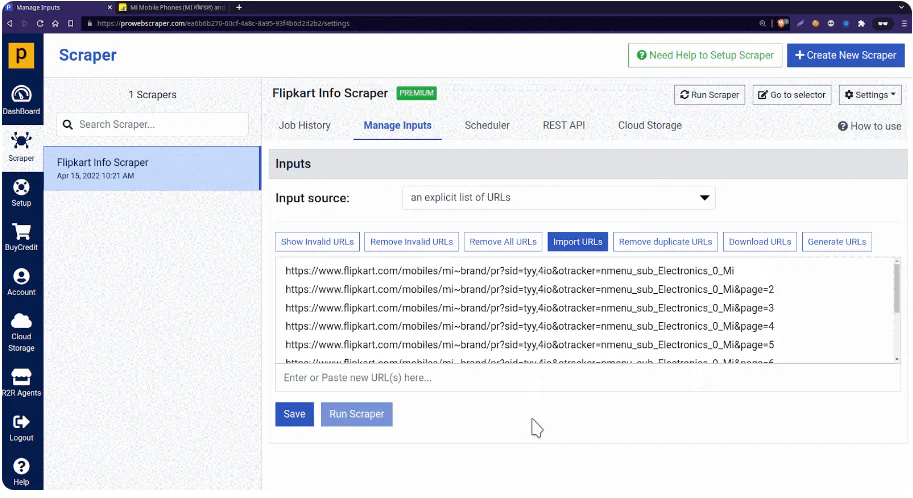 Imagine how much time you could save by crawling multiple web pages if scraping just one web page could save you that much time.
When you want to scrape all of the information from your competitor's website, the bulk web scraping method is very effective. All the data will be in your possession after just one process run. Is that not simple?
2 Scheduler
Web scraping can appear to be a time-consuming and laborious operation if you frequently need data. You might need to hire someone who can do nothing but sit and scrape data for you. But you'll pay dearly for doing it.
Instead, scheduling your web scraping process is an option provided by applications like ProWebScraper. You can choose whether you want to scrape data every day, every week, or every month.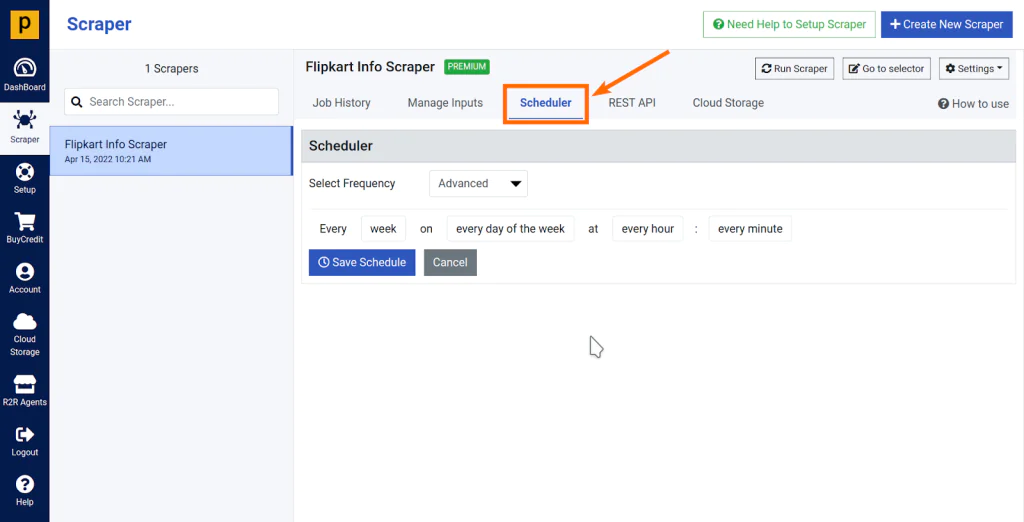 Consequently, employing the scheduling function of an online scraping program allows you to save time and effort.
3 Integrate
For simpler operation, the tool can also be integrated with APIs. It enables quick access to real-time data. This saves you a ton of time and gives you the precise facts you're looking for.
Conclusion
Web scraping is now required for everyone, regardless of who you are or what your job title may be. It is no longer an option. Data is necessary for project managers to make judgments and move their job along quickly. Basically, startups are designed on the basis of facts. How quickly they can obtain the data will determine how much they can accomplish. Data scientists also need data to get started. They can't advance one inch without data. Without data, the sales and marketing team can no longer function. To create new leads and monitor their prospects, they require up-to-date and fresh data. In short, web scraping has become essential in every field.
To extract information from the online sites we want, we can utilize tools for web scraping like ProWebScraper. ProWebScraper may be used to scrape the data without the need for any programming experience, making it accessible to anyone. In this post, we learned how to scrape data using ProWeb Scraper and indeed this is pretty simple.