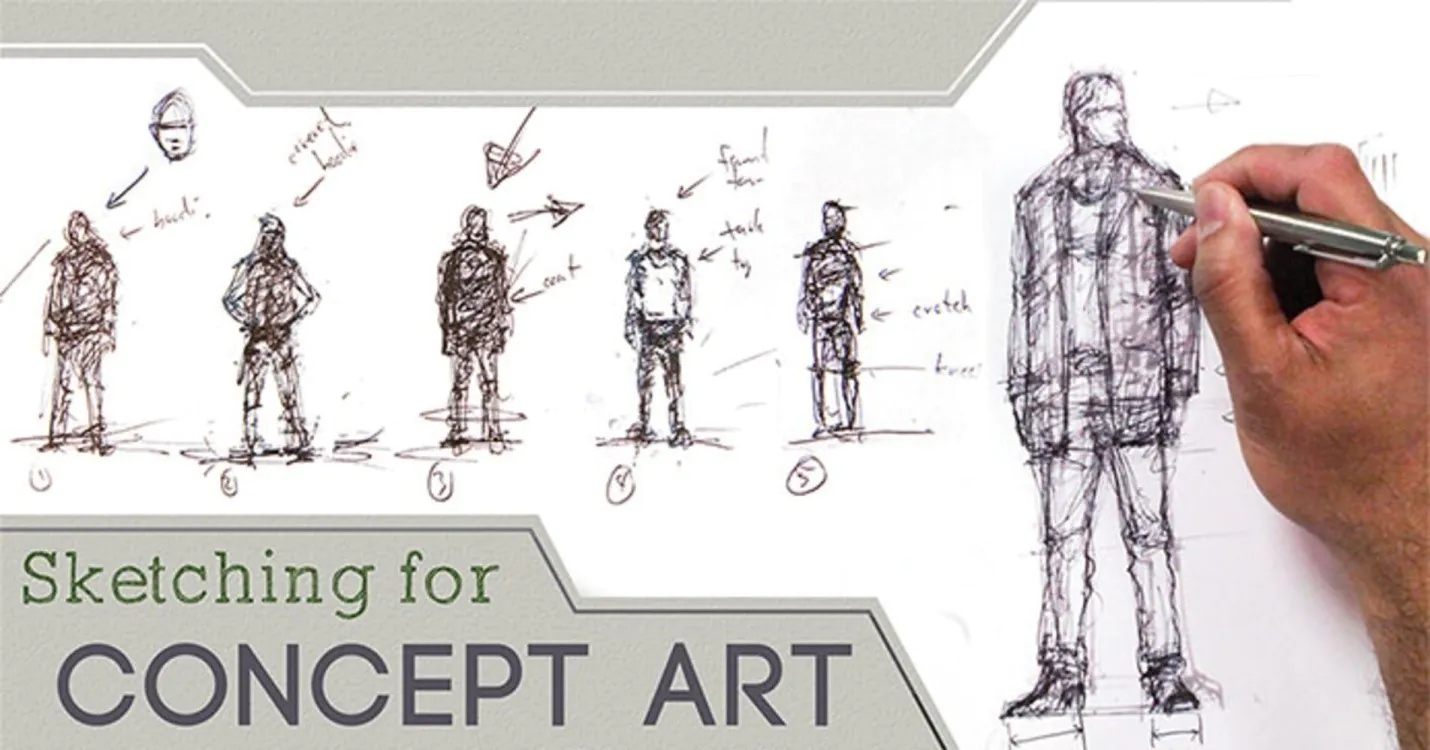 How to Draw Concept Art?
Good Concept Art beautifies an enormous sense of reality but at the same instance harbors your sense of imagination to another level. If you are some person who is into concept art and wants to know basic steps to correct your drawing skills then this blog is just to give you all information and the inspiration to start as a fresh concept artist. Concept Art ranges from designing environmental elements to complex characters. Visualizing a whole world demands a lot of drafting. At the same time, knowledge of different features of the object and the character is an essential component to address realistic details with concept art formulation.
Concept Artists are like designers, they draw and think like one, to create enticing creative designs. Animation, Sci-Fi Films, comic books, and video games are put together at first through conceptualization before the output being finalized. It involves important first stages where the idea is just fresh and there is no detail present to support such ambiguous beliefs of a customer that he might as well not interpret on his own.
Steps To Draw Concept Art
To understand concept art it is significant to understand the process to draw concept art as a whole. The following five stages make up professional concept art and are practiced by experts all over the world.
Brainstorming
It is one of the introductory stages of the process. At this stage, the Concept Artist takes a view of all representation and descriptions (if any) of real-life from the client. He then envisions his perspective by mixing real-life objects and constructing assets based upon the environment or imagination.
For example: Let us draw insects replacing mammals in our artistically created world. The setting can be of the Victorian age, keeping things close to the real world and at the same time adding a tint of newness. In the below figure, you can see large dragon beetles pulling up a horse cart, adding a new perspective to reality.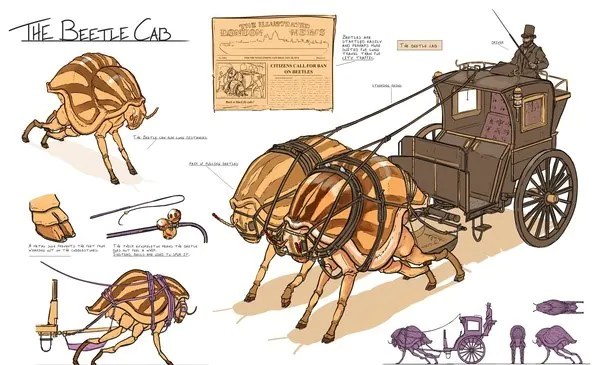 Thumbnails to Silhouettes
A certain reference point is essential, for creating interesting dimensions by keeping in mind the real object. After deciding the concept, the concept artist begins the work by pushing himself to define numerous thumbnails of the assets, objects, or characters. This step should take less time but great productivity. Over 50 small thumbnails are really no big deal. The idea is to structure the concepts in one frame. Art directors finalize which thumbnail suits best towards asset creation. Hence, the process takes in a lot of visualizations and repetition.
Sketching
Sketching is the essence of Concept Art. If you are not a good drawer then you might as well not be a good concept artist. This fact is proven as asset creation whether animation or vehicle object takes in a lot of traditional representation by hand. At first, the white canvas is to be subjected to bright ideas then visual representation is done at the latter stages. Any concept artist needs to be able to extract what is in the mind and present it on paper for further processing.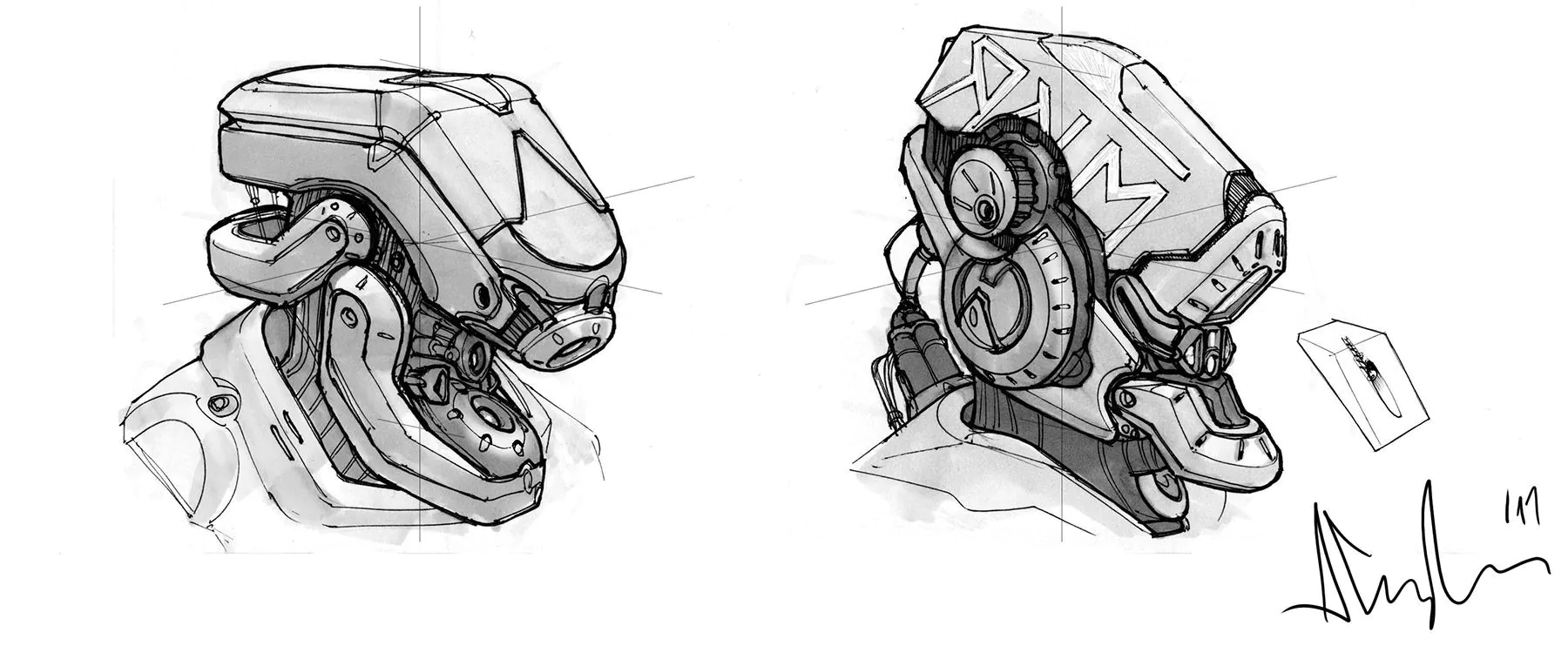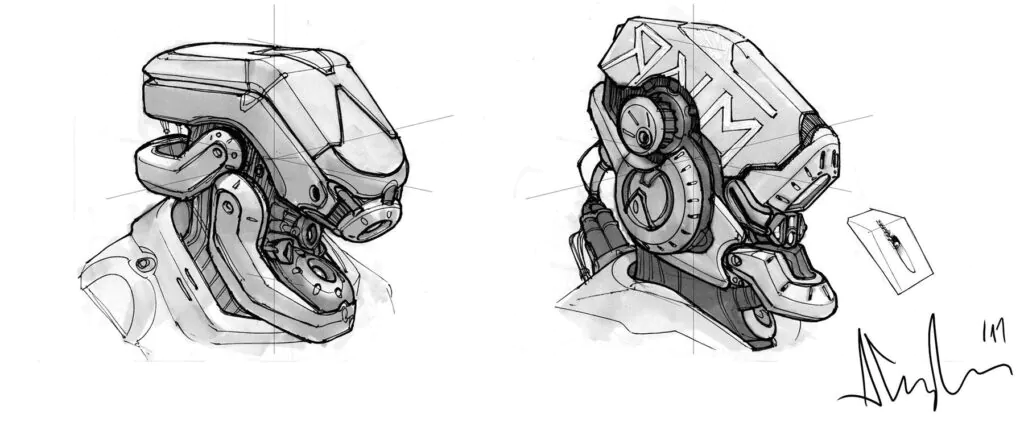 Concept Art Sketching is a crucial step that acts as a base for feature enhancement in the latter stages. You can create your work by using traditional means such as pencil and paper, or you can go digital with a Wacom tablet. It takes some time to set your comfort zone with digital tools. However, they provide you more options concerning concept art applications and a larger flexibility rate. This step doesn't need to be clean or perfect but needs to brush up on your ideas a little bit. For beginners, it would be great to include software and editors such as Photoshop, Affinity Designer, Rebelle 3, Procreate, Clip Studio Paint Pro, Artweaver 7, ArtRage 6, and Krita.
Adding Color
When the ideas and concepts become clear and there are numerous design patterns to choose from. Color grading is done to check what color matches the asset more appropriately and brings out excitement. This stage is very colorful and involves the coloration of different possessions, parts of an object, and clothing specifications of an asset.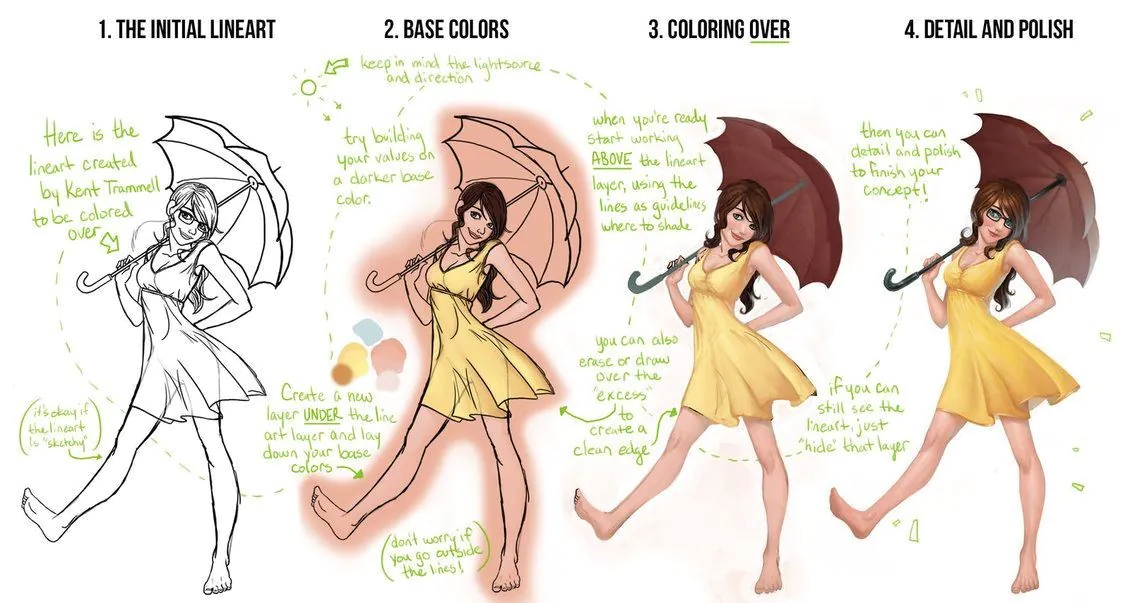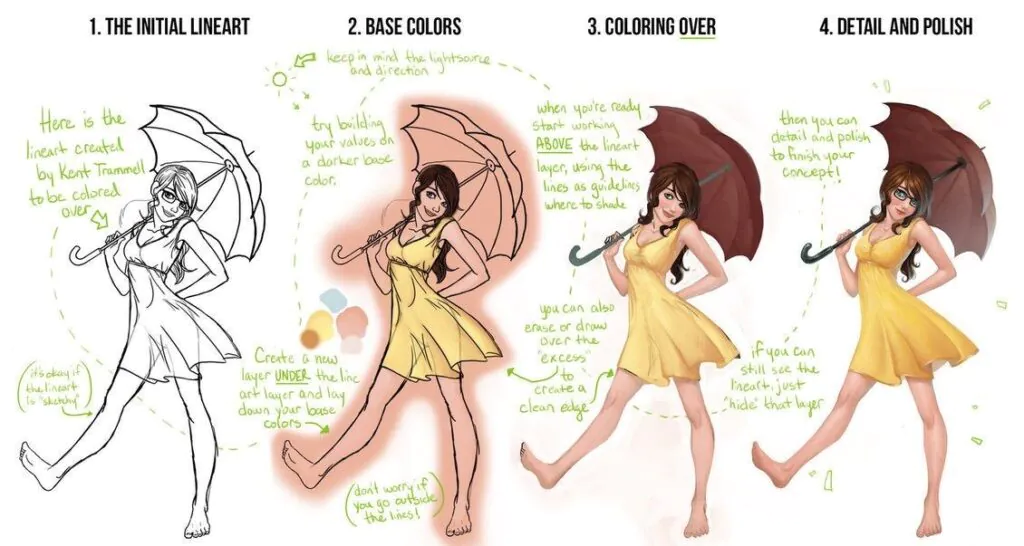 Value, Lighting, and Texture
Valuing your concept art in terms of texture and light is significant. The right tone adds vibrancy to your art piece making it look even more pleasing to look at and enjoy. For realistic animation concept art and 3D modeled environment, it becomes necessary to play with tone and textures to bring out certain depth about the story or project demand. Senior Concept Artists will sharpen images to improve contrast and make the edges of an image appear more defined. Proof Editing will be done for the removal of any occurring visual or textual errors.
Refining the Art
This is the stage of the process where you need to pay attention to clarity within your sketches. Does it make sense to the viewer or not? Your sketches must give a thoughtful narrative to the viewer otherwise your work would become alienated. Suppose the beetle cart we created above. It must be made sure that our sketches resemble the art more precisely. Might be possible that while creating the object such as a hammer or any weapon, its specific dimensions should be well-drawn. Contrast and variety to a close extent as they scale the intensity of how something is going to look enticing and close to reality. Meanwhile, balance, color, rhythm, space, and texture are other predominant aspects of a piece of art to look perfect. All such principles are considered essential elements to make all the five senses feel good. Perfect Visual Effects are achieved by contributing to the right amount of flavor of all these elements. The process is rigorous and demands concentration to re-evaluate your concept art throughout all the stages. However, you have all the leverage to experiment with ideas and your wild imagination.
Final Design
The final stage further involves rendering by a 3D Concept Artist to create life-like representation and models for clients. The stage contributes to enhancing significant features of an asset. The front, back, and side views are rendered 3D for better quality. The process is used in 3D Animation, Film Making, and Asset Modeling, etc.
This must be kept in mind that all the above-mentioned steps are mandatory for creating remarkable concept art. It takes time and practice to master editing styles and creativity. Latest software, tools, and applications can ease your concept art projects for acquiring realistic results.
Why Choose Information Transformation Service?
Information Transformation Service (ITS) deals in all categories of Concept Art Service, promising timely output, effective solutions, and proficient communication. Our Concept Artists are well-trained and well-equipped to handle your bulk projects providing detailed analytical solutions. All your video games development and asset modeling requirements are resolved with our internationally recognized technical ITS Team. Moreover, all our interesting deliverables are formatted and made compatible with any desired device or format. ITS, has successfully contributed to the most renowned games developed over the years and continues to inspire millions. If you are interested in ITS Concept Artist Services, you can ask for a free quote!