How to Convert PSD to HTML
The Conversion of PSD images into an HTML file is one of the ways to design a beautiful, impressive and responsive website, in this article; I am going to show you how is a PSD image is converted into an HTML code.
What is PSD to HTML conversion?
The process of converting PSD to HTML is a common process of converting an image-based website design into HTML for web development. The image file is normally a Photoshop document and the HTML file is a code that runs on browsers. The conversion allows the web designers and developers to work together to make a stunning and beautiful website. The process is also known as HTML Conversion Services.
If you choose to design a PSD and then generate an HTML from it, then the first step will be designing a mockup of the website. The format of the designed PSD is .psd and the format of HTML code is .html.
The process involves the styling of a mockup and then transforming it into a functional website.
Why convert PSD to HTML?
There are numerous frameworks that assist in the conversion of PSD to HTML. Many people this that the conversion of PSD to HTML is outdated; however it is still a viable option for many web designers and developers.
Adobe Photoshop is one of the most important tools in designing a PSD file, it gives great visualization of your website and helps the client to understand the design in a better way.
Photoshop helps in designing a pixel-perfect design with High-Quality graphics and web designs. It helps in designing a unique website and it is considered as the main winning point of website developers.
PSD designing is very dynamic in nature; the small changes in the design can be made very quickly. If your client's options for something that best suits him, then it is very easy for the designer to implement it. Unlike web development, designing a mockup is an easy and fast option.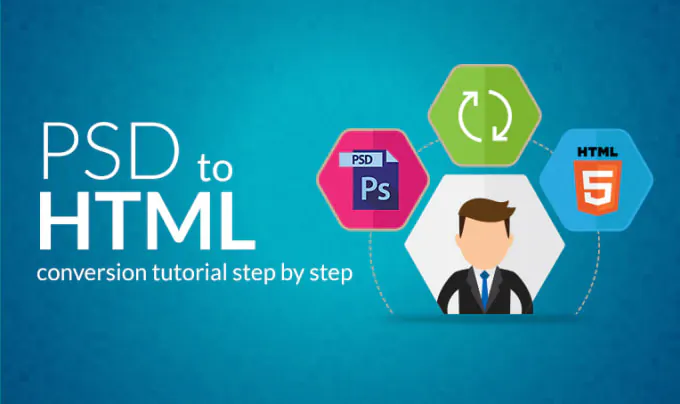 Also, despite the long process, converting PSD to HTML ensures you have good quality code. This is important in terms of easy maintenance.
Despite the fact that it takes more time to first design a PSD and then the HTML code of it, the website will have good quality code and will be easy to maintain.
When not to convert PSD to HTML?
There are so many benefits of designing a PSD however it also has some downsides, Few of them are listed below.
In the old-time, most of the internet users were from desktop and using a specific resolution, but now there are hundreds of different devices that have different resolutions, so it is almost impossible to account for all the resolutions, 62% of the total internet traffic comes from mobile devices that have different types of screen resolutions.
If you are looking for a design that is responsive for all the resolutions and for all the devices then PSD to HTML conversion might not be a good option, Unless and until you have complete knowledge of Edge Reflow, Photoshop would fail to simulate a responsive web design.
The Designing of a PSD and then converting it into an HTML Code double the workload. In addition to this, Photoshop doesn't offer to design multiple pages on a simple tab.
Most of the Front-End Developer can handle HTML and CSS, so there is no need for a Photoshop mockup of the website. 
Cross Browser Testing Tips
A few years back, The Developers and designers only need to worry about two browsers, Firefox and Internet Explorer. Then Google launched Chrome, and after that dozens of more browsers land in the market, and now the developer needs to cater to all those browsers since most of them are getting a considerable amount of traffic. Every browser has a desktop version and a mobile version, and every browser has its own styling requirements, it might be very difficult for the front-end developers to design a website that is responsive for all the browsers and resolutions. 
The very first step is to gather the statistic of the website, How much traffic, the website is receiving from the particular browser, For Example, Google Analytics gives the complete information of the browsers, device, and technology used by the visitor to visit the website, These statistics gives the overall picture to the developer that which browser, he should focus on. The Developer only considers the browsers that are getting most of the traffic. This will save the designing cost and testing time of the website.
For the smaller website, the developer must focus on four primary browsers: Safari, Chrome, Firefox, and Edge. For an enterprise website, make a banner that tells the visitor which browser is supported so that the visitor would change the browser.
Conclusion:
Information Transformation Services hopes that this in-depth article will help you in converting PSD to HTML. We hope this article helps you in saving time for your next design project.
With the passage of time, PSD to HTML is becoming more and harder because of more and more devices and browsers compatibility and seamlessly responsive.
If you need any help in your PSD designs or in HTML Conversion Services. Then we have a team of developers and designers that can help you in designing a PSD and converting it into HTML code. ITS is ISO Certified with more than 20 years of experience and  50 developers and designers who have designed and developed more than 8000 websites. If you looking for PSD to HTML conversion.