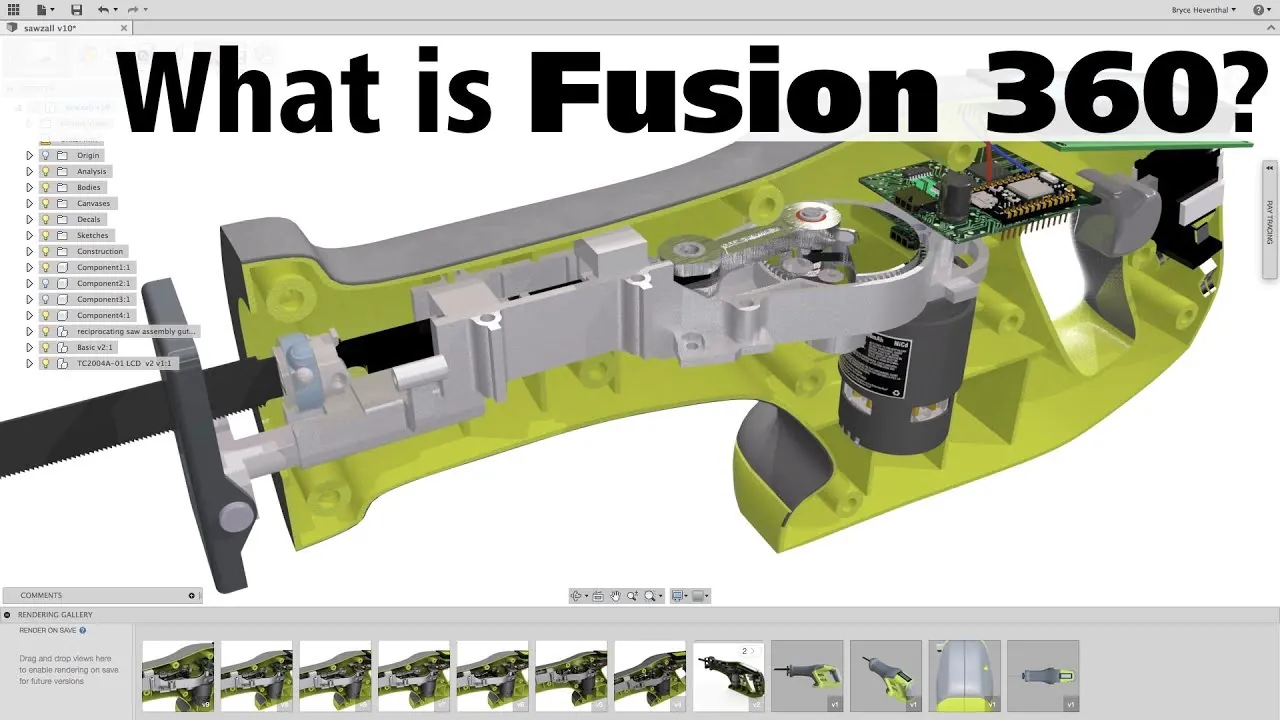 What is Fusion 360?
Fusion 360 is the most popular CAD Tool which is available in the market for hobbyists for its renowned capabilities. This blog essentially explores all the dimensions of Fusion 360 for your business benefit. Fusion 360 is a remarkable invention of the gnat Autodesk. You might as well heard the name every once in a while if you are into 3D Modeling or serve as a professional in the related field of designing, modeling, and printing in realism. Like AutoCAD and Inventor, the tool is from the new modeling class software aimed at hobbyists. Let us begin with unfolding what is Fusion 360?
This one is a great CAD software tool developed by Autodesk. Fusion 360 is operated on a cloud-based program, this software is essential to improve functionality between the team and allows you to model solid surfaces effectively. Furthermore, mesh modeling and parametric modeling are also favored by Fusion 360. You can opt for Fusion 360 if you are planning to work on 3D rendered models.
Fusion 360 Applications: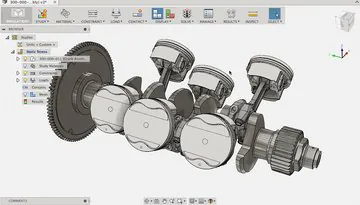 The automotive industry is just one of many industries where Fusion 360 is extensively used. It is an excellent tool to render precision in the modeling of both 2D and 3D objects. However, t is even possible to do a lot more with Fusion 369 by your side. You can easily animate designs, simulate all the load, and efficiently prepare models for CNC machining. Large or small business types use the recommended platform to design and create effective prototypes for their business products or projects in less time. Fusion 360 also offers CAD, CAE, and CAM possibilities. When you are familiar with the commands and user interface you can easily employ all the provided applications and features of Fusion 360 to your imagination.
Fusion 360 Pricing: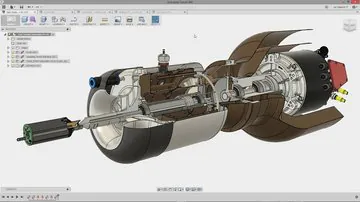 Fusion 360 interface is quite the same as many advanced modeling tools and software. If you are a beginner and do not hold any useful experience concerning using CAD software for modeling ventures, even then you can qualify for the Fusion 360 license and if you want to test run it out as a student you can even get that in your hands. Fusion 360 also comes in with a 3-year long subscription however the cost doesn't surpass 100,000 USD even if you are setting a business empire. You can even benefit your personal affairs with Fusion 360 with an annual subscription of $495/year or let me put it as 60$/month.
Fusion 360 Design:
The above image portrays a Raspberry Pi case which is made in Fusion 360. In Fusion 360, you can easily detect very distinctive options and applications. The first view is a blank modeling plane and a custom design toolbar. All the settings are preset as default, however, you can easily change them according to your modeling or design requirements (switch the environments by clicking the top left corner of the screen). 3D geometry is a tool that helps in sketching and you can also make one for yourself by simply pressing CLICK Button on the top left corner. At the primary stage, you need to access the plane for sketching your pre-determined designs. After which you can easily employ different lines, curves, splines, or other 2D elements within your sketch to make it look enticing. To strengthen your sketching skills you can even look into the helpful guidelines and tutorials.
Fusion 360 Manufacture: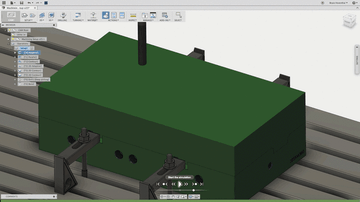 Machining of any object in Fusion 360 is shown in the above image. If you want that your products must be produced on a CNC machine then for your delight Fusion 360 has all the excellent features for this purpose. CAM (computer-aided machining) is supported in Fusion 360 natively. If you need to make cuts, you can directly choose tools from the ones provided in the toolbar or simply add your own with attributes of a tool you already have with you. You can then generate the respective toolpath you can continue with a simulation of the model and avoid problems that might arise at times with traditional machining.
Fusion 360 Render: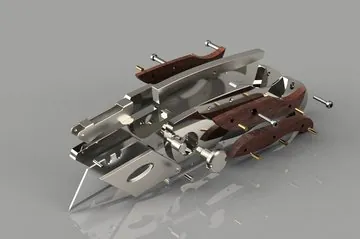 You can amazingly produce very realistic visualizations of your product in Fusion 360. Whenever you are creating your object you must know what your product looks like in reality. The rendered environment provides tools that can make your model look very shadowy and real. You can also specify all the materials or attributes of your model with the help of Fusion 360.
For Example, You can easily set the solid bodies to be made up of marble, metal or wood, and even glass. This type of advanced rendering skill improves your product model for achieving photorealistic results.
Fusion 360 Animation: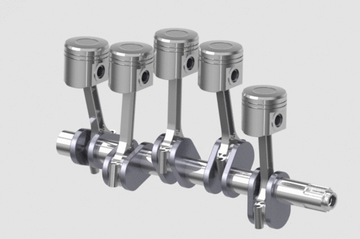 This aspect of Fusion 360 is exploratory. Fusion 360 supports all the keyframe animations hence you can easily create all sorts of animations to comprehend your assemblies like gearboxes, engines, and much more. Using the transformation tool you can move your components in the order in which the animation is going to proceed in a timeline. Remember to keep the organization of bodies under consideration here. Complex animations must be done with close care and in another tool. Generally, Fusion 360 holds the best-suited animation feature for better visualization.
Fusion 360 Simulation: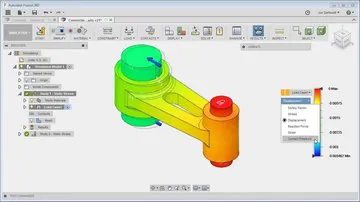 When you are already familiar with the prototype weight is not equally distributed then in this scenario the loads might as well negatively impact your final product. This is when you check for critical points. What you can do is that creates a simple study of different load stresses or types and just observes how well the product is in real-life platforms. Such multiple variables can be manipulated by managing static stress and modeling frequencies. Temperature and thermal stress can also be noted down to back up non-linear static stress.
Fusion 360 Cloud Ahead: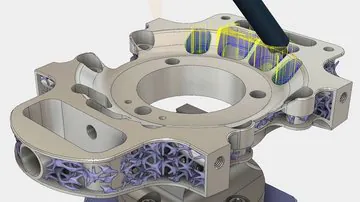 Fusion 360 is also a cloud modeling tool where you can save as many models as you like. These models are stored in the server and not on your PC, they can be accessed whenever needed for use. Such models can also be converted to STL or OBJ files for easy retrieval. Another important aspect of Fusion 360 is that it can also be accessed as an online platform by connecting your web device. There are also renowned mobile apps that are available for both Android and iOS. Such apps enable users to review all the models remotely. Therefore, Fusion 360 is a complete package that increases your business outlook and increases your product potential in the market.
How ITS can help you with 3D Modeling Service?
Information Transformation Service (ITS) has been providing 3D Modeling Services for over a time now. Information Transformation Services knows all about the modern-day industry and its trends in the Online Marketing Business. ITS is light on the budget and heavy in terms of quality and stature. Our highly responsive and interactive team specializes in 3D Product and Asset Modeling Services and will note down every essential detail provided by you and in return turn your dream into a real-life realistic or virtual reality. Information Transformation Service (ITS) also caters to a wide variety of services relating to efficient 3D Modeling and Designing services. If you are interested in ITS 3D Modeling Services, you can ask for a free quote!