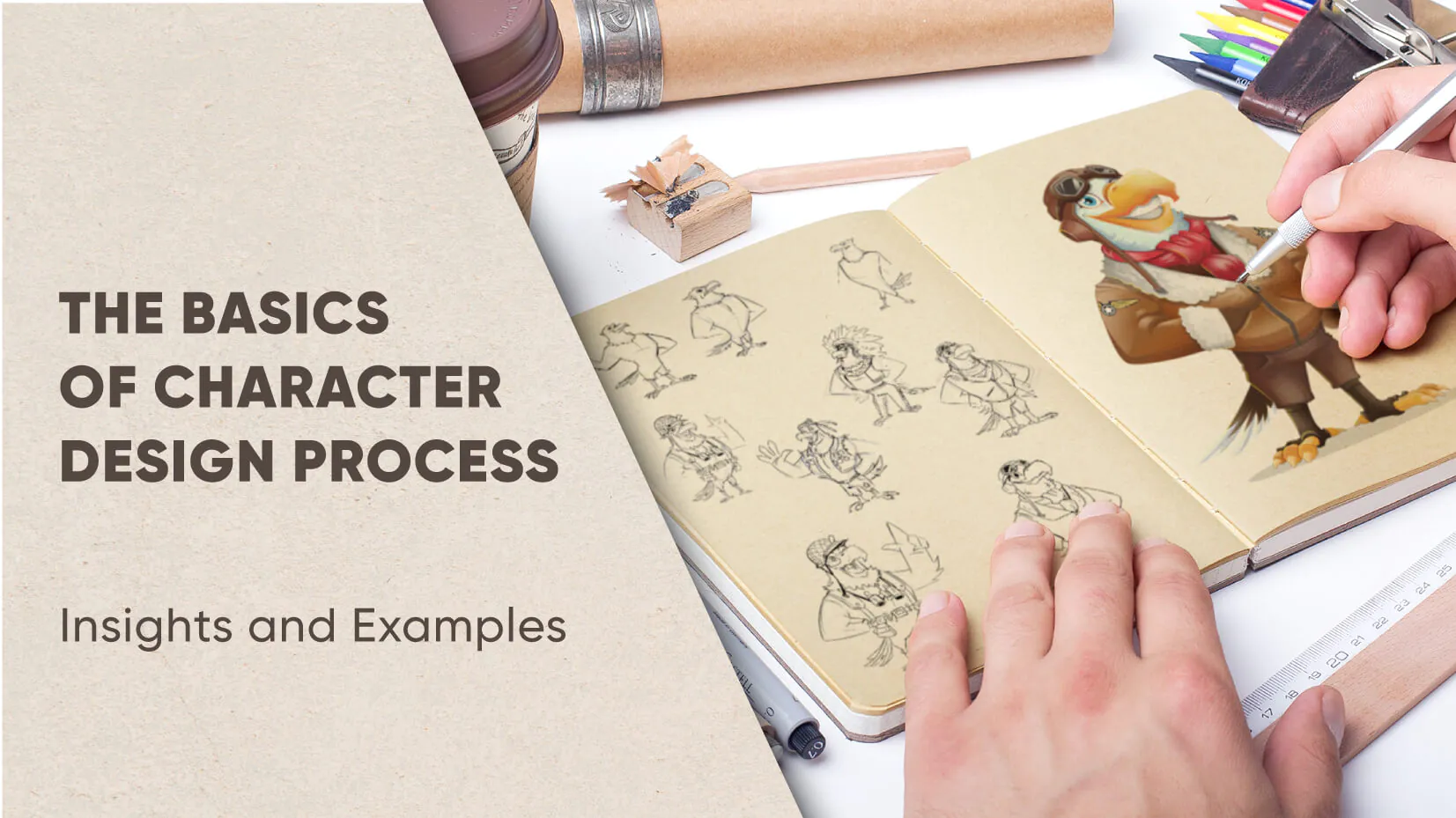 What Is Character Design?
A character designer creates entire styles, concepts, and artwork of a character right from the baseline. This involves careful execution of the character's personality to develop a good visual idea of the character's physical appearance. Creating a whole character from scratch involves a lot of energy and time. These are the major reasons why character designing is reflected as very complex. Every designer or artist follows a specific creative design process because there is no one right process to create a character. Typically, the character design process begins by briefing the character's body type and features for example the character could be a turtle with ninja-like abilities or a human character enjoying a royal status.
Components of Good Character Design
Good character design is everything about clarity and uniqueness. You should not only simulate a character design but make it distinct for the audience. Here are three essential components that make up a good character design.
Silhouette
In simpler words, a silhouette of a character is when you build a character sketch without color and details. It includes a soft character outline with black color. A sign of good character design is when a character can be recognized from the silhouette. For example, take a look at the silhouette given below and see how many characters can you name by just looking at the black outlines?
If you like creating imaginary characters like these just make sure that your characters are iconic and interesting for the audience. It is very important to keep the character designs good, simple, and clear. When creating a specific character you must understand the various qualities that the character possesses to have a solid understanding of the shape language. In addition, character designs have to have a strategic and well-calculated use of color.
Palette
Palette refers to the accurate use of color by a character designer. When it comes to coloring being super selective is its key. The last thing that you should aim at is filling your character design with every color that gives no hierarchy. This will look absurd to the audience and such characters will distract them instead of engaging them.
It is important to use dominant color patterns and try other relative minimal colors to support the main color. Always use the ones that support the other color and not sideline the other. Whenever you are designing a character you can easily get carried away when coloring with complex color palettes. Follow an agenda to try to keep things simple yet exotic.
Exaggeration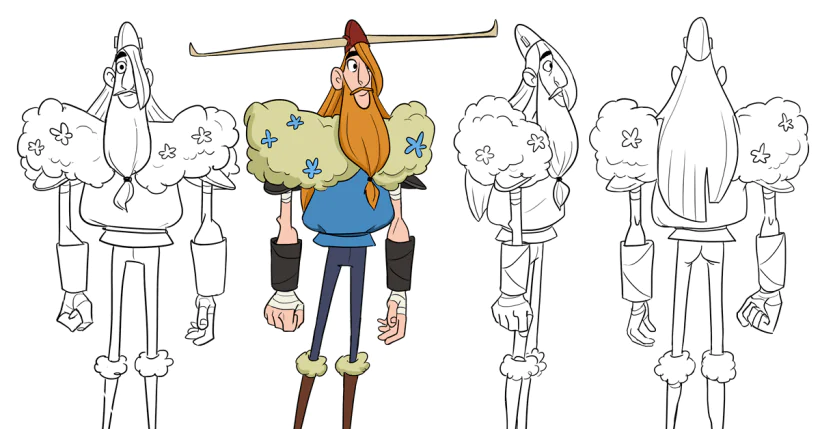 Out of all the components, exaggeration is considered the most essential because it pertains to storytelling. It makes use of character features and attributes to impact the audience's psychological responses to a character. The exaggerated features can make a visible difference in the audience perceiving the character as a maniac or a hero. Silhouette, exaggeration, and palette are three core components of creating a good character design. While there are plenty of details you can add to our character designs the aforementioned elements are considered an integral part of the designing process to make the character look unforgettable.
HOW TO CREATE CHARACTER DESIGN?
Now that you have understood the key components of a character design let us now take a good look at the character design process to help us paint a picture in our minds of how things work in a design studio.
Preparation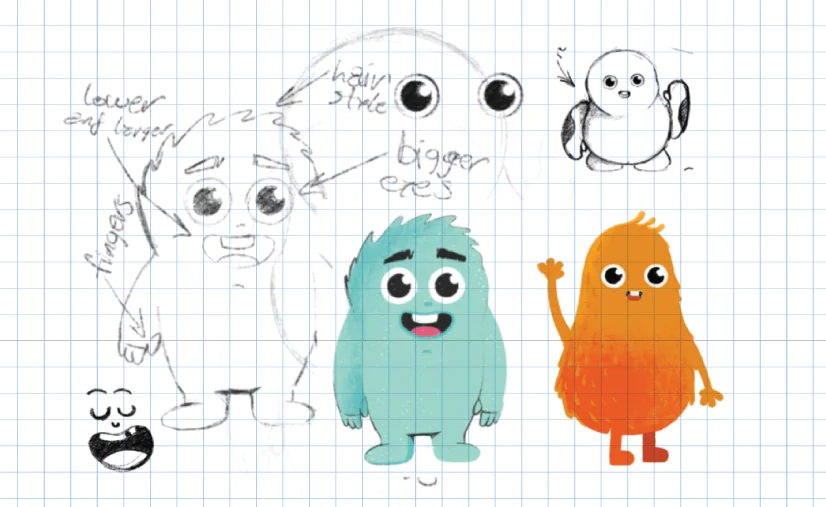 Before any line can be drawn on the paper, you must research your character design thoroughly. The bigger part of this phase is a comprehensive understanding of many things like psychology, anatomy, shape language, story, and color therapy. You can prepare for a character design by understanding the theoretical principles of character. When you put the character principles into practice here is where you get a clue for designing for the next phase.
Write a prompt
Creating a memorable and unique character from the start can be a challenging task especially when you are new to this field. There are various possibilities about what your character could be like. A professional character designer always begins by forming a story in his or her mind. Now it is up to you how you narrow in the character's meaning and purpose into the story. For this reason, consider writing a prompt.
A prompt will help you find a clear and distinct direction from where your character can relate and progress. Just like any other type of art you need the inspiration to create something fascinating and bring life into it with your designing skills. You can gather various references to start collecting ideas about your character designs and models. The references can be related to any medium like photography, animation, cinema, paintings, or comic books. Many character designs come with favorite designs on hand that can be taken to the next level by creating a thumbnail.
Create a thumbnail
Creating various thumbnails is when a character design starts to connect to your ideas from the mind onto the paper. This is a safe space where designers experiment with new looks by sketching them roughly to get a good idea about which direction to take. There are many effective and common approaches to sketch perfect-looking silhouettes. A silhouette is generally a character design blueprint that can be created by adding one specific detail each time.
Once the artists have accomplished satisfactory results with their thumbnails and drawings they can add other details to bring the character design to its final state. Character design is all about finesse and skill set. This means that you must not focus on adding extra details but to improve your designing skills. Creating an exceptionally looking character is never as easy as it sounds. After all, character designs are important to create a complete fleshed personality with unique visual features out of nothing. The character design process requires a good amount of storytelling skills. The next time you see a good character design try to narrow in on what makes it good to help you reach that level in less time.
How Information Transformation Services Can Help You With 2D and 3D Animation?
Information Transformation Services (ITS) offers professional animation and designing services with top-notch results. With over 2000 satisfied customers we have all the expertise to transform your ideas into creative character animations for your users. Our artists love to take on a challenge to turn your imaginations into virtual reality. ITS offers ISO 2700 Certified BPO Services to make you feel, that your idea is in the safest hands. Not only this, we offer initial package estimate consultations to convert your interests into blueprints. If you are interested in ITS 2D and 3D Animation Service, to proceed further ask for a free quote!