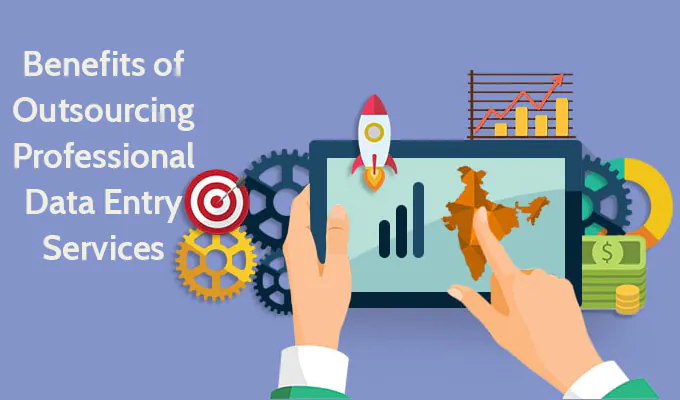 Top 10 Industries that Benefit from Outsourcing Data Entry Services
Why is data entry service so useful for various industries? We all are aware of the fact that data plays an integral part in business growth. When businesses expand they feel the need to maintain data at a constant pace in a limited time duration. To fulfill big data incentives with accuracy outsourcing data entry services proves to be a good idea!
If you are still stuck with manual data entry practices then it is high time to focus on business improvement by starting with data digitization of daily repetitive tasks. By hiring a third party to manage your data needs you save much time to take care of many important business functions. Data entry service providers operate your company data with the help of advanced tools, software, and business ideals. Most industries elicit greater advantages by outsourcing data entry services at their part, these include Law, Research, education, consulting, management, hospitality, travel, and so on. Based upon business type, you can track an appropriate data entry service provider to become your partner in growing your business. Here is a list of the top 10 industries that benefit from data entry services big time;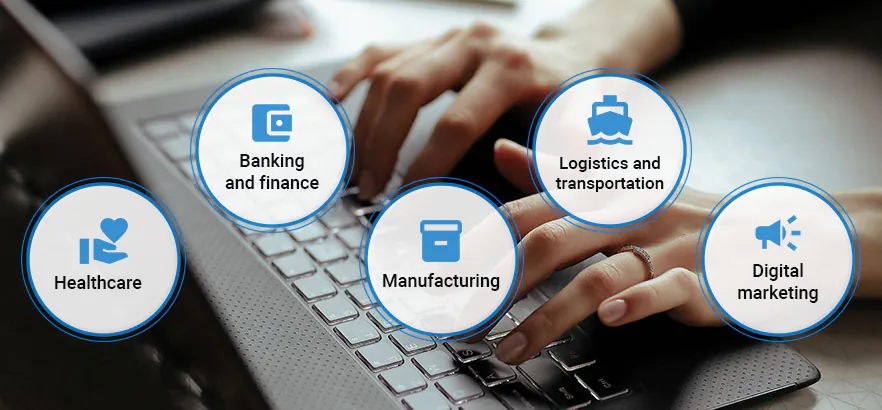 Health Care
Health care facilities make use of data entry services as they are the biggest data producers industries. Medical reports and billing receipts are filed in hundreds daily. To manage such an endless task it is a must to outsource data entry services and save oneself from administrative costs overheads, billing expedites, and other recordkeeping expenses. A good data entry service ensures quick turnaround and accurate medical data recordkeeping. There is several responsible and professional data entry service provider out there that offer no-obligation consultation for the curious!
Banking and Finance
Banking/financial data entry is a meticulous task that needs to be managed with precision in data. You can enjoy a multitude of business advantages by hiring an in-house data entry team or simply outsourcing your big data entry projects to a specialist service provider. Many financial institutions outsource their data entry processes such as payroll processing, streamlining loans, client input details, account updating, checks, and other documentation. Digitizing records is essentially a priority of bank/financial institutes as they intend to deal in more paperless initiatives. Reputable service providers offer data protection and prevention policies for keeping data confidential.
Manufacturing
Whether small or large, the company has started the premise of making things more competent than ever. With technology at use, business processes, contracts, quality control, SDS, Parts, invoices, and other data-intensive tasks can be well taken care of by leading data entry professionals within less time.
Logistics and Transportation
The logistics and transportation industry also does not remain unknown of data entry services. The companies devote all their time to improve and deliver their services by outsourcing monotonous data entry tasks. Data entry services have become essential to carry out streamlined and foolproof supply chain management. Airway bills, invoices, bills of laden, and delivery notes can be recognized as specialist data entry service providers by keeping it private and secure at all times.
Digital Marketing
Digital marketing professionals are always on the go to market their brand products to a vast audience. This is a broad field that involves many specific functions like social media marketing, search engine marketing, web-based marketing, visual marketing, video production, content marketing, and social advertising campaigns. Effective digital marketers are adept in carrying out data-driven business tasks as they deal with life-changing effects. In today's digital world, digital marketing can never be obsolete, hence data entry services are always wanted in the eCommerce sector to carry out efficient catalog processing and product data entry projects at their best.
Telecom Industry
The Telecom industry is the most popular industry type that deals in thousands of official records on a day-to-day basis. Data entry service proves a major helping hand in storing official records and managing telecom billing systems. Data entry also keeps track of the long list of subscribers. Many telecom companies rely on easily accessible information and hiring a cost-effective data entry service provider proves to be a profitable option.
IT-enabled services
From BPO to KPO, data entry services provide appreciable support n performing B2B along with B2C interaction. IT-based companies sponsor a separate data entry service to manage the pool of business data processes. With digitization being in fashion, the IT industry shows a rapidly increasing demand for data entry services to maintain and administer records and other physical data.
Real Estate
Realtors need data entry services to manage client databases effectively. A good data entry service provider comes in handy regardless of the size of the data project. Morgan Stanley's Global Real Estate 2019 Outlook mentions that billions of data need sorting. Keeping such heavy data files is a mundane task as it requires proper time, attention, and money. In this case, outsourcing data entry services to specialists with considerable knowledge in real estate can help bolster data integrity and data accuracy at a low cost.
Online Shop and Retail
eCommerce revolution served as a gamechanger in recent years. Online stores and the retail industry has followed in each other footsteps to keep track of consumer increasing demands. Running eCommerce company operations daily can be challenging with a shoddily done inventory or stock database. An accurate inventory helps customers locate, compare, and choose marked items effortlessly. Hence, there is a constant space for data entry professionals to build a website and maintain online products in well-formed categories. Outsourcing a website creation project to a professional can save you time which you can further utilized for focusing on core business functions.
Transport and Logistics
Accurate and fast data leads to better supply chain management. By outsourcing data entry services a company can maximize its data quality up to many folds. Transport and logistics industry deals in customer surveys, delivery notes, invoices, and other monotonous data prescriptions. A specialist data entry operator can enter this in your CRM with efficient monitoring.
Conclusion
All these industries acquire multifaceted data entry service solutions to fulfill their company core and secondary data functions with sheer excellence. It is advised to look for appropriate data entry service solutions and match them with your company data requirements to gain increased data-based solutions for a better business.
How ITS Can Help You With Data Entry Service?
Information Transformation Service (ITS) provides convenient Data Entry Solutions regardless of any additional investment of staff, resources, or infrastructure. By outsourcing your Data Entry Projects to us your company will be blessed with high-quality and diverse data entry-related options. Such quality service enables your data to be entered in various desirable formats with repetitive, inaccurate, incomplete, grammatically nonsensical words replaced to form better semantic clarity and understanding. Irrespective of the size and complexity ITS Team defines customized packages to directly answer specifically your business big data projects. If you are interested in getting ITS Data Entry Services you can ask for a free quote!