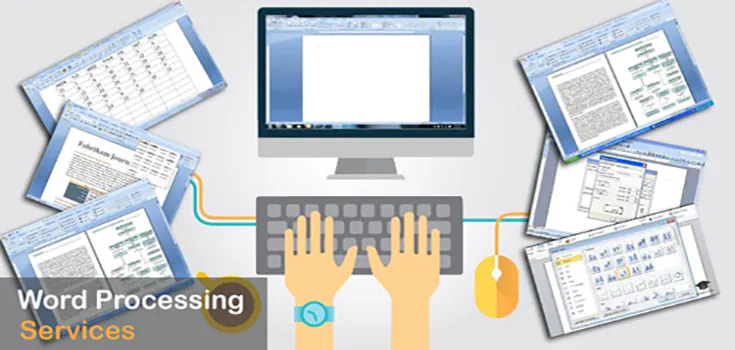 All You Need to Know About Outsourcing Word Processing Services
Word processing services have become common due to the ease it provides in handling large volumes of data content for huge companies. Word processing is needed to maintain content files or databases for changing word styling, spacing, formatting, and easy organization as per relevance. It is very difficult for a company to manage word processing business requirements like a pro. Hence, it is best to outsource high-end quality-driven word processing solutions for efficient business growth. There are tons of outsourcing service providers out there but you should have an eye for what suits your business interests to the fullest!
In case you are wondering, word processing refers to the processing of business content meticulously. It includes creation, formatting, storage, output in printed and electronic documentation to editing, etc. It is the most employed business application for personal and professional computer screens alongside World Wide Web browsers and other e-mail applications. In western countries like the US, Japan, Canada, Australia, Poland, Norway, Europe, etc. there is more digital data usage in organizations in place of printed documentation. Hence, they require more word processing expertise and solutions. At the other end, eastern countries like Turkey, Syria, Iran, Iraq, United Arab Emirates, and Pakistan, etc. have been busy in the word processing business for the last decade and have mastered the art of word processing to every level of complexity and quality. The word processing professionals you hire must understand your company's ideals and proceedings to maximize its market competence. It has become super important to be careful at times while choosing the best for your business legacy. Following key points should be kept in mind while outsourcing your word processing services
What to Seek in Your Outsourcing Partner
Every business is bound to stress the fact that they provide excellent customer services and products to their prestigious clients. But you need to be skeptical or look for anything in particular for suiting to your business outlook. You must be aware of the company offers, whether they are genuine and trustworthy or not. The best way to decide is to read their client testimonials and find what people think about their word processing techniques and working abilities. Compare and contrast your word processing requirements for effective decision-making. Don't forget to take notice of the type of equipment and software they use to achieve word processing results as machinery plays a vital role in maintaining content accuracy at the level best. All these reasons can make your company outstand business competition and improve your work processing rituals for a good business.
2. Range of Word Processing Services Available in the Market
Before you dive into the searching mission, at first check what exactly your business needs are. This may sound like a very general question but to identify the problem is to have solved it halfway through at the very moment. With the betterment of technology and its advent in the mainstream digital market to handle non-core business, functions have become considerably easier than in past times. There are numerous non-core business service providers o save you your precious time. You must be well aware of your company's functions to search for a hands-on word processing expert. Word processing services include content formatting, word formatting, book/online typing, compiling, designing, layout changing, and much more. You must figure out your database requirements and if the service outsourcing companies offer quality assurance and proper upshots.
3. Make Sure You Get the Perfect Pricing Options
Many word processing service providing companies provide price shifts as per service requirements. However, it is not always compulsory that the lowest price companies prove to be a reliable option for your business. You must do a little math to estimate whether the prices match the service quality expectations or not. You must not let yourself get carried away in the name of affordability that does not provide the quality word processing services that your business can well adapt to. Assess the price lists for opting for the potential outsourcing word processing partner service provider and experience increases business benefits.
4. Get Professionals and Experts to Obtain Seamless Outcomes
Word processing services are the soul of the business. To succeed in the higher market you must have competent data content. You can not afford to get it done by some amateur. You should make sure that any professional you hire must know the work ethics inside and out. Getting in touch with an efficient word processor you can test out the skillset and competence yourself before finalizing the hiring. The demo can give you a straight-up clue about whether the expert can pull off the workload or quality that you need or not. At the end of the day, you can sit back and be worry-free of all non-core business work.
5. Understand the Benefits of Outsourcing
The digital medium is the fastest expanding hub of outsourcing service providers due to ample increase in youth intelligence. Word processing services that offer client-dedicated resources prove to be useful, cheap, and easily available. As it is quite expensive to support personalized software equipment and labor for resolving word processing challenges on our own. In such cases, outsourcing is considered an intelligent move to get maximum company benefits by spending less.
6. Verify the Quality of Results Yourself
Almost all outsourcing companies offer a free trial run to your business quality outcomes. This is a really good option to assess the nature of their working methodologies and develop new market-based word processing strategies. You should choose your outsourcing partner with sheer care by understanding your business content goals and the solutions that you require to accelerate the company's success pace.
Conclusion
The blog presents notions that are needed to be considered before making your mind for outsourcing your business word processing services. It is indeed a painstaking task but once the right decision is made, you can earn immense business advantages and resources. Nonetheless, word processing services go hand in hand with data entry service solutions to take care of manual or online data entry errors for good. Even if you are unaware of the dos and don'ts of word processing services you can simply list down important things from your company's data processing road map. Happy outsourcing!
How ITS Can Help You With Data Entry Service?
Information Transformation Service (ITS) provides convenient Data Entry Solutions regardless of any additional investment of staff, resources, or infrastructure. By outsourcing your Data Entry Projects to us your company will be blessed with high-quality and diverse data entry-related options. Such quality service enables your data to be entered in various desirable formats with repetitive, inaccurate, incomplete, grammatically nonsensical words replaced to form better semantic clarity and understanding. Irrespective of the size and complexity ITS Team defines customized packages to directly answer specifically your business big data projects. If you are interested in getting ITS Data Entry Services you can ask for a free quote!