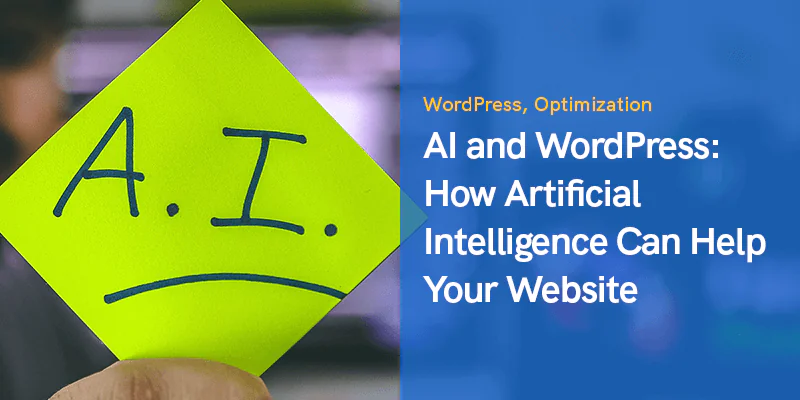 How To Use AI To Create Images In WordPress?
We guess if you have shown interest in this blog you must have thought about using Artificial Intelligence (AI) to create captivating images in WordPress at some point. If this guess is correct then you should stick to the end of this blog to learn exciting ways in which you can use AI tools like DALL.E to get creative with your images in WordPress.
Artificially generated images are a good alternative to creating vibrant images for your WordPress blog posts without caring for copyright tags. Let us get started with the description of how to use AI to your WordPress advantage.
Why Use AI Tools to Generate Images for Your WordPress Website?
There are limitless paid stock image websites that offer images of different kinds on your WordPress website for varying costs. However, if you are short on budget and have the passion to generate enticing images then we have got you all covered. Tons of websites offer free images as well like ShutterStock's free library or Unsplash.
But the problem with them is that they are either highly overused or are too general. So we are only down to one best option and that is to create images on our own, but not everyone is a professional editor or photographer, or visual artist, here is where Artificial Intelligence AI can save your day.
Artificial Intelligence (AI) tools such as DALL.E can assist you in creating extravagant artwork simply from text descriptions provided by users. These images are way more creatively intriguing than generic ones offered for free by various websites.
Just like here is an image as an example of an office desk with a sunset background created by DALL.E 2. In addition, it can also mimic any generic style images that can be found on the Internet.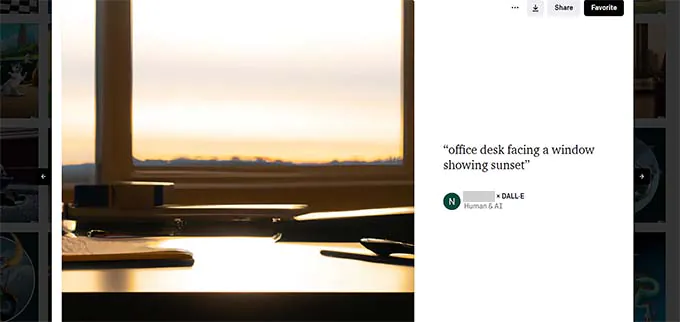 Here is an example of an artwork created by DALL.E 2. And this is even more colorful, and artistic and has a comic touch to it.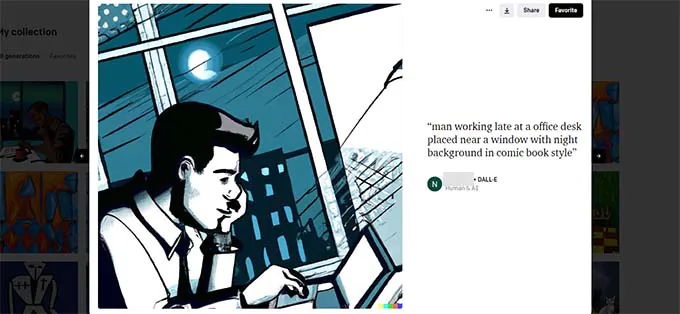 You can find a variety of topics, styles, trends, and ideas that you can use on the DALL.E homepage. The exciting part is that you can use all these images for free on your WordPress blog posts, articles, and landing pages. Well now let us take a closer look at the two methods to use AI-generated images in WordPress. You can select any of the two proposed methods which suit your project to perfection:
1. Generate AI Images for WordPress with DALL.E 2
DALL.E 2 is a powerful AI tool which is created by Open A.I. This tool is well suited for several artistic operations such as surrealism, rendering, versatility, and creativity in the artwork. There are no special plugins available in the market to help integrate DALL.E 2 with your WordPress site.
Still, you can efficiently create images on DALL.E 2 website by simply downloading them to your computer. Afterward, you can upload these images to your WP site. First, you will have to visit the DALL.E 2 website and create your free user account which allows you 50 credits for one month. After successfully signing in to the DALL.E 2 website you will see the dashboard that looks like the reference image attached below, here you will find recent artworks created by DALL.E.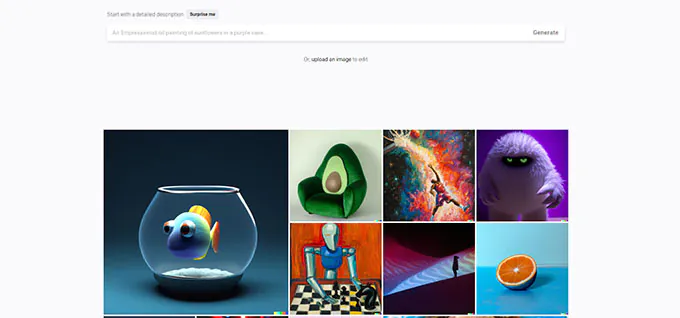 All you need to do is to type a text description of the image in the prompt field that you want for your blog post. While writing your text description you can be imaginative and creative as much as possible. After getting done with your text description you have to click on the 'Surprise Me' Button and the 'Generate' Button to see incredible results that will pop up. We have shared the results of our prompt below: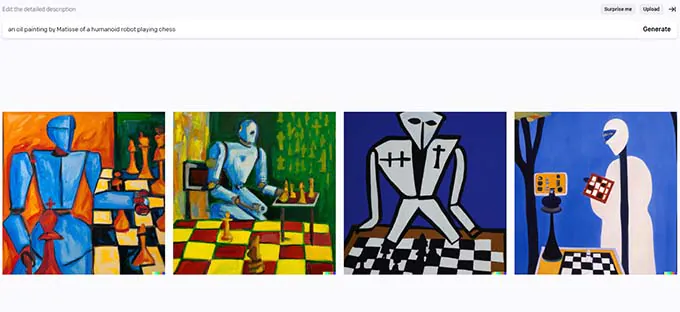 You can effortlessly download all the images to your computer if you want. Nonetheless, you can also click on any of the images to further edit them according to your interest. The editor in DALL.E offers multiple features like expanding the image frame, retouching the image area, and erasing the spots or pan in the image.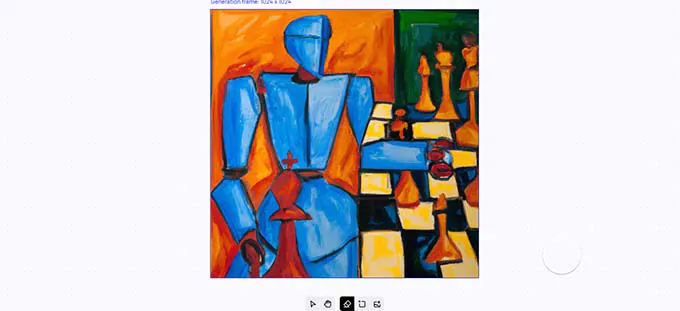 Click on the 'Generate' Button twice to regenerate the image based on your edited changes. Once you are done with making and saving changes you can now download the image to your computer. To upload this image to your WordPress media library simply navigate your way to the 'Add New option in the 'Media' section of the page.

You can include an image directly to your WordPress blog posts and pages by executing this action. To edit the post or page you need to click on any point where you wish to display the image. On the post edit screen, you will witness an 'Add the Image Block' by clicking this option you can upload the image directly from your computer to the blog post.

What is The License Used for Images Generated by DALL.E 2?
DALL.E2 provides you with the image copyright generated by the prompt. You can use these images on any platform other than WordPress website if you want like YouTube videos, magazines, eBooks, and much more.
2. Use Imajinn to Generate AI Images in WordPress
The very first and trusted method is to use Imajinn Aito to create images on a WordPress site. Imajinn AI is a much similar tool to DALL.E 2, Stable Diffusion and Midjourney. It lets you generate images using AI based on the prompt your assign to it. Initially, you need to install and activate the Imajinn plugin tool. This plugin tool is free and offers 10 credits, later on, you can upgrade at any point from the plugin's official website. To activate your plugin navigate to the Media section and click on the Imajinn AI to set plugin settings and create attractive pieces of artwork.
The tool asks for an email address and a suitable password to let you sign up for your account.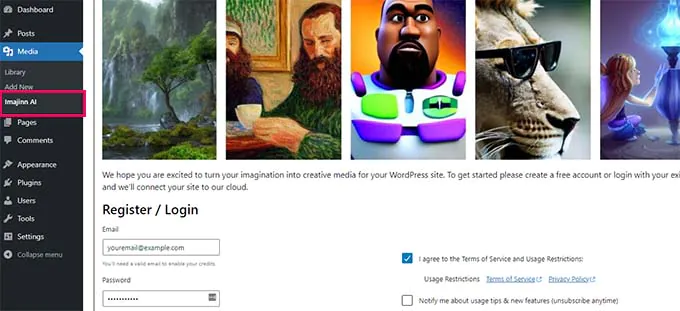 Afterward, you can start generating images using the powerhouse tool Imajinn AI. Begin by providing the prompt details that you wish to generate. You can include as many image details as you can enter. Furthermore, you are required to select a specific artistic style, aspect ratio, and modifier filter to personalize your prompt.

You can click on the 'Summon' Button to actively launch the Prompt Genie tool. More ideas will be projected based on the prompt description you have provided to the tool.

Now click on the 'Generate' Button to make use of a suggested prompt your way or continue editing a custom prompt from the active suggestions. Once you are done with editing click on the 'Regenerate' Button to continue.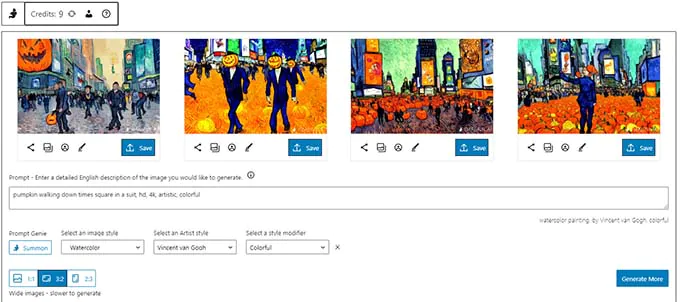 Below every image, you will find many options to share the image, add touch-ups, and repair faces. To save these images to your WordPress media library proceed by clicking on the 'Save' button.

To use the image in your WordPress pages and posts, you will need to edit the page or page where you want to add this page. On the post-edit screen add the image block wherever you wish the image to be displayed and then click on the 'Media Library' as highlighted in the reference image attached below: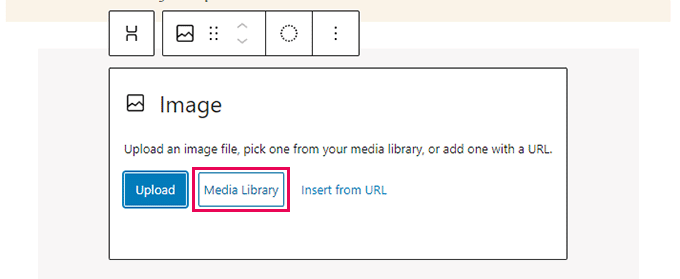 For the next step, you will have to select the image which you saved in the previous step from your Media Library and provide a suitable Alt text for that image. Later go ahead and press the 'Select' Button to insert this selected image.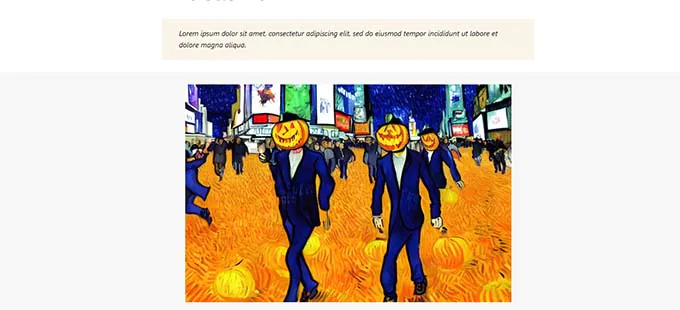 The Plugin also supports an Imajinn block that you can link to your posts or pages to generate an image inside the block editor hassle-free.

What is The License Used for Images Generated by Imajinn AI?
All kinds of images created by Imajinn AI are supported under a CC0 license. You can easily use them for free on your website if they fit your project demands perfectly. We hope this blog served your purpose and showed you the exact idea of how to use AI to create enticing images for your WordPress site. You might also want to see our series on SEO guides and learn more useful tips to optimize images for your WordPress site for better speed.