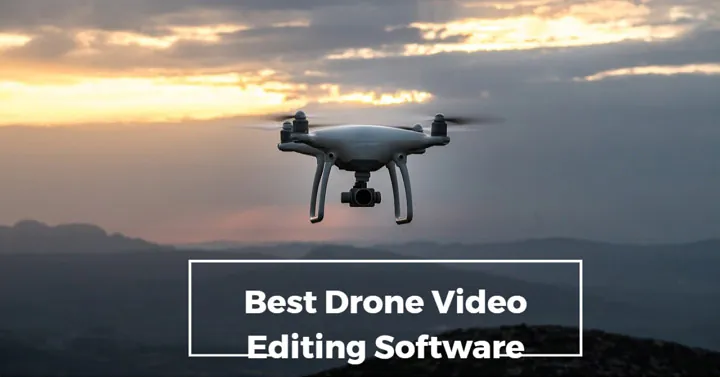 Best Video Editing Software for Drone Photography
If you are new to drone photography and require brilliant software tools to carry out astonishing drone photography then this blog is written especially for you!
A drone with an attached camera sighted in older times was a rare sight but now technology has come a long way. Factors that added to its popularity are based on its easier accessibility and wide-angled view capturing abilities. A drone cost is associated with the kind of technology that is being used, there are many cheaper options available in the market for beginners to practice their photography skills.
From an artist's point of view, drones elevate creativity to new standards and enable individuals to view their surroundings from diverse perspectives. Such uncommon views from new angles and heights open new corridors in the field of photography. With a drone camera you can shoot almost any scene you can imagine in your mind and where you are unable to reach physically. A videographer can shoot all sorts of videos using a drone camera and can edit them professionally with the help of advanced drone video editing software tools. Let us have a look at the equally remarkable editing tools you can use when shooting with a drone camera.
10 Top Drone Video Editing Software
As technology is advancing day by day and becoming increasingly accessible to everyone. It is predicted that the use of drone photography will soar unchecked. With every passing day, competition is also becoming extremely intense. To stand out drone videography is becoming a new mantra in the film industry. There are various renowned video editing software tools available in the market. Video editors consider the associated pros and cons of each tool before opting for editing the video. To make things easier for you, we have listed out a few trusted editing tools from which you can take consistent benefits, these tools include –
Adobe Premiere Elements

Adobe Premiere Elements is popular video editing software used widely by professionals in the industry. A powerful tool that is religiously used by professional video editors to deliver consistent results each time, it can be easily operated by a non-professional as well. It is best suited to provide workshop pieces of training to amateur video editors. It comes with several enhancement features that provide the basis for learning the fundamentals of video editing.
Pinnacle Studio

Pinnacle Studio, is another extensively used video editing tool to carry out simple video editing processes. If you need to merge multiple videos or overlap them then this video editing tool is all you need to get the job done. Pinnacle Studio provides thousands of special effects, themes, and transitions. It allows the content produced to be engaging and creative.
Cyberlink PowerDirector

Cyberlink PowerDirector is extraordinary intuitive drone video editing software. The software has a unique design and offers a safe user experience to video editors of all groups be it a professional or an amateur. The tool provides a technical balance by being not too complex for beginners and not too simple for professionals. You can easily export videos of your liking into several formats. Cyberlink PowerDirector offers interesting color enhancement techniques.
Sony Vegas Pro

This is yet another advance and original video editing software by Sony. The Sony Vegas Studio is constantly improving and updating the video editing features. The very latest video editing software can produce high-quality and creative videos. It works wonders when the video editor uses adequate knowledge and capabilities to do so.
Nero Video Editor

Nero Video Editor is considered appropriate to create videos in various recognized formats. The tool supports plugins and third-party add-ons to readily integrate the video editing process into a single workflow. You can carry out several transitions, special effects, text options, and develop real-time drone videos.
VideoPad

This is noteworthy drone video editing software that is ideal for beginners. Although the tool comes with limited editing options it allows easy uploading of edited videos to any social media platform in your desired video file formats. Therefore, if you are looking to create dynamic short format videos then don't think twice before choosing VideoPad to edit videos without any trouble.
Sony Movie Studio Platinum

Sony Movie Studio Platinum is an advanced drone editing software that allows users to customize their effects and transitions with astounding sound effects to choose from. These factors enhance the capabilities of the video editing software. The tool also adds a professional touch to edited videos. Sony Movie Studio Platinum comes with exciting features such as DVD software and audio enhancement to professionally edit your drone shot videos.
Roxio Creator

Raxio Creator NXT is a must-try for all drone videographers. Undoubtedly, the tool is more than just a video editor by using it you can edit images, video clips, and much more. It is a very handy tool to make your friend adventurous in drone videography. It comes with a lot of advanced features as compared to other video editing tools available in the market.
MAGIX Movie Edit Pro

This is indeed the most stable drone video editing tool you can use to edit videos within no time. It comes with an incredible list of features and tools with which you can create high-quality videos in less time and with minimum effort. The tool allows you to export videos in several formats that are compatible with Blu-ray and AVCHD formats. It can export and import 3D files as per project requirements.
Corel Video Studio

Corel Video Studio Pro X6 is the most advanced drone video editing tool that has become the talk of the town among professionals. The software is fancy for all those that are into drone videography. Features instilled within the software allow an individual to create professional-looking personalized drone videos. The tool has a simple user interface and can be easily used by beginner-level editors. Furthermore, it allows limitless video editing and sharing to break the monotonous editing workflow into highly accessible bits.
How ITS Can Help You With Professional Photo Editing Services?
Information Transformation Service (ITS) also provides solutions for long-term economical outsourcing plans to marketing giants and state-of-the-art enterprises whenever you like. ITS has an organized variety of teams holding professional and experienced editors for your convenience. There are numerous categories to choose from along with customized packages that can be formulated according to your requirements. ITS Professionals employ the latest Photoshop techniques, tools, and software to render your images realistic and clear.
ITS will deliver at your intended time saving both money and extra cash. With over 30 years of Excellence, we can assist your company with faster and reliable service which is 100% likely to increase your market value and your business product/service reputation among existing and new clients. If you are interested in ITS Photo Editing Services, You can ask for a free quote!