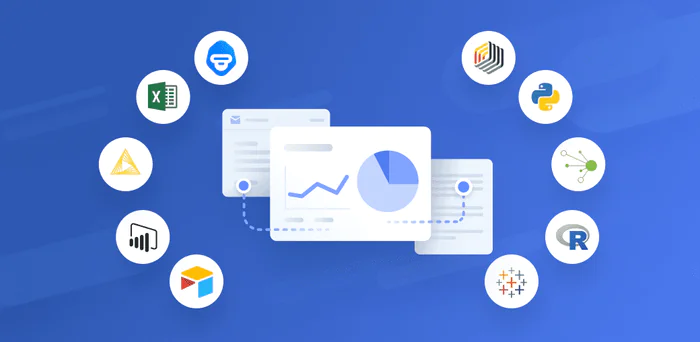 10 Best Data Analysis Tools For Data Analysis
Data Analysis has become a priority for marketing businesses for endorsing their products by employing the right data analysis tools for better business analysis. However, opting for the right kind of data analysis tool can become a challenge for beginners. The blog focuses on providing wholesome information regarding various data analysis tools to sort out your data management needs for a prosperous marketing campaign. Recommended strategies to help in effective decision-making involve data type and volume to be analyzed for a business domain. Also, it is advised to check whether the tools are in sync with your data security and governance policies and finally pay attention to your budget.
What Are Data Analysis Tools?
Data Analysis Tools are those specialized programs and software that gather and analyze big chunks of data about a business, market competition, and customers. This is important to have an in-depth insight into a business marketing campaign's positioning and future. The tools provide high-end technical support to uncover valuable business insights and to make leading data-driven decisions to assist a company to achieve its target.
Top 10 Data Analysis Tools
Take a good look at the below-mentioned 10 best data analytics tools which are available online. There is something for every business field here.
MonkeyLearn | It performs no-code (text analysis)
RapidMiner |It is helpful to build predictive models for data analysis
KNIME| Develop data science workflows
Talend | Collection of entire data in one platform
Excel | Employs data analysis mechanism
Airtable | part database, part spreadsheet
Power BI| Real-time output
Tableau | Style visualization of output
ClicData | Data connection and creation of interactive dashboards
Python | Programming Language for ML (Machine Learning)
1. MonkeyLearn
MonkeyLearn is a perfect non-code machine learning platform that allows a full suite of modern data analysis tools and techniques all in one place. It is an intelligent tool to cover up unstructured data in real-time and in less time. The interesting part is that the analysis tool is set to automatically analyze data via pre-trained models. In addition, you can create custom text analysis models with a simple point-click interface. The tool allows multiple data integration features such as classification of data by topic, intent, sentiment, relevancy, name, location, keywords, and so on. It is an all-in-one data visualization tool that can directly link with a robust API and native integration tools or apps you already use.
2. RapidMiner
RapidMiner is yet another amazing data science platform that assists business companies to build accurate machine learning models that can predict data effectiveness within minimum time. The tool is a treat for data analytic teams that work to tackle data complexities with greater ease. Considering your data problem you can turn towards different solutions like TurboPrep, which allow data cleansing and preparation of unstructured data into useful information; AutoModel, which provides diverse algorithms for effective creation of machine learning models; and last but not the least DataStudio, to develop a visual workflow for relevant data exploration over the Internet.
3. KNIME
It is an open-source platform that comes for free to create data science workflows. KNIME comes with an intuitive drag and drop interface that enable users to import data from different online resources. Not only this, advanced machine learning solutions and data visualization features are also present. The tool is being updated actively by a community of contributors. It is simple to create visual flows for non-programmers.
4. Talend
Talend provides cloud apps for data integration in a single platform. It is specially designed to help larger or small businesses to cover up their data projects hassle-free. It comes with a built-in machine learning mechanism and strengthens the user interface without having to face the need for a program code. Furthermore, it uses clustering, classification, recommendation, and regression algorithms.
5. Excel
Excel serves as both a common and useful tool to organize, sift out and visualize data quantitatively. It is perfect for performing simple and robust data analysis. You can use a wide range of filters, formulas; create pivot tables, charts, columns, and graphs to increase the data quality that you have gathered for your business. However, there is a preset limit to which you can use Excel to handle data. For bigger data concerns choose a more powerful data analysis tool at scale.
6. Airtable
Airtable is an intensely user-friendly data analysis tool that makes use of cloud collaboration as a part of the spreadsheet and database. It provides data visualization and data analysis functions via a powerful database at the backend. You can manage the database by using 'views' to keep a track of your business information. Developers can also connect to Airtable with apps using an API.
7. Power BI
Business intelligence tools such as Microsoft Power BI are useful to keep up with large volumes of the data analysis process. You can benefit largely by spotting hot business trends, insights, and patterns across the online database. The tool can efficiently gather information from multiple sources and drop and drag elements to create real-time reports and dashboards. Power BI is equipped with excel integration, artificial intelligence, and pre-built data connectors.
8. Tableau
Tableau is a powerful data analytics and visualization platform which allows you to associate your company data and create interactive reports which can be updated at regular intervals. The tool is easy, accessible, supportive of large volumes of data, and can be run on cloud devices.
9. ClicData
The data analysis tool is an exceptional end-to-end business intelligence platform that provides fast data connectivity, data automation, data visualization, and data transformation features in one tool. ClicData is a cloud-based data analysis tool and operates across all devices.
10. Python
Python is one of the most advanced forms of programming languages present today. Python is considered the most favored language for Machine Learning due to its increased flexibility and built-in solutions for various cases. In addition, it is straightforward to write for data analysis tools.
Conclusion
Data analysis tools prove useful to draw effective insights to uncover trends, unmask customer data, and make patterns for better business marketing campaigns. As mentioned in the blog, there are a wide number of online data analysis tools that you can benefit from whether you need basic analytical tools or complex mechanisms to boost your business data incentives. Thanks to No-Code ML Software, It has become much easier to deal with raw data. My pick is MonkeyLearn as it is an all-in-one text analysis tool as well as a business intelligence tool. It can manage, sort, visualize and analyze a heavy volume of data files in no time. Choose wisely!
How ITS Can Help You With Data Entry Service?
Information Transformation Service (ITS) provides convenient Data Entry Solutions regardless of any additional investment of staff, resources, or infrastructure. By outsourcing your Data Entry Projects to us your company will be blessed with high-quality and diverse data entry-related options. Such quality service enables your data to be entered in various desirable formats with repetitive, inaccurate, incomplete, grammatically nonsensical words replaced to form better semantic clarity and understanding. Irrespective of the size and complexity ITS Team defines customized packages to directly answer specifically your business big data projects. If you are interested in getting ITS Data Entry Services you can ask for a free quote!