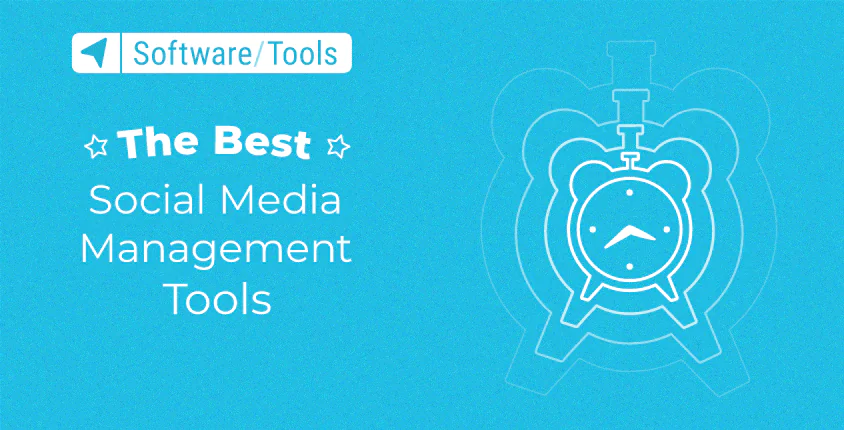 Best Social Media Analytics Software In 2021
Social Media is captivating in terms of brand growth and product sales. Hence, it is important to use it wisely. There are many specially designed and manipulated software that caters to all your business goals by measuring all social data indicators. Tracking and sharing all important data has never been made easier with the help of such amazing tools. Furthermore, audience size, engagements, and demographics are traceable which can prove beneficial for a long-term product sentiment analysis for your company. Analytics play a major role to decipher all the hidden or unapproachable data through social media activities. With over 3.484 billion users of social platforms, it has become comparatively easier to get increased leads for your products. A step in the right direction can eventually better the situation for your company to push through an immense online competition.
Social Media Analytics especially focuses on the collection, monitoring, analysis, summarization, and visualization of all aspects of the acquired data. All this proves a blessing to construct authentic online campaigns and to maintain healthy competition with your rivals in this industry. Social Media Research is the process of analyzing social media data to conduct quantitative (and at times qualitative) research to understand how audiences relate to topics, by using tools and data extraction techniques. Thanks to advanced social listening and audience intelligence tools and platforms, researchers today can aggregate data relating to specific events, topics, or within a specific audience group from social media, web, forums, news, and blogs.
The list for 2021 Best Social Media Analytics Software is as under:
1. Sociality.io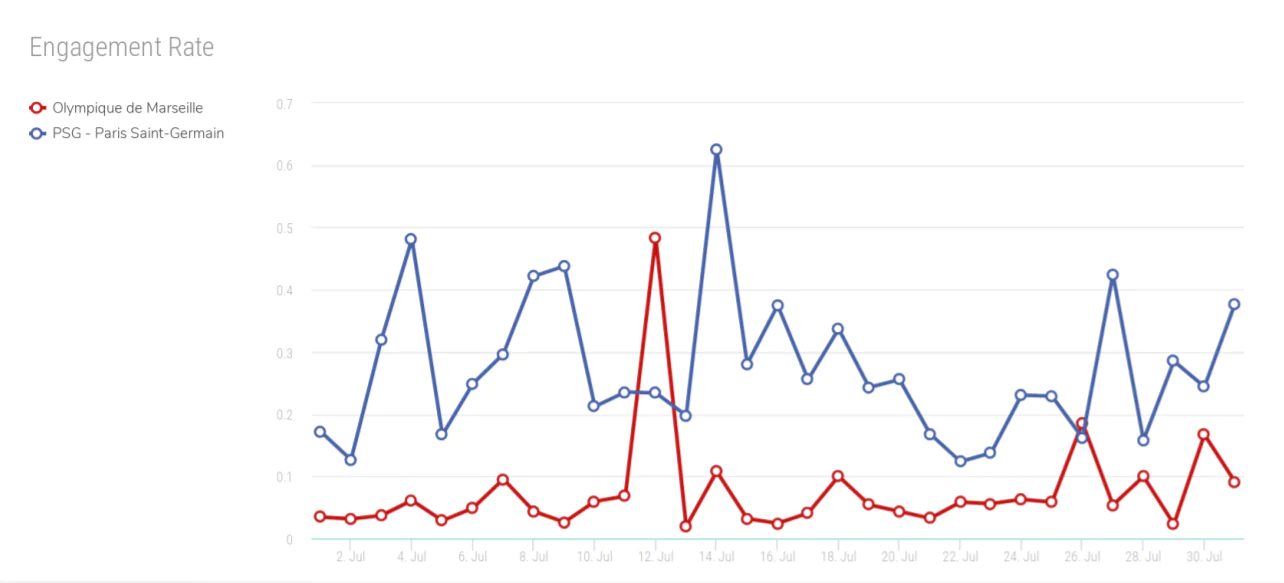 The tool is social media management-based to publish bulk content on numerous platforms all in one go. It is simply a better option for all freelance social media operators, brand executives, and other agencies. The tool envisions your brand with up-to-date fresh content with certified approvals. Besides competitor analysis provides you with a detailed report for recreation of all social media practices and strategies. The data not only is secure but also proves fruitful in making business-oriented decisions more seamlessly.
This tool can provide up to 15 competitor pages at all one time. Furthermore, it supports all kinds of social media platforms ranging from YouTube, Facebook, Instagram, and Twitter to individual selling platforms. The tool is a massive hit in terms of reporting instantly upon Excel or PowerPoint. An effective business is just a tool ahead for your business engagements. The starting cost initially is set up for 3 months duration with a complimentary half a month trial. Such are all the reasons why brands like ING Bank, Havas, WPP, Tribal Worldwide, Ogilvy, and Isobar have Sociality as their constant major support system.
2. Hootsuite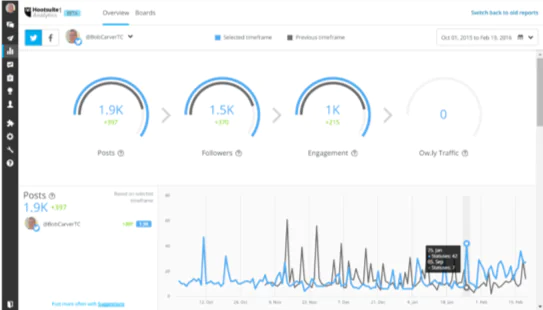 If you are constantly in touch with social media, it is unacceptable that you haven't heard or read about Hootsuite. The tool is a pioneer of all the marketing leaders which are in this field for a decent amount of time now. With over 18 Million Users across the globe, the software is a win for all your social media management projects. All business types ranging from big to small enterprises can easily access Hootsuite as their main lead for social media handling. It comes with analytical tools carrying approximately 200+ metrics for enticing customization reports, which are easily transferrable into PPT, Excel, or PDF formats. Initially, the tool has set a price margin of about $19.99 per month however for testing purposes there is a leverage of a 30-day trial without any excluding charges.
3. Buffer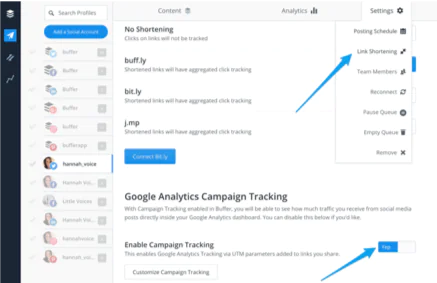 The buffer consists of many extensions and main tools to make you a social media managing star. If you struggle with leads or brand reputation charges then it's best to opt for Buffer Publish. The tool enables you to plan through all your important contents and their schedules to best suit your brand exposure on social media platforms like Pinterest, LinkedIn, or Twitter. Also, Buffer Reply takes care of customer service on mentioned platforms whilst Buffer Analyze is into IG and Facebook Analytics. The tool is preset for 15 bucks a month for the pro version. However, shifting towards a premium or business version depends upon your business requirements and brand incentives.
4. Socialbakers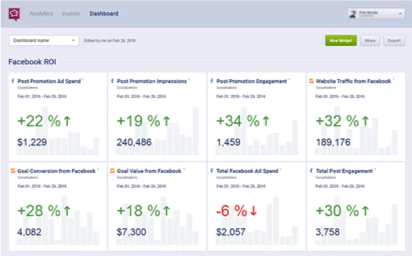 Socialbakers is another multiple platforms supporting tool that efficiently analyzes all your social media benchmarks and channels to speed up the brand's performance. In this way, you can create linkable content with Socialbakers and devise hardcore advertisement strategies which are based upon the tool's recommendations and smart calculations. The tool helps big time to sort and predict existing as well as future engagements for your long-term business advantage. Furthermore, it can calculate ROI with its amazing audience analytics tool. Within a few seconds, you can get access to all digital profiles. Apart from the social media management tasks, the tool also offers a wide variety of content intelligence, influencer engagement, and community performance statistics.
5. Agora Pulse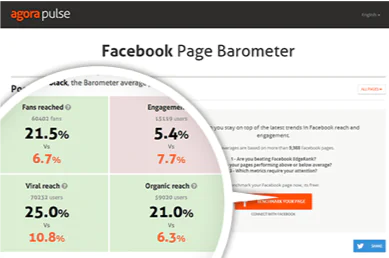 Next in this list is Agora Pulse, the tool is a visual report collector, which helps small enterprises or struggling businesses to have a close analysis of the competitor reports and understand the pros and cons of brand marketing. All the reports can be downloaded in customized CSV for a more in-depth analysis. Furthermore, the tools support a variety of features such as community engagement and response time reports, content distribution reports, global statistics, and Facebook ROI reports, etc. Almost 17,000 social media managers employ Agora Pulse for daily social media management purposes.
6. Sprout Social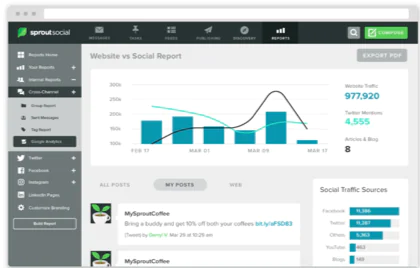 The latest software divides all kinds of social media tasks such as Analytics, publishing, engagement, automation, collaboration, and listening all in one place. All kinds of essential performance applications used for measuring social media tendency are channeled with the help of Sprout Social. Content, Network, presentation, and team-oriented tasks are readily completed with the help of productivity reports gained via Sprout Social. The monthly pricing of the tool is $99/Month/User for the basic version involving all five social profiles.
7. Keyhole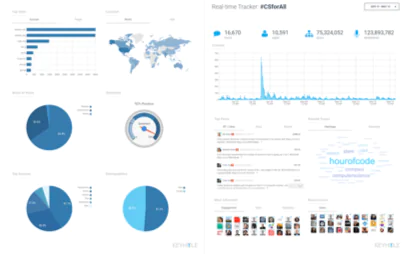 Keyhole is an appreciable step towards strengthening the unique data systems. It monitors and controls all kinds of media analytics and monitoring functions. Keyhole API allows data fetching from diverse platforms such as YouTube, Facebook, Instagram, and Twitter. Not only this, but all kinds of news media and website blogs can also be acquired with the help of Keyhole. The tool operates upon Trend Analysis and Hashtag Analytics, for gaining traction and to allow efficient tracking of hashtags campaigns listed upon social media platforms. Also, the acquired data can be safely collected and transferred to PDF or CSV file formats. Social Networking Icons like Google, UN, Mashable, Oglivy, L'Oreal, and many more utilize keyhole for data needs.
How ITS Can Help You With Social Media Research Service?
Information Transformation Services (ITS) has been providing Social Media Research Services for over a time now. ITS, know all about the modern-day industry and its trends on social media platforms. Our organized and well-managed ITS Team specializes in utilizing the latest software and expert recommendations for your outsourcing projects in the fastest turnaround time to help your business expand exponentially. Each one of our existing clients speaks volumes of our tremendous success, expertise, and vigilance. If you are interested in ITS Social Media Research Service, you can ask for a free quote!