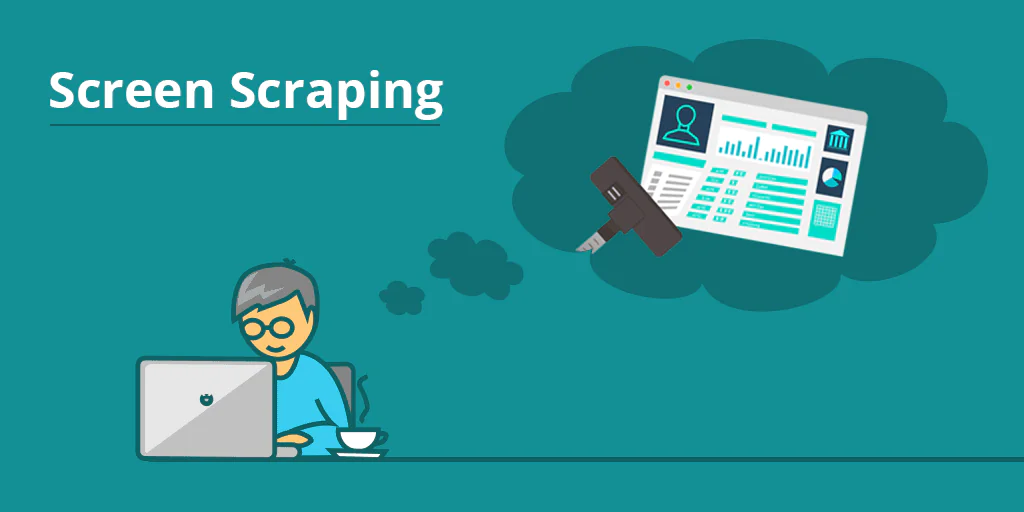 What is Screen Scraping?
Technology is continuously evolving around us at lightning speed. With immense innovations being applied daily universally. Scraping data from old software and applications has become complicated. It is not only time-consuming but a costly affair it is. To overcome data scraping needs from old or outdated applications we need another way! Screen Scraping significantly helps to shift legacy applications to containers and clouds. Hence, giving it an edge for falling under budget. To support and integrate legacy applications is undoubtedly a tough task, however, it is not impossible!
Fortunately, there is Screen Scraping which allows new and improved applications to easily interact with the legacy applications for data sharing.
What is Screen Scraping?
Screen Scraping is primarily termed as text data reading from your computer terminal screen. The latest form is referred to as a part of the program which helps mediate between the two applications and user interfaces. Screen scraping programs are specially made compatible with the outdated versions such that they can perform readability tasks very cleverly. Such legacy programs can work just fine and their data or form of logic can be derived for useful business operations.
How does it work?
Screen Scraping gets your data from where it is displayed in both data files and the database. The Screen is the core element within screen scraping. It directly scrapes the intended data as compared with the data of any other database or application.
For Example: Consider a daily life example from the banking sector, Here, the data is transferred from the legacy desktop CRM to CRM of another web-based solution. Such data is largely case sensitive and has to be completed with strict accuracy checks.
Since the legacy CRM does not allow API transfer of data. Therefore, API integrated methodology is not applicable. This might add up to the significant reason for you to test out Screen Scraping Today!
Screen Scraping proves a high-end solution to all data pull-off problems. It does not only scrapes data from the CRM via OCR but also stores it inaccessible databases ensuring 100% accuracy. Moreover, this can be done without the help of any modified application, a source code, or an API.
Screen Scraping Techniques
Screen Scraping Techniques allows pulling off data from an output display of any legacy application. The four techniques to use screen scraping with complete proficiency to your business advantage are as under:
Custom Mirror Driver
Custom Mirror Driver is a Display Driver, used commonly in remote desktop software programs and technical assistance technology. The custom mirror driver does its part by polling the screen changes for scraping updates. Also, it displays the operations and even extends them to gain a physical display device.
Using Standard APIs
Standard APIs are used to extract or scrape only typical desktop applications. Text from such applications can be extracted by employing a certain standard API to use. It can also be used to extract selected, cursor, or text information via sending certain window messages. To enable successful integration of business applications, APIs prove highly accessible. IA2, UIA are some commonly used APIs.
There are many such applications for API because of the compatibility challenges with APIs. In this case, it always proves best to consider which API works best with which application. A handful of applications such as LibreOffice, Microsoft Office, OpenOffice, have their APIs like Microsoft Office Interop UNO and more. It is comparatively easier to integrate such APIs which are compatible with both macros and web.
System APIs Interception
With Intercept APIs, you can easily command all operations on the software. Intercept APIs function calls to construct a set of functions like DrawText, TextOut, and other GDI+ methods in the case of the UI program. These direct target applications such as WinForms, WPF, MFC, or QT.
When intercept is performed with the assistance of the mentioned method, you can easily get the intended text, which is displayed upon the screen. However, every method has its limitations, the benefits come with a slight disadvantage that it has access to the undocumented APIs. Which becomes difficult from time to time as the complexity of data extraction increases. It lacks efficient data management and categorization.
Optical Character Recognition
OCR is also mentioned many times as Optical Character Reader instead of Optical character Recognition. It seeks electronic and mechanical image conversion of any handwritten or typed text into machine-encoded text. It is essential to keep in mind that OCR does not provide a complete accuracy rate. However, it can prove a remarkable easy source to scrape text compared with other methods which are not compatible with all applications out there.
Screen Scraping Tool
It is time to shed some light upon the screen scraping tools. Below are listed some of the top screen scraping tools which make screen scraping all-time hassle-free.
UiPath
UiPath Studio is a comprehensive solution for screen scraping needs. It allows you to directly pull out data from any intended application within minutes.
Features:
It is an appreciable solution because it allows approximately 95% accuracy with screen scraped data. It allows Screen OCR for Citrix and Desktop apps (remote).
It enables precision within GUI automation.
Extracting data takes only 16 Milliseconds.
An innovative tool to render screen scraping from running apps.
2. Jacada
Jacada Automation and Integration (JIA) proves the most reliable option in terms of effective data integration, screen scraping from Windows applications as well as desktop automation.
3. Existed
Existed is pretty unique and builds up custom software for screen scraping. Such specialized and customized software takes good care of your business data requirements. The tool is a big-time custom solution for efficient screen scraping.
4. Macro Scheduler
Macro Schedule offers a whole lot of tools within itself such as Macro Editor, Macro Recorder, Code Wizard, and SOR. Such tools can easily automate data that is displayed upon the web screen.
Features:
It allows unique screen capture for text and enhanced OCR functionality which can monitor text and extract it from the screen.
Another aspect is that it provides easy operation for Debugger Step and Macro Editor.
5. ScreenScraper Studio
ScreenScraper is utilized for many reasons. Firstly, it is used to develop scripts and apps. Secondly, it is used to scrape data directly from the web screen which is displayed. It also proves to be vital to automate UI for other apps.
Features:
This tool helps to scrape direct text without control on the screen. The hidden text inside the window can also be retrieved.
It allows a better user interface for controls, clicks, links, and writing up text to more complex editable data control.
Text position can be identified as well as the text can be taken directly irrespective of the font or the text color.
How ITS Can Help You With Web Scraping Service?
Information Transformation Service (ITS) includes a variety of Professional Web Scraping Services catered by experienced crew members and Technical Software. ITS is an ISO-Certified company that addresses all of your big and reliable data concerns. For the record, ITS served millions of established and struggling businesses making them achieve their mark at the most affordable price tag. Not only this, we customize special service packages that are work upon your concerns highlighting all your database requirements. At ITS, our customer is the prestigious asset that we reward with a unique state-of-the-art service package. If you are interested in ITS Web Scraping Services, you can ask for a free quote!