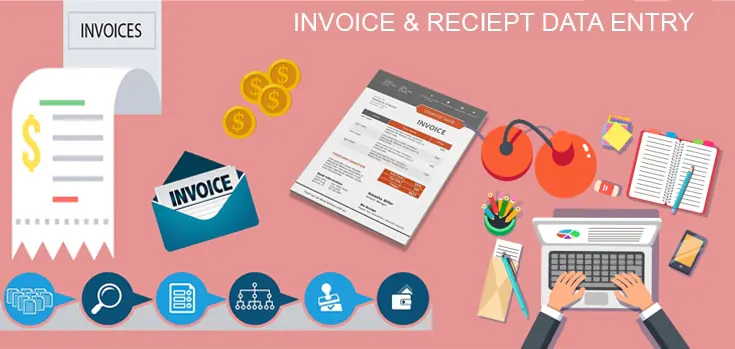 What is Invoice Form Data Entry?
The procedure of invoice or receipt data entry service is highly critical for every business company to prosper. Regardless of the business accuracy and vastness of the invoice data entry functions, it has special implications in the digitization of business receipt data. To overcome various data entry challenges during invoice data entry processes hiring a professional data operator can be of great relief. Outsourcing invoice data entry also helps execute high-quality online invoice processing services. Invoice data processing solutions are grouped into two categories namely specialized invoice processing and general-purpose data capture applications.
Specialized Invoice Data Entry applications are pre-configured to record invoices. On the contrary, General Purpose Data Capture applications are configured to recognize different contents of invoice data. The specialized applications are way easier to maintain while general-purpose applications come at an economical cost to capture data as per your business requirements.

It has become an absolute necessity to process your business data in portable formats. Your business relationships with your clients and partners count on the quality of the information that you provide. Giving in flawed or inconsistent information can hamper your business communications very deeply. Employing state-of-the-art technology and software tools can effectively streamline your data processing process and deliver high-quality results.
The two main types of invoice data entry applications are discussed and distinguished below –
Specialized Invoice Data Entry Applications
IRISExtract Accounts Payable is a leading special invoice data processing service solution based in Europe. ScanStore is a popular US-based company to offers cutting-edge invoice data entry solutions. Both these services allow data extraction including line items with the perfect training and with minimum effort. New vendors can be trained on the fly by non-programmers to constantly improve recognition rates. The technology is very powerful like popular service solutions provided in the US market within market competitive price.
General Purpose Invoice Data Entry Applications
ABBYY FlexiCapture is a general-purpose invoice data entry tool for extracting and locating data within receipts. It requires comparatively more time to configure than specialized invoice data entry applications but it offers greater data capture flexibility. This flexibility comes in handy when dealing with industry-specific data captures such as Fuel Surcharges on trucking invoices or Bill of Lading numbers. When more detailed information set up is required, it is a reliable option to configure invoice data in comparison with IRIS solutions. FlexiCapture is suitable to recognize table formatted information within a document like an invoice line items. Outside the accounts of the payable department, FlexiCapture has proven to become a robust and scalable data entry solution throughout business operations. Nonetheless, it supports hundreds of documentation scanning, recognition, verification, and administration that can be located across the globe.
Invoice Data Entry Process
The invoice data entry process deals with the collection of crucial information such as buyer/seller name, amount due, payment date, etc. Preserving such details in the client's desired file format is a key aspect of efficient business management. Popular file formats include MS Excel and MS Word. Receipt data entry services are essential for the correct order processing and functioning of a business as a big picture.
Managing Business Data
In-house invoice data management daily is mindboggling and cumbersome. To free yourself from the monotonous routine of manual invoice data entry equip your business with an eminent service provider to manage your day-to-day business data adventures effectively. Both receipt and invoice data entry comprises important customer details that are related to cash inflow and outflow. Hence, it is proven that a streamlined and organized data entry workflow can help any business firm to maintain a consistent invoice data process within the specified time.
Precise Information
In financial audit or retail businesses receipt and invoice, details matter the most. These data lists need to be carefully sorted and fed into the record-keeping system to be assessed later on. In case if they lack accuracy it becomes extremely hard to fetch data from other sources. An outsourcing partner will help you digitize data entry solutions to make your business workflow smoother and flawless. With the much saved time, you can better focus on core business activities.
Accounting System
Invoice data entry service providers play a pivotal role in invoice data management and other data-related functions. They help acquire enhanced data to analyze inventory systems and take care of accounts in time. Such applications broaden your business data horizon.
Save Space
Invoice and receipt data entry service is all about converting readily available hard copy data into an electronic version. It helps keep extra use of paperwork at the lowest possible limit within an office environment. This added benefit restores the physical office space. Data confidentiality and security-related concerns are all taken care of with outsourcing a professional invoice data entry provider. Furthermore, it will prevent the multiple threats arising from many internally or externally occurring factors.
Invoice/Receipt Scanning
Invoice or receipt scanning service helps your business data get readily converted to digital formats that can be instantly stored by using a digitized document management system. This well-structured data can be stored within closely packed storage spaces and can be shared among authorized individuals or colleagues for valuable feedback. The process of receipt/invoice scanning assists in precisely capturing much-needed information that serves business purposes in the long run.
Advanced Technologies
Outsourcing invoice and receipt data entry services to a renowned professional will benefit your business in acquiring advanced technologies output. Professional level providers are well equipped with both contemporary and advanced data entry software tools. These latest tools can bring out the best results associated with receipts or invoices. They deploy OCR technologies to efficiently process receipt bills or customer invoice data successfully into digital formats for future reference.
Outsourcing your business receipt/invoice data entry services to a notable offshore service provider is the right solution to meet the ever-increasing customer expectations from your business. A dedicated data entry operator's team can ensure 100% accurate data quality results within the preset time duration. Furthermore, you can enjoy choosing from several standardized file formats to store data output like TEXT, HTML, Word, Excel, and others. Outsourcing proves to be an excellent solution for both long-term and short-term invoice data entry projects for every business field.
How ITS Can Help You With Data Entry Service?
Information Transformation Service (ITS) provides convenient Data Entry Solutions regardless of any additional investment of staff, resources, or infrastructure. By outsourcing your Data Entry Projects to us your company will be blessed with high-quality and diverse data entry-related options. Such quality service enables your data to be entered in various desirable formats with repetitive, inaccurate, incomplete, grammatically nonsensical words replaced to form better semantic clarity and understanding. Irrespective of the size and complexity ITS Team defines customized packages to directly answer specifically your business big data projects. If you are interested in getting ITS Data Entry Services you can ask for a free quote!