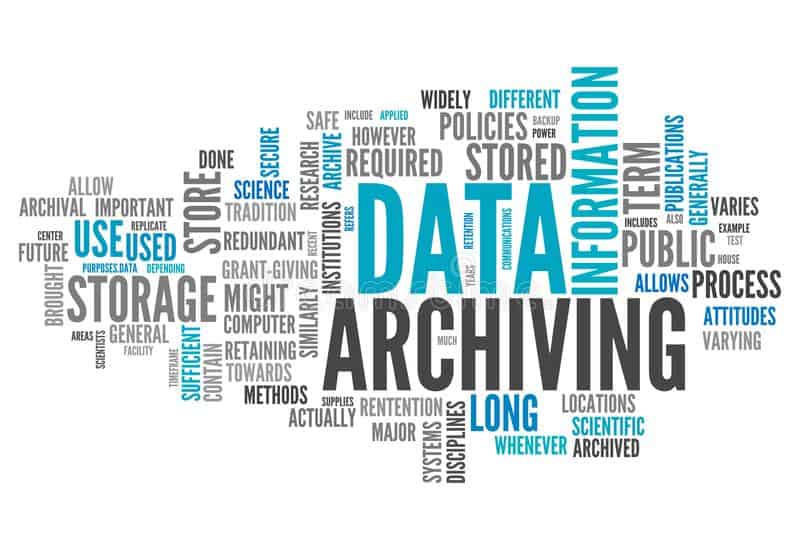 What Is Data Archiving?
With the ever-increasing demand for data creation and data execution, data archiving has seemingly become an important process to manage large data volumes by converting them from paper into digital assets. If you constantly worry about managing your data reserves you can leverage a high-profile plus cost-effective document scanning service provider to archive, store and manage your data in an appropriate manner. Businesses need data archiving to maintain old data records and add new information to existing records at regular intervals.
What is Data Archiving?
If we put it in simple words, data archiving is a process of shuffling and organizing data based on its activity and uses. The recognizable data is stored in storage systems for future reference. A beneficial data archiving service ensures that users can easily access old data much faster and that too at minimum expense. Through data archiving you can easily transfer your company databases to another system while staying compliant with all standard data security rules and regulations.
Archiving for Document Scanning
The basic step towards turning your paper documents into electronic ones is to establish an authentic physical archive which will serve as a basis for easy implementation of systematic data capture from documents. Scanning and archiving business data help to ensure data safety and organization systematically. You do not have to stress about file storage in physical spaces all you need is any storage device like an external disk or flash drive etc to index all digital files. In this way, you can immediately access data and spare your time to run core business activities.
Organizing the Archive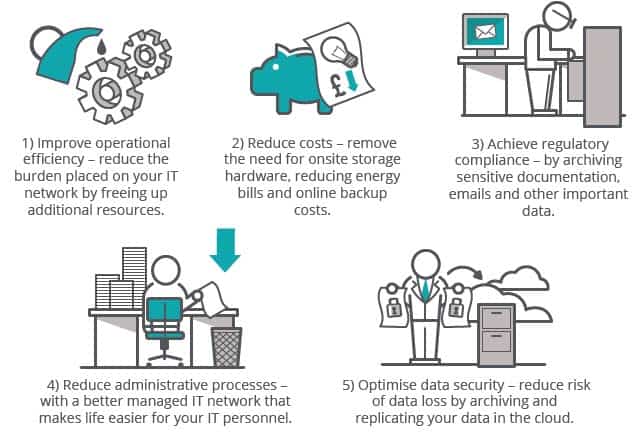 Archiving records according to some order helps you locate files easily. Moreover, you can work on creating an accessibility principle to allow authorized personnel to view your data only. You can grant access to your authorized person those that are trained for archiving. Through data archiving retrieving old information also becomes an easy task. However ill-organized data can build up your stress level and put your business at risk of potential losses.
Do's of Data Archiving
Understand the difference between Archives and Backups
In recent years there have been attempts to eliminate differences between archives and backups. However, it is important to learn about the purposes of both these essential data-relevant services. The former relates to long-term data storage while the latter is for data recovery in situations when data is lost.
Create Data Storage Policies
It is best to create data storage policies to deal with a larger volume of data and store it in the right places. A good data storage policy helps to identify which type of data needs to be archived readily. It is an essential data management strategy to prevent data loss.
Automate the Data Archival Process
It is not always a suitable choice to go with manual data archiving methods. Automated data archiving helps to lower your business's overall operational costs with trustworthy document safety protocols. Thus using a well-defined automated data archival process reduces the errors associated with manual archiving.
Frequently check the Validity of the Data
In many cases, you require information for ten years while in some 5 years or the same year. So, once all data is archived it is possible to conduct data analysis of readily available records.
Implement a reliable Data Destruction Policy
Try to manage an in-house team of experts or leverage a reliable outsourcing team to deal with the data destruction process. This helps to make sure that data is destroyed at a proper time with all security requirements being supervised and under control.
Don'ts of Data Archiving
Equal Data Treatment
As there are many different kinds of data archiving trends that change from time to time. Just like many organizations might as well need to keep financial records for the last 5 years and medical data of 10-12 years. It is very important to understand a company's objective as the same organization may not want to archive unnecessary data.
Debunking Security of Data Archives
Never in your wildest dreams compromise on archives security because of the staleness of data, might the record contain the financial status of a company or personal information of company employees or anything noteworthy for the successful functioning of your company.
Storing Data in a Single Folder
Try and put the data into different categories within different folders. This ritual will help you to avoid errors that may occur due to data organization.
Unnecessary data retention policies
It is in your best favor to avoid creating and implementing unnecessary data retention agendas which may increase the likelihood of potential misuse.
Quick and Unwise Decisions
When archiving data you can utilize document scanning services to devise a workable and flawless data archiving strategy. However, it is advised to consider all data key points before finalizing one service provider company. As many new service providers are emerging hence the choice must be made wisely by considering the process's pros and cons for your business in both the short-term and long-term. The business world is on a continuous outlook for new technological advancements. Therefore, in order, your mark in the digital world one needs to invest in digitization, automation, and other key business lifting ideologies. With the existence of Big Data and its implications for businesses, maintenance, data collection, archiving, and storage it has become a permanent member of business communities. Outsourcing is a more practical solution for acquiring useful information for all kinds of projects. Effective data archiving is a reliable option to enable future retrieval and use of information at times needed. This celebrated aspect of data achievement helps businesses to improve their bottom line.
How to create an effective Compliant Archival System?
Open Archival Information System (OAIS) is among the leading standards in digital data preservation. It comprises all the preset applicable guidelines to bring smoothness in business operations and to ensure higher data integrity of digital information at all times. 6 principle steps for creating a compliant archival system as developed by OAIS are listed as under;
Ingestion: It is an important feature of digital archiving. Ingestion helps to prepare information that is required to be archived readily. Not only this, you can double-check the accuracy of the information for long-term data preservation.
Data Management: It helps to manage data storage of the company database and information.
Preservation Planning: It identifies and monitors all content and prevents any form of error from arising in case of long-term preservation. This function helps to signal whenever the document becomes obsolete or in cases when the digital signature expires.
How ITS Can Help You With Document Conversion Service?
At Information Transformation Service (ITS) we provide high-quality document conversion services and a host of other data-related services to clients from across the world. If you are interested in ITS Document Conversion Services you can ask for a free quote!