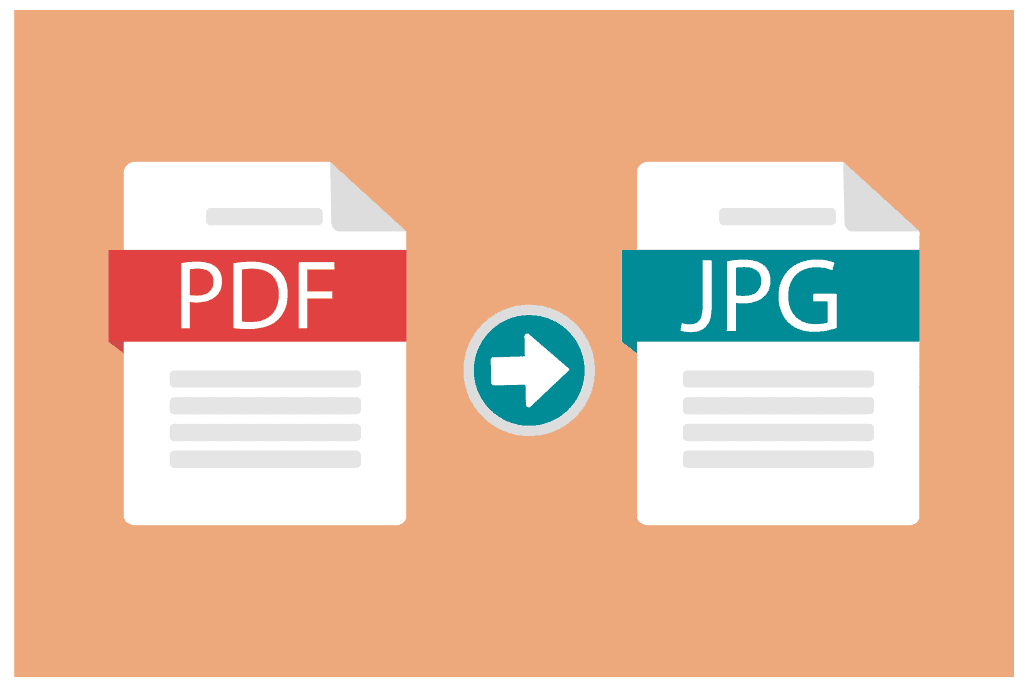 How To Convert PDF To JPG On Windows?
Do you still dream about easier data conversion? Does your business operation run late due to data unavailability? Or are you sick of converting loads of data on your own? There is one simple solution to answer all these questions and that is by outsourcing a professional and promising document conversion service for your company's seamless data management. Days of manual data entry are a rarer sight now because of the much more advanced digital formats. Dealing with digital data is way more accessible and easy to handle as compared to paper-based documents. However, it still requires an effort to convert unstructured information into organized formats by using specialized software tools. In this blog, we will learn about how to convert data from PDF to JPG format on Windows.
PDF format is a universally accepted file format in office spaces. The reason for it is that this format is very easily shareable and editable on a variety of computing platforms like Android and iOS. Although not all kinds of devices support PDF format reading, many other file features like PPT and Word format get slow with it. For this reason, it is essential to convert PDF into a widely and more commonly used format i.e. JPG format. A good document conversion service provider supports your business's back-end operations and proves reliable in the long-term partnership. However, there are several software options available that you can try out to convert PDF format into JPG format on Windows and smartphones.
Check the popular ones here –
Adobe Acrobat
Adobe Acrobat DC is an exciting document conversion tool that caters to professional PDF file conversion to JPG, TIFF, and PNG formats. This tool paves your way to convert data safely into your desired file format in 5-simple steps. This PDF file to JPG file converter also leverages PDF to image format conversion in tons of color formatting to choose from and to mention it produces great image quality on any operating system. Adobe Acrobat DC is a common choice of professionals who stress more on quality than quantity, therefore, Adobe Acrobat DC is a good option for anyone who wants to get high-quality results with just a couple of clicks. Even if you are a newbie still you can manage to pull off quality data conversion with this tool by saving both your time and money. It is interesting to note that you can now save multiple files using these tools which makes it a number one option to accomplish the batch conversion.
Open the PDF file in Acrobat.
Select the "Export PDF tool" in the right pane.
Opt "Image as your export format", and then choose JPEG.
Click on the "Export" option.
Now choose a location where you want to save the file, and click "Save".
Wondershare PDFelement – PDF Editor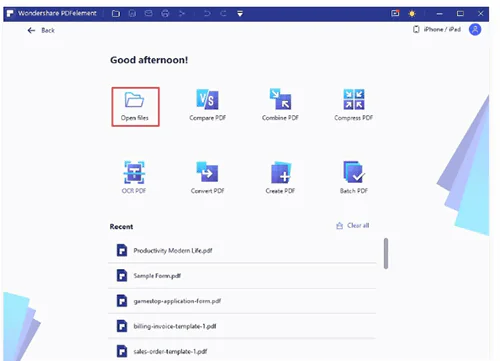 If you are looking for an offline PDF converter then this tool is specially made for you. Wondershare PDFelement – PDF Editor provides several useful file conversion options like editing, protection, and annotating PDF files. This tool is an all-in-one file conversion platform that provides high-quality results with the fastest speed. Users can now convert PDF files to numerous other well-known formats such as HTML, Excel Spreadsheets, Word, and TXT alongside image formats like JPG and PNG. This amazing PDF management tool comes with various smart features to edit images and texts in PDF documents. In addition, you can experiment with font size, font color, highlights, and underline text or can even customize comments in the PDF document. All these features are possible due to the OCR function of the tool that enables it to read scanned PDF documents or image files. You can work with multiple PDFs and convert them to JPG formats hassle-free.
PDFill Free PDF Tools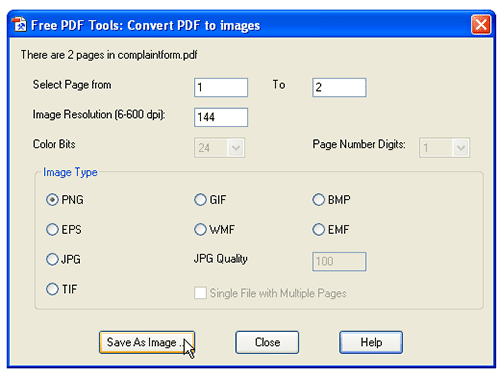 PDFill Free PDF Tools is a free tool that you can single-handedly use to convert a PDF file into your desired formats such as JPG, TIF, WMF, EMF, EPS, GIF, BMP, PNG, etc. Users will have to select the image resolution and the page range which can define the JPG format quality. You can add a PDF watermark using a graphic image in PDFill Free PDF Tools which appears to be in the background or over the PDF file content whenever a document is scanned or converted to paper. To successfully convert PDF files to images all you need to do is to select 'Free PDF Tools' followed by 'Convert PDF to images' later on to save the final changes you need to click on 'Save As' to have a brand new PDF file with you. The folder will be created automatically.
PDFMate PDF Converter
PDFMate PDF Converter supports an easy and clear user interface, to enable users to freely convert PDF files to JPG format or multiple JPG files to make your data more accessible. This tool allows you to carry out several conversion operations like edit, create, merge and convert PDF files to improve your business's overall functionality. You can benefit from high-quality image formats by using this tool. In addition, this software supports many languages namely, English, French, Chinese, German, and Japanese.
Zamzar PDF To JPG Converter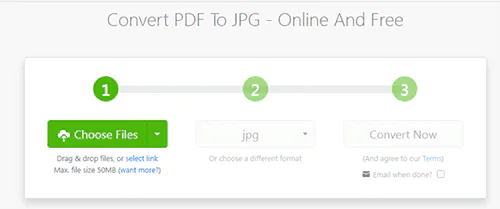 Zamzar PDF To JPG Converter is an online tool that addresses your PDF to JPG conversion concerns in the best manner. The tool offers easy and safe conversion to other formats such as BMP, dwg, epub, Dxf, CSV, Docx, Doc, Mobi, mp3, gif, HTML, png, ppt, odt, txt, tiff, fb2, Xls, and others. You can easily convert a PDF file in just 3 simpler steps. This tool is a strong asset for all those who intend to convert files using their mobile phones or PC anywhere they want.
DocuFreezer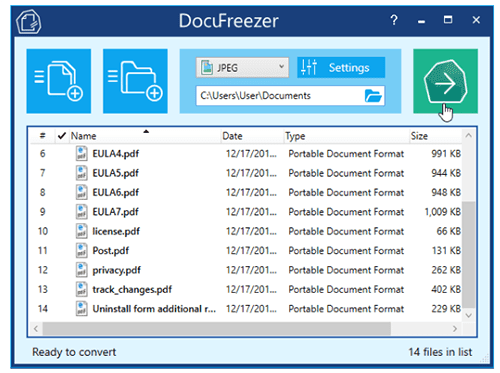 DocuFreezer is a popular desktop application that is best known for readily conversion of documents and images into portable file formats such as TXT, TIFF, PDF, JPG, or PNG. With this tool users ultimately have full control over limitless document conversion in one session which is otherwise not possible by using many other programs. You can convert, modify, and protect your converted files with the same format as that of the original file. This tool also saves file names, folder structure, metadata, color features, and attachments of the source files which can be retrieved in case changes are lost.
How ITS Can Help You With Document Conversion Service?
At Information Transformation Service (ITS) we provide high-quality document conversion services and a host of other data-related services to clients from across the world. Our data conversion specialists are experienced and well trained to deal with different forms of data and convert them into client desired formats within the shortest interval of time possible. We offer cost-efficient document conversion solutions that aptly cover all your data processing concerns. Our seasoned team saves you from the hassle of spending increased time and effort in hiring a distinguished in-house document conversion team. If you are interested in ITS Document Conversion Services you can write to us directly and embark upon a fruitful partnership with us for all your outsourcing requirements.