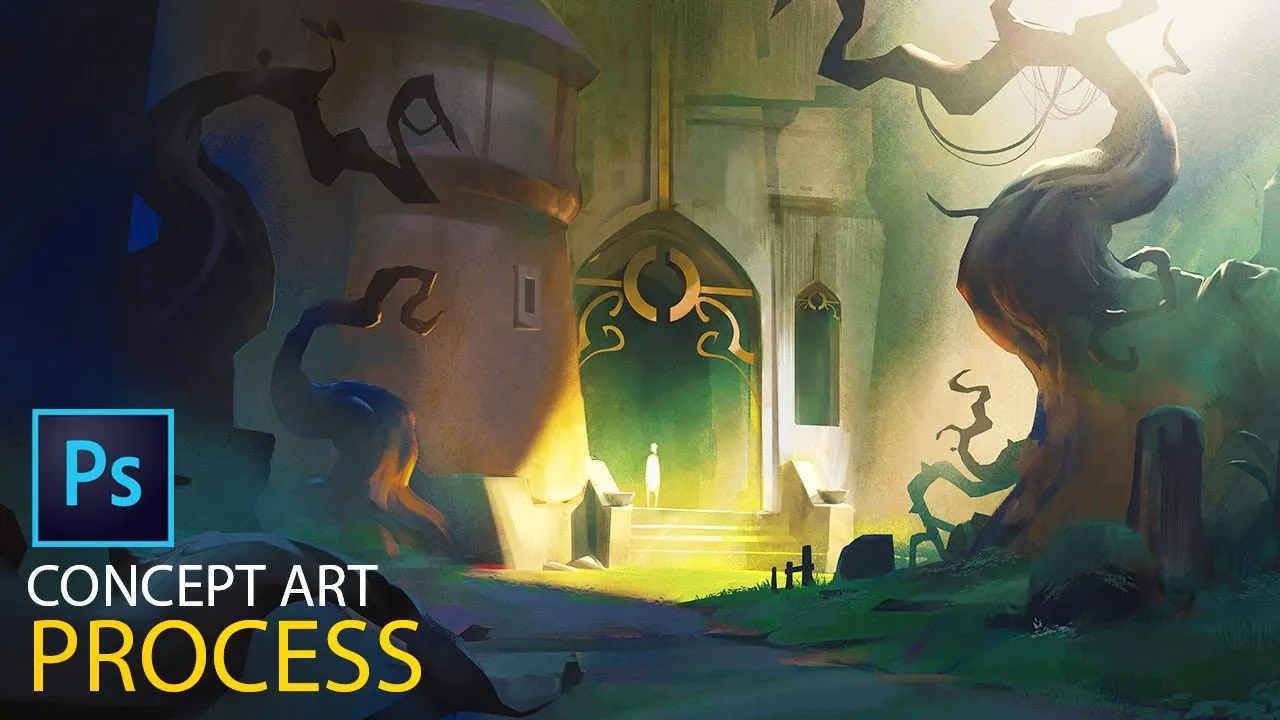 Conceptualization of ideas and beliefs to create something powerful is defined as concept art. A concept artist has got all the liberty to paint a picture of what is in his mind or his customer representation of something. Concept Art is not an easy thing to master. It takes a lot of practice and research to become a pro. A difficult field but a marvelous job that many men crave for, for me, concept art is likewise as entertainment and pro-sports. Both require the passion to create something out of you which is by freehand, not possible.
Concept Art is the name of creating wonders by the human mind. Animation, Sci-Fi Films, comic books, and video games are put together first through conceptualization before the output being finalized. It involves important first stages where the idea is just fresh and there is no detail present to support such ambiguous beliefs of a customer that he himself might as well not interpret on his own.
What is Concept Art Service?
Concept Art is an art used to define and create a parallel universe with props and illustrations perfectly comprehending each other. The variety of styles it offers to the audience is huge ranging from cartoons to realistic ventures and characters as well as 3D dimensions of things in one frame.
Concept Art Service professionally deals with great precision and accuracy to achieve realistic results that inspire and fuel collective imagination across the audience's minds. Each game style and genre is specially designed to promote a unique style that adds further creativity to the market. All Concept Art Services are hand-crafted by our trained experts and with advanced technical tools.
Who are the Concept Artists?
The Concept Artist is a creative individual with a good eye for visual composition and design. Some of them will be very skillful in creating amazing environments and scenarios, others will be an astonishing character and creature designers. Only a very talented few will be equally skillful in creating scenarios, creatures, and props. Studios and companies are always searching for skillful concept artists in order of fulfilling the respective needs of their projects. As an example, a gaming company developing a game whose principal revenue will come from selling character's skins, like League of Legends, for example, will be constantly searching for talented character concept artists.
Design Principles of Concept Art
There are seven principles of concept art. These include Contrast and variety to a close extent as they scale the intensity of how something is going to look enticing and close to reality. Meanwhile, balance, color, rhythm, space and texture are other predominant aspects of a piece of art to look perfect. All such principles are considered essential elements to make all the five senses feel good. Perfect visual effects are achieved by contributing the right amount of flavor of all these elements.
Categories and Varieties of Concept Art Services
There are many categories and varieties of concept art services. Popular categories involve 2D and 3D Animation, Product Modeling, Asset Modeling, Video Production, Film Making, Architectural Designing Industry, UI/UX Designing and Product Illustration. Whereas, varieties consist of Environment Concept Art, Character Concept Art, Weapon and Asset Designing, Vehicle Designing and more.
The Concept Art Pipeline
To understand concept art it is significant to understand the process to construct a concept art as a whole. The following five stages make up professional concept art and are practiced by experts all over the world.
Briefing
It is one of the introductory stages of the process. At this stage, the Concept Artist takes a view of all representation and descriptions (if any) of real-life from the client. He then envisions his own perspective by mixing real-life objects and constructing assets based upon the environment or imagination.
Thumbnails
After deciding the concept, the professional kicks off the work by pushing himself to define numerous thumbnails of the asset. This step should take less time but great productivity. Over 50 small thumbnails are no big deal. The idea is to structure the concepts in one frame. Art directors finalize which thumbnail suits best towards the asset creation. Hence, the process takes in a lot of visualizations and repetition.
Sketching
Sketching is the essence of Concept Art. If you are not a good drawer then you might as well not be a good concept artist. This fact is proven as asset creation whether animation or vehicle object takes in a lot of traditional representation by hand. At first, the white canvas is to be subjected to bright ideas then visual representation is done at the latter stages. It is important for any concept artist to be able to extract what is in the mind and present it on paper for further processing.
Color Test
When the ideas and concepts become clear and there are numerous design patterns to choose from. Color grading is done to check what color matches the asset more appropriately and brings out excitement. This stage is very colorful and involves the coloration of different possessions, parts of an object, and clothing specifications of an asset.
Final Design
The final stage further involves rendering by 3D Concept Artist to create life-like representation and models for clients. The stage contributes in enhancing significant features of an asset. The front, back, and side views are rendered 3D for better quality. The process is used in 3D Animation, Film Making, and Asset Modeling, etc.
Benefits of Outsourcing Concept Art Services
The latest image resolution software is used by concept artists to create sound and detailed versions of concepts.
A professional Service provider can assist your company in editing and cleaning fonts to avoid any font issues that may occur at the printer's side and correcting typographical errors.
It will ensure that an image/document is set up in CMYK (Cyan, Magenta, Yellow, and Black) as almost all printers use this color format.
Additionally, it will crop marks in an image/document that will show a printer where a bleed is and where an image/document should be trimmed.
Outsourcing can benefit you in terms of removal of noise from an image that is caused due to slow shutter speed, high sensitivity modes, photos captured in low light, etc.
Senior Concept Artists will sharpen images to improve contrast and make the edges of an image appear more defined.
Proof Editing will be done for the removal of any occurring visual or textual errors
Why Choose Information Transformation Service?
Information Transformation Service (ITS) deals in all categories of Concept Art Service, promising timely output, effective solutions, and proficient communication. Our Concept Artists are well-trained and well-equipped to handle your bulk projects providing detailed analytical solutions. All your video games development and asset modeling requirements are resolved with our internationally recognized technical ITS Team. Moreover, all our interesting deliverables are formatted and made compatible with any desired device or format. ITS has successfully contributed to the most renowned games developed over the years and continues to inspire millions. If you are interested in ITS Concept Artist Services, you can ask for a free quote!