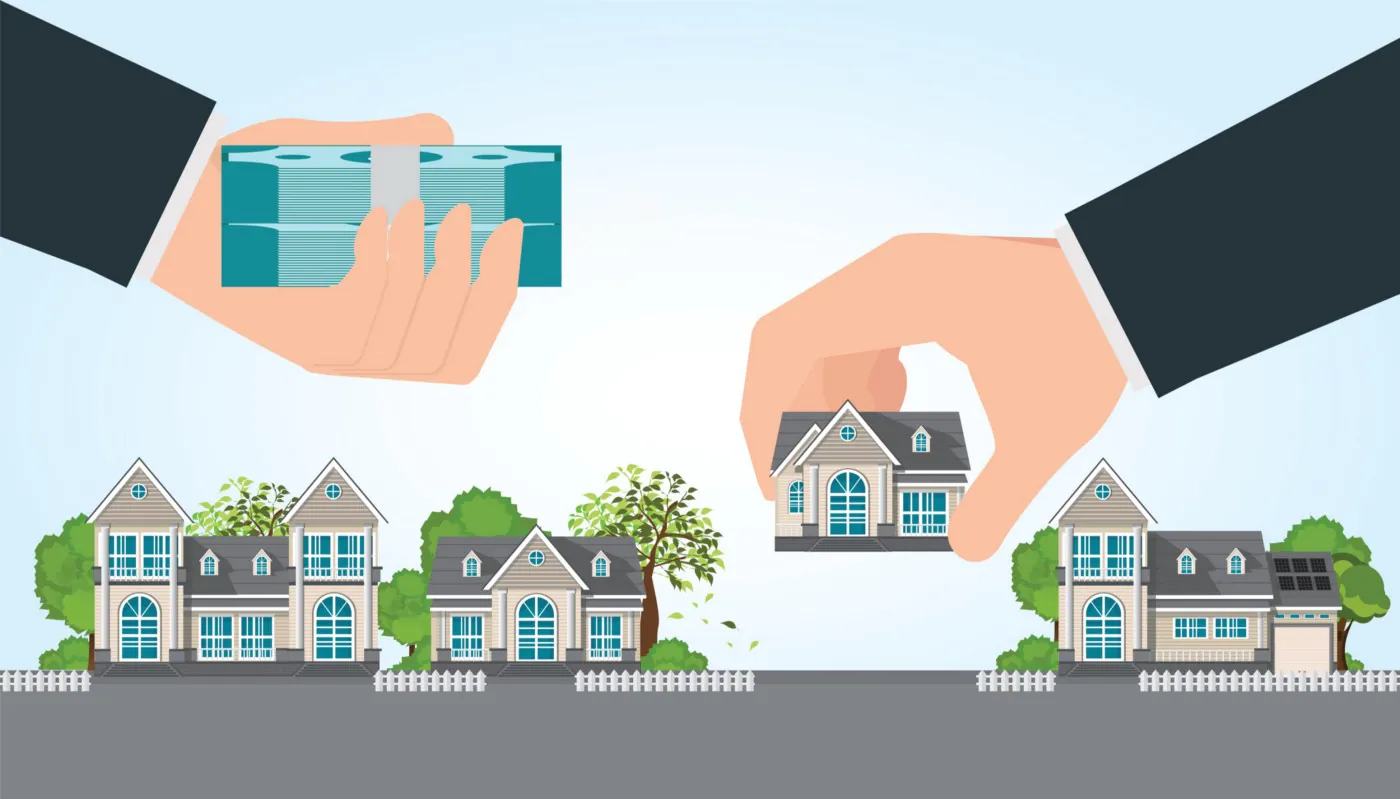 What Are The Popular Real-Estate Data Scraping Websites?
If you are a real estate investor then your might be aware of the secret concoction to acquire real-estate data readily, Yes! You guessed it rightfully! Web scraping has its implications in the real estate market as well. It is the fastest way to get an infinite amount of information that can practically be used for anything. With growing competition in the real estate sector, it has become vital for companies to shift their business models to web scraping as the final resort. The majority of the real estate websites follow the standard pattern which makes it easier to scrape bulk websites in a single go. Popular real estate websites such as zillow.com, realtor.com, and apartments.com support a somewhat similar landing page. When you begin your data search you get to experience various interesting parallels about real-estate websites;
Real-Estate Web Scraping Challenges
Where there are various benefits of web scraping there are many challenges in scraping real estate data as well because of the uniqueness of the real estate data. For this purpose, you need to double-check data to look for any discrepancies. Real estate listings have around 60 to 80 notable fields depending on the website size.
There is a huge amount of data that can be used as a reference to verify your product listings. To target information accurately you need to label and lay out the major elements of real-estate listings. However, there still exist chances that you will not be able to scrape all different kinds of postings. Some of the listings have problems like incorrect dimensions, missing pictures, inaccurate fields, and so on. Therefore, in place of monitoring every piece one by one, you should aim to design cases around them.
Solutions to Scrape A Real Estate Website
Real estate web scraping services are a whole process that involves human effort and automated tools to get information about all ins and outs of a real estate website. There are tons of web scraping services that you can make use of depending upon the size of your project. Automated web scraping enhances your business programming knowledge and abilities in website scripting languages. All kinds of data extraction are handled by an advanced software program owning to its unmatched functionality. The underlying concept of online data scraping tools is similar to eCommerce scraping services. Many real-estate businesses make use of automated eCommerce data extraction websites to access a huge variety of information from diverse sources. The gathered information is coded by real-estate coders including computer languages, databases, backend structures, etc.
What Kind of Information will Real Estate Website Scraper Deliver?
Advanced scraping software can extract listings, names, information, description, seller profile, property price, agent information, reviews, property location, photographs, plot location, and details from websites. Exposing real-time real-estate information will provide you with complete and trustworthy property information to cater to customers with excellent real-estate services. Collected data is saved into a variety of standard and portable file formats of your choice such as XML, JSON, HTML, CSV, TXT, database, and more. In addition, hundreds to thousands of rows can be extracted within a few minutes. In this blog, we will be discussing a few notable data scraping websites that you can potentially use, these include;
Realtor.com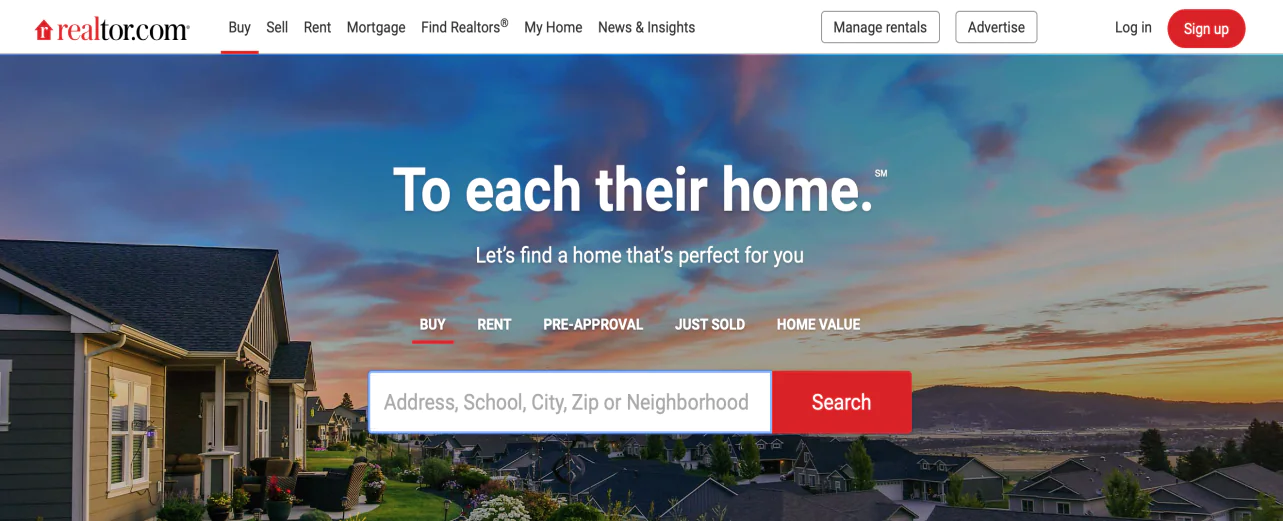 Realtor.com is one of the leading real estate websites in the U.S with over 80,000 real estate listings and 5 million homes sold. Access to such a huge amount of information can open countless doors to link with potential buyers and create an impactful brand presence in the digital market. Hence why web scraping is a powerful tool to bring people together and generate more leads. Web Scraping information is a little costly but it is a wise investment, especially if your business requires data to function regularly. There are numerous benefits that you can unlock by using Realtor.com, such as;
By offering your customers the most precise, authentic, and extensive data on each property listing you will eventually win their trust and increase your sales conversions with less marketing efforts.
To increase your business productivity at a lower cost, you can make use of real estate web scraping helps to save both time and effort. All kinds of research tasks can be performed swiftly and with less manpower.
You can partially or completely shift to automated data scraping tools from Realtor.com. This will encourage your business operational process, from technology to accounting, technology to marketing, and other departments as well.
Apartments.com
Apartments.com is yet another impressive apartment listing website that holds a database of 5 million luxury-style apartments in all 50 states. The website is a treasure for real-estate marketers that want to serve customers with top-notch apartments in leading hotels that they are already familiar with to make it easier for them to put their trust in your sources. Apartments.com is your key to purchasing or renting in the U.S.
Apart from a consistent client base, this website is all you need to create a strong real estate market presence that is necessary for commercial reasons all thanks to the online traffic that it receives regularly. By scraping Apartments.com you can derive all kinds of field information like a list of free apartments, price listings, real-time real-estate images, location, size, luxuries, and whatever you wish to know about. It will help you get in-depth business insights and compare competitor listings to assess possible market trends in the future.
Zillow.com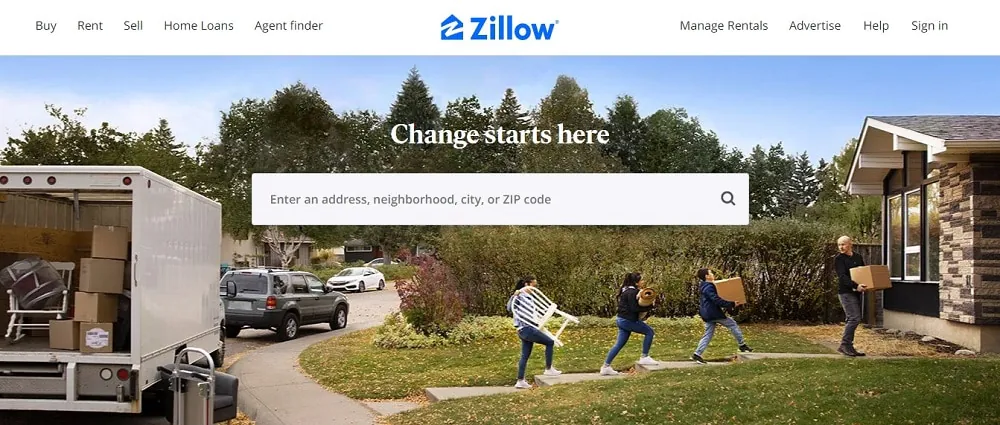 With more than 40 million visitors per month, Zillow.com has made it to the list of the most prominent real estate websites available in the U.S. With such a massive audience you require countless engagement options to keep the user entertained and turn traffic into revenue. This is the reason why people scrape Zillow.com to improve their customer operations, increase sales, promote customer experience and devise ways to formulate the best customer services.
Conclusion
Scraping several real estate websites is undoubtedly time-consuming and demands consistent attention at all times. Automated web scraping solutions prove fruitful in helping agents, investors, brokers, and realtors to grab information from websites like Zillow.com, Apartments.com, Realtors.com, and others in an organized database. You can make comprehensive business decisions about real-estate locations, pictures, and pricing to facilitate customers with the right kind of information that confirms the deal. Information Transformation Service (ITS) offers variety of exceptional web scraping services. With a leading team of data scientists, we ensure high-quality data solutions for your web scraping projects. We are an ISO-Certified company that works to address all of your large and reliable data concerns. If you are interested in ITS Web Scraping Services, you can ask for a free quote!