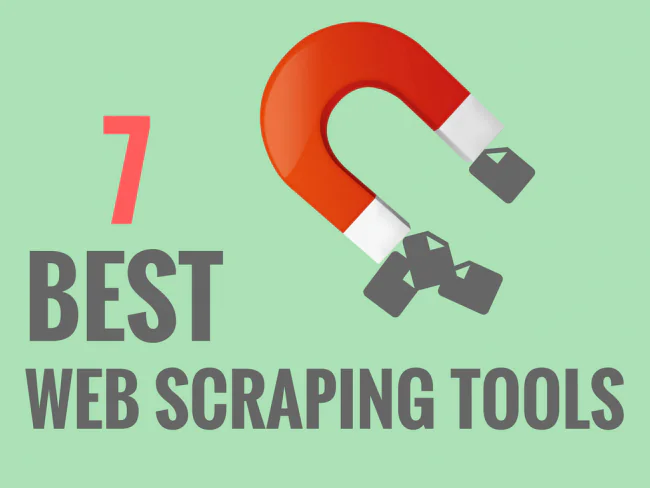 Top 7 Web Scraping Tools in 2021
These days you don't need to worry about writing lengthy programs to scrape data from a website, numerous efficient web-scarping tools can pull off this tedious task instantaneously. These software tools come in paid and free versions to enable a group of web scrapers to scrape information at a selected level. For instance, a paid version provides access to professional applications while the free version is applicable for usage with a limited time duration. Web Scraping Tools enable you to get in touch with the world data directly via HTTP or HTTPS based upon the targeted website protocol. All the to-be-mentioned web scraping tools in this blog can work directly supported by your web browser. You can easily download and install the desired software on your laptop and begin extracting data. It is this simple!
In the blog, all the very best web scraping tools ranked in 2021 are presented with all essential features to collect leads for your business and to test the security of your website in a daily routine. Beginner level is essentially stressed to make you learn and conduct Web Scraping with unique data results.
Scraper API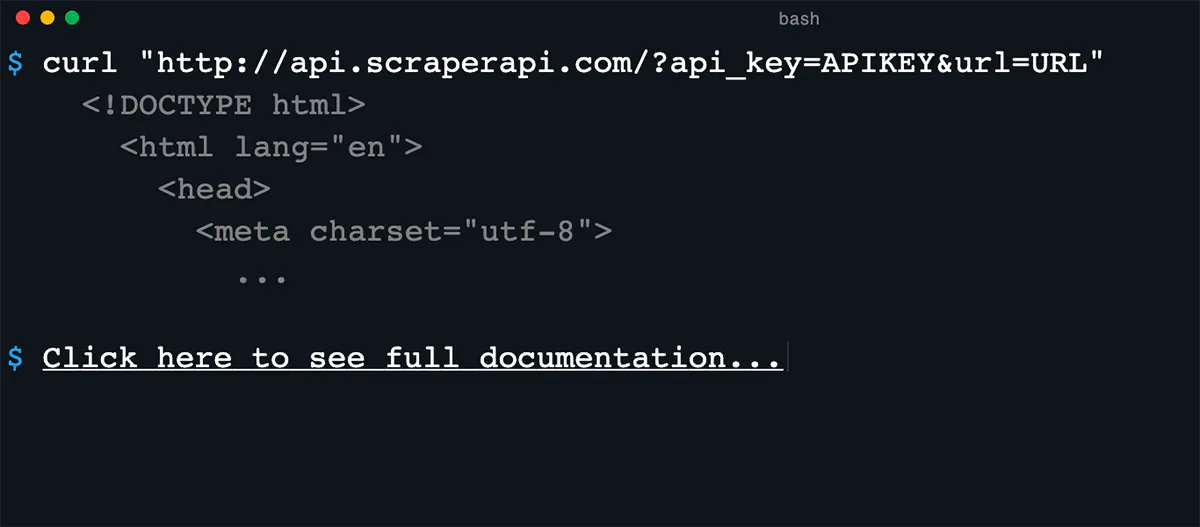 The name 'Scraper API' speaks for itself as the tool utilizes APIs to productively scrape the HTML codes from any website to extract high-end data. The remarkable feature about this tool is that it can change your IP address of each request to make sure that the request is not blocked by the website you are trying to get information from. You can easily develop a desktop application to access its account and can access this tool for free. You can also get a free 1000 request option after which you can upgrade the plan for more web scraping projects. You can adjust the level of experience accordingly with your budget.
The tool is perfectly customizable as per data requirements. Request type, headless browser, request headers, and IP geolocation can be customized accordingly. Scraper API offers 4 types of plans involving, Hobby for $29 per month, Start-up for $99 per month, Business for $249 per month, and Enterprise.
Scrapinghub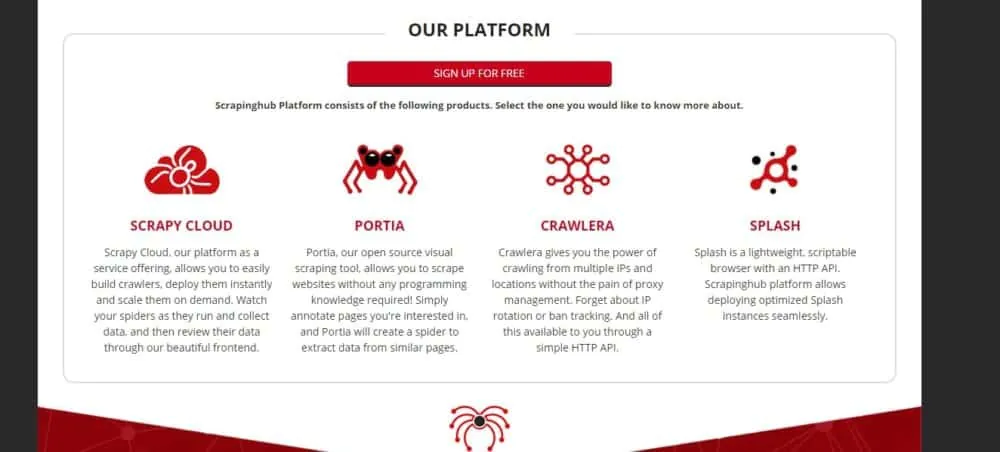 The tool is also free of cost and can be used to fetch every bit of valuable data you can think about using in your business project. The tool is an exceptional choice for professional companies but no worries it comes with a friendly user interface to allow beginners to extract data irrespective of size or area. With Scrapinghub you can acquire data from multiple reliable datasets from any website without any limited scale. Furthermore, the tool offers web crawling with proxies that can never get banned by any type of website and give you an additional scriptable headless browser for efficient web scraping. You can also extract data from heavy JavaScript websites. The software tool is an ideal choice for all data scientists, data teams, developers, and programmers.
ProWebScraper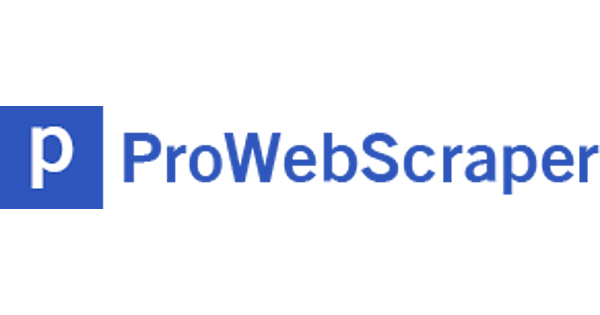 Unlike the above-mentioned tools, this one is a cloud-based data extraction tool that allows data collection on a larger scale. The web scraping tool can scrape hundreds to millions of web pages without needing to write codes. All the gathered data is well sorted out within CSV, API, or JSON format. Data can be extracted and sifted out from heavy JavaScript rendered websites and also from all high-profile websites that demand login information. Data can be cleaned, inspected, and insured before formatting it in ready-to-use formats.
Scraping-Bot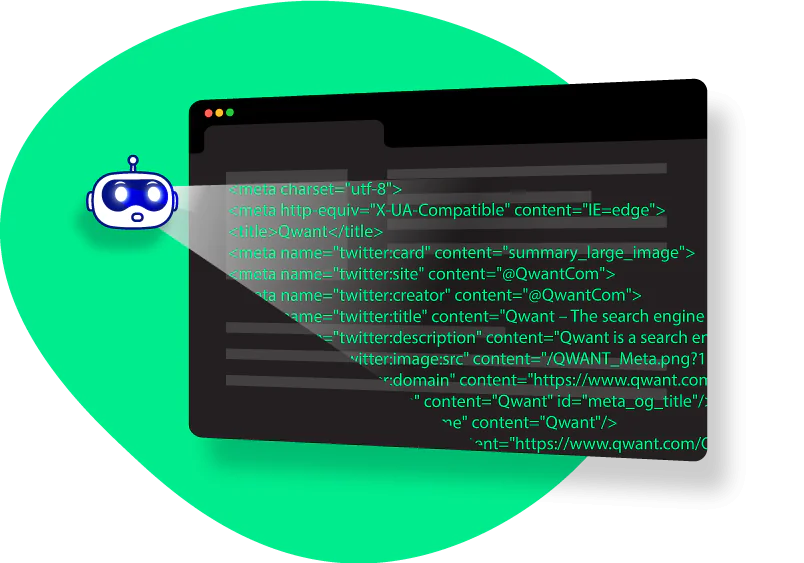 The best-known fact about this tool is that it is an online service tool. You don't need to free up space to download and install the software tool on your PC. You can easily scrape the data directly by simply adding the URL of the website. In addition, you can employ APIs to extract and store data in a JSON format file. Every API is unique in its use such as it can extract raw HTML and scrape all the property listing details from multiple websites like Contact information and Retail API can enable you to scrape loads of product pages.
X-tract.io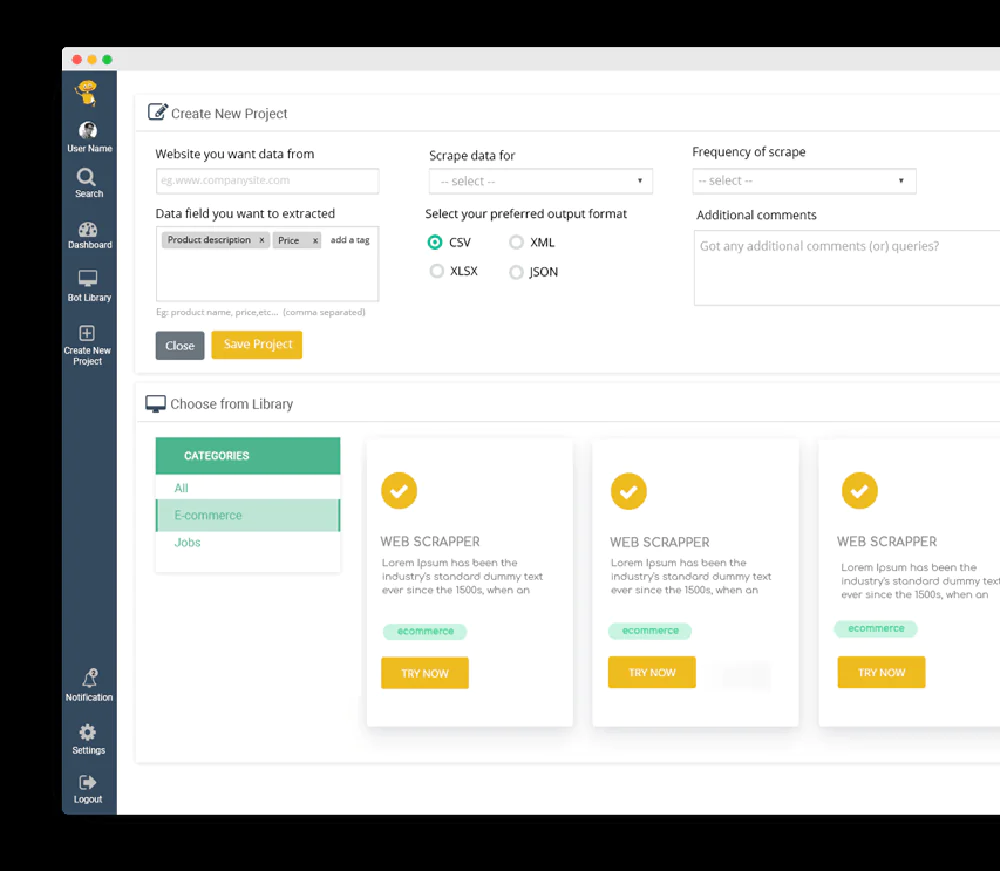 X-tract.io is a platform that allows easy scraping services to all beginners. The tool can process raw data and can turn it into more functional data after cleansing, normalizing, classifying, and enriching it with the right technologies. APIs can seamlessly integrate a consistent flow of data with systems and datasets. Even if you have thousands of hidden files which are unformatted and unstructured, this tool can organize all datasets within readable formats such as excel spreadsheet, PDF, etc, within in less time. With X-tract.io, you can stop worrying about passing security checks within websites, like Captcha security. This feature of the web scraping tool allows you to maintain the same request and not having the need to re-starting the request again.
Diffbot
Next in line is Diffbot, another sensational web scraping tool that will leave you hooked to its amazing features, It is a platform that allows extraction of all data types. The special part is that the tool works on AI Extractor (Artificial Intelligence Extractor). You can earn up to 10,000 requests for two simultaneous weeks for free afterward, you will need to upgrade to the standard service. There is a feuter known as The Analyzer API. This feuter automatically traces an unknown URL webpage and can provide you with structured data resembling the page types.
80legs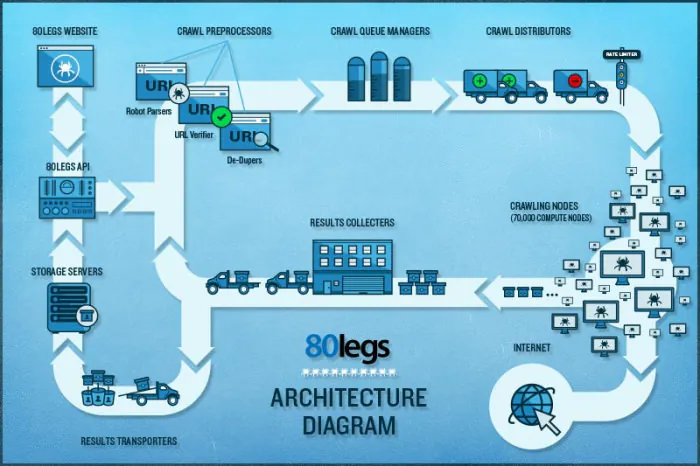 80 legs is an exciting web scraping tool that provides increased flexibility for web crawling configured to your project needs. It supports bulk data extraction with an instantly downloadable option available. The tool claims to serve web scraping of more than 600,000 domains. The web scraping platform is also used by big names such as PayPal and MailChimp. The robust tool helps you to research the entire data rapidly with no effect on scraping speed. You can fetch all targeted data within mere seconds. 80legs offers a free plan for 10,000 URLs per crawl after which there is a need to upgrade the intro plan for $29/month to make the offer last for a year.
This is all for the best online tools for web scraping 2021. All mentioned tools are readymade and can harvest online data from multiple websites. You don't even need to learn complex programming and coding techniques while using all web scraping software tools. Web Scraping is a powerful skill that start-up fresh ideas from preexisting ideas with a little scanning and automation.
How ITS Can Help You With Web Scraping Service?
Information Transformation Service (ITS) includes a variety of Professional Web Scraping Services catered by experienced crew members and Technical Software. ITS is an ISO-Certified company that addresses all of your big and reliable data concerns. For the record, ITS served millions of established and struggling businesses making them achieve their mark at the most affordable price tag. Not only this, we customize special service packages that are work upon your concerns highlighting all your database requirements. At ITS, our customer is the prestigious asset that we reward with a unique state-of-the-art service package. If you are interested in Web Scraping Services, you can ask for a free quote!