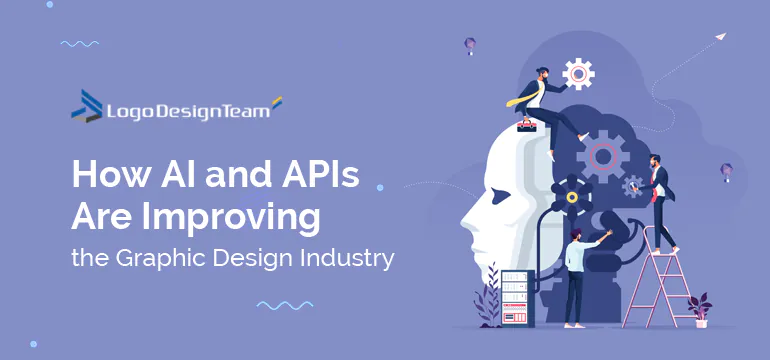 The Role of Al in Graphic Designing
Al or Artificial Intelligence has revolutionized the world of graphic design by introducing innovative ways of creating dynamic, customized, and visually appealing designs. From generating personalized designs to creating remarkable symmetrical patterns, AI offers a wide range of possibilities in design creation. AI-powered tools and techniques like machine learning, neural networks, and deep learning help designers create more efficient, faster, and more consistent designs. Additionally, the incorporation of AI into graphic design has advanced the concept by allowing designers to automate time-consuming chores, streamline their workflows, and develop innovative ideas. This blog will quest through the role Al offers, which plays a crucial part in the quality of graphic design.
Graphic design is diligently influenced by AI, which is changing how we perceive this proposal. Here are a few specimens of how AI can be useful in different aspects of graphic design, including:
Automated Design Tools
These tools create designs quickly, effectively, and accurately using machine learning algorithms. These tools allow designers to quickly produce mock-ups, wireframes, logos, and other graphic components, giving them more time for other creative endeavors. Automatic design tools can aid designers in streamlining their work processes. For instance, software with AI capabilities can evaluate images and make color palette recommendations based on the colors present in the image. This evaluation can save artists much time experimenting with different color combinations. These tools also help designers automate repetitive tasks, increase productivity, and create high-quality designs that resonate with their target audience. AI. Automated design tools in graphic design include the following:
Image Recognition
In graphic design, AI has a huge influence on image recognition. Artificial intelligence (AI) tools can evaluate images and identify various elements, including faces, objects, colors, and patterns. With the aid of this technology, designers can rapidly extract information from images, resulting in more useful and appealing designs. AI algorithms can assist designers in automating image editing tasks like removing the background or changing an object's color. Designers can improve the quality of their work and produce more powerful visuals that connect with their target audience by using AI-powered picture recognition tools.
Print Layout
AI particularly assists with color selection and print layout design. With AI algorithms, designers can automate layout design tasks and produce balanced, visually pleasing layouts. The spacing, alignment, and placement of text and images are just a few examples of the compositional changes AI-powered tools can recommend to improve a design. Using this technology, designers can ensure brand identity and recognition using consistent layouts across various platforms.
Color Selection
Designers can choose the ideal hues for their designs with the help of AI-powered color-matching tools. The target population can be reached by designers using color schemes that complement the design and are suggested by these tools after image analysis.AI can assist designers in developing color schemes per a particular brand's guidelines, ensuring consistency throughout various marketing materials.
Improved Efficiency Design
The efficiency of graphic design could be greatly increased by using artificial intelligence (AI). Designers can concentrate on more creative tasks using AI-powered tools to automate repetitive tasks like layout design, picture cropping and resizing, typeface pairing, and color selection. AI algorithms can also swiftly and accurately analyze enormous amounts of data, giving designers insights and recommendations that can enhance the caliber of their designs. AI-powered features built into cloud-based design tools can speed up project completion by facilitating collaboration between designers and clients, enhancing communication and feedback, and reducing the time required to complete a project. AI in graphic design can help businesses save time and money by increasing efficiency, which leads to quicker turnaround periods and better results.
Consistency
AI algorithms can guarantee consistency in graphic design by analyzing data and spotting trends consistent with a specific brand or design aesthetic. AI can recognize common design elements like font style, color scheme, and layout by learning from previous designs and applying machine learning algorithms to new designs. The design will then adhere to consistent standards thanks to AI's suggestions for design elements that suit these patterns. For instance, AI-powered software can examine a brand's style manual and recommend design components that adhere to the brand's standards, like color schemes, typeface styles, and design elements. Additionally, AI algorithms can automate tedious chores like font selection, color matching, and layout, ensuring that the designer follows uniform standards for all their designs, which can enable designers to spend more time on the creative parts of their work and save them a lot of time that spent on tedious tasks.
Superior User Experience
Another important visual design component is the user experience (UX), and AI has significantly improved the UX. UX strongly emphasizes developing aesthetically pleasing and intuitive designs that enhance the user experience. The goal is to produce user-friendly, straightforward designs that offer a satisfying experience. Automation of user interface design and testing is now possible with AI in UX design. Design elements can be optimized based on user preferences by designers using machine learning algorithms to evaluate user behavior. Using AI-powered UX design tools, designers can evaluate user data and produce optimized designs for user engagement and conversion. AI-driven software, for instance, can evaluate the colors used in a design and recommend alternate color schemes better suited for colorblind people to ensure everyone can use the design regardless of their visual skills. This technology can also help designers automate user research, testing, and analysis, allowing them to create more intuitive, engaging, and effective designs.
Data-Driven Design
AI has significantly impacted data-driven design. Data-driven design involves collecting and analyzing large amounts of data to gain insights and make informed design decisions. This data can come from various sources, such as user behavior, feedback, and performance metrics. AI's superior data-driven design in graphic design uses AI algorithms to analyze user data to create personalized and effective designs. Using AI-powered analytics tools, designers can examine user data to gain insights into user behavior, preferences, and interests. With this knowledge, designs can then be made that are more appealing and efficient.AI can aid creators in making their creations more distinctive. Designers can use data analytics tools to evaluate user data and produce designs suited to the user's particular requirements and preferences, enhancing user experience, boosting user interest, and boosting conversion.
Tools that Save Money
Employing AI-powered tools in graphic design can help companies save money. AI-powered tools can automate repetitious tasks, freeing designers' time to concentrate on more imaginative tasks and lowering the demand for additional design resources. As a result, companies spend less money, and project completion periods are shortened. AI-driven tools can also guarantee consistency across various designs, minimizing the need for pricey revisions. Businesses can save money using AI for graphic design, making it a useful tool for those seeking to increase productivity and cut costs. In a nutshell, these tools serve the purpose of:
Faster Designing
Automating Repetitive Task
Streamlining Workflow
Improving Accuracy
Improved Efficiency
Increased Productivity
Customized style
The customized style provides the ability to tailor a design to suit particular user requirements. Graphic designers increasingly rely on customization as customers expect personalized experiences that consider their unique needs and preferences. AI can simplify the process of producing unique designs in a tailored manner. AI algorithms, for instance, can examine user data to determine the user's tastes and produce tailored designs based on those preferences. Everything from color schemes and typography to layout and images can be included in this. Creating designs specifically to address user requirements is the concept of customized style. In graphic design, AI is making it simpler than ever for designers to produce aesthetically pleasing and user-friendly designs.
A Collaboration Facilitator
Finally, AI can facilitate collaboration in graphic design by giving designers a platform to work online. Designers can collaborate on the same project in real time from various places using AI-powered tools. With the aid of these tools, designers can concurrently share their work, solicit feedback, and change the design. Due to designers' ability to collaborate more streamlined, collaboration becomes more effective and efficient. Collaboration tools driven by AI can also improve communication between designers. Thanks to tools like real-time chat, video conferencing, and file-sharing, designers can easily work anywhere, saving time and removing the need for face-to-face meetings, cutting travel expenses, and boosting productivity.
Conclusion
In conclusion, artificial intelligence (AI) has a significant role in graphic design and is radically transforming the field. With AI, designers can automate the creation of unique designs, personalize designs based on user data, and produce these designs swiftly and effectively. By integrating AI tools into their workflow, businesses can save time and money, reduce errors, and improve collaboration between team members.AI in graphic design has advantages such as improved productivity, greater creativity, personalization, and accessibility. We can anticipate even more creative applications of AI in visual design as AI technology develops. However, it's important to remember that artificial intelligence (AI) cannot replace human creativity and design abilities. Although AI is a tool that can make designers more productive and effective, it is up to the designers to use their creativity to generate patterns that resonate with their audience.