How to send Bulk Emails for Free
Reaching a large number of potential buyers on your list is your gateway to maximizing your product sales. There exists a phenomenal co-relation between the two aspects of digital marketing i.e. Traffic and Sales. Optimized and well-dialogued emails can give you an edge over deciding your product audience and targeting them. Such a type of marketing tactic is a new and improved form of social activity, to interact with your company customers concerning your company product line and latest updates. It is an effective means to send in your company's information directly to the customer. This helps create brand awareness among large audiences in the shortest time. A huge part of the E-mail Marketing Service demands an audience. In such a way, Timely deliverance and response rate is the most admirable platform that will raise your brand performance and make it reach the top among potential competitors.
Many significant free tools can facilitate your company long term mass mailing actions. Although it is always guided to refrain from email bombardment in your customer's inbox, however, mass mailing applications offer a wide range of legal and ethical uses for your product sales. This has not only resulted in efficient communication but also initiated easy advertisement goals through the transfer of digital catalogs, brochures, product details.
5 Free Mass-Mailing Tools
Let us dive into all speculations that will make you an E-mail Marketing Master for better business awareness among a targeted group of audiences. A huge part of the e-mail marketing field demands an audience. Timely deliverance and response rate is the most admirable platform that will raise your brand performance and make it reach the top among potential competitors. However, it is not a piece of fresh cake to write and send emails in hundreds and thousands of numbers manually. Do not stress about such a matter, as there are many software and tools which provide professional assistance in this regard.
The five mass mailing tools which provide free assistance and enable faster communication between product and clients are mentioned above in grave detail:
1. Bigg Mass Mailer
This is a very helpful tool for generating mass emails within less time duration. The best thing is that it is quite simple to use even for starters, which further adds to its significance. The tool is clean and straightforward with no complex user interface. The user interface allows you to access mail servers and specify them for stating your credentials in the correct order. You can very easily compose your detailed message and import it to your mailing list and click right to send. No tool this simple and accessible to use with 100% data security.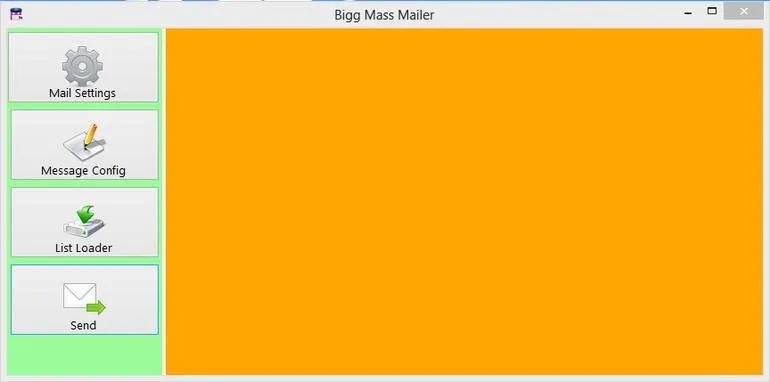 2. E-Campaign
e-Campaign is a fully authorized bulk mailing tool, which is sure to fit just right according to your product marketing needs. It not only helps you to create but also guides you to monitor the statistics of your email. The software allows you to create a series of mailing jobs and messages which can be shifted to HTML or plain text. The tool consists of many cherishable features, such as tracking capabilities, so that you know who has opened your message and who has unsubscribed. The tool sells for $149.95, but the company provides a free trial version for download.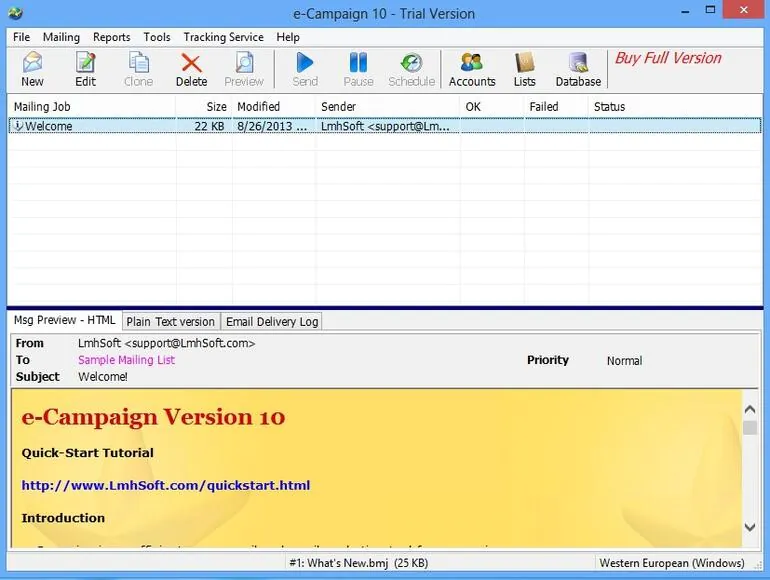 3. MailList Controller Free
MailList Controller is also a free tool, targeting the generation of mass emails. The initial step of the whole mailing process involves setting up of SMTP Server and the creation of a client mailing list. The number of email addresses is simply not the issue with this tool; it is specially designed to cater to bulk email transfer to open new avenues of product and partner relationships. Additional lists can also be created even after the first mailing list. However, the first list might as well include up to 100 recipients but the professional edition offers nearly 10,000 recipient accommodations, while the extreme edition is unlimited.
The software seems to have all of the basics covered. It allows you to import list members or add members manually. There is also a very rich interface for composing messages. You can also keep a strict check on the outbox, and previously sent messages with the help of the MailList Controller.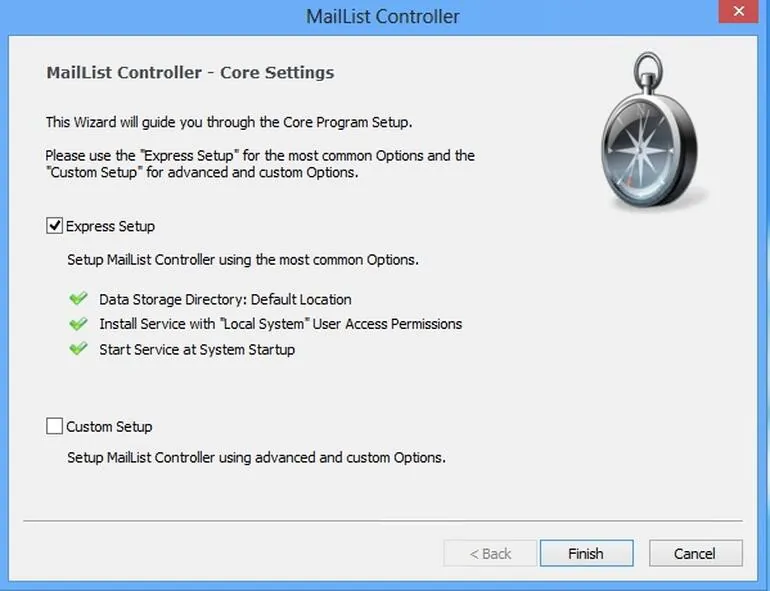 4. GroupMail Free Edition
The tool is free yet provides professional-level mailing setups. GroupMail Edition application has all of the basics features needed to construct and enticing email, also it also has a few nice extras. For example, the tool carries its internal database and can also be connected to an existing external database or pull recipients directly from your address book. It doesn't stop here impressing you! There is an extra scheduler feature in the upgraded version to create personalized emails. Also, even if you decide to use the internal database, you can create and modify database fields so that you can create rich drafts for your emails.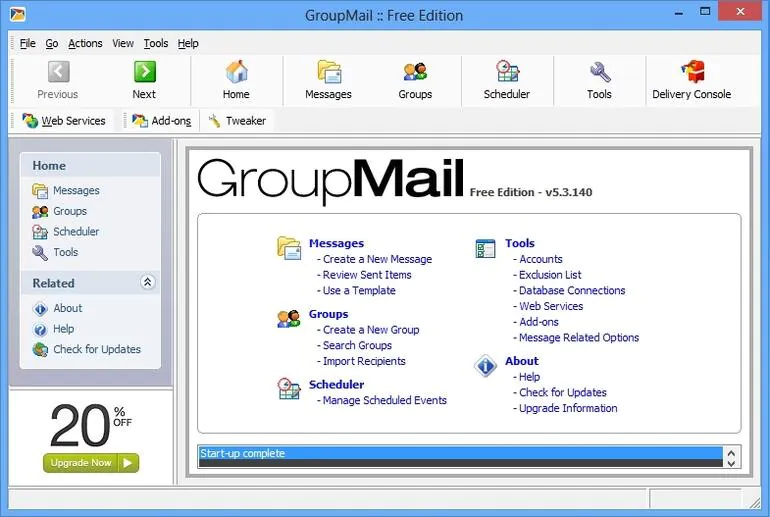 5. Sendblaster Free Edition
Sendblaster is a free tool for bulk messaging. This tool reaches our list because of the numerous features it has to offer at no cost at all. It provides a very nice reporting and tracking engine. The software is specifically modeled and designed to work with Google Analytics so that you can track which of your recipients made a product purchase after receiving your customized company E-mail. Another nice thing about this application is that it includes tons of enticing email templates that you can format and use for your personalized email set-ups. You can also benefit from other rich customized templates by making a purchase.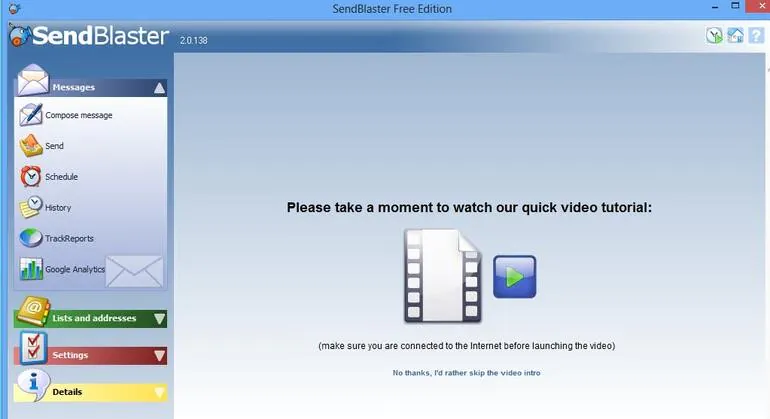 Benefits of Outsourcing Email Marketing Service
There are many noticeable benefits once you outsource Email Marketing Service. No one has the time to fully monitor emails and respond to them at once. You need to hire a separate seasoned team to do so. But with the help of an efficient service by your side, you can achieve all the success without putting in any much effort. Furthermore, it is the need of the hour to make E-mails more compatible with Mobile phones and portable technology for better, effective, and timely reach. With an incredible email marketing service, your company can sell products at an exponential rate. Main advantages involve customer behavior analysis, lead generation, and cheap mode of communication, greater click-rate, value-based information, and proficient call-to-action drive for organic traffic.
How ITS Can Help You With E-Mail Marketing Service?
Information Transformation Service (ITS) comprises of international standard ITS Team, Enriched with 30 years of practical experience of being number one E-mail Marketing Service Provider in your town. Our long list of successful state companies will give you an exact idea of how trustworthy ITS Email Marketing Service is. We understand that digitization and accessibility are the keys to reaching out to humans on any face of the earth. In such a way, opening corridors of success for your business brand within the global business community.
ITS Expert E-mail Marketers fully understand the algorithm of Digital Marketing and all of its techniques to benefit your business company in the most astonishingly vibrant manner. If you are interested in ITS Email Marketing Service, you can ask for a free quote!