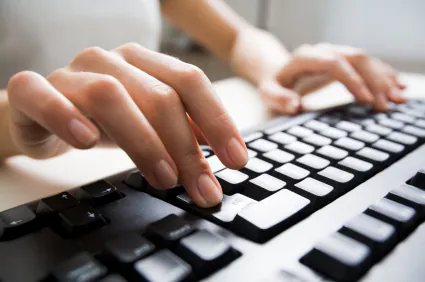 How to get a Data Entry Job
If you have a penchant for precision and good keyboarding skills, an eye for detail, ability to meet deadlines then data entry can become a solid career for you to consider! A data entry job can benefit you in a variety of ways irrespective of your industry type. There are hundreds of employers across several platforms that hire for data entry positions across all seasons.
Wondering how to get any data entry job right away? At first, it is important to notice that such positions are commonly available within a consultant independent structure. Data entry positions are offered in various timelines like full-time, part-time, and freelancer. In many cases, data entry jobs offer considerable work from home flexibility but others demand an in-house data entry specialist.
What is a Data Entry Job?
Data Entry Professionals use multiple data processing programs and computers to enter basic client or business information. Data entry job descriptions include transcription of telephonic conversations and record keeping. While most data entry professionals tend to work online with paper-based documents.
Data Entry Skills and Job Requirements
Typically, Most employers need diploma holders or a GED equivalent to recruit for a data entry career. However, many times a bachelor's degree can make you fit in this career quite smoothly as well. During the data entry job interview, you can are asked for a demo to make your potential clear apart from academic qualification. Making use of data processing software is a prerequisite for most businesses. Many employers demand Microsoft Excel and Microsoft Office proficiency skills. In addition to technical knowledge, a candidate must possess the following mentioned characteristics to move ahead with data entry projects:
Attention to detail
Deadline-oriented
Ability to work independently or as part of a team
Organization
Self-motivation
Polite and courteous
In case if you are wondering to get into a data entry career, you must be flattered to hear about employers willing to hire beginner-level data entry operators making it easier to get on the track and gain experience. The job outlook for data entry figures as per the Federal Bureau of Labor Statistics project over 3% growth rate in 10 years in future 2026.
Data Entry Salary
According to the PayScale report, hourly wages for data entry jobs start from $10 to $17 per hour. Higher rates go to data entry operators with more experience and skillsets. The average pay scale is $12.92/hr. Other factors that enhance a data entry professional role are administrative and customer service duties.
For Example: In the travel sector, a data entry is required to keep a record of client reservations and bookings like cancellations and changes. Similarly, every business field has its data targets that need to be achieved by data entry professionals.
Finding Legitimate Data Entry Jobs
Valid data entry positions exist but know that you do not need to pay for them. There come legitimate data entry jobs that thoroughly offer reputable opportunities. To spot a potential data entry scam you must look for: Asking for purchasing of business kits, the administrative fee for training, affiliate marketing, processing rebates, and so on.
Companies That Hire for Data Entry Jobs
Data entry can become an ideal role for individuals who fantasy work hour flexibility. Since data can be directly entered via personal computer. There are many employers out there that are willing to hire employers that seek work-from-home data entry aspirants. Companies like Ajilon, Greene Resources, Adecco, Conduent, Kelly, Kforce, RetailData, Mintel, Rose International, Symbria, and much more provide beginner, intermediate, and freelance data entry opportunities to data entry operators.
Types of Data Entry Jobs
There are various kinds of data entry job roles. Such duties are industry-specific. Employers are supposed to fulfill related or non-related data entry office responsibilities. Some data entry job types are mentioned below:
Data Entry Clerk
This role demands basic data entry like entering numeric information or alphabets in a structured format. This can be done via keyboarding.
Data Entry Keyer
A data entry keyer can accurately scan data or figures into computer-based software systems. Commonly documents like hard copies or paper-based documents are used.
Transcriptionist
This is a word-based data entry job that involves the transcription of information acquired from listening to recordings. The data obtained can be transferred to word documents.
Word Processor/Typist
For a word processor role, you must be a good typist. As the job role demands a key duty to enter information for correspondence, documents, text, and reports.
Industries that Hire Data Entry Jobs
Medical and Health
The sector can include medical centers, hospitals, diagnostic labs, and other clinics.
Administrative
In the administration sector, a typical setting is a home office that hires data entry specialists. For certain positions like phone call representatives, receptionist, and customer-care duties are an integral part of the job.
Accounting and Finance
Financial institutions employ data entry positions that deal with auditing, corporate finances, accounts payable, corporate finances, tax preparation, and so on.
Government and Politics
If you are planning to enter the government and political sector then you are going to deal in record keeping of elections of local, federal, and state government as professional data entry operators.
Retail and Sales
In the eCommerce domain, you must be well prepared in handling loads of product sales, collection, inventory management, and logistics information. The industry is well known for hiring flexible data entry jobs.
Moving Forward on the Data Entry Career Path
Once you develop a good understanding of data entry jobs then you can further decide if this career is suitable to stick with or not. There are a few strategies that you require to move up the ladder. If you are at the entry-level or the intermediate level you can take both your data entry career as well as education side by side. It is essential to get to know the basics of information technology, office technology, business data science, etc.
Consider earning a graduate degree that dovetails with your career aspirations to become a data entry specialist. As you move ahead with this career, you can land a supervisory position such as a data entry analyst real soon. Both positions require appreciable analytical skills, language proficiency, ability to establish business databases and maintain data records.
How ITS Can Help You With Data Entry Service?
Information Transformation Service (ITS) provides convenient Data Entry Solutions regardless of any additional investment of staff, resources, or infrastructure. By outsourcing your Data Entry Projects to us your company will be blessed with high-quality and diverse data entry-related options. Such quality service enables your data to be entered in various desirable formats with repetitive, inaccurate, incomplete, grammatically nonsensical words replaced to form better semantic clarity and understanding. Irrespective of the size and complexity ITS Team defines customized packages to directly answer specifically your business big data projects. If you are interested in getting ITS Data Entry Services you can ask for a free quote!