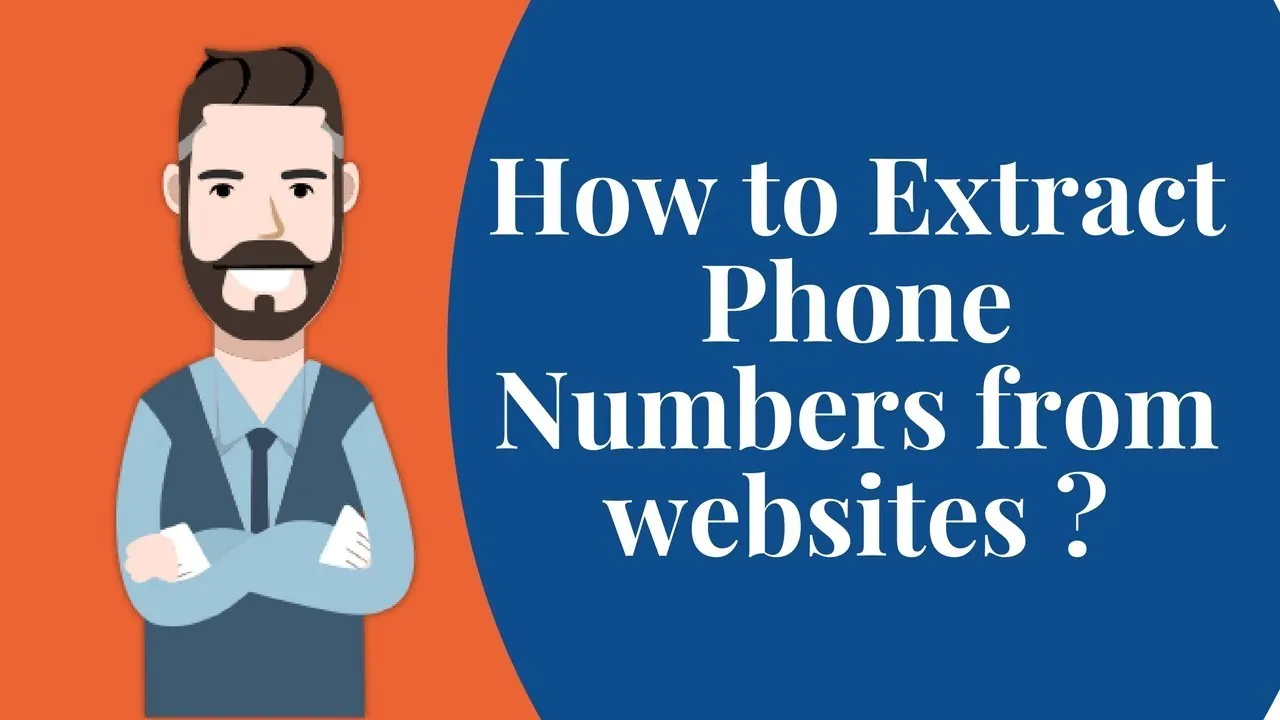 How to Extract Phone Number from a Website?
Internet is filled with information covering all sorts of marketing tactics to boost up your business branding regimes. Such type of information helps in the long run to better market your company product services and to deliver personalized solutions to customers. The ideal method to achieve business growth is through obtaining contact information of target customers from various websites such as Yellowpages.com, Linked In, and Yelp.com. Many times, chatting with a live person over a phone call is more effective in terms of effective communication strategies. This helps to convince potential customers into buying your brand product. Such voice call services prove an exceptional trick to get your brand ideas across other than writing-intensive and extensive e-mails or cover letters the whole time.
How to make effective business phone calls?
All you need is to prepare a pre-conversational draft which must be ahead in time. Try to focus on achieving your goal in one call to action. Innovate new improved ideas and deliver results. Converse as if you are convincing yourself about a certain product. While exchanging ideas, ask for the customer's priorities about when the best time to make the call is and how much spare time does someone has on his end. All you need to do worry about is the corresponding phone numbers list to make business enthusiast calls. Contact Information must include important keynotes such as the name of the person, job designation or the company name, etc.
How do spend the least amount of time to get accurate phone numbers in bulk?
You can easily develop a web crawler to extract your intended contact information from renowned websites present on the Internet even if you do not have any coding experience. It is worthwhile to invest in professional extraction services, however, if you are under budget you can create yourself an effective web crawler to scrape useful phone numbers from related websites. Octoparse is an all-in-one automated web scraping tool to extract all the websites present across the Internet. Not only this it helps transfer related data into a more organized and compatible format just like Excel Sheets.
Octoparse allows a click and points user interface. Users with no such in-depth coding knowledge can extract information from a variety of websites and HTML file formats. With Octoparse by your side, you can extract emails directly from the web pages, job listings hassle freely. It operates on both static and dynamic web pages. It is also compatible with Cloud pages. Octoparse has many versions from free to professional versions available in the market. While scraping complex websites, Octoparse helps to perform competitive analysis. Interesting features center your IP addresses.
Octoparse is capable t extract bulk phone numbers in just one go! Not only phone numbers but fax numbers, email addresses, and textual information can also be drawn straight from the web pages. To get more organized and structured data for your projects certain websites help set extraction rules such as Yelp. On the other hand, for unstructured data, there are plenty of websites available on the data hub i.e. Internet for your assistance. You can easily trace and extract phone numbers by utilizing all advanced and technical features like XPath Tools and Expression Tool while performing the extraction method. A huge advantage is that no relevant coding experience is required to find data in HTML files because Octoparse enables you to create and customize your databases for data storage (Scraped Phone Number).
In this blog, we are going to employ the use of Octoparse 6.X to extract and collect Phone Numbers of popular enterprises such as TX, Dallas, and Yelp.com. Below are stated all the steps to extract information to your business benefit in very simpler constructions.
Step #1: In your PC, open the website of the corresponding brand like Yelp.com for example. Here you can discover companies like TX and Dallas as well. All you need to instantly kick start the data extraction mechanism is to copy the URLs which are generated and enter them in the clipboard to run these URLs.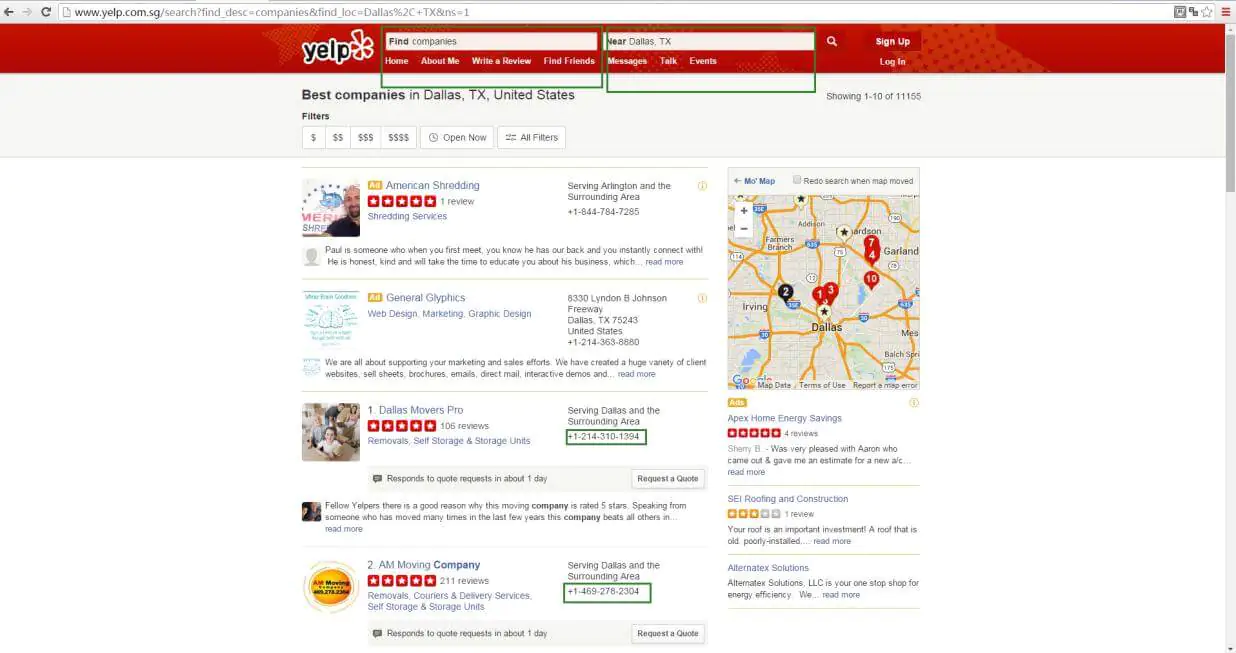 Step #2: Here you can quickly start a new task, which is the advanced mode task, and can easily shift the compass to drag the Open Page icon towards the workflow designer. Simply, paste the copied URL here in the PageUrlbox and click Save. Now after completing the step, enter to open the web page via "Go Button" (top right corner) in the main browser.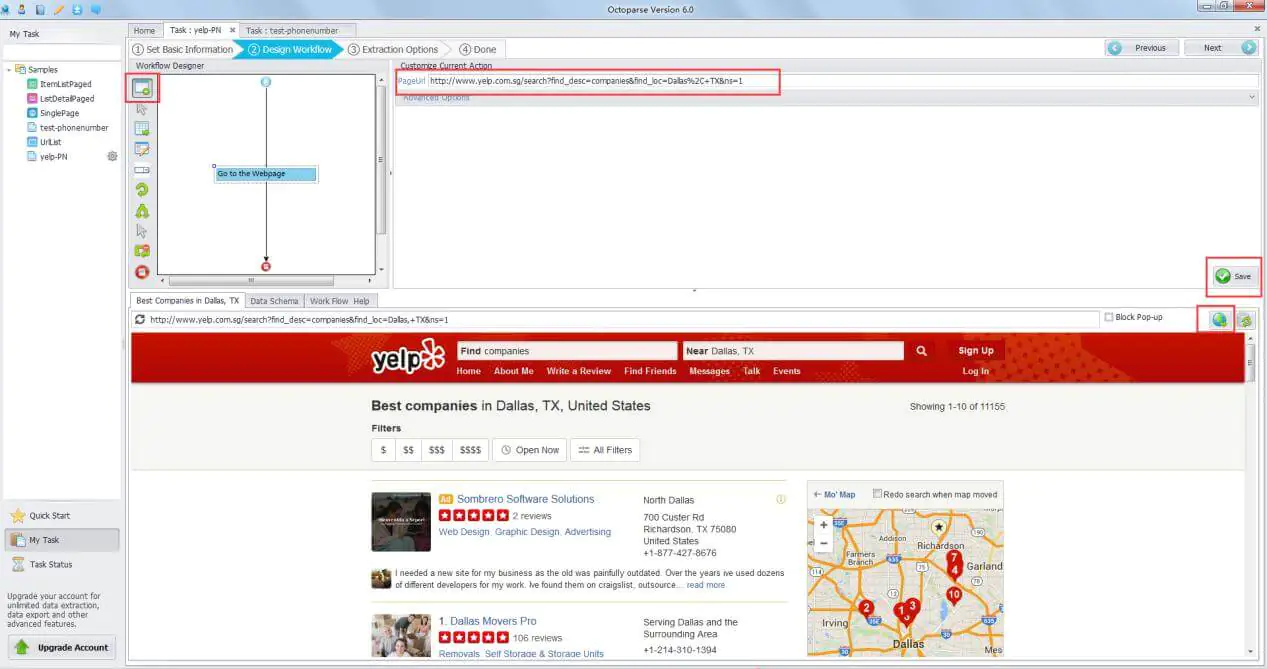 Step #3: Now just scroll across the web page towards the bottom end of the browser and click the 'Next' link to render pagination action. This action allows the extraction of data through multiple pages and not just one web page from a relevant website.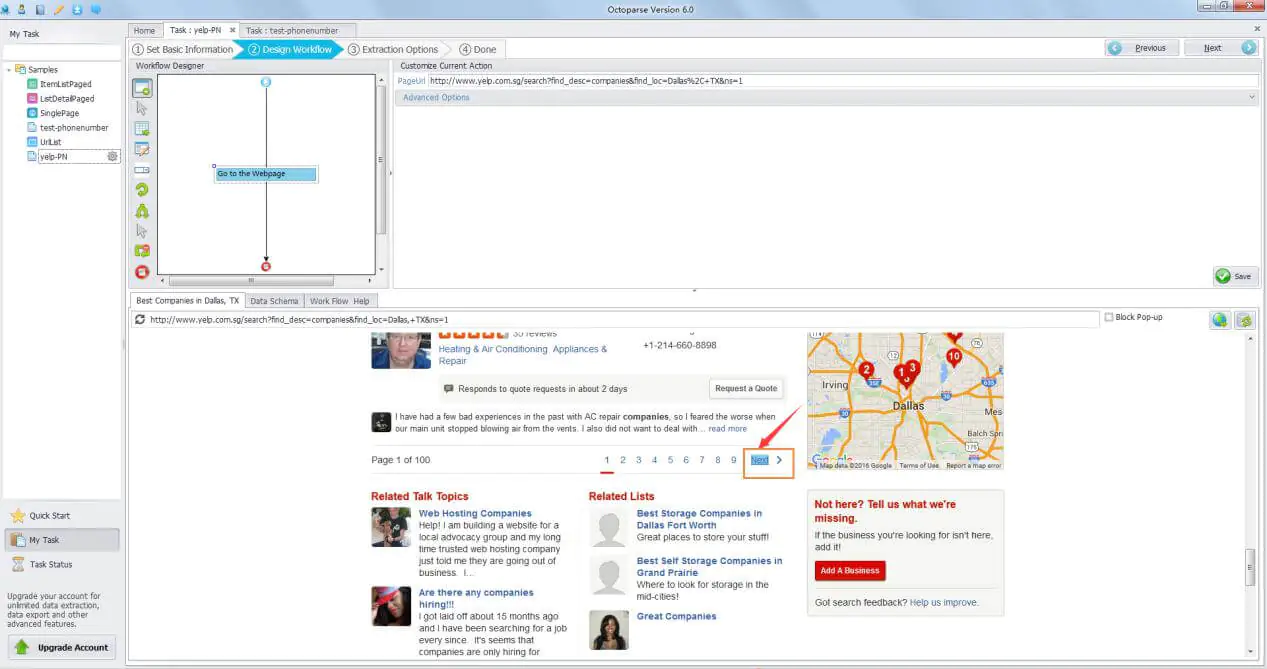 After selecting the above option, you can move forward to 'Loop Click Next Page' this helps create the final pagination action in line.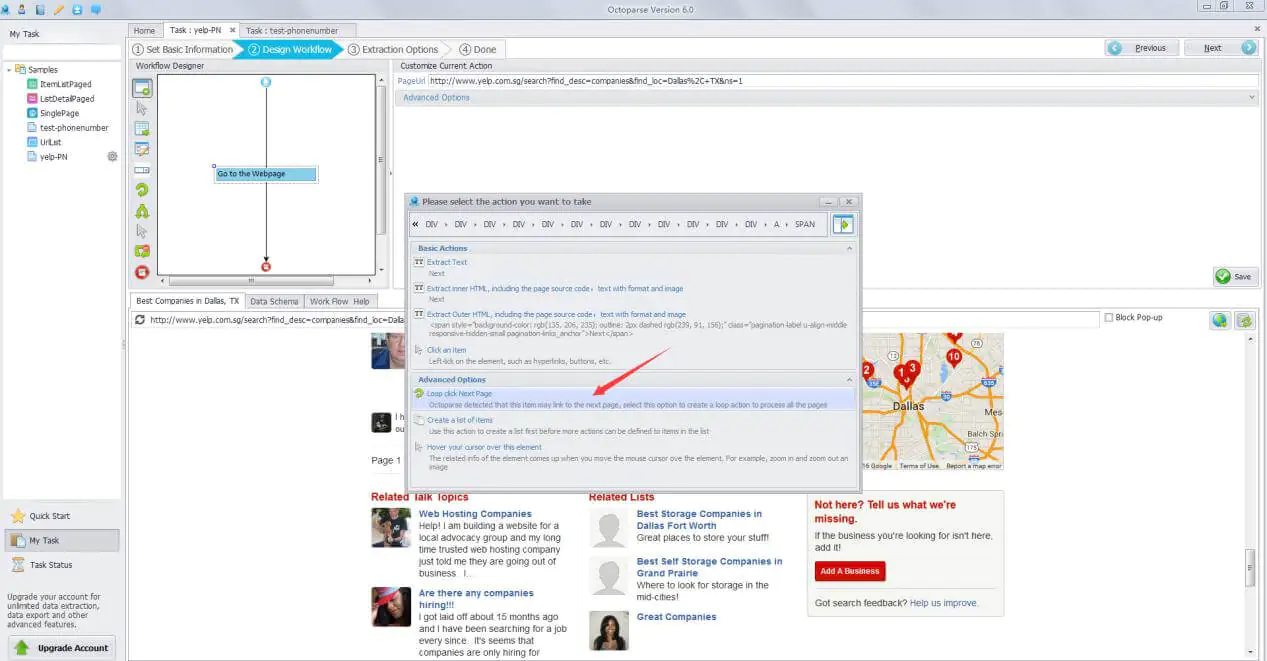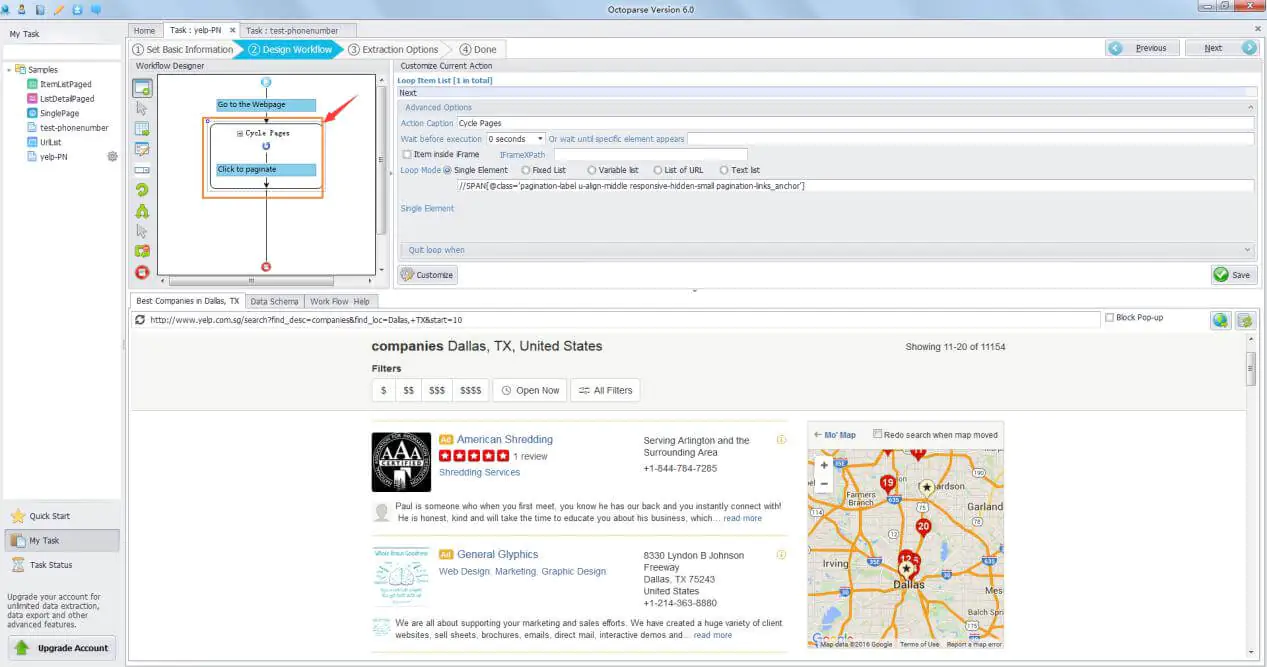 Step #4: The fourth significant step is to extract all the names or phone numbers attached with them out of the web pages of such a company's websites. For reference consult the below-pasted image: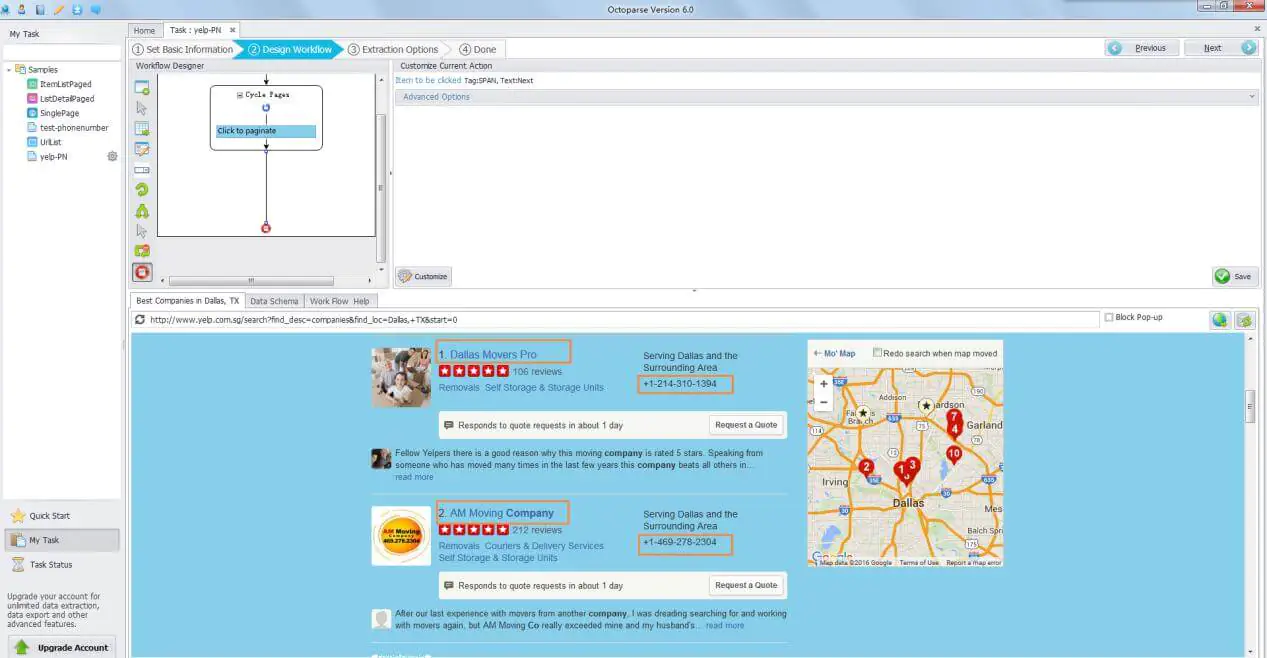 Click on the name of the company from where you want to extract information as for starters we have chosen 'Dallas Movers Pro' in this tutorial blog. Select the 'Extract Text' option and activate phone number data extraction. You can also rename the acquired data such as the company name and the phone numbers obtained are changeable.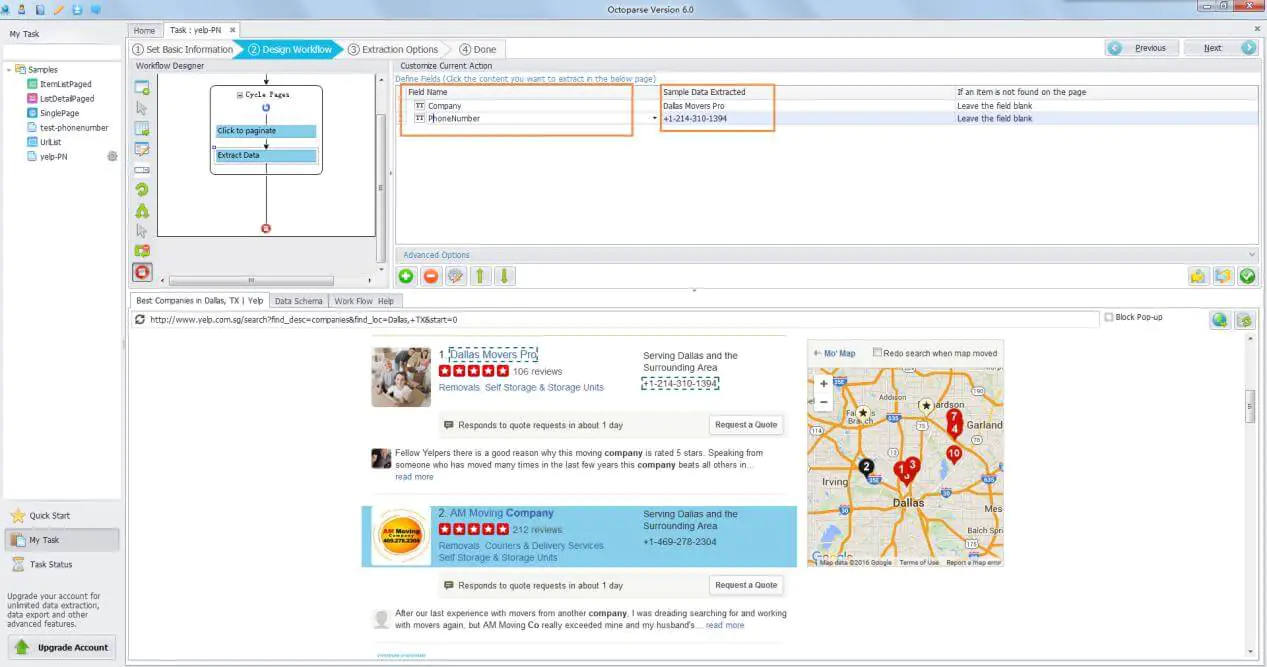 Step #5: Before executing all the data extraction steps make sure to keep a close eye on every action being performed. All the data needs to be extracted in the whole accuracy before shifting towards the next page to perform the same action. Simply drag the 'Extract Data Icon' in the equal front of the Paginate action in Workflow Designer. Just right-click "Next">"Next" (top right corner) to enable further preceding action to start its function for smooth data extraction.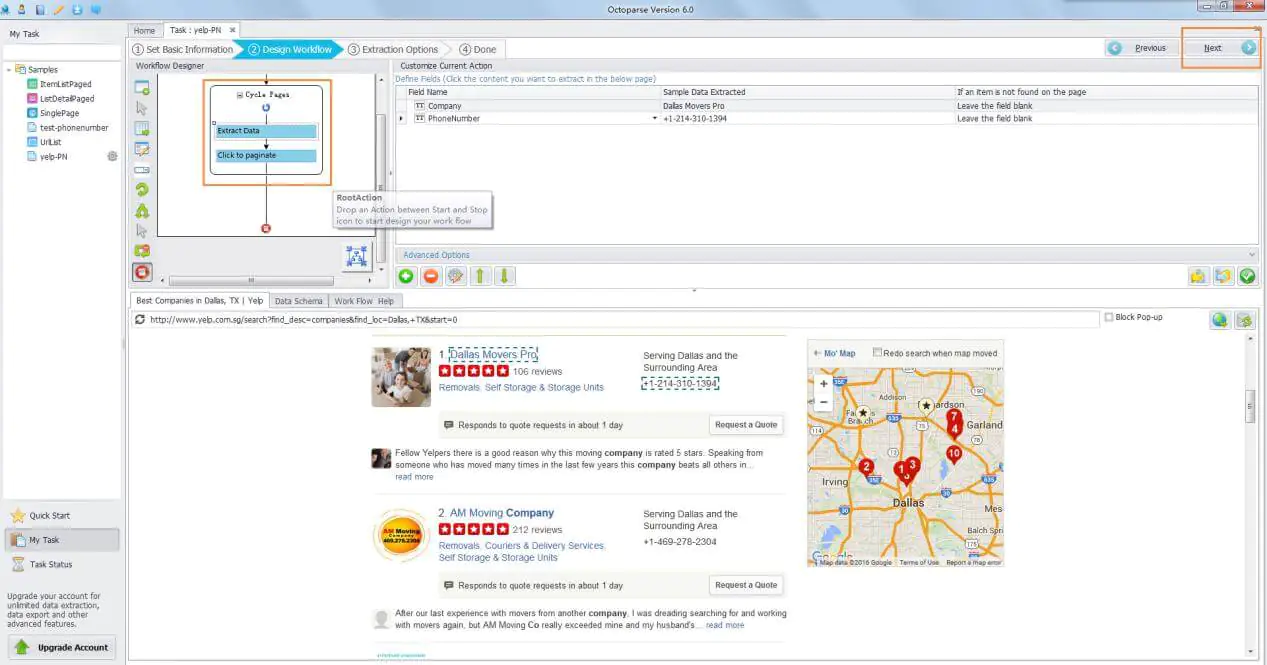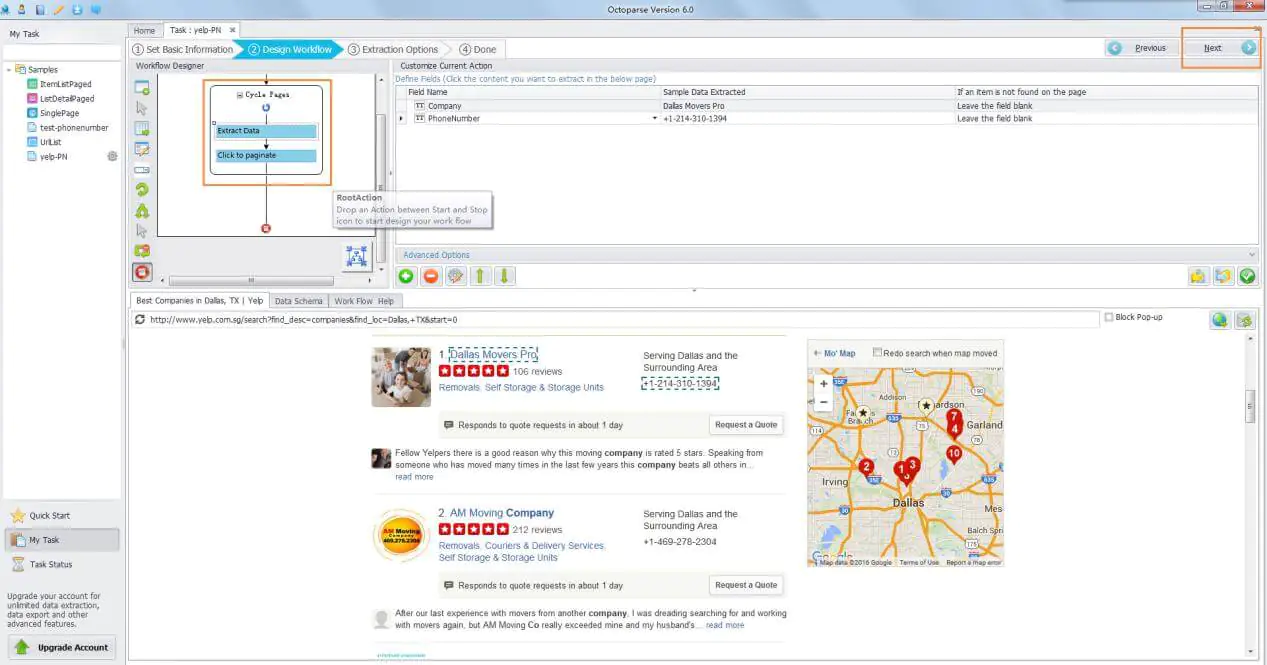 Step #6: Remember to keep things organized and simpler to not mess up. In this sixth step, just press 'Local Extractor' to scrape off data quickly and smoothly.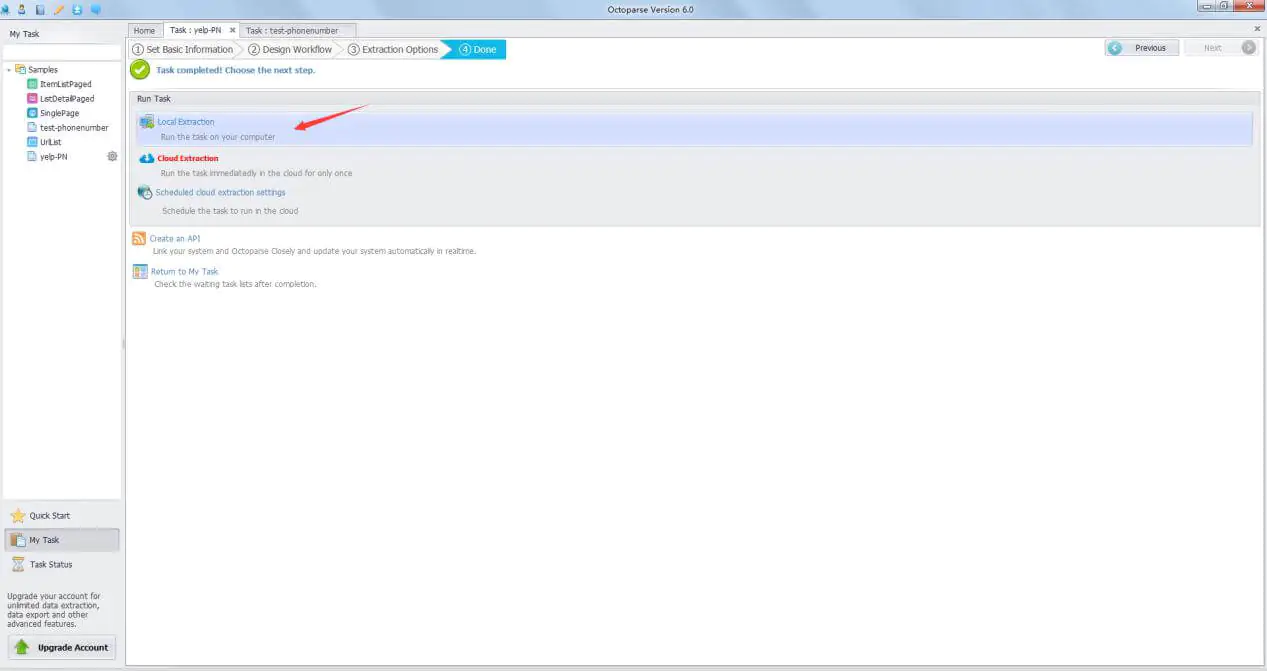 In the below-attached image, you will see that all target data ( Phone Numbers) of customers associated with the company or brand have now been extracted in the bar below, which is highlighted with an indication of a red square drawn around them: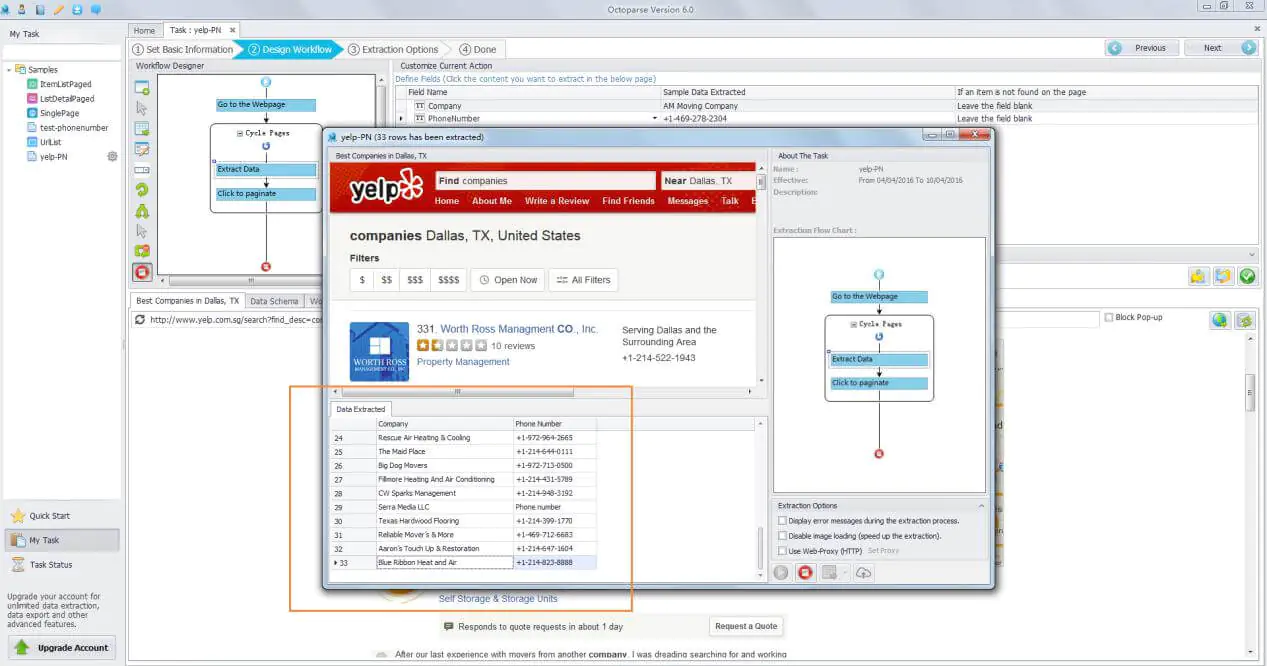 In this way, by following the above-mentioned simple steps you can easily and effectively extract all phone numbers from any distinct or relative company website.
How ITS Can Help You With Web Scraping Service?
Information Transformation Service (ITS) includes a variety of Professional Web Scraping Services catered by experienced crew members and Technical Software. ITS is an ISO-Certified company that addresses all of your big and reliable data concerns. For the record, ITS served millions of established and struggling businesses making them achieve their mark at the most affordable price tag. Not only this, we customize special service packages that are work upon your concerns highlighting all your database requirements. At ITS, our customer is the prestigious asset that we reward with a unique state-of-the-art service package. If you are interested in ITS Web Scraping Services, you can ask for a free quote!