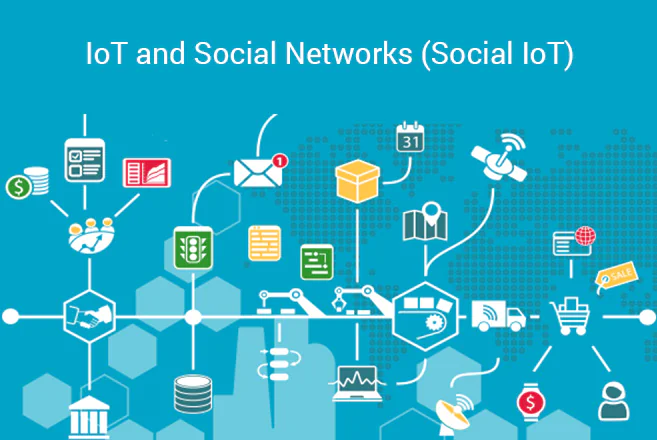 How Can IoT Help In Social Media Monitoring?
In recent years no other word has created as much excitement as the Internet of Things (IoT). IoT has created much noise for the world to take notice of and use for their business benefits. Almost 9 billion IoT devices exist today which is quite a big number on its own. Enterprises are still finding it a bit costly and overwhelming to find out how IoT will fit into their company model. In this blog you will learn some basic applications of IoT and how can you utilize it for your business benefit!
What Are IoT and What Are Its Applications?
The term IoT is not newly coined by was first devised 20 years ago by a group of MIT professors who proposed the idea that world devices can be interconnected to share relevant information easily.
Today as we all know the dream has come into reality all thanks to IoT. Devices and sensors are now connected to transform everything from oil rigs to a light bulbs into smart devices. IoT is technology-driven and connects various devices or 'Things'. The Internet of Things is now becoming a common practice among various sectors, just like –
Applications of Internet of Things in Software – from distinguished protocols that lay focus on IoT like 6LoWPAN, MQTT, CoAP, to the interconnected OS such as Mantis, Tiny OS, and Contiki to make sure that the IoT device properly functions as the software has been analyzed to creating a huge resurgence especially when it comes to fitting IoT in the business model.
Applications of the Internet of Things in Business – IoT is cleverly combined with business models to yield smarter business strategies and wise business decisions. It is certainly good for revolutionizing the business landscape as we see it. From Microsoft to connected tractors IoT is making products even more personalized than what was seen before, this application of IoT is larger than life in itself.
Social Media Monitoring and IoT – An Immaculate Pairing
As enterprises and organizations seek to form new ways to monitor and analyze information gathered from social media, IoT is a convenient method for easy social media aggregation without burning more time and energy. By gathering in-depth and valuable insights from IoT-connected social media monitoring tools businesses can make effective and crucial business decisions. Social media moguls are looking for new ways to connect with people through their devices and in return get valuable input from them. For example, Facebook has announced its collaboration with Chamberlain and Roost, a company that aims at the home security device market. The company focuses on setting up its Parse platform for the Internet of Things.
A couple of more examples of how IoT operates hand-in-hand with social media monitoring tools are stated below –
Many SaaS providers like Radian6 and Visible are shifting towards social media monitoring to gather as much customer data as they can to deliver outstanding results to their clients in real-time using IoT-connected devices.
Many digitized retail professionals N&W are expected to feature customer visual recognition based on their orders and past interactions. You can learn customers' new food habits, and other demographic data can be collected directly through social media research.
Apotek, A Swedish pharmacy is recommending digital ads to deliver to selective people based on their dislikes and likes, etc.
Disney is making use of IoT to kick start their RFID-based Magicbands, which allow guests to access parts and pay for product purchases without having to pay from their wallets physically, reserve joy land rides, etc. Therefore, you can easily collect guest trends using social media monitoring tools. Disney also plans to streamline more and more prospective visitors with the surroundings of their theme parks.
Tencent, the makers of WeChat, a popular mobile socially connecting app also uses the Internet of Things (IoT) with Ayla Networks to create an excellent operating system for devices. In this way, they can explore how the users control their surroundings using the WeChat app.
Similarly another amazing social messaging app, Life360 focuses on linking family members together. The platform developers have partnered with Nest to integrate social media monitoring using IoT in its app with security devices.
The Future of Socially Smart "Things"
According to a recent survey by Cisco, more than 50 billion objects have been connected to the Internet and will eventually connect by 2025. From toys to surveillance cameras and prescription medical tools etc every device will be connected socially with the help of advanced cloud technology and the Internet of Things. Developers and business leaders widely call this phenomenon taking over Social 3.0.
Many technologies favor efficient communication via social networks. Organizations and companies tend to deserve huge benefits from the increased opportunities to cater to connected demographic in interesting ways.
If organizations can remove their privacy matters asides the world will benefit tremendously from the socially connected devices and the Internet of Things. With IoT, there are endless possibilities for businesses as far as their socially connected objectives and smart objects are concerned which already include –
WiFi Routers
Parking Space Sensors
Shelf Weight Sensors
IR Motion Trackers
Gesture Recognition Software
WiFi Tags
Facial Recognition Technology
Digital Advertisements
IoT is considered to become more optimized for its use with social media in near future. The Internet of Things allows automated posts to be shared by users regularly via smart and connected devices. As a result, social monitoring tools will pave the path of power for millions of interconnected smart devices. Even smaller businesses are urged to incorporate the IoT model into their business functioning to gather as much useful information from social media. This will significantly improve their business functioning and add to their business reputation. Moreover, enterprises can even connect with other businesses to form a long-term association for mutual business gains. Therefore, the Internet of Things is a proven game-changer for businesses operating worldwide. However, if you are hesitant to make a greater change to your business you can always outsource to a third-party service provider to collect data from social media and subject the acquired information for personal business interests.
How ITS Can Help You With Social Media Research Service?
At Information Transformation Service (ITS) we support cloud-based social media research and analytics technology since our inception. Our social media researchers are experienced and dedicated to supporting industry leaders in staying ahead of their market competition with the assistance of our IoT-ready social media research services. It is time to deliver more thought-provoking content to your target audience and lessen the impact of irrelevant commercials. Outsourcing to us can help you overcome certain media challenges to create a positive persona for your enterprise. If you are interested in ITS Social Media Research Services you can ask for a free quote!