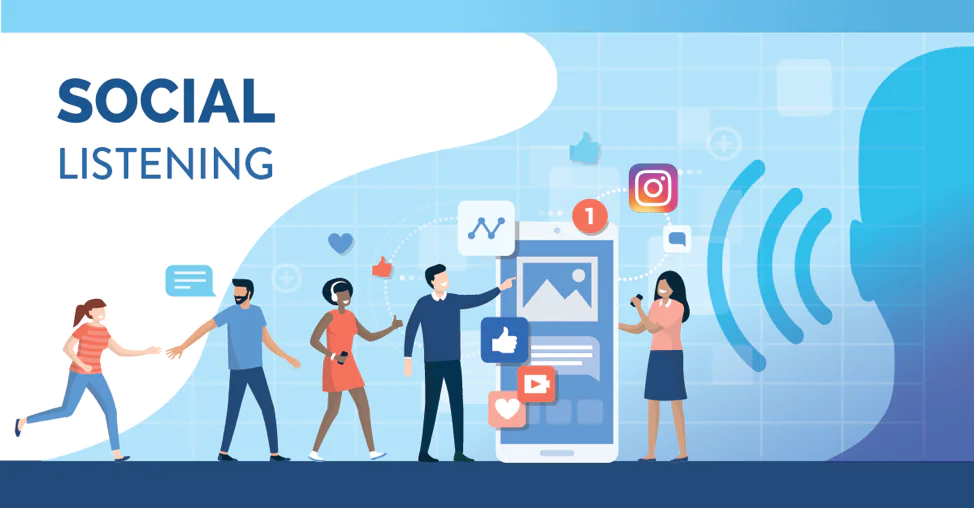 What Is Social Media Listening?
'Social Media' have become an important tool to form a quick business perspective due to a large number of potential customers are connected on social media channels. Every individual has a personal opinion about a product or a brand or a service. The customers interact with the outer world population and spread opinions on social platforms about your business customer service. Most social media platforms like Facebook, Instagram, Twitter, etc. are prominent platforms where the customers can directly interact with other businesses and learn about their products. Owing to all these factors, social media has become an immensely populated and credible source to get useful insights regarding any business. Listening to social media platforms is vital for businesses of all kinds to derive smart business insights to improve their offerings. Not only this, social media channels help to boost as well as retain your customers by equipping them with your business message. Information to gain confidence over the market competition can be obtained using 'Social Media Listening Strategies. A well-formulated social media listening strategy acts as a tool to obtain valuable business insights for the betterment of the company.
Social Media Listening Tools
The following social media listening tools are available online for acquiring accurate social media listening results, these tools include –
Clarabridge: This tool is a CX management artificially intelligent platform.
HubSpot: This tool offers remarkable information regarding sales, marketing, CRM software, and customer service.
Lately: This is another social media listening tool powered by AI content and social media software.
Sprout: Sprout is an internationally acknowledged social media management software.
Hootsuite:  A specialized social media marketing and management dashboard.
All the aforementioned social media listening tools will function as standalone tools, in certain cases these tools can also be integrated into your business CRM system. All these social media listening tools enable your company to gather as much CX data from social media channels as you want and also organize it in a suitable format for further analysis. Popular sources from which these tools gather information include Twitter, Facebook, Booking.com, and TripAdvisor.
By using these authentic social media listening tools, you can create remarkable custom listening templates with the tendency to track certain keywords or topics. A bunch of these tools may provide advanced business intelligence dashboards. While others will commonly track influencers linked to different domains. Users can trace the keyword or topic performance by using performance indicators and other useful metrics such as the number of times your concerned topic is posted or the number of engagements with their posts in a period.
Benefits of Using Social Media Listening Services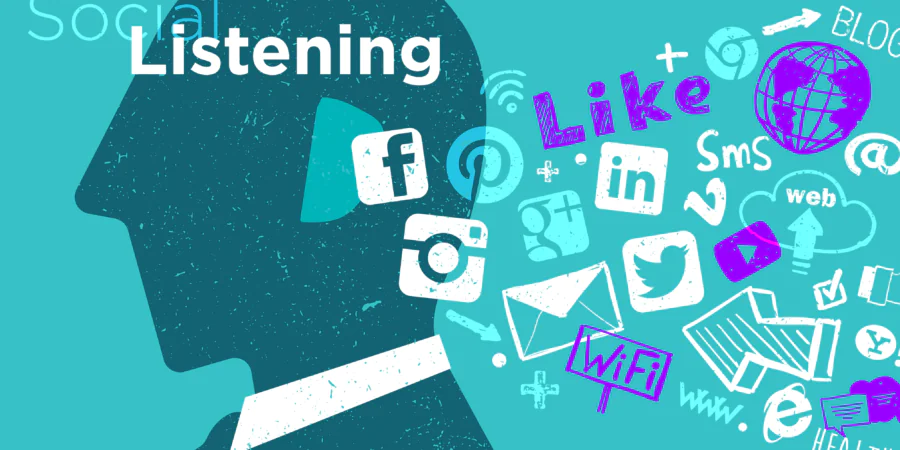 Some of the benefits of social media listening are listed as follows –
Social Media Listening Helps You Negate the Harmful Buzz about Your Brand
Using a sound social media listening strategy, you can not only find out what your customer wants but also what customers can expect from your business offerings. Pay special attention to negative comments related to your brand to improve your product. With the help of specialized social media listening tools, you can engage with your customers by addressing negative perspectives regarding your company.
Social Media Listening Enables You to Glean Important Feedback
Social media listening and checking your audience's reaction to your company new product launch and analyzing it for future marketing campaigns. In this way, you can improve your product fan following by tackling customer queries on social media channels.
Social Media Listening Helps You Improve Your Customer Service
When you take immediate action by responding to company mentions on social media by potential customers you set a good example for other companies. Responding to existing customers and providing those with an apt resolution to any inconvenience within time can save your brand reputation. All this and much more is possible only if you have an exceptional social media listening strategy.
Why Is Social Listening Important?
Social listening helps business companies to understand the attitude towards their brand, service, and product in user conversations. It provides them with a basic guideline to formulate a competent market strategy and gauge effective brand awareness.
Companies gain the below-mentioned benefits from social listening –
Campaign analysis offers accurate customer feedback about what should be included in a marketing campaign that resonates with the audience's interests on social media.
The competitive analysis provides you with insights into how competitors can be analyzed based upon conversations happening on social media.
Event monitoring enables a company to interpret audience responses in real-time like a virtual conference.
Industry trends help a company to listen for more and more relevant discussions mentioning its industry using social media functions such as hashtags.
Social Listening Vs. Social Monitoring
Social monitoring explains what is being said by people over social media platforms. On the contrary, social media listening explains why people are discussing a certain topic. Although the two terms go hand in hand however social media monitoring is tactical and social media listening is more concerned with long-lasting business strategic decision making for a business.
Social Media Monitoring:
A restaurant owner monitors Twitter for mentions of the newly launched item let us say a hamburger with cream cheese topping on the bun. Once you find mentions you can choose to respond or leave them as they are. The main point of monitoring is to gather information using social media. There is no strategy linked with social monitoring rather a business can monitor different methods of how the hamburger comes up in a conversation over social media.
Social Media Listening:
Let us extend the previous concept to understand social media listening. The same restaurant monitors social media for hamburger mentions and then gathers the data to perform a thorough customer sentiment analysis of what exactly people are saying about the product.
Conclusion –
Social media is all about increasing connections between peers, family, and business communities. Almost all kinds of debates are favored on social media platforms about topics that are relevant and important to you. When it comes to your company, you must always be on the lookout for information that can potentially increase your product sales. Whether you love or hate social media, it is indeed the fastest way to connect with customers belonging to every walk of life and make them learn about your business product or services in a better manner.
How ITS Can Help You With Social Media Research Services?
At Information Transformation Service (ITS) we ensure that our clients benefit from world-class research and analysis services to generate their global clientele. Our social media research specialists enable sound research analysis to provide you with valuable insights to carry out informed business decisions. Alongside social media research, we also offer social media monitoring services to conduct an in-depth analysis of all the factors about your brand, products, and services. If you are interested in ITS Social Media Research Services you can ask for a free quote and get apt solutions!