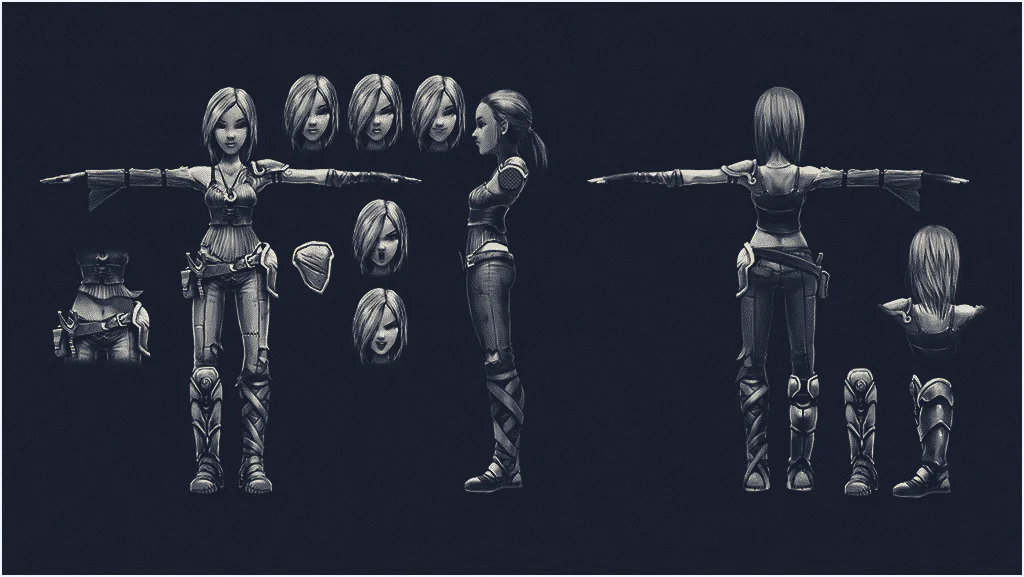 What is Game Asset Modeling?
Game asset modeling services consist of modeling:
3D characters
3D character models
3D environments
3D weapons
3D objects
3D game assets
All this modeling yields a fully developed video game.
What are the steps of the 3D Game Asset Development?
3D game asset development is a multifaceted procedure having different aspects. 3D modeling services cover the following:
Concept Development:
Behind each character and asset in the 3D modeled game, there lies a concept. After much brainstorming and initial designs, a finalized model is selected. So a well thought-through concept can yield you distinctly memorable characters.
Highly Tailored Detailing:
Attention to detail is what makes 3D assets and characters model outstanding in the gaming market. Rich textures and other information are used extensively to avoid plastic-looking characters. The task is done with the help of effective 3D art techniques. Top 3D art software is used to improve and utilize each character. Thus each asset a character looks like a work of art.
Organic Sculpting:
The feel of life in the 3D modeled character and background is what makes the game accessible. The more realistic experience the gamer will have, the more the popularity of the game will be. Nut, this is not an easy task. Sometimes applying 3D modeling isn't enough; the modeled 3D character's body doesn't look detailed and natural. Thus with the help of digital brushes and modeling tools, the polygonal mesh is manipulated in the designs to make artworks look more organic and life-alike.
UV Mapping:
It is among the newest technique of character modeling. UV mapping allows the designers to project a 3D object on the 2D surface. In the process, UV coordinates are used, which can be manipulated and edited after projection. Afterward, the 3D models are unwrapped to texture each of the models accurately. The designer also provides a link between the surface mesh; moreover, the designer will also guide about how the composition will be applied to the concerned surface.
Which services are included in the 3D gaming assets modeling?
If you have been a gamer, then you must relate that the game characters and assets make it a hit or flop. Everything you see on the gaming screen has been modeled, a variety of designs and tools are used to model these characters. The typical modeling services that are offered in the gaming assets modeling services are:
3D characters
3D Max models
Unity 3D models
3d game models
3D Maya models
3D Zbrush models
3D modeling for games
3D models for game
3D modeling and animation
3D game assets
3D modeling games
Dame ready 3D models
Unity 3D assets
Unreal Engine 3D models
Unreal game 3D models
How ITS can help you in the 3D gaming asset modeling?
Information Transformation Services has been providing the 2D, and 3d Modeling Services for a while. The increased scope of gaming asset modeling has compelled the company to reserve a team of experts solely for 3D gaming development. If you are looking for a 3D modeling service provider for 3D objects, character, or asset modeling, then ITS can help you. ITS is offering an efficient and cost-effective solution and can prove itself to be your best outsourcing partner. Just give us a chance to let us do the work for you