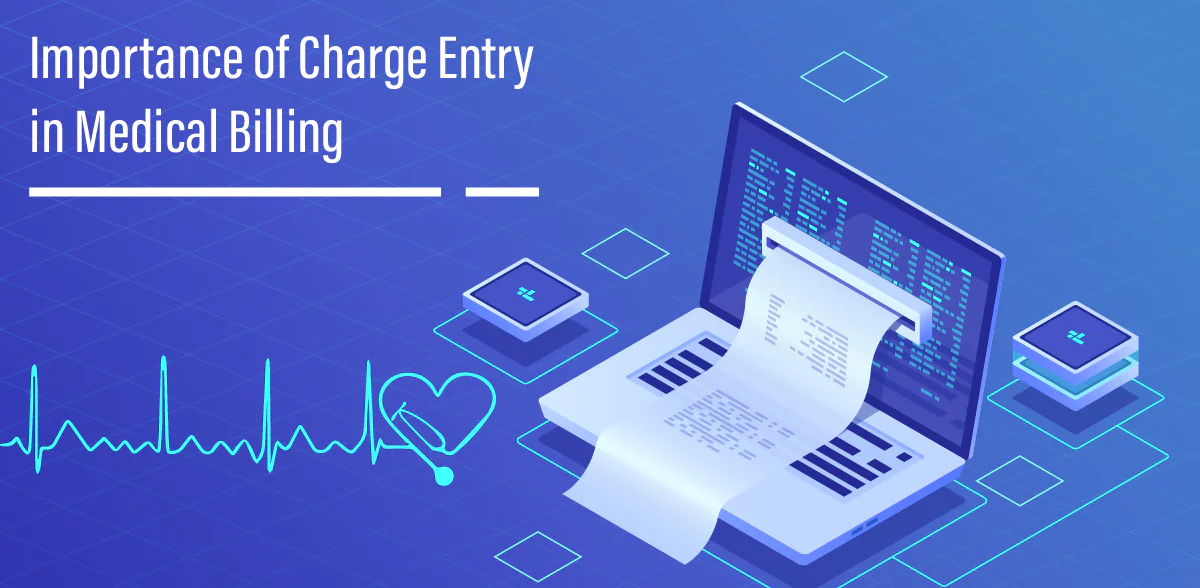 What is Charge Entry in Medical Billing?
Medical Billing is a process of medical service conversion into a billing claim. The process is commonly applied to the healthcare sector where medical billers follow up and verify claims for the services offered by clinicians. Any kind of medical service that is delivered will generate client information that must be processed accurately by a coding specialist. Regardless of the intricacy of the medical service or the duration of the medical operation at a family clinic or a multi-specialty hospital, a medical billing professional is required to maintain client information as it is and to update it with every consultation. Outsourcing charge entry in medical billing proves vital for both small and gigantic medical institutions. The medical billing expert is expected to move important documents between insurance providers and the healthcare institution.
What is Charge Entry?
The process of assigning monetary value based on medical fee schedules and codes to a patient is termed as charge entry. The filed expenses of patient medical services determine how much healthcare professional is compensated. Any errors in charge entry might as well lead to medical claim rejections. Inaccuracy of healthcare documentation can potentially result in financial losses worth million dollars. Charge entry proves efficient to put a stop to wasted income while implementing progressive charge capture. In addition, a proper management system will be established in the healthcare institute between the charge entry teams and coding experts to work on long-term improvements in the medical sector.
Factors Covered Under Charge Entry
Factors to take care of charge entry at your medical facility include –
The exact date on which the medical service is rendered by the patient
Background information of providers of rendering and billing
Offered medical service location
The physician who made the referral for the medical service
Admissions date in the hospital/healthcare clinic.
Prior referral or authorization
number of units delivered or CPT
What Are the Steps For Charge Entry?
To carry out authentic and seamless charge entry for medical billing services you need to cover every step with a close eye for patient information details. The process can be carried out both manually by a data entry expert and automatically using artificially intelligent systems. Here are a few important steps you should be taking to complete and implement your charge entry process –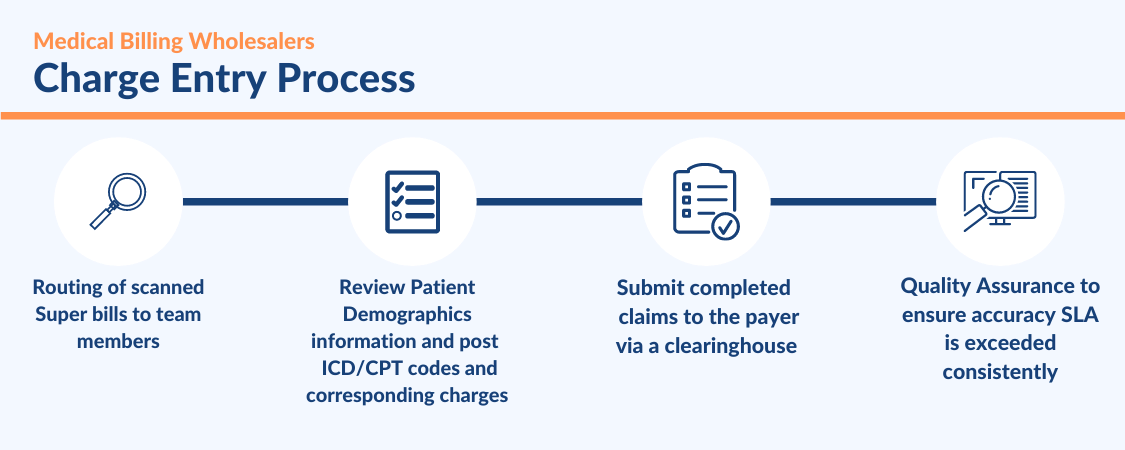 Step 1: Patient Demographic Details
You must accurately investigate and enter patient demographic information as it is the first critical step in any medical corporation.
Before putting forward any claim, you must verify patient information twice before entering the data on a spreadsheet.
To avoid future claim denials, it's necessary to update the information of a patient with every medical consultation from a medical practitioner.
Step 2: Medical Coding
Medical coding is a stage that requires coding experts to carry out medical coding systems in an appropriate prescribed manner.
Some of the unique data attributes such as service dates, date of patient admission, and service location must be provided as an essential part of the charge entry process.
When all these steps are precise the chances for any claim rejections become the bare minimum. Insurance companies can operate by simply processing claims with precise coding and data for medical reimbursements.
5 Ways Charge Entry is Crucial in Medical Billing
Healthcare organizations select organized and accurate medical billing services to ensure no sign of error in medical payments. Let us take a closer look at the increased demand for charge entry services in medical billing.
Easy collection of patient data and billing information
Whenever you reach out to a medical billing consulting service provider, they will certainly make things easier and simpler for you. From data entry of patient community to ensuring seamless service control you will have it all under one roof. Billing data collection is beneficial for keeping up with patient medical history and financial scores. Thus it is in your company's best interest to set up an error-free charge entry process to avoid claim denials.
Patient privacy is protected
Medical billing companies have a highly skilled team to carry out each step with utmost considerations including the non-disclosure agreement signatories. NDAs protect patients' profiles to maintain international identity security standards. They ensure a strict data security policy is followed by the team members at a given place. Such data safety and security measurements help protect patient critical information from being exposed to unauthorized parties at any cost. Patient data can be sent and received to the owner using SFTP or VPN which is not just secure but also reliable in every way.
Claims denials are better managed
Medical claim information is crucial for healthcare providers. You can reduce the chance of error many folds when you work with an outsourcing charge entry partner. Even if you end up in situations like these, a good outsourcing partner will guide you in dealing with a claim denial. Therefore, a knowledgeable service provider will help you pinpoint the right reasons for the claim denial and then assist you in categorizing them within an estimated time frame. Nonetheless, you can completely manage the claim denials by controlling the situation from repeating itself twice.
Consistent Cash Flow
The billing services provided to a patient by any healthcare facility should be entered, coded, and correlated with the service charges. These codes must be appropriately recorded to get precise reimbursement for the medical services being offered by the medical practitioner. Therefore, it is vital to understand the significance of charge entry for medical billing services for a smooth cash flow for your business.
Enhances your efficiency
Charge entry doubles your company productivity rate by minimizing the required time to enter patient information manually at regular intervals. You can also create cloud billing systems to rapidly enter all charges and compare codes instantly to payer reimbursement regulations. By doing so, you can keep a track of even the slightest interaction from booking a patient medical check-up appointment to filing insurance claims. You can even devote the saved time to secondary important tasks within the medical billing process by seeking help from automated data entry solutions.
How ITS Can Help You With Data Entry Services?
At Information Transformation Services (ITS), our team of data entry specialists carries out in-depth analysis from well-calibrated insights into your business operational systems. ITS Team assists you in lowering overall business data operational expenses to a greater extent. Being a leading data entry service provider we make sure that every step of the charge entry procedure for medical billing is kept simple, effective, and quick. For claim submissions, we guarantee accurate and error-free data. Information Transformation Service (ITS) offers state-of-the-art data entry services for kinds of data-related projects. If you are interested in ITS Data Entry Services, you may ask for a free quote!