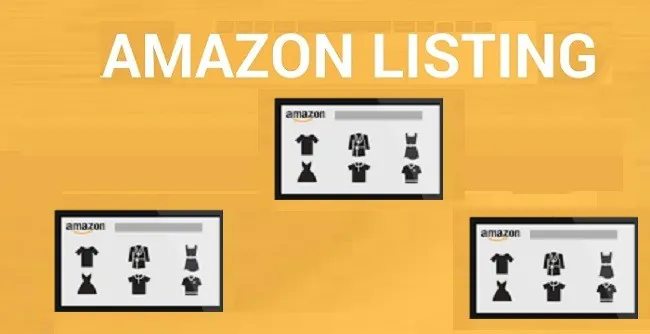 What is Amazon Listing Service?
Amazon is an incredibly diverse and rich platform for retail products. It is an online platform such can widen your product horizon and lead generation scope to the highest number possible. However, to list your products in an enticing categorical manner and optimize your products with regard to Amazon search engine is the big job. Entering essential details regarding product description, name, reward points are important information that can't be neglected or taken merely as a formality. That manufacturer name is your brand name that has your company's product integrity attached with it. Setting up a thriving business on Amazon can be made easier with a professional Amazon Listing Service.
What is Amazon Product Listing?
Amazon Product Listing involves the service web page of each product of your company displayed at Amazon online store. When you are listing your product it must include title, images, description, and price.All this is necessary because the shoppers at Amazon utilize such product listing pages to make a suitable purchase according to their budget and requirements. Significant stages of Amazon Product Listing involve keyword optimization, SEO, Image, color, variety and categorization to improve your golden chances of sales generation through extensive leads.
What an Amazon Product Listing does?
An Amazon Product Listing involves many a functions such as it increases your products chances to be seen to the potential customers. Also to some extent it performs a significant role to convince the shoppers to buy your product out of many a product available. All such objectives can only be countered and achieved to the fullest if and only your product web page is well optimized. The value of product optimization can't be neglected as it is attached with increasing your products repute and increased business.
Essential Components of an Amazon Product Listing
Essential components of Amazon Product Listing involve product title, images, bullet points and enticing product description to educate the buyer. All such noteworthy points can give your product page a good boast. All such components to make up a good Amazon Product Listing are as under:
Product Title: Product title can be up to 500 characters because there should exist plenty of space to go into detail. It is important to note that product titles on Amazon are more like mini descriptions of the product. In most cases, the more information you give is better. You should include the main keyword for the product as close to the start of the title as possible. Certain important ingredients such as brand, product name, model number, color, size, type etc, must be included to make it even more worth reading.
Images: A good product listing page must comprise of 5 Images representing the product. While incorporating images it must kept in mind that you have the chance to promote different aspects and corners of the product through these images. It is important to showcase multiple perspectives and angles of the product as its righteous display always proves helpful.
Bullet points: Efficient categorization regarding the price, product options and shipping details of an Amazon product listing's page are defined in the form of several bullet points. Highlighting the product main features and benefits can earn you a lot of customer attention. You should do this while using as many secondary keywords as possible. It is significant to note that listing portion on the page is more important than the full product description. This is because of patterning and positioning of information on the page i.e. above the fold and close to the images, price, and Add to Cart Button.
Description: Even if product description is not as important as bullet points, still it must be good. It lets you send out more positive signals about the product and include optimized keywords to generate traffic towards the product page. Engaging content can be a pretty good tactic in filling up the gaps between you and new audience. It is an incredible way to get them attracted towards your product and get them all hyped and curious about what you have in store. In this way, your service can rank among top sellers on Amazon. When writing your product description, think about your customer. What is the information they would most want to know? Learn to strike the iron when it is hot!
Product Review and Ratings: Product reviews and ratings although are involuntary and one does not have much control over them, are still important to consider an important element in product listing. Good reviews act as a source of stimulus to allure more customers to buy your product. However, bad reviews can alter the situation big time. The latter when addressed timely can prove fruitful for correction of mistakes to leave no room for future bad comments. Ratings on the other hand, are directly related to customer experience with your product page. Similarly, ratings can be increased with timely action and better customer support.
Online Optimization: Optimization of your products isas essential as your product as a whole. Optimization can be done by adding related keywords in your product description. Such keywords can direct search engine to show your product at the first page and double your chances to win the shopper. You can benefit from Amazon analytics for the growth of your online company.
Benefits of Outsourcing Amazon Listing Service
Outsourcing an Amazon Product Listing Service is a smart choice to stand out competition as well as create enticing product content for your product listing page. Popular advantages include bulk product uploading for extra fast digital leads generation that can benefit company's product growth on a larger scale. On a lighter note, classifying and categorizing products with respect to a hierarchical structure is not an easy task to do on a daily basis. It is far more time consuming than other elements. With the help of a professional it becomes quite easier to include and exclude products on a larger scale on a daily basis with in tight deadlines.
All basics to specifics can be measured and fully corrected with standardized Amazon Listing Service. All actions and responses are collaborated at the exact same instant leaving no room for loopholes in your Amazon Listing Service. A good service administers and controls the delivery of the Amazon Products in such a way that there is no shortage at time of requirement in the inventory.
How ITS Can Help You With Amazon Listing Service?
Information Transformation Service (ITS) will be there by your side at every step of the way guiding and managing all categories and functions with full zeal. Conforming to your standards
ITS Team keeps you updated with even the slightest detail that occurs. Moreover, you will be rewarded with fastest communication, excellent management skills and timely output.
ITS, is home to impressive and experienced professionals that have handled thousands of Amazon-affiliated projects. ITS leaves no stone unturned to provide you incredible results that keep on growing and expanding. Amazon Listing Service enables your service to make better all the specifications that Amazon offers to its limits. If you are interested in ITS Amazon Listing Services, you can ask for a free quote!