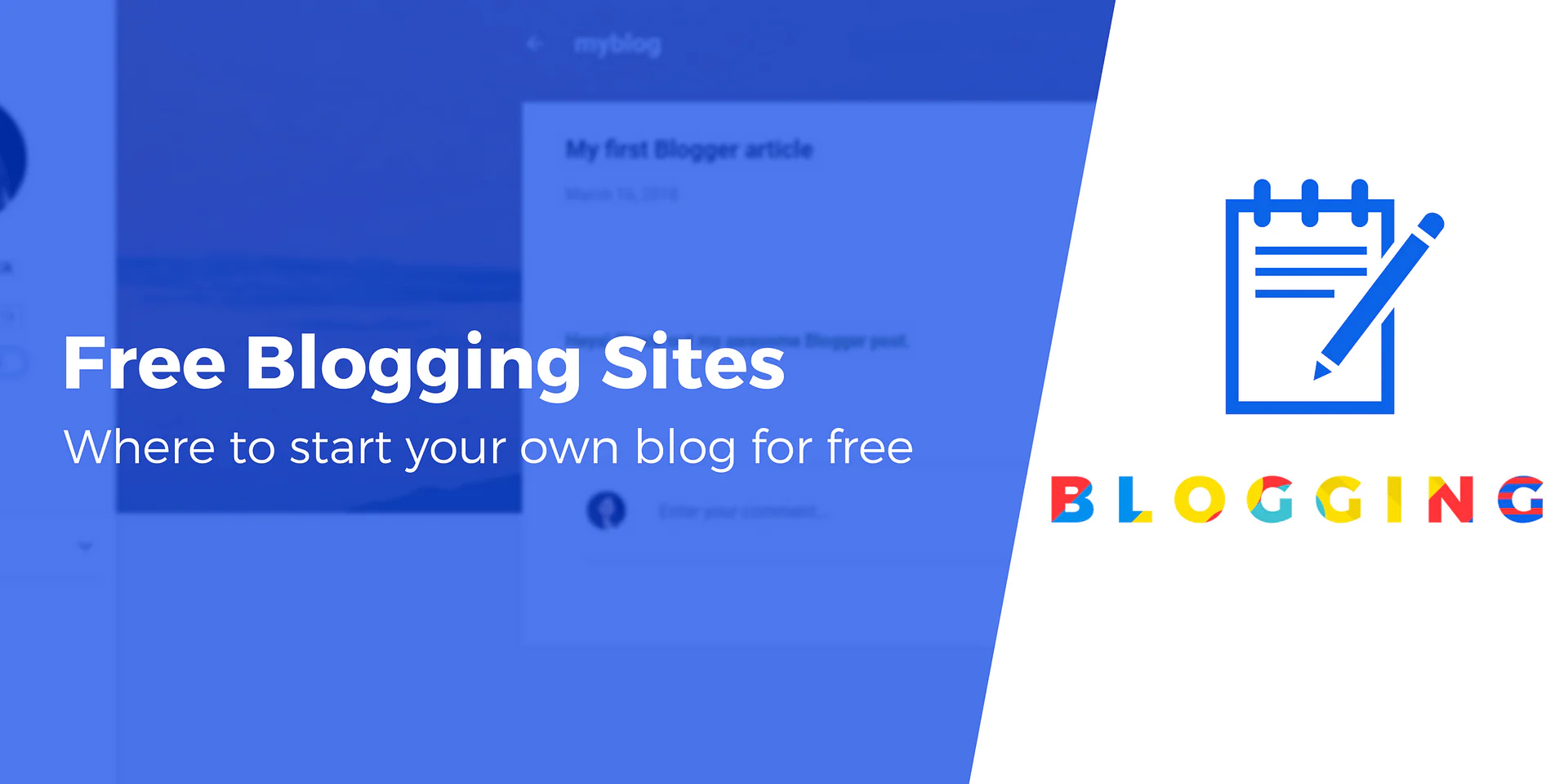 The 5 Best Blogging Sites Other Than WordPress & Blogger
Many people assume that only WordPress and Blogger are the mainstream blogging platforms but this blog is all about busting this myth by presenting you with a list of five alternative blog sites on which you can host your content successfully. If you have decided to read this blog then you must be someone who probably thinks WordPress is not a suitable option for you and there can be a lot of personal issues with the design or structure of the platform. Everyone has their taste and this is completely valid on your part. Many people can not set up their WordPress website properly or there is a lot of administration required on your part. However, this is not the end of your blogging career you can reconsider many other alternative platforms. Here is a list of some of the best blogging platforms for publishing your content. But before spoiling yourself with choices you must understand how to make an informed decision.
How To Make An Informed Decision?
When left with many choices it is always a good option to make certain comparisons regarding components and features of a blog-hosting site that suits your professional demands:
The first question is what kind of designing tools does the platform offer? Some hosting platforms offer free design templates while others require excellent coding skills. Try to minus platforms from your list by comparing the hosting options offered by these platforms. Be sure to choose the right platform with promising quality standards and a low level of complexity.
What free and paid hosting options are available? Some platforms offer their web hosting services for free in a beginner's level package. While this option might seem attractive but it also means that there are certain limitations regarding content features. While certain platforms retain the right to delete the content at any time. Similarly, your content performance and bandwidth are limited. In pad web hosting versions, many advanced features are included for better content performance.
How much do the platform services cost? Suppose you are writing a hobby blog then your budget will not be very huge. On the contrary, for business blogs, there is always a huge budget expectancy and a premium blogging platform is considered appropriate.
What audience you can reach and at what time? The important question is to publish blog posts on a platform that is largely user based and the content is likely to reach a wider audience on the Internet at large. Considering your purpose you can select a suitable option. So, by keeping these points in mind you can look at all these options:
Medium
"Medium" is a unique platform that is especially dedicated to the genre of blogging. As a blogger, you can assemble creative content to post including images or videos on your Medium account. You can easily post text-heavy posts by using a web tool on the medium mobile application.
Download: You can download Medium App for both Android and iOS for free.
Design Tools: This uniform platform helps users to give special attention to creating impactful writing. You can include several referential videos and audio. However, users are unable to customize their profile page due to which all posts look the same.
Hosting Options: Every user profile, is hosted by the Medium platform.
Cost: This platform is free of cost.
Reach: This platform supports a vast community of professional writers who collectively share information on every niche. You can interact with your like-minded community by using hashtags, responses, and highlights.
Ideal Choice For If you are looking to just put your words on a blank paper and you are less concerned about building a website, then Medium is the right platform for you. You can sign up for free and spend time writing your heart out on any topic you like.
Tumblr
"Tumblr" is a very popular microblogging platform. You can get to play with a lot of different styles and features to create exciting new content. You can post audio videos, images, GIFs, texts, and clips, and add links to your blog to let other users from across the Internet interact with your content. All you need to do is to share unique and quality content on this web platform by simply signing in to the Tumblr mobile application.
Download: Tumblr is available for free in-app purchases on Android and iOS devices.
Design Tools: You can easily create unique themes for your blog with a variety of free and paid templates or basic HTML. It is significant to note that while you carry on with the customizing process of your homepage, it will not affect how our posts are seen by users on the Tumblr feed.
Hosting Options: Blogs are automatically hosted on this platform but you can still select an external URL for your blog from a different host if your want to double the chances.
Cost: All basic Tumblr functions are without any cost but you are required to make a preset payment plan for external hosting or upgraded themes.
Reach: This is just the right platform for you if you wish to have incredible reach but also with the reach it comes with immense competition and the chances of content obscurity increase if your blog content does not match this platform's culture. On the downside, Tumblr lacks default analytics like cross-promotion and hashtags and for this reason, you will have to add Google Analytics to your blog's theme via HTML.
Ideal Choice For Tumblr is the best-suited platform for beginner-level bloggers who want to begin with no or little investment and create quality content by spending less time on a pre-existing theme. Bloggers with interesting and unique niche topics have higher chances of getting success within an active Tumblr community.
3. Wix
If you don't want to test out any new social media platform yet still want to create a stand-alone custom blog then Wix might be your perfect match in this matter.
Download: Wix extends its services for both Android and iOS for free.
Design Tools: Wix takes pride in being a celebrated virtual platform where you can find remarkable drag-and-drop design procedures with limitless HTML customization options.
Hosting Options: You can easily set up a custom domain by purchasing a premium plan for your Wix website.
Cost: The beginner-level version costs not even a single penny but the upgraded premium plan starts at $4.50/mo.
Reach: Wix does not support any in-built community of users but does give your content much-needed leverage by serving new and good opportunities for promotional blogs and SEO.
Ideal Choice For This platform is a perfect fit for beginner-level bloggers and content writers to focus on their writing styles than blogging designs. However many advanced bloggers who intend to benefit from security, plugins, and other customizable solutions can use this option wisely.
Joomla
"Joomla" is a great multipurpose blogging platform. This open-source platform can get a bit heavy if you don't know what you're doing using its power as with more power come great responsibility. We advise getting to know how this platform works before diving in depth.
Design Tool: You get to enjoy endless HTML-backed design options or you can make up your mind to select your favorite template from 100+ available on this platform.
Hosting Option: You still have to look for an external host for your website using the Joomla platform.
Cost: You can successfully create your Joomla site free of cost but you will have to renew your website every month and are only left with a data limit of 500MB. If you wish to upgrade your plan for matching the performance of your blog then these limitations might not suit your taste.
Reach: While most of the themes are mobile user-friendly however this is not the case for every theme. Furthermore, the Joomla platform supports built-in analytics, SEO plugins, and eCommerce support.
Ideal Choice For If your blog becomes associated with any big website or business then you will have to upgrade your content management system and Joomla can become your right stop to get security and customer support to grow your blog in the direction you want. The learning curve and cost is a good option for beginner-level bloggers.
Ghost
Ghost is another open-source platform to be included in our list of best blogging sites. The platforms offer an easy-to-use but intuitive interface. This option proves ideal for anyone who wishes to cherish creative content but wants to keep it low-key. Ghost is not desired platform for those who want to learn the intensity of heavy content management systems.
Design Tools: Ghost features a preview tool to help you notice every typo, spelling mistake, or a coding error on the spot. Ghost users get access to 100+ design templates and HTML customization.
Hosting Options: This platform offers its services for use for free however to gain access to custom domains you need to upgrade to a premium plan.
Cost: Ghost is free to create unique and top-quality content, its premium plans start at $9/mo.
Reach: Ghost supports SEO optimization tools, content integration tools, and built-in analytics to level up your content game.
Ideal Choice For It is a suitable option for bloggers with little experience who want to experiment with this free platform due to its easy-to-use interface. However, it is not for anyone who relies on plugins and looks for eCommerce functionality.
Which Blogging Platform Is Right for You?
If you wish to look into another reliable option no less than WordPress and Blogger then any one of these alternative blog hosting platforms can prove highly useful. Even if these options don't fit your plan you can still search and check out Weebly, Squarespace, and TypePad. However, if you still like WordPress better then try using a well-managed host like WP Engine. This will make your blog management easier and more efficient for your business.