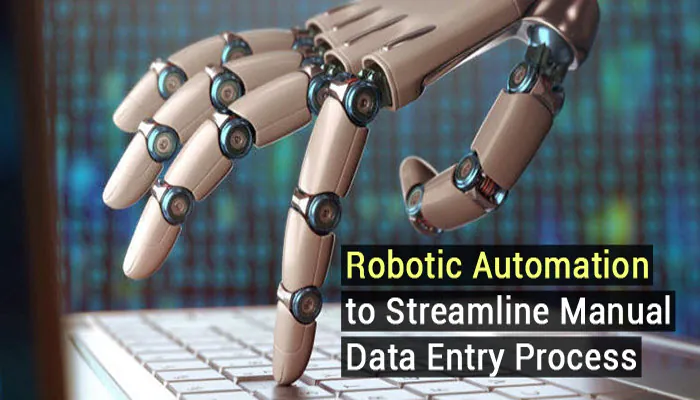 Streamline Your Data Entry Processes with Robotic Automation
With a new shift in Artificial Intelligence (AI) within robotic technologies, many businesses have experienced abuzz with a brief introduction to Robotic Process Automation (RPA). Loads of tiresome and repetitive tasks are being replaced by new and improved RPA to enjoy immense business benefits like huge cost savings, automated desktop routine work, increase in productivity, and so on. Generally, it is advised to have a standard operating procedure for double-checking data entries right after the manual data entry work. This helps to remove unwanted data entry errors in time. If you are short on time then RPA can shift all data processing complexities to structured and formatted data with 0% error results.
Most interestingly! You can use optimum RPA to upgrade your database systems without unnecessary fresh investments. RPA integrates existing software and hardware to comprehensively improve your business operational functions. Data entry services have now shifted to RPA platforms where they are used to offer optimum customer care support to clients.
What is Robotic Process Automation (RPA)?
RPA works quite similar if not the same like a software robot that can efficiently manage all your business programmed functions like a human operator. In RPA you can feed your computer programs and enjoy seamlessly versatile business models integration. However, the main point is to not use it as a substitute for employees yet use it to complement and add more value to your human integrated business data processes. Generally, platforms where high volumes of rule-driven repetitive tasks are performed that do not require much decision-making RPA usage are highly recommended. Many notable business co-operations have gained cutting-edge benefits owning to RPA to carry out back-end business tasks like administration, IT support, workflow processes, remote infrastructure, and so on. With robotic technologies employed for business solutions, the accuracy level of data processes is immensely enhanced with RPA.
How RPA Facilitates Manual Data Entry Processes?
Businesses that are unable to afford a fully automated system for comprehending data entry processes can fall back on RPA. This is due to the earlier mentioned fact that no matter how good is RPA it still isn't a substitute for human capabilities but only adds value to organize business systems and to multiple its efficiency. It doesn't matter how much your in-house data entry team is capable and efficient in handling data, there is always room for mistakes by the law of humanitarian flaws.
We tend to make errors under pressure by lagging behind schedule. When employees overwork, or are tired, overwhelmed, and stressed they are vulnerable to become resentful towards their work. Hence, it is important to take notice of these facts and hire sufficient staff and RPA to easily distribute the workload. Automated technologies such as RPA closely coordinate with employees for enabling instant information exchange to achieve business goals within the shortest interval of time.
For instance, the companies that outsource data entry services or do in-house data entry processes as basics are taken forward only by human hands. Overseeing and passing important judgment over the data structure, quality and format are all implemented via the human hand element. The data entry process requires capable human insight and RPA role to make the monotonous manual data entry routine automated to a considerable degree. Thus with combined RPA and human intelligence, you can experience a higher level of data accuracy for greater business compliance and outcomes.
RPA Leverage on latest Data Entry Outcomes
Robotic Process Automation (RPA) plays a significant role in leveraging high-quality manual data entry processes to companies in this digital age. Here are a few ways in which RPA can positively influence your business data entry processes:
It enables more accurate data processing as a complement to enter structured data within the system.
Speed up the data collection process from multiple online sources such that data can be easily compiled into one format.
Assists data entry processing to eliminate the occurrence of manual data entry errors and maintains data integrity, quality, and highest standard value at the same time.
Often third-party systems can't connect via IT-based solutions or digital platforms. In such cases, the RPA process helps to link externals systems to data processing in an effective manner.
Tedious routine manual data entry can hasten your business data entry abilities, in this way your workers can spend the time on other company functions to add more value to your business.
RPA blends altogether various other data processing scenarios like data extraction, data cleansing, data enrichment, data mining, and data de-duplication, etc. Hence, when companies outsource data entry services, agencies employ
RPA to help improve the overall data processing cycle.
RPA help improves the total flow of the data entry process from entering data to data report generation.
It assists professional data entry operators to achieve their daily data targets with precision and accuracy in data processing areas like re-keying, which is more prone to errors.
RPA integrates and automates data processes thereby facilitates human beings to invest their energy in making business-centric decisions during the entire manual data entry cycle.
RPA is no way to eliminate your business data operating labor force. It is, however, a way to double your business productivity based upon enhanced organizational and operational values.
RPA as a Vehicle for Better Human Manual Data Entry
Robotic Process Automation (RPA) is boon to businesses and industries, as it augments human abilities, improves data entry systems, betters operational infrastructure. The software breaks down the complex or unstructured manual data into structured and useful segments, Thereby proving useful for companies to optimize their business decisions based upon well-formed data. Today, data entry services make heavy use of RPA to churn out complex data processing output for their customers. In short, RPA is the most advanced technological tool that is made to enhance human capabilities to new heights in carrying out accurate data entry business processes.
Conclusion –
Data entry processes coupled with RPA can consequently resolve your all data quality, processing, and organization complexities. If you are one of those struggling with data-intensive business tasks on a day-to-day basis then in this case outsourcing your massive data and documentation processes can bring you increased business advantages. If your business is lagging behind your market competition then give RPA a try and see what custom data processing wonders it has specifically in store for your business.
How ITS Can Help You With Data Entry Service?
Information Transformation Service (ITS) provides convenient Data Entry Solutions regardless of any additional investment of staff, resources, or infrastructure. By outsourcing your Data Entry Projects to us your company will be blessed with high-quality and diverse data entry-related options. Such quality service enables your data to be entered in various desirable formats with repetitive, inaccurate, incomplete, grammatically nonsensical words replaced to form better semantic clarity and understanding. Irrespective of the size and complexity ITS Team defines customized packages to directly answer specifically your business big data projects. If you are interested in getting ITS Data Entry Services you can ask for a free quote!