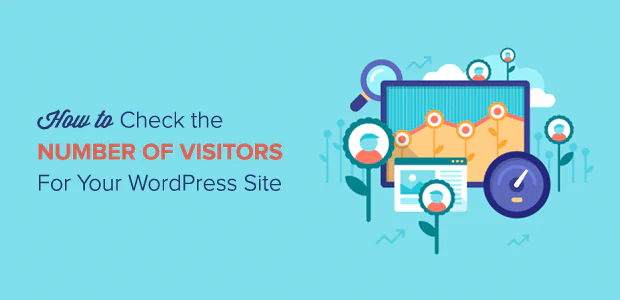 How To Track Website Visitors To Your WordPress Site?
Are you interested to learn easy ways to track your website visitors in WordPress? Then this blog is your go-to guide in tracking the number of website visitors on your site and gaining useful business insights to create targeted marketing campaigns. Every businessman is eager to learn more about their customers and an authentic way to drive information is to look at the posts they like, where they come from, and for what purpose they are interested in your content.
In this blog (step-by-step guide) we will unveil some exciting ways to track website visitors on your WordPress site.
Why do You need to Track Your Website Visitors?
Tracking your website visitors is an important indicator of your website performance this means that with a greater number of website visitors you get more chances of converting your subscribers or customers into potential sales. It pays off in the form of promising business insights that are otherwise missed. For example, you can easily locate which country or city, or place you are fetching more visitors. This can help you create optimized content and translate your content into your customer's language for a better user experience. Thus tracking your visitors can upgrade your marketing game by giving you a smooth direction to follow. You can estimate using Google Analytics which of your blogs is fetching more traffic for your website and create similar content to intrigue users to your company's advantage.
How To Set up Google Analytics to Track Website Visitors?
Google Analytics is the most powerful website tracking software available in the market. With its help, you can see the exact figure of visitors visiting your website and what things they do while visiting your website. To use Google Analytics you have to edit code snippets. This task can be challenging for beginners because you can not afford to make even the slightest mistake as it will mess up your entire website tracking results.
This is the place where 'Monster Insights' is used to connect Google Analytics to your site without any code. Monster Insights is a popular Google Analytics plugin that is used commonly for WordPress. To activate it you have to install it first, upon one-step activation you have to go straight toward the menu item labeled as 'Insights' present in the admin area. Later on, click on the 'Launch the Wizard' button present on the welcome screen.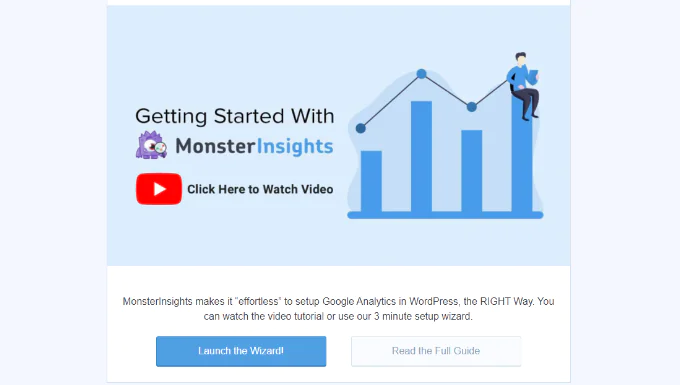 The very next step involves following the instructions that appear on the screen to connect your site successfully with Google Analytics. With Monster Insights you can easily link Google Analytics 4 (GA4) property in WordPress. This is the most recent version by Google and is soon expected to replace the older version of Universal Analytics. There is no better time than this to switch to Google Analytics 4.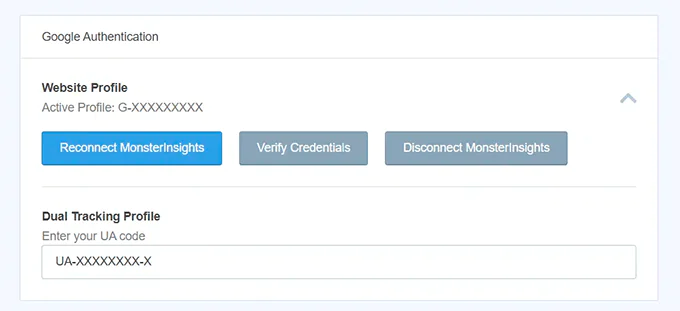 You are now all set to utilize Monster Insights and get a closer view of your website traffic reports inside your WordPress admin area.
How To View Website Visitor Reports in WordPress?
To get a complete view of your visitors you can consult different Monster Insights reports. These reports will help you get the actual figure and will save you time so you don't have to spend hours looking for the right data that matters for your business growth. Let us take a good look at each report and show you how to use these reports to track your website visitors:
Overview Report
To begin with go directly to the Insights » Reports page in your WordPress admin area and here you will come across the 'Overview' report, this is the first report as shown below: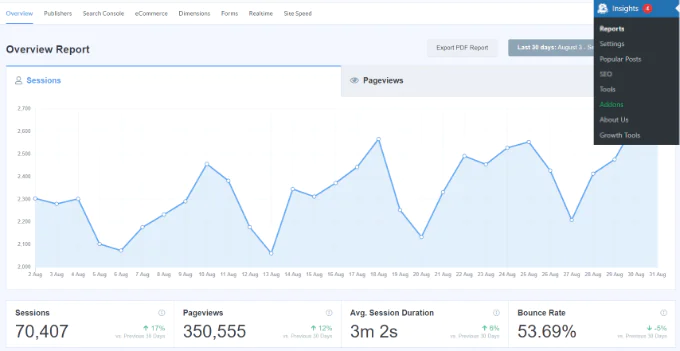 Here you get the advantage of selecting the date range to yield the total number of visitors per session and page views. You will also get to learn about user bounce rate and the average session duration. The reports also show you which kind of device your website visitors use to search for your website. All these elements can help you easily optimize your site for different devices and enable you to set up a user-responsive WordPress theme.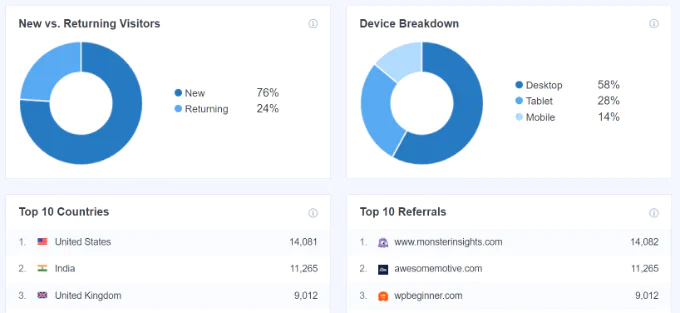 You can get a good idea of the region's most traffic by looking into the 'Top Countries' report and using this data to create workable strategies to target users based on their geolocation. Next to it, you will find the 'Top Refferals' report which you can use to send more traffic to your site. By using all this information at your disposal you can create a strong company and user partnerships.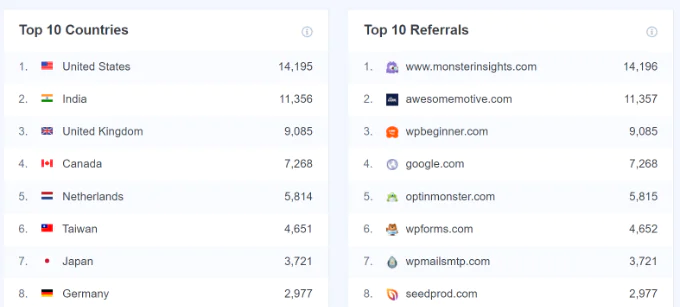 You can view the last report under the overview labeled as 'Top Pages/Posts', these are the popular blog posts and landing pages that users find most interesting. You can look into these posts and pages to create personalized yet effective content in a short span.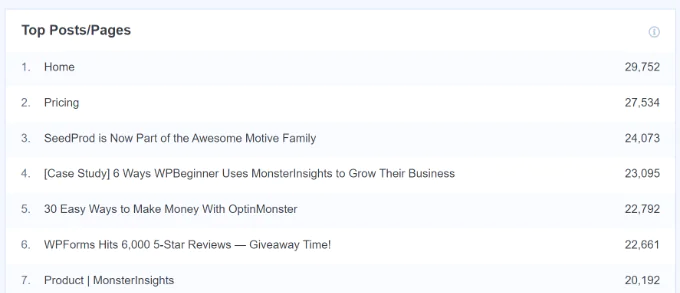 Publishers Report
To view this report you have to click on the 'Publishers' tab to gain more insights about your site visitors. This report shows more stats regarding landing pages, average duration, number of user visits, and the overall bounce rate.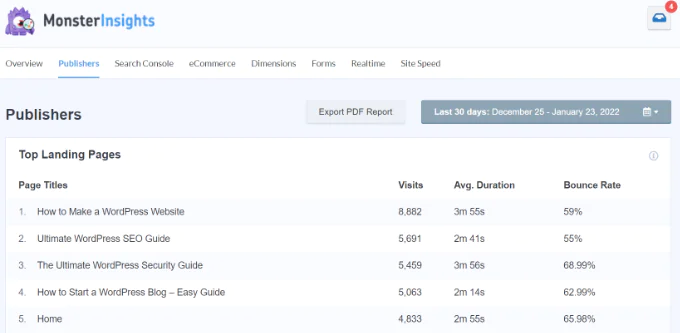 You can benefit from this information to create more unique content on user-favorite topics to gain more web traffic. These reports tell you about the affiliate links and outbound links that are getting the most user clicks. The content getting clicks is downloadable so you can get a good idea of which file type gets more clicks.

You can make your mark in the market industry using this information in the right manner. For example, you estimate the target audience for retargeting ads on Facebook.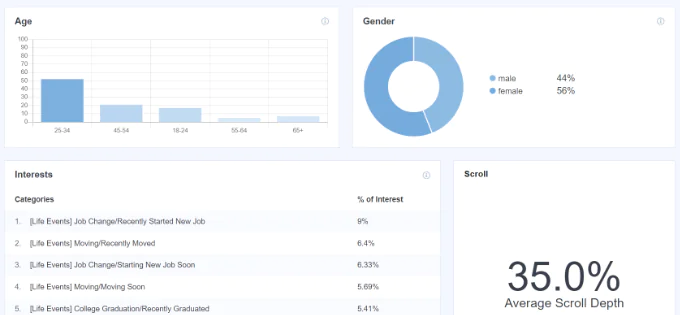 This plugin automatically tracks scroll depth on your site in the 'Interest' reports. With this data, you can easily add your banner ads and other call-to-action buttons in their intended place to fetch more conversions.
Search Console Report
Monster Insights also lets you find out what search elements are often searched by people in Google to find your website via the 'Search Console' report. This report displays all the facts and figures about the top 50 Google search terms, impressions, number of clicks, CTR (click-through rate), and their average position.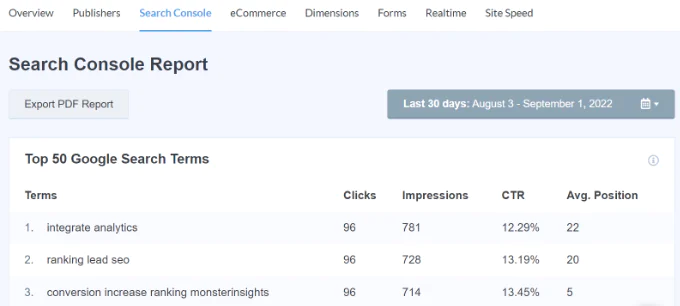 You can increase your WordPress site traffic by carefully optimizing your site with similar keywords and impressions to improve your site search rankings. By doing so you can bring your website to the top 10 search terms on the popular search engine i.e. Google.
Ecommerce Report
If you have an online store then this plugin will perfectly match your website performance measuring requirements. Monster Insights enhanced 'eCommerce' reports give a strong overview of the product conversion rate, revenue, number of transactions, and average order value for your online business.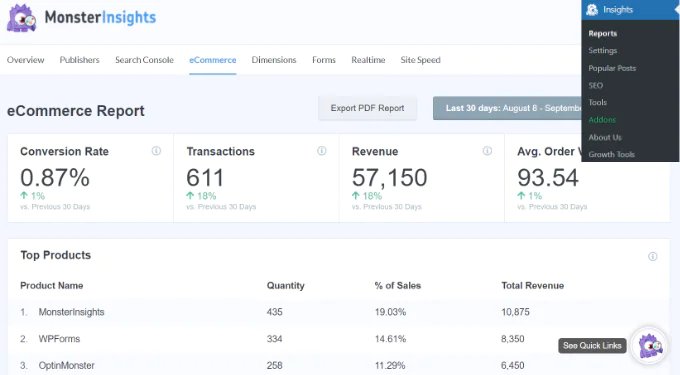 It portrays the most loved products that generate more sales. To track website visitors look into the 'Top Conversion Sources' report, and gather referral websites that can direct high-end traffic toward your site. Moreover, you can invest in promotional content for products and stores to boost sales.

Dimensions Report
Monster Insights is an all-in-one plugin to track additional information about your on-site visitors. Its Custom reports serve as a full bright guideline to track custom interactions on your website. For example, you can track many notable categories such as post tags, focus keywords, authors, and more. It helps you track visitors in real time.

Real-Time Report
The last and the most cherished report that you can view in WordPress to track your website categories is the 'Real-Time' report. This report is very helpful in showing your currently active real-time site visitors so that you can count your site traffic without neglecting or leaving any piece of information behind.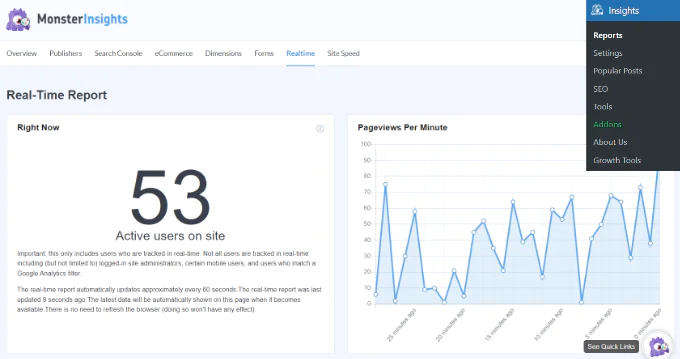 In addition, you can easily view the geographic location, popular pages, and most traffic-grabbing referral websites on the list using this report. By using the 'Real-Time' report you can efficiently track your website's real-time visitors and create impressive marketing strategies to lead your business toward success.