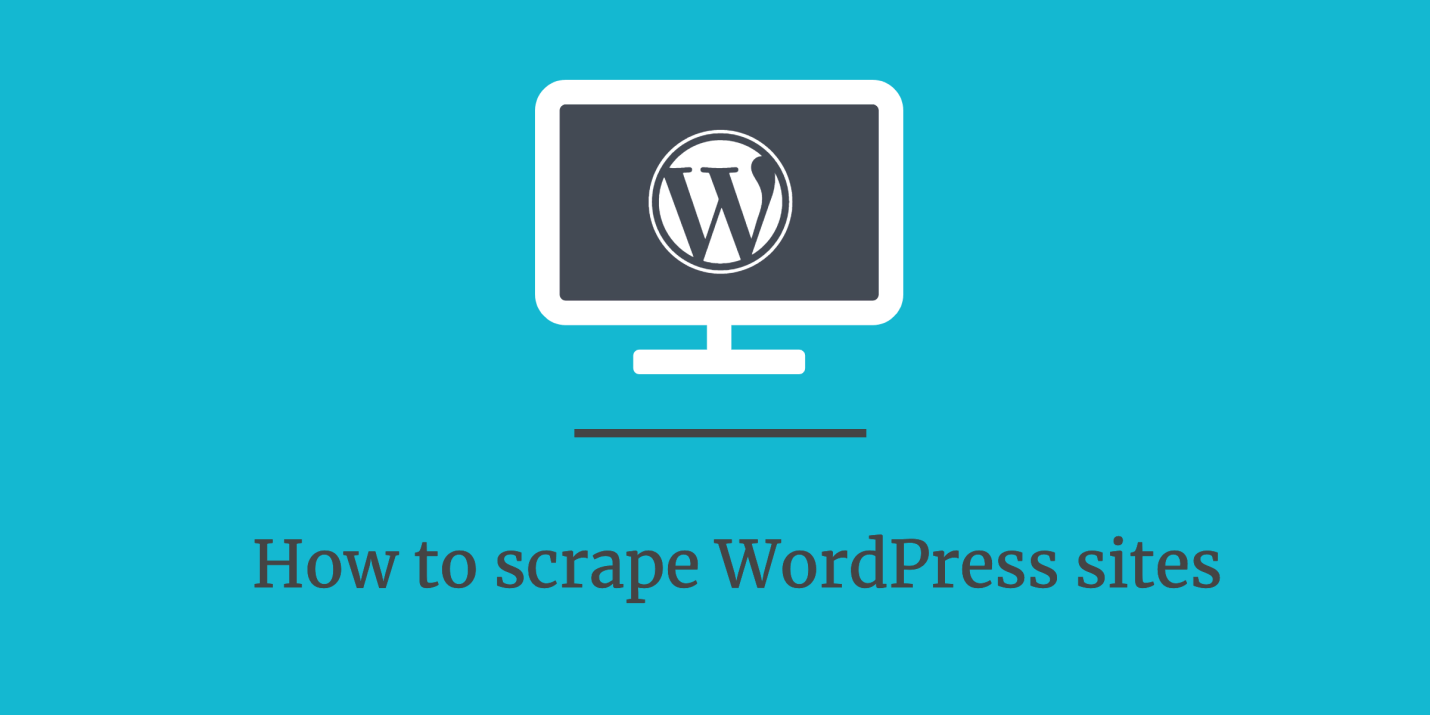 How to Scrape WordPress Sites?
Do you need to scrape pages or posts from (your) WordPress sites? This blog tutorial provides you with all the know-how needed to safely extract WordPress content (whether posts or pages). WordPress is regarded as the master of content management systems over the Internet. This is mainly due to the interesting statistics that the platform offers to business-oriented individuals. WordPress popularity can be estimated from the fact that around 60% of all websites on the www are generated via WordPress. Besides, the incredible platform supports a collection of vibrant themes for every kind of digital website.
Why you should scrape WordPress Sites?
WordPress CMS is exceptionally worldwide as it can be efficiently used to build impressive websites. Unlike many other CMS, WordPress supports a steep learning curve which makes it quite easy to use and fast to get a grip on. Both non-professionals and professionals can make use of WordPress to build impressive designs for their choice websites. In essence, scraping WordPress without authorization comes under strict digital theft. Therefore, you need a grant or approval from the WordPress owners. This aspect is really important when it comes to safe WordPress scraping. Let us begin with defining standards to successfully scrape a WordPress site.
How to Scrape WordPress Sites
WordPress CMS is undoubtedly a simple content management system, however, certain fields can be harder to scrape for a beginner WordPress user. Most commonly two methods are utilized to scrape the platform contents i.e. Web Scraping tools and WordPress plugins.
How to Scrape WordPress sites using WordPress Plugins
WordPress content management system is built with PHP Programming Language. While the WordPress plugin is developed with software pieces (PHP and JavaScript codes). These are then integrated within the WordPress site. WordPress plugins operate to extend the functionality of the platform for a better user experience. At the same time, certain WordPress plugins can scrape off WordPress content which can be further stored within digital space or can be exported to another WordPress site.
A few of the notable WordPress Plugins (scraping) is described below:
1. WP Scraper
WP Scraper is highly recommended for scraping WordPress sites. This scraping WordPress plugin allows direct copying of content from the site and transfer of the contents to your WordPress pages or posts. Besides, the scraping plugin is available for free and a pro version. You can download it from the WordPress official repository.
Here is a list of what to expect from the WordPress plugin, WP Scraper.
It supports a Virtual-friendly user interface for the selection of content.
Images can be imported directly to the media library.
You can begin by adding the website URL and start extracting content.
Important featured elements like image, title, categories and tags are also included.
All the scraped content can be saved as a draft, post, or page.
You can easily remove all unwanted iframes, CSS, and videos from the content.
Hyperlinks can also be removed from the content.
You can easily post the content in any category.
And much more.
2. WP Content Crawler
WP Content Crawler is another incredible WordPress plugin but is not available on the WordPress official repository. With the help of WP Content Crawler, you can easily scrape news, posts, and content from any of your favorite sites for syndication on the WordPress site.
WP Content Crawler provides you with the following scraping benefits:
You can easily develop a content syndication site.
WP Content Crawler is highly compatible with WooCommerce for marketing products via shopping sites.
You can easily scrape themes, apps, plugins, images, etc. from any site.
And much more.
3. Scraper – Content Crawler Plugin for WordPress
Scraper is the next interesting WordPress plugin in line. You can make the most of this tool by making your scraping models copy contents automatically. Scraper is highly compatible with other non-WordPress websites just like Booking.com, Reddit, IMDb, eBay, Alibaba, Instagram, Pinterest, and much more.
A list of all the remarkable features of a scraper is as under:
Content Translation
Content Spinning
Visual Editor
Scraping Templates
Attributes Scraping
Conditions are applicable (to leave out some posts etc)
And much more.
4. Octolooks Scrapes
Octolooks Scrapes a user-friendly plugin scraper that can provide you best experience for scraping WordPress site content. With the help of this tool, you can set up your scraping model (single, serial, or feed scraping). The tool allows you to scrape multiple WordPress websites in a controlled operation at the same time.
How to Scrape WordPress sites using Web scraping tools
Many of the web scraping tools can scrape website content but several of these tools are not that effective in WordPress scraping. This is mainly due to the complex WordPress CMS. In this blog, some recommended tools are mentioned which can serve WordPress site scraping efficiently.
Octoparse
If you are a fan of web scraping then you should be familiar with Octoparse. This tool is an easy-to-use web scraping invention that is also applicable to WordPress seamless scraping activities. It is a cloud-hosted tool that can scrape contents from the site with the help of automatic IP rotation. In addition, you can also build easy-to-use web crawlers for scraping non-WP sites and WordPress sites. You can manage, automate and schedule your web scraping process hassle-free.
Parsehub
Unlike the previously discussed web scraping tool, Parsehub is a free scraping tool that also supports a graphics-based web interface. The tool is flexible and powerful to scrape content pages or posts from outdated and latest websites. The tool is also compatible to scrape dynamic websites just like WordPress. Parsehub consists of a desktop application which makes it an ideal scraping choice for non-professional web scrapers.
Scrapy
Scrapy comes under the category of open-source web scraping tools. It is used to extract a large amount of data from any website. Scrapy works in an extensible manner yet fast. Many Scrapy professionals have combined it with Python to scrape both specific and generic content from WordPress sites.
Beautiful Soup
Beautiful Soup is one of the most popular Python affiliated packages which is used to parse XML and HTML documents effectively. Similar to Scrapy, Beautiful Soup is used in combination with Python 3 or Python 2.7 to scrape the content pages directly from any WordPress site.
How ITS Can Help You With Web Scraping Service?
Information Transformation Service (ITS) includes a variety of Professional Web Scraping Services catered by experienced crew members and Technical Software. ITS is an ISO-Certified company that addresses all of your big and reliable data concerns. For the record, ITS served millions of established and struggling businesses making them achieve their mark at the most affordable price tag. Not only this, we customize special service packages that are work upon your concerns highlighting all your database requirements. At ITS, our customer is the prestigious asset that we reward with a unique state-of-the-art service package. If you are interested in ITS Web Scraping Services, you can ask for a free quote!