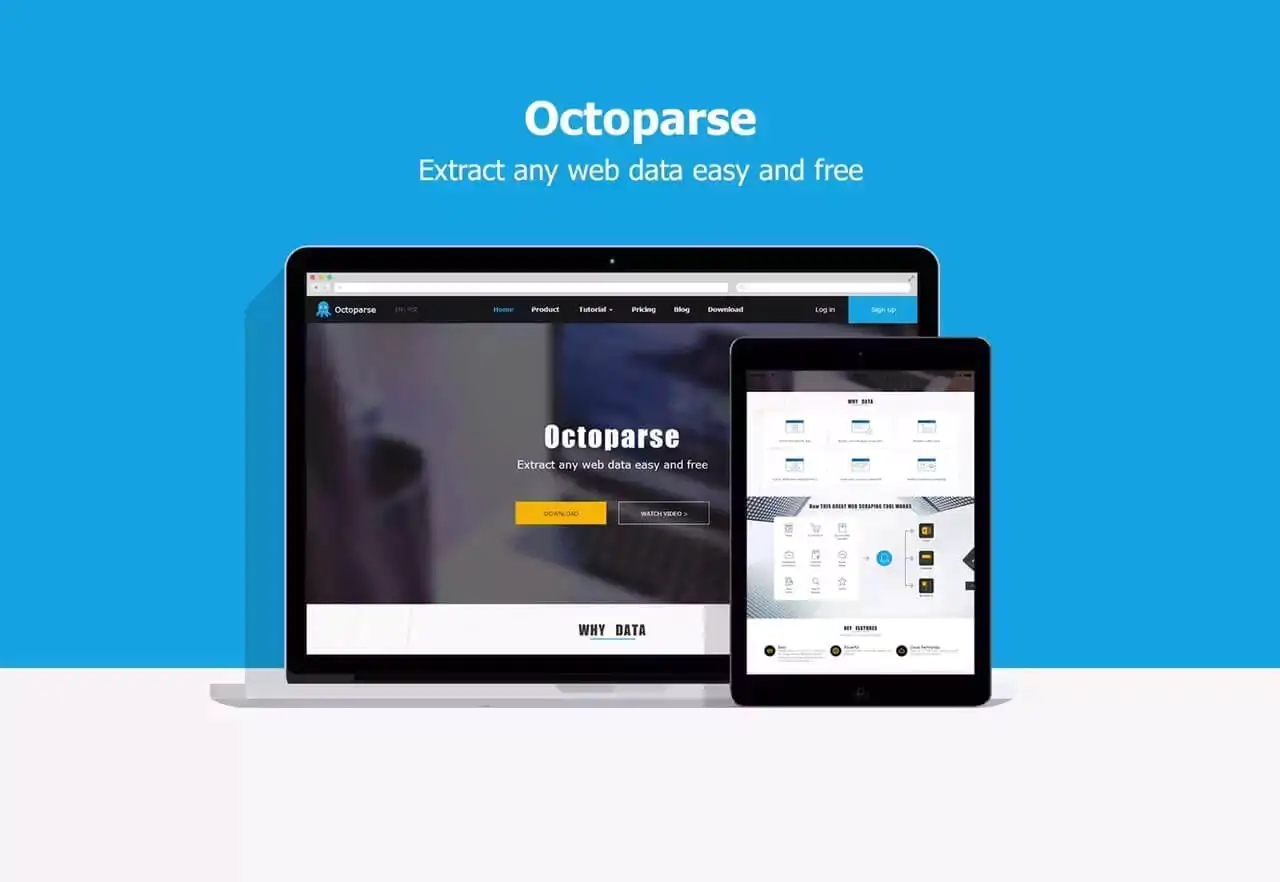 How To Scrape Website Data Using Octoparse?
These days when the competition between businesses is at its peak, no one can deny the importance of web scraping. The process of extracting data from a website is known as web scraping. This data is gathered and then exported in a way that the user will find more valuable; a spreadsheet or an API, for example. It has several uses, particularly in the area of data analytics. Market research firms employ scrapers to collect information from internet forums or social media for purposes like customer sentiment analysis. Although web scraping can be done manually, automated methods are typically preferred since they can be less expensive and perform more quickly. You can find various web scrapers, however, in this post we will discuss Octoparse; one of the most widely and commonly used web scrapers.
What is Octoparse?
A cloud-based web data extraction tool called Octoparse helps users in obtaining relevant information from a wide range of websites. Users from a variety of industries can use it to scrape unstructured data and save it in forms including HTML, Excel, and plain text. Users can choose the sort of data to extract by clicking an element on a web page. Also, they can execute several extraction jobs at once using Octoparse. Moreover, tasks can be conducted in real-time or scheduled to run at regular intervals. To get data on consumer sentiment, users can also scrape social media platforms, product evaluations, and comments.
The Wizard mode of Octoprase gives users step-by-step guidance for data extraction, while the Advanced mode offers advanced functionality for websites with more intricate layouts. On a monthly subscription basis, Octoparse provides services such as email and online knowledge base help.
Pricing
Octoparse offers customers a number of pricing options. The costs here change based on the features available. There are four main plans from which to pick.
1 Free Plan
For new customers who cannot afford the Premium plans, the free plan is perfect. The software supports an infinite number of computer devices, permits an infinite number of pages to be crawled, 10000 records to be exported, two concurrent local run-ins, and ten crawlers.
2 Standard Plan
Users may choose the standard plan, which has a fixed monthly cost of $75 and is better suited for a small team. This package includes 100 crawlers, unlimited pages for each crawl, record exporting without limit, and unlimited concurrent run-ins for the program. There are also other features including support for Task Templates Email, scheduled extraction, and API access.
3 Professional Plan
This plan is perfect for companies that want cloud services and large-scale web data for efficient data extraction. It is offered for a set fee of $209 each month. All of the capabilities offered by the basic plan are also available with this one, plus 250 crawlers, an advanced API, scheduled extraction, auto IP rotation, task templates, free task reviews, one-on-one training, etc.
4 Enterprise Plan
Companies who want immediate customer support, a centralized platform for team communication, and enterprise-level data extraction services and data solutions are better suited for Enterprise Plan. You must get in touch with Octoparse's sales team to receive a personalized quote for this plan. There is also a 14-day free trial available if you want to try the tool out before deciding whether or not to pay for it.
Installing Octoparse
Octoparse is relatively easy to install on a Windows or Mac computer. If you have a decent Internet speed, the procedure will be finished quickly.
To begin the installation procedure, adhere to these steps:
Get the main installer from the Octoparse website.
When the file has been downloaded, unzip it. Close any antivirus programs that are currently running on your computer. By doing this, you can prevent the anti-virus program from deleting crucial files that are required for the software installation.
Double-click the.exe file to start the installation procedure after finding it.
Simply follow the download directions.
Install it and use your Octoparse account to log in. Now that it is prepared, the software may extract data for you.
How To Scrape Website Data Using Octoparse
When it comes to the tool's primary purpose, Octoparse provides a very strong data extraction experience. It is supported in this process by an eye-catching UI. The app offers customers a neat, lovely, and incredibly user-friendly visual operation pane.
Clicking on any of the tabs plainly presented on the left-hand side of this software's interface will take care of important duties including establishing a new task, accessing the dashboard, quick filters, examining recent tasks, and contacting support.
It also offers a similarly attractive visual workflow builder that enables users to extract large amounts of data as quickly as feasible. The actual extraction procedure is pretty simple and can be carried out successfully with no code. Simply configure the program to set the rules that the software will follow to when extracting data.
The three simple actions listed below can complete the extraction process. To retrieve product data from an eCommerce website like eBay, for example, follow these simple steps.
Step 1: Enter the URL
By first establishing a new job and adding the website URL you want to use to scrape data from, you can begin the extraction procedure. As the website loads, Octoparse will automatically detect it. When the auto-detect procedure is finished, you will see that the program has already highlighted several important webpage components on your behalf. This useful feature particularly impressed us because it saved us from having to spend time manually choosing the items we wanted to extract.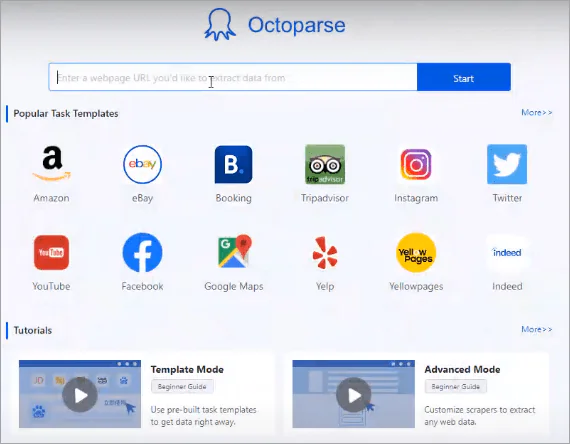 Step 2: Select information to extract
Clicking "Save Settings" will take you to the next step if you accept the choices made by Octoparse automatically. On the other hand, if the things you have chosen are not what you are looking for, begin by clicking on the data you wish to extract before moving on. When the detection is finished, a preview of the data that was chosen for extraction will be presented to you.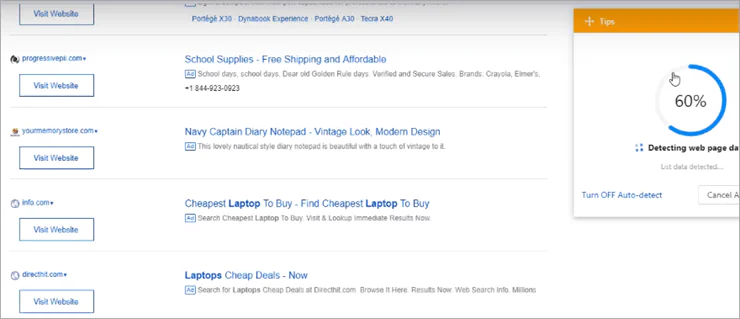 Preview of data:
By clicking the trash bin icon in the preview table, you can easily eliminate any columns you want to keep out of the extraction process. The columns can also be sorted using a simple drag-and-drop interface. The workflow can be improved in the tips section if you are satisfied with the layout.

Set scrolling for lengthy pages:
It's best to wait until your website has fully loaded before allowing the bot to start the extraction process. You can't afford to ignore this particular element, especially when working with websites that have a mountain of information on them. Check the part on the tips panel that instructs the tool to keep scrolling until the web page is completely filled with content.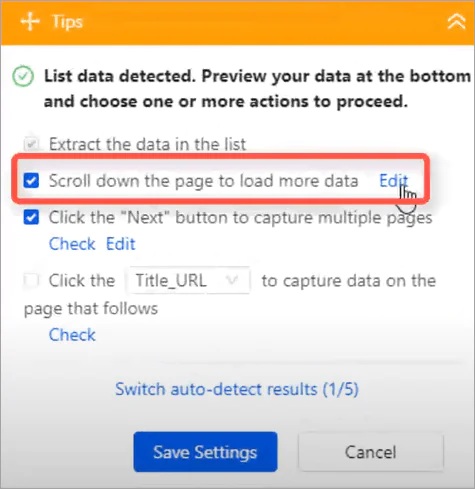 The frequency with which Octoparse should repeat the scroll as well as the time interval at which it should do so are both easily configurable.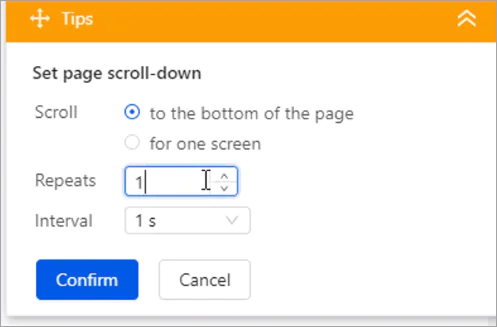 Step 3: Running the extraction
Adjust the workflow:
Make sure everything is precisely how you want it by checking the workflow thoroughly. After confirming, move through by clicking the "Save Settings" tab. A workflow will appear on the left side of your screen to welcome you. The order of the scraping tasks can be readily changed at any time by using the drag-and-drop method to update this process.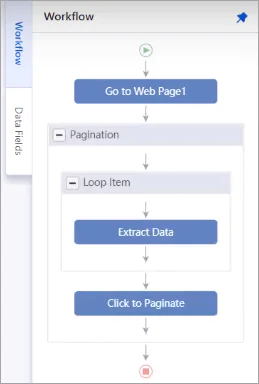 Finally, click "Save" and "Run" if you are happy with the crawler settings you have just created. The subsequent pop-up will show you the scraping procedure as it is happening.
The Running Task window is shown in the image below: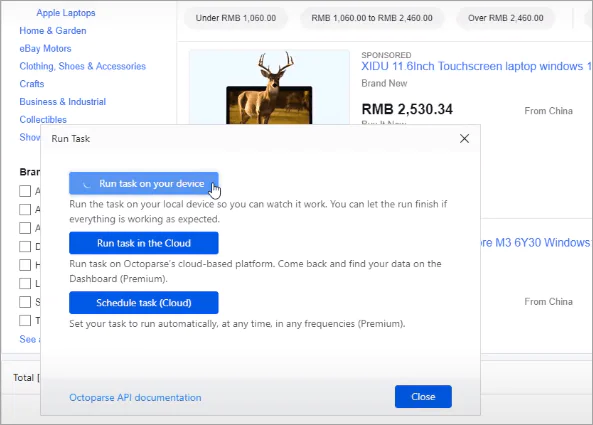 Results are available on your Octoparse account dashboard after the crawling is finished. From this point, you can start or stop scraping as necessary. The gathered data can also be exported and shared with your coworkers in an organized manner. The crawlers can be divided into many groups if you are managing several tasks at once to better manage them.
The final Dashboard is shown in the image below: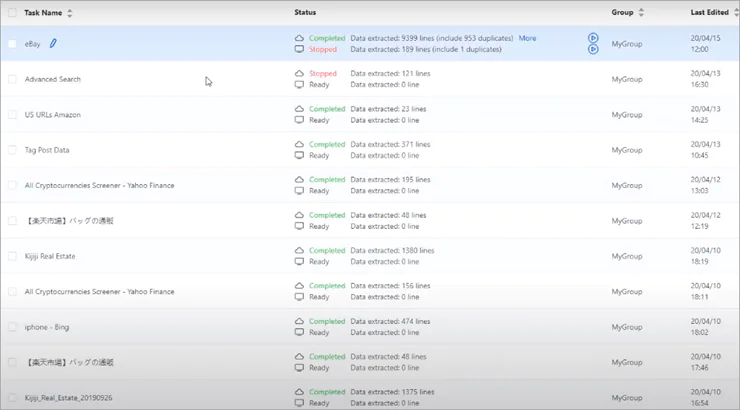 Well, here you are! The data has been extracted., congrats!
Final words
Modern web scraping services like Octoparse work well on both Windows and macOS computers. With its robust features and cloud platform, you can easily scrape online data from any website without writing any code. It is a wonderful online scraping solution because of its quick extraction speed, strong compatibility, flexible workflow, and appealing appearance. Furthermore, whether you are an experienced user or a beginner, you will find it simple to extract unstructured or semi-structured information from various websites and convert the data into a structured one. The Unique Smart mode will quickly and automatically retrieve the data from web pages.
Additionally, a newbie can obtain information from virtually any website more quickly and easily by using the point-and-click interface. With the help of the Octoparse API, you may obtain real-time data. Because of the IP rotation and sufficient cloud servers, the cloud service they offer is an excellent option for huge data extraction.