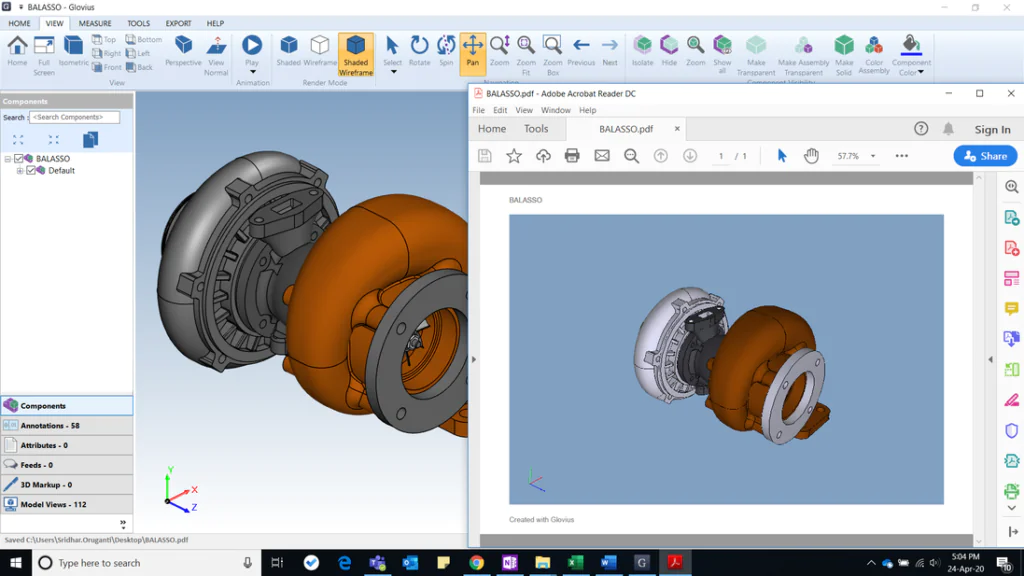 How to create 3D PDFs from CAD?
CAD is a program that designers use for 3D modeling. If you need clarification about creating 3D PDFs using the CAD program, this guide will help you understand the fundamental steps to take. In addition to showing you how to make 3D PDFs using CAD, we'll also show ways to transfer 3D PDFs into CAD or vice versa and include 3D content to existing PDFs.
How 3D PDFs Are Used in 3D Modeling?
3D PDF is a .pdf extension document that includes 3D model data from CAD in native PDF format. This is why 3D PDFs can be helpful in various industrial applications, which call for 3D visualization of landscapes, objects data points, landscapes, and many more.
A few ways in which 3D PDFs can be used for 3D modeling are:
Geospatial representations, like plans for remediation or seismic activity
Virtual tours or layouts of buildings or homes
360-degree site inspections
Panoramic perspectives of the region or city
Animations of objects, for instance, made-to-order components or systems
Forensic recreations events
How to Create a 3D PDF (Including in CAD)?
Although it's easy to access the 3D PDF using a standard pdf viewer software, there's a need for CAD if you want to make 3D PDF documents from scratch or modify existing ones. For this, it is possible to convert the 3D PDF into CAD for editing your document or save it to various formats.
The best methods to create, convert, and edit 3D PDFs.
1 Convert a DWF/DWG document using the CAD program:
It is possible to use the CAD software to function as a DWF and a DWG to 3D conversion tool. Open the document in your CAD program and click the "Publish" command. Choose the DWF format for your file. Or, if you're using AutoCAD, choose DWG format. DWG format to generate the AutoCAD 3D PDF.
Select 3D DWG/DWF, then hit "Publish" to convert your DWG/DWF file. This is the most straightforward method of saving and converting a CAD file into a 3D PDF. SolidWorks, Bluebeam, Adobe, and other software offer drag-and-drop capabilities that allow users to drag and drop files into the 3D view to create a 3D PDF.
2 Convert to 3D PDF into CAD
When you wish to change an old 3D PDF into CAD, you can utilize CAD as a 3D PDF to CAD conversion. According to the CAD program you are using, installing a 3D Adobe PDF exporter plugin may be necessary.
Once you've enabled this feature, importing a 3D PDF to CAD is straightforward. Once done, you can edit and share your PDF and save it as a CAD-compatible file or in a different file format.
3 Add 3D information to an already existing PDF
For PDFs already within Adobe, you can incorporate 3D-related content by going to Tool > Rich Media > Add 3D. Then you can drag your 3D shapes onto the canvas and add the 3D content.
If you're working with CAD, Follow the steps from Item 2 above to convert your 3D PDF to a CAD file. Once you've done that, you'll be capable of adding 3D content to the existing PDF.
Simplify CAD to 3D PDF Creation
If you're making 3D PDFs with CAD or another software, you could streamline the process by collaborating with an expert in 3D modeling. Spatial has the knowledge and know-how to convert your CAD designs into easy-to-share 3D PDFs swiftly and precisely.
The final words
For 3D modeling, 3D PDFs are seen as a standard file format that is easy to view without the requirement of CAD software. If a 3D modeling model has been saved to 3D PDF Format, any user can view and open the file using Adobe Reader or another PDF viewer, which is available for free download.
In the absence of having to open CAD, professionals who work using 3D models can utilize three-dimensional PDF documents to
Inspect model geometry
Review notes
See model measurements
Access bills of materials
Some of the sectors which can benefit the most from the ease of 3D PDFs to the model include:
Engineering, and construction design
Manufacturing
Marketing and tourism
Public security
Healthcare and dentistry
If you own a model from which you would like to provide a 3-D version, PDFs with 3D models can make it easy and economical to do this.