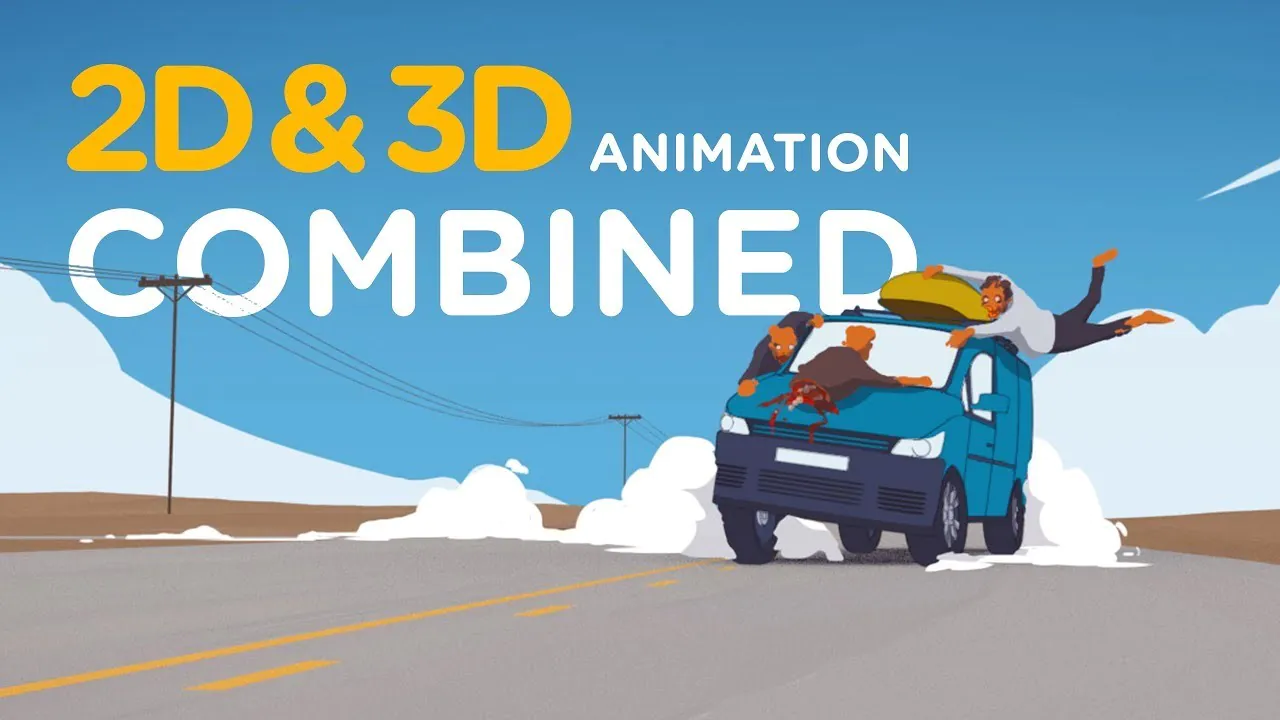 How 2D and 3D Animation is Helpful for your Company?
If there is something that can add a lot of color to your life projects, it is no other than 2D and 3D Animation Service. Where 2D Animation is better to imprint all your ideas on a paper in raw form, 3D Animation serves as the foundation for realistic animation models and assets. 2D and 3D Animation is not just some regular art. It is an art that merges itself with science, converging both of them into a single perception and a real aesthetic world for the user. Obstacles attached to both 2D and 3D graphics are falling short quickly.
Such as the Oculus Rift, Sony virtual headsets, and modern mobile features to advanced technological animation solutions. It is not just about it, 2D and 3D Animation Service has resulted in vast categories and options for users around the world to create and recreate models, graphics, art, pictures and motion sequences and that too automatically.
What is 2D Animation?
2D is a two-dimensional animation that results when two-dimensional images are sequenced to make a life-like projection. Like used in computer animation and vector graphics. The creation of rendered animation and walkthroughs are flourishing as we move ahead in time and space mixing well both sight and experience for the user. 2D Animation is basically the mother of 3D Animation, which still today acts as the basic projection plan to be made into a multi-faceted experience to be enjoyed by our users.
2D Animation has turned around tables for humanity in the most exciting way killing away all static boredom. Nowadays, If you want to increase the number of sales and leads the best option is undoubtedly through picturesque depictions that can deliver the main idea of the advertisement content in the most proficient and minimum time possible. Things are seemingly predicted to get larger than life in the nearest future.
Examples of 2D Animation
We see 2D animation in a whole lot of diverse domains more specifically in animation such as cartoons, films and drawn animations. Popular examples include:
In Television
The Simpsons
SpongeBob Squarepants
Looney Toons
Dragonball Z
Tom and Jerry
In Films
The Jungle Book
The Lion King
Beauty and the Beast
Aladdin
The Little Mermaid
In Games
Super Mario Bros.
Mega Man X
Super Metroid
Shovel Knight
Sonic the Hedgehog
Top Software Programs for 2D Animation
Modern-day advanced technology has equipped even a layman to understand technical terms and ideas easily. In the case of 2D Animation, there are many top-quality software available in the market such as Autodesk SketchBook Pro, Adobe Photoshop, and Toon Boom Studio. With the help of the software, you can construct 2D animation graphics and models with efficiency and ease.
What is 3D Animation?
3D Animation originated in advancement with 2D Animation. Unlike 2D Animation, 3D Animation involves three axis X, Y, and Z which corresponds to length, width, and height for a realistic representation of animated models and assets. The process begins with setting up models and laying them out in the background environment for better positioning ideas within a scene.
Examples of 3D Animation
When we look around in our physical environment, we see tons of useful examples of 3D Animation at large benefiting and entertaining all of humanity. Some common to specific examples are listed below for your convenience:
In Television
Star Wars Rebels
Mickey Mouse Clubhouse
Max Steel
Kung Fu Panda
Fanboy & Chum Chum
In Films
Toy Story
Frozen
Madagascar
Up
Despicable Me
In Games
Final Fantasy VII
The Legend of Zelda: Ocarina of Time
Metal Gear Solid
Super Mario 64
Call of Duty
Top Software Programs for 3D Animation
For 3D Animation, The software programs are relatively expensive and of high standards than 2D Animation. The reason behind this distinction is the number of editing tools needing to form a realistically rendered animation and models. 3ds Max, Unity, and Autodesk Maya are popular 3D Animation Software that supports incredible modern editing tools to create a unified experience for your users.
Difference Between 2D & 3D Animation
There are considerable differences between both. In 2D Animation traditional methodology of hand-drawn drafts are involved while in 3D Animation we take it a step further and make use of modern-day technology to make the digitally designed models and assets to look close to reality. In games, 3D Animation is employed to give the user the sensual pleasure of experiencing motion. Furthermore, interesting facts relating to marking the existence of Artificial Intelligence at a primary point, the vast academic subject that is considered to shape the face of the earth in the upcoming years.
Visual Experience
In terms of visual experiences, 2D Animation is unrealistic when compared with 3D Animation. This judgment is based upon the whole process and the outcome of both animation types. 2-dimensional space is only catered to length and width. While 3-dimensional space, length, width, and height.
Cost
The average cost of a 2D animation service for any video of 60-Seconds starts at $1,000 and can go up to $5,000. Furthermore, it depends upon the nature of the video. For 3D animation, this cost starts at $7,000 and exceeds depending upon the project scope.
Platform
2D Animation is done on simpler and traditional platforms with a special focus upon hand-drawn sketching and then add movements frame after frame. While in 3D Animation processes such as modeling, texturing and rigging are performed especially through computer software to shape the characters with alluring perfection.
Use Cases
In 2D Animation, Professional Animators integrate different processes to create a smooth animation experience. Frame-by-frame and characters-by-characters create superb motion animation. While 3D Animation is rendered without cases and provides an explicit user interface.
2D Animation is used in cartoons, but in the 21st century makes up the vast majority of social media video content such as infotainment videos, product demos, explainer videos, and animated whiteboard videos.
3D Animation is a high-end art and is utilized for movies, cartoons, and more prominently in video games that rely on creating realistic visual experiences.
How Information Transformation Services Can Help You With 2D & 3D Animation?
Information Transformation Services pledges to provide you with the best error-free and accurate service that comes with quality assurance. With over 2000 satisfied customers we have all the expertise to transform your valuable data into an intriguing experience for your users. Being a member of this diverse and augmented team of professionals, I guarantee you the latest and efficient services and that too in the shortest turnaround time possible. Here at ITS, The environment and our Team is well suited to your comfort to favor communication. ITS offers ISO 2700 Certified BPO Services to make you feel, that your product and idea are in the safest hands. Not only this, we offer initial package estimate consultations to convert your interests into blueprints. If you are interested in ITS 2D and 3D Animation Service, to proceed further ask for a free quote!