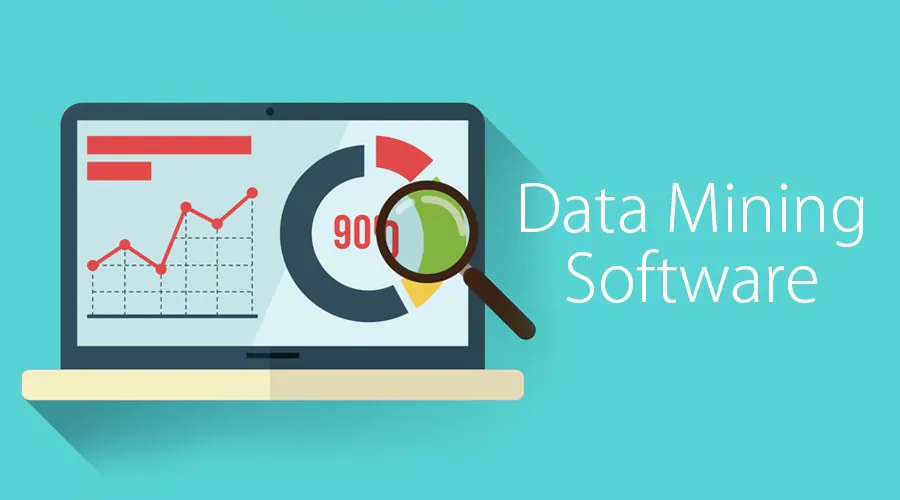 15 Best Data Mining Software In 2021
Data Mining Software refers to the data that companies extract for carrying out their improved business functions. Major benefits of the extraction of useful information are for predicting certain outcomes that are otherwise impossible to comprehend on their own. Key methodologies applied for data extraction include statistical analysis, allocating specific algorithms, machine learning, and artificial intelligence.
Data Mining Service is not only about the collection of the accurate source of data but it is a complete procedure that lists out all the popular trends and techniques in the Digital Market. Hence, the value of data mining can't be neglected, while promoting the product on all social platforms. The main goal is to retrieve information from huge databases and in turn, restructure it for personal usage. Therefore, the nature of data mining and its techniques directly depends on the type of data that is intended for easy extraction.
Top Data Mining Software
Data Mining is the service that can complete all your big data needs in less time than what was going to be taken with long and monotonous procedures. Data Mining Service gets all your desired data composed, retrieved, and handled in a manageable keeping things on track and schedule. Data Mining is your answer to get all your data needs to be processed accordingly with your business product. The list of top Data Mining software is as under:
Sisence
The top-rated data mining software allows simpler business analytics for complex business tasks. With an um-matched performance, Sisence can accommodate all your disparate data sets without employing any extra tools or techniques. It allows data extraction from multiple-resources and that too on a larger scale. Additionally, it leverages In-Chip Analytics to improve your business results. Its significant features involve the accommodation of all tools required for data extraction in the form of interactive dashboards. Sisence provides users the advantage of query data within real-time increasing the reliability and validity of the data many folds.
Neural Designer
If you are looking for much simpler access to address your all-in-one data mining requirements then Neural Designer can help you in the long run. Neural Designer is a desktop application, which employs neural networks to extract refined databases. The closely calibrated software is founded by Roberto Lopez and Ismael Santana. It works by locating patterns of the data that you need with the help of built-in computational models. The software is significantly used in sales to improve work quadrants by optimizing data provisioning.
Orange Data Mining
Orange Data Mining is an open-source data analysis and visualization tool. In this software, data is extracted with Python scripting and visual programming. It consists of many built-in features, such as data analytics and computational patterning that are essential for all types of data mining projects.
R Software Environment
R is free software for carrying out statistical analysis of data. It runs on multiple platforms such as MacOS and Windows. It is a complete package of software facilities for calculation, graphical display, and data manipulation.
Weka Data Mining
Weka Data Mining is based upon the collection of algorithms of machine learning. It performs data mining tasks with full proficiency. The algorithms can be called using Java code or they can be directly applied to the dataset. Weka Data Mining comprehends accessible data mining through different functions such as machine learning, preprocessing, data mining, clustering, regression, classification, visualization, and much more.
SpagoBI Business Intelligence
SpagoBI Business Intelligence offers advanced data visualization features involving semantic recognition of the data. Its various modules include SpagoBI Studio, SpagoBI SDK, SpagoBI Server, and SpagoBI Meta.
Anaconda
The open data mining platform provides the best performance relative to R and Python. It offers different packages of R, Scala, and Python for data mining, statistics, deep learning, simulation, optimization, and natural processing of data for performing increased potential business tasks.
Shogun
If you are a beginner and want to test things out before you jump up for your business data mining projects, must try Shogun as it is open source free software. It supports many data structures, formats, and algorithms for machine learning. You can cover up all your detailed data representations through multiple platforms with Shogun with only utilizing general-purpose tools for the job. Furthermore, it enables you full access and implementation of Hidden Markov Models.
DataMelt
Most of the data mining is done to get statistical data analysis and numeric computation. DataMelt can add a lot of convenience to your data mining pursuits. Analyzing big data can be achieved within less time with unique results. DataMelt can make you a pro at using different programming languages on various operating systems.
Apache Mahout
Apache Mahout creates a space for creating scaling machine learning applications very efficiently. It consists of various algorithms for Apache Spark, Scala, and Apache Flink. It is implemented on Apache Hadoop and uses MapReduce Paradigm.
GNU Octave
GNU Octave is a high-level data mining software that is specifically built for accurate numerical data computation. It works using a command-line interface and allows its users to solve linear and nonlinear problems numerically with Matlab. The software is compatible with many versions such as Windows, MacOS, GNU/Linux, and BSD.
RapidMiner Starter Edition
RapidMiner Starter Edition is beneficial for all sorts of data-mining practices such as text mining and data preparation on spreadsheets. The software is well suited to both commercial and business use for data research, prototyping, and implications. Furthermore, It supports data preparation, model visualization, and optimization for better data results.
GraphLab Create
GraphLab Create is an All-in-One application that provides data cleaning, training, and detection all at the same time. Such applications prove significant while you search for new websites for data mining incentives. GraphLab Create will provide you fraud detection and sentiment analysis for enhanced databases.
Lavastorm Analytics Engine
Integration of huge databases is effectively possible with Lavastorm Analytics Engine. All data outliers are well predicted and assembled with the help of Lavastorm Analytics Engine. It allows the self-service capability for business users to gather data and store it into larger databases. Its other features include transform, acquire, and combine data without pre-planning and scripting.
Scikit-learn
Scikit-learn is an open-source library for Python programming. It has numerous applications supporting classification, clustering, and regression algorithms including random forests, K-means, and support vector machines. It well suits Python libraries such as SciPy and NumPy.
How ITS Can Help You With Data Mining Service?
Information Transformation Services is a certified Data Mining Service Provider with international guidelines and infrastructure. The whole experienced staff s well-trained meeting your every bit of expectations like no other. Data Mining Service holds diverse categories that carry their research frame. Information Transformation Service (ITS) councils your requirements for your business growth. Our leading data mining experts can score virtually appealing data for the senses. Our Data Mining Course takes all measures to produce data/content that generates leads to the fastest pace for your Digital Marketing Business.
Get in touch with ITS inquiry team to get all your questions dealt with and get a chance to experience Data Mining Service at its best along with other professional-quality data services.