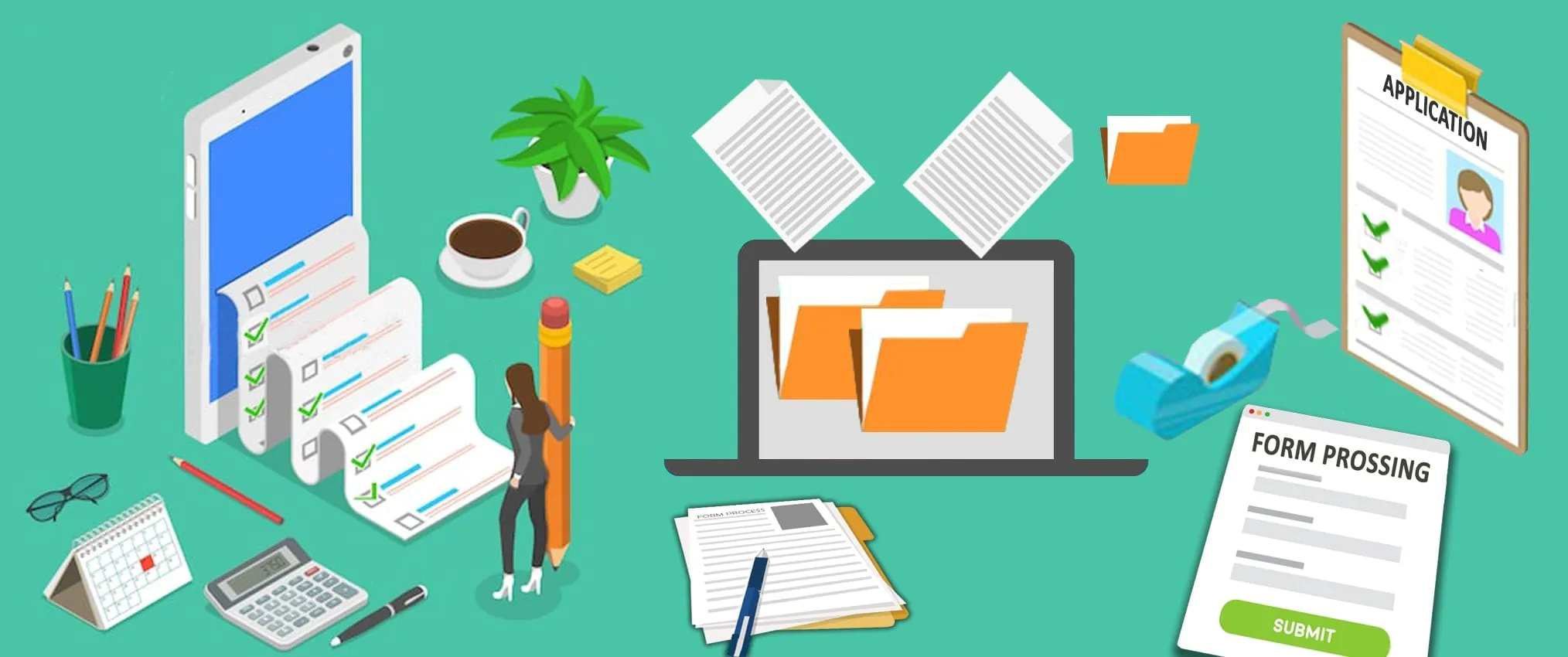 What is E-Commerce Form Processing
Many E-commerce companies have to deal in a large amount of form processing on a daily basis. Conversion from one format to the other is continuous to support transactions of products by the customer and the employees to ensure smooth workflow. As a result, there is too much going on and such forms seem to be everywhere around the place.
A single form when gone missing can give you serious depression and in the worst-case scenario result in the loss of a valuable potential customer. Form Processing is not something that all E-commerce companies promote!
The reason it being costly and out of reach for some, However, outsourcing to third-party companies can save you through intensive paperwork. If you are some person with a growing E-commerce outlet then you can easily outsource a huge fraction of your work to a professional form processing service provider to process and convert valuable information into suitable formats as well as create exciting templates that match your company's taste for the better.
Easier Ways To Process E-Commerce Forms
Form Processing, through secure software, is easier. During Layout following conversion, processes take place that is essential to convert all sorts of information present in the form both internal and external to reputable adaptable formats. Form Processing Service is a well-defined procedure that involves the latest software and technical illustrations.
Saving manual effort is required to convert print forms to adaptive formats. Further patterns are applied and appropriate validation is made sure of during conversion. Documents are usually generated of Records during conversion. JotForm, Wufoo, Laserfiche, Formstack, SharpSpring, and Microsoft Forms are recognized as top software to enable smooth form conversion procedures. Form Processing Service is increasing with an increase in need of form filling and further processing in every domain. Automated Form Conversion assists in converting PDF formats into adaptive formats that are otherwise really hard to access.
E-Commerce Form Templates
A professional creates exceptional company for templates that entice customers to invest in your products more happily. This saves further manual effort to convert print forms to adaptive formats. Further patterns are applied and appropriate validation is made sure of during conversion. As much as it is essential to get e-commerce form processed, the more it is important to make them look appealing for customers to fill in the spaces given. Beautiful templates and formats will double your product chances to be sold and eventually you will get your reward by contact form filed by the happy customer. Adobe Analytics is typically employed to process an incredibly larger number of e-commerce forms. Not only this template helps in keeping a record of different forms in one place. Categorization of forms can be done based upon their nature and the template being used in a more appropriate manner.
Benefits of Outsourcing Form Processing Services
A list of advantages you get to enjoy by outsourcing your form processing projects is major in each domain. Number one benefit is to get each and every detail sectioned in an amazing layout having supported with columns and sections for clarity and brevity. Next is the conversion of heavy files into simpler formats such as PDF Files into more adaptive formats such as word documents. If you are short on time and have really tight deadlines to meet at regular intervals then it is a much safer option to outsource your form processing projects for timely completion.
It is more cost-effective
The biggest reasons why you will want to outsource form processing service are that it will save you a great deal of money. Imagine you have a whole set of team to work for your forms processing requirements. The amount of relief you will get would be just phenomenal. You will need to first hire them, train them, and then ramp them up. You will need to buy additional space and workstations for them. This could create a significant dent in your finances. A Form is filled in multiple languages. Getting to know these languages before processing can be really hectic. An expert can cover up your business forms, linguistically ACCURATE.
It allows you to focus on Core Business Functions
E-commerce business in itself involves many functions that need to be taken care of at the same instance. No one can afford to waste time on less likely tasks. The software can add more value to process forms better and effectively. But, what if you had to take care of form processing as well, especially hundreds and thousands of forms? It will require a focus on the task that is not directly responsible for revenue generation. It will also take away your focus from the core business. But, if you outsource form processing, you will keep the complete focus on revenue-generating jobs. This in turn will ensure more growth for the company.
Access to talent
By outsourcing your bulk form processing projects you are actually setting time and talent to it. This is how you an entrepreneur grow a business. For you, software development is probably the core business. For the outsourcing company, Form Processing is the main body of the e-commerce business company, as it sends in contact information and product details to the customers. It is the job that is generating them the revenue. This is why they direct all their efforts to it. They train their employees to deliver high-quality results. The employees have the right kind of experience to offer.
Service based on your E-Commerce Needs
A professional can cater to all your needs with high-end customized solutions. Not every company is the same? Right! So must the problems and more than this, the solutions that we need to resolve form processing issues of each one, It doesn't matter what kind of business you have. You will get tailor-made services. A professional Form Processing Service can provide an excellent conversion rate in a minimum timeframe. They enable the user with a set-up environment that is favored to communicate faster and to convert forms into multiple formats as per clients' needs. There are many local methods to convert Forms into different formats but all of them can really be a tedious job on their own.
How ITS Can Help You With Form Processing Service?
Form Processing Services at ITS, are catered with the best conversion experts in town. If you are short on time and have really tight deadlines to meet at regular intervals then look no further than us. Our services are celebrated by our thousands of clients from across the world. ITS Team is fully conscious of your requirements and needs to boost up your business. In addition, we also take control over your desired outsourcing plans at economical rates with lead professional service providers. At ITS, the combination of highly skilled staff and the latest technology along with the consistent enforcement of the quality standards helps to ensure very efficient and smooth form processing in a short period of time. You can rest all the tough work on our shoulders and feel the pleasure of having everything well sorted and compact in your asked formats. If you are interested in ITS Form Processing Services, you can ask for a free quote!