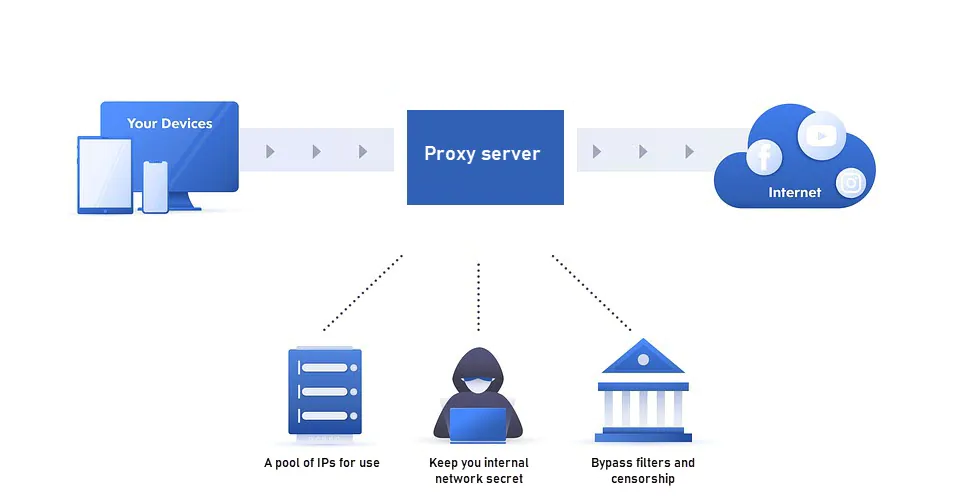 What Is A Proxy Scraper? Best Proxy Scraping Tools In 2022
Are you in search of a reliable proxy scraper that will get you free proxies available on the Internet just for you? Then wait no further because in this blog you will discover useful proxy scrapers for both coders and non-coders. Nowadays digital marketers can not go a day without proxies. If not for search engine optimization (SEO) they use it for monitoring other brand product analytics and carrying out easy market evaluation procedures. Those that are unable to use proxies get affiliated with a service provider that uses proxies. Directly or indirectly proxies are quite useful for businesses that seek market research regularly.
Unfortunately, many high-quality proxies can be costly and according to the size of your project can cost you a fortune. On the contrary, there are also free proxies available on the Internet that you can use bravely for several marketing tasks. By reading this blog till the end you will find the right proxy scraper for you that has the quality and features that can get the job done. The process of finding and testing them is very hectic but you can easily automate the whole process by using proxy scrapers.
What is a Proxy Scraper?
A proxy scraper is an advanced web scraping tool that is used by marketers to extract proxy details from various websites. However proxy scrapers range in features for example some can identify misconfigured servers that can be used as potential proxies. Apart from extracting proxy details, you can also test them using a high-quality proxy scraper.
Proxy scrapers are automated bots that can cover up the whole process and provide you with workable proxies. Not all free proxies need to be blocked. Many high-quality proxies are employed to access Google and other popular search engines with anti-spam systems. Although it takes a lot of time to find reliable proxies this is the main reason you must be constantly looking for new ones as the ones that you are currently using can become inactive. Another worthy note feature of proxy scrapers is their filtering tool which helps filter out proxies according to your project criteria.
Best Proxy Scrapers Available in the Market
There are many high-quality proxy scrapers available in the market that range in their level of competence. While the highest level ones come with a price tag whereas some are free to use. Many proxy scrapers are downloadable as a single desktop application and some others are installable in the form of scripts.
Free Proxy Scraper Software To Scrape Free Proxies
The proxy scrapers mentioned in this section of the blog consist of installable software with graphical user interfaces (GUI). These can be accessed by anybody with little to no technical knowledge.
GSA Proxy Scraper
GSA Proxy Scraper is the number one scraping software available right now in the market. The software is installable on Windows (OS). You can easily get familiar with this tool and harvest hundreds to thousands of free proxies effectively. Not only this you can even test the proxies to check if they are reliable or not. Using this tool you can get a daily dose of free proxies to carry out your day-to-day business tasks.
You do not need to add proxies for this potential proxy scraper as it scrapes proxies for its safe usage on its own. GSA Proxy Scraper is an all-rounder tool that provides filtered proxies, helps to rank your business websites, and increases your position on the Google Page Rank System. Its popular feature is the Port Scanner which allows you to find free proxies that are not publically available on free proxy websites.
ScrapeBox
ScrapeBox is another popular SEO tool that helps to scrape hundreds of free proxies. One important feature of the ScrapeBox Tool is that you can enjoy access to ScrapeBox Proxy Harvester. Once you pay for the ScrapeBox tool you will also be granted access to this viable tool. The Proxy Harvester tool will enable you to scrape as well as test proxies on the spot. It supports a commendable filtration system to allow you to filter proxy lists based on port, speed, and country. The tool supports its scraping proxies and is a fully automated solution to which you can add your sources. The software is compatible with Windows.
ZennoProxyChecker
The ZennoProxyChecker software is best suited to a beginner owning to its simple user interface. By using this tool you can scrape the Internet by automatic search alongside free proxy details for your business deals. This proxy scraper comes with a price tag but provides exceptional features with a free trial run option to prospect users.
This tool fetches all available proxies and also runs many tests to provide you with ready-to-use proxies. ZennoProxyChecker is based on a special algorithm to optimize your proxy parsing processes it has a built-in anti-bot system that bypasses blockages on proxy listing websites, this way you can easily integrate hundreds of proxies. For your information, this tool has been around for more than 12 years and is operational only on Windows.
Somiibo Proxy Scraper

Somiibo is another trustworthy automation tool that is acknowledged in the social media market space. It is interesting to note that this proxy scraper helps you to find, test and use proxies to your delight. With this tool, you can scrape hundreds to thousands of free proxies and keep the quality up to the mark.
This tool supports proxies export to all portable file formats like Google Sheet, CSV, Excel, PDF, and more. Another important thing to remember is that you have to take these proxies as a pinch of salt and treat them as free proxies in terms of results too.
IP Proxy Scraper
Unlike all the other proxy scrapers mentioned in this blog, the IP Proxy Scraper is safe and free to use. This proxy scraper can be downloaded from SourceForge. It has support for both Linux and Windows. IP Proxy Scraper is light-weighted and simple to use the proxy scraper as compared to the ones mentioned above in the list. It comes with a beginner-level user interface with various powerful features that make it a high-quality proxy scraper.
How ITS Can Help You With Web Scraping Services?
Information Transformation Service (ITS) offers a variety of exceptional web scraping services. With a leading team of data scientists, we ensure high-quality data solutions for your web scraping projects. We are an ISO-Certified company that works to address all of your big and reliable data concerns. If you are interested in ITS Web Scraping Services, you can ask for a free quote!