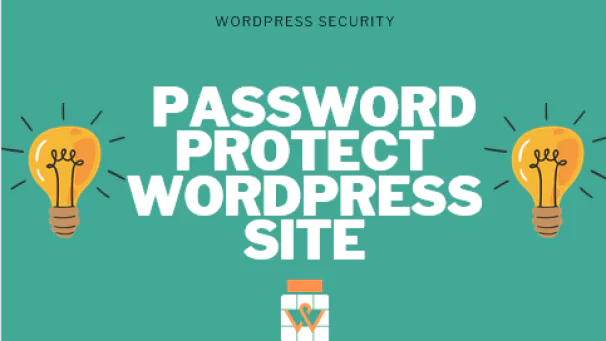 How To Set Up A WordPress Password Policy Plugin?
If you have a WordPress account, then you need to secure it instantly with a strong password policy plugin. It is important because WordPress websites are always warning of facing constant security threats. On the other hand, setting up weak security passwords can get you into more serious trouble. In this blog, we will show you how to enforce strong password security using a WordPress Password Policy Plugin. You will also get to learn both free and premium best password policy plugins available. So let us jump in without wasting a minute!
Importance of Using a WordPress Password Policy Plugin
A powerful password policy plugin will allow you to enforce your password rules on your WP site. These policies operate to enhance support for your site and make it tough for hackers to brute force or guess your WordPress site passwords. Password policy plugins reduce the risk factor of users accidentally sharing passwords with others. This setting helps users to create difficult-to-guess and complex passwords. These plugins also include auto-password expiration to keep users mindful of changing their passwords from time to time. You might also want to utilize a password manager for this purpose to manage your site passwords. Honestly, there is no one solution to cover all WordPress password policies but you have multiple password plugin options to choose from depending upon your site-specific needs. You can select a potential tool that offers the maximum level of security.
How to Secure WordPress with a Password Policy Plugin?
Here is where we begin setting one plugin and use it:
1. Use the Password Policy Manager Plugin
For this tutorial, we are using a free version password policy manager plugin.
The free version tool can help you easily sort and enforce your password policies on your site. Nonetheless, it supports a simple user interface to implement password policies completely. With this plugin tool, you can manage your accounts and passwords. In addition, you get to carry out several other important functions;
Set maximum and minimum password lengths.
Require passwords to contain a preset number of lowercase, uppercase, and numeric characters.
Set up a password expiration policy.
Force users to change their passwords after a set period.
Manage user passwords and accounts.
2. Download and Install Password Policy Manager
To install WordPress Password Policy Manager you need to navigate to your WP Plugins screen and tap on Add New section and look for 'Password Policy Manager' followed by a selection of the 'Install Now option. You can enable this action by pressing the 'Activate' button.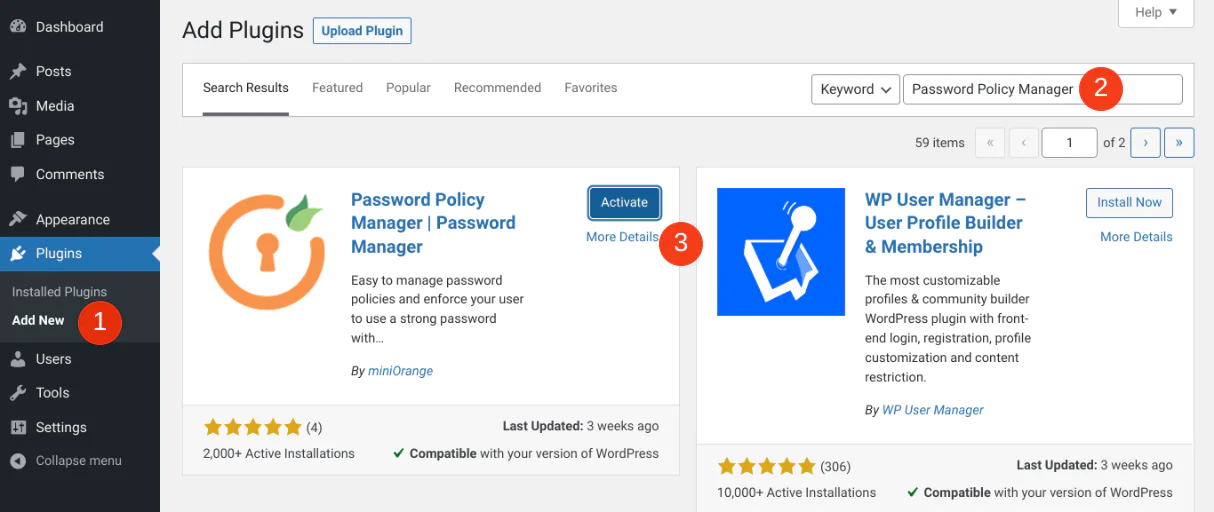 Once you activate this plugin on your site, there will appear a 'miniOrange Password Policy' menu item in your admin area.

Step 2: Configure Your Plugin Settings
After installing and activating the WordPress Policy Plugin you need to navigate to the miniOrange Password Policy to start configuring your plugin settings. There are a few important setting options and pages that you are required to visit which are going to be covered thoroughly in the coming steps.
Enable and Configure Password Policy Settings
See through the first option in the mini range Password Policy and activate the password policy settings by checking all the boxes;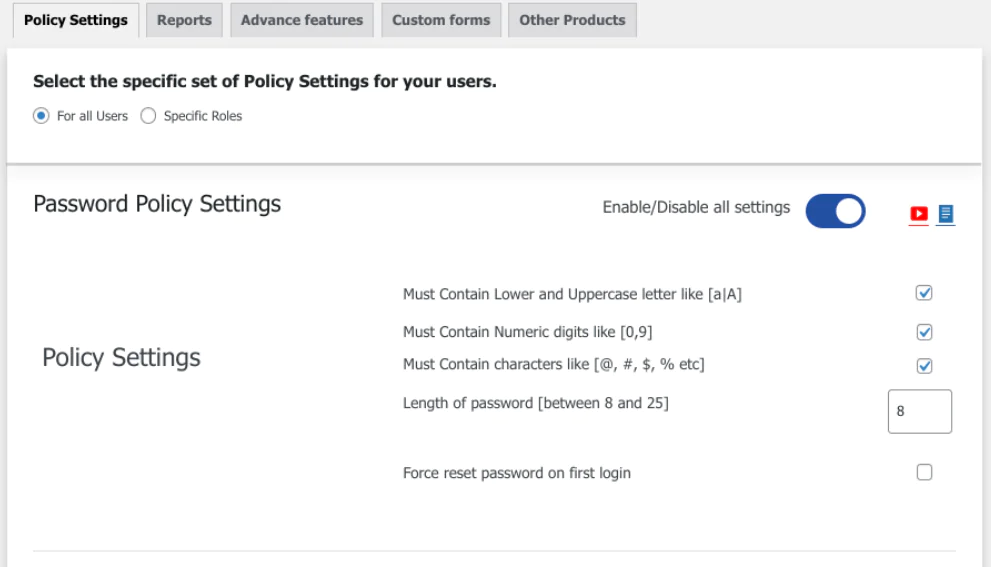 This setting will activate the password setting accordingly:
Uppercase and Lowercase letters
Characters
Numeric digits
Usually, the password length is n between 8 and 25 characters. By default, the password will be set up consisting of '8' characters you can also Force reset your password on login.
Enable Password Expiration Time
On the exact page, you can set up an accomplishable password expiration policy. To enable this feature you will have to toggle the switch present right next to the enable expiration time under the preset Expiration Time.

Keep in mind that the default expiration period is seven weeks you can change this to your liking and press the 'Save Setting' button.
Enable One-Click Password Reset
After you are done saving your new password policy you need to enable a one-click password reset option. To do this you need to select the 'Reset Password' option now. This step will help you when a user tries to log in to your site they will experience a password reset screen. All you need to do is to enter your credentials and then log in again: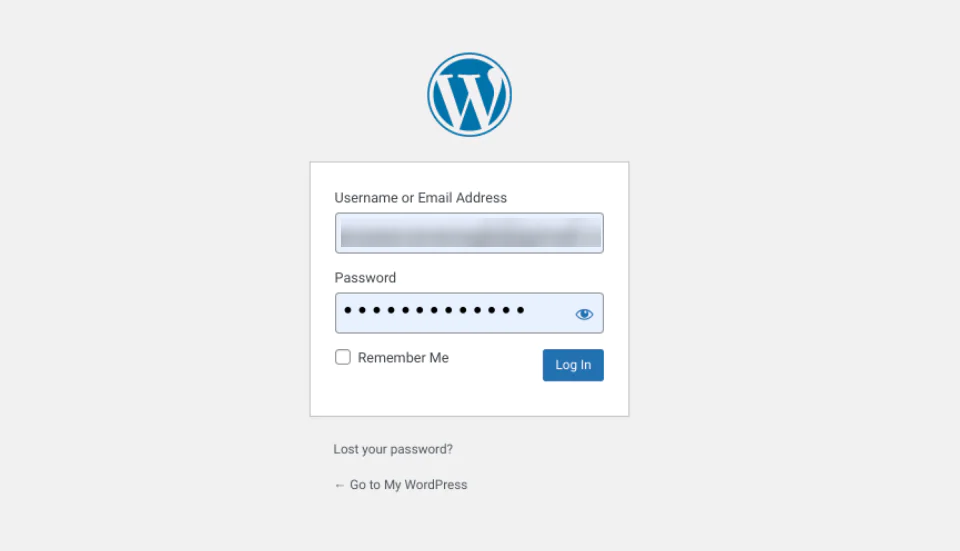 After logging back into your account you will automatically be redirected to the earlier Password Reset page. Your user will get an email with the direct link to reset their passwords.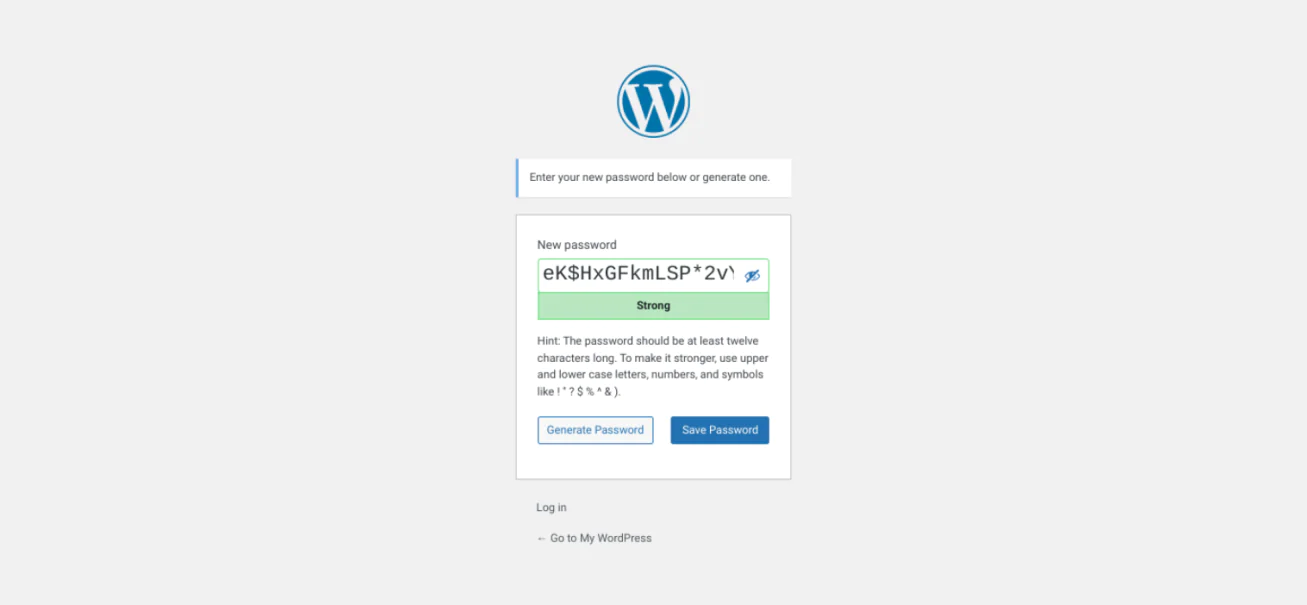 Access The Password Manager Reports
Password Policy Manager also allows you to access your user login view reports. You can easily get your hands on this data by going to the miniOrange password policy > Reports section: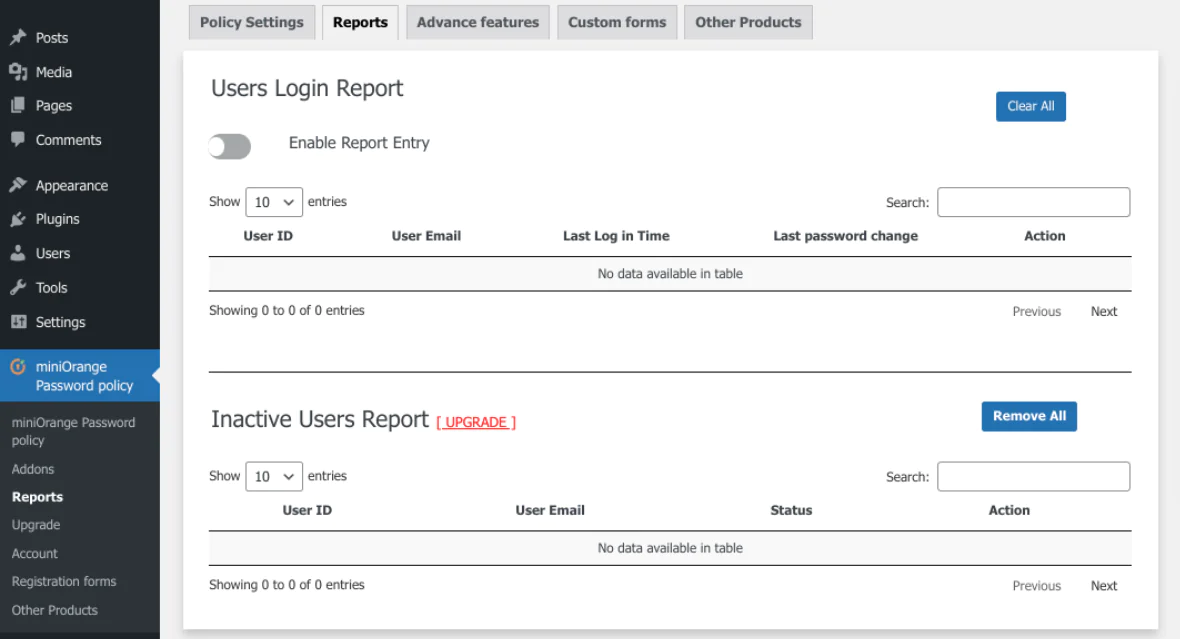 In this section, you can have a good overview of the information. This data involves the user's email, ID, login details, and password-changing history. To activate this brilliant feature you just need to toggle the 'Enable Report Entry' settings showing at the very top of your screen.
Premium Password Policy Manager
We have successfully covered the advantages and uses of the free password policy manager plugin and now we are down to understanding the premium password policy manager. It is an extension of the free version to add several advanced features to your settings.
Role-Based Password Policies
When you allow the premium password policy manager to take over, by default it automatically applies your user settings to every user. However, if you have concerns with this action you can always customize the password policies role. Move forward by selecting 'Specific Roles' from the top of your screen: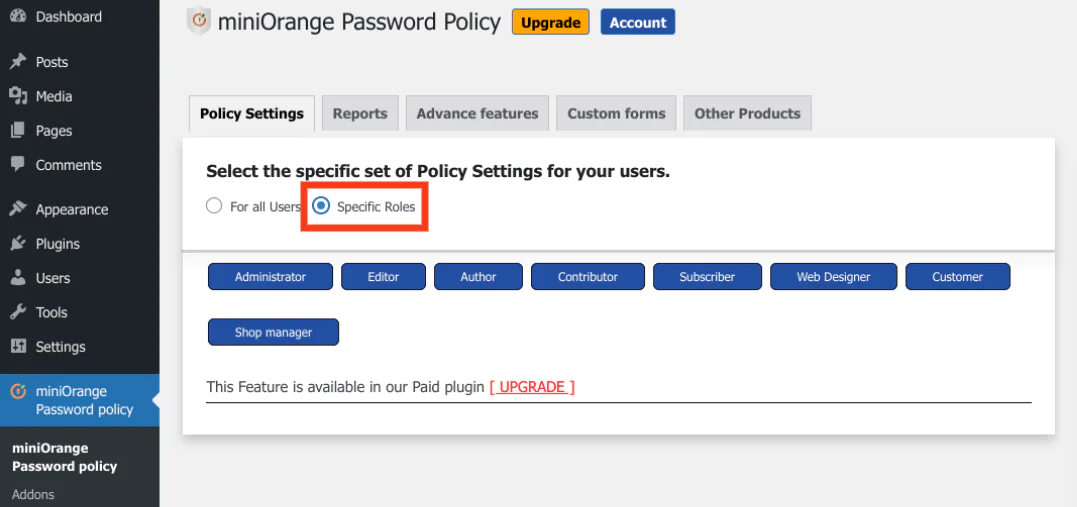 Later on, click on the user password policy setting to check specific roles, you can easily adjust these roles' password policy, one-click reset, and expiration features.
Advance Features
If you want to upgrade your password policy plugin to a premium version you will need to acquire a few additional features under the name of the 'Advanced Features' tab: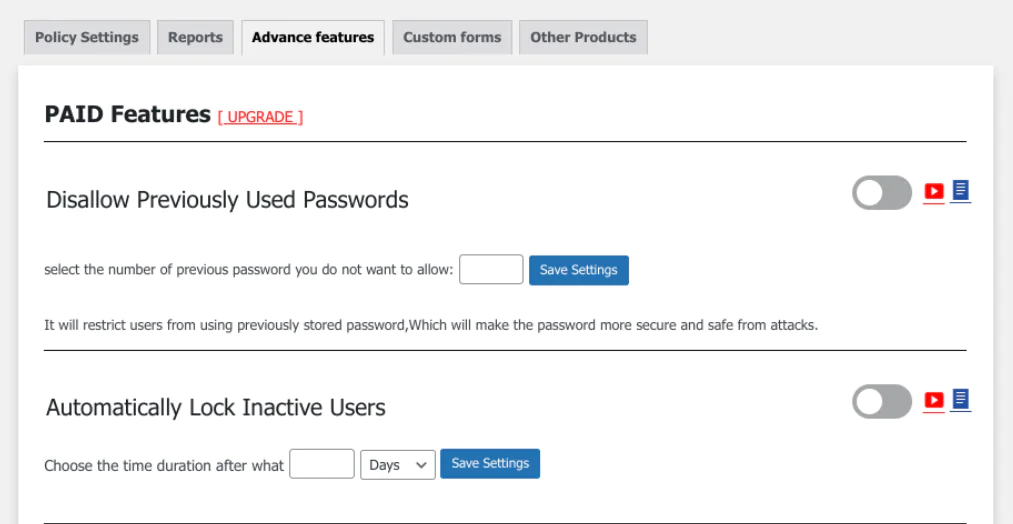 The advanced settings feature helps you to accomplish the below-mentioned roles:
Restrict users from using old passwords.
Automatically locks out inactive users after the password expiration period.
Hide the reset password link from the user login page.
Generate a complex, random, and strong password according to the set password policy in the settings window.
A lot a score or gives a password strength checker to estimate the strength of your set password.
The password policy manager pro plugin will cost you $79 for grabbing a solo site license.
Let us enlist all the best-rated WordPress Security Plugins and leave it to you to decide which fits your requirements like a glove;
 iThemes Security Pro
If you are an avid WordPress user you must be familiar with the developing team of the iThemes Security Pro plugin. The same fathers to backup buddy plugin and other many great plugins and themes, iThemes Security Pro supports an incredibly easy and simple-to-use UI for brute force security protection. Not only this, it offers two-factor authentications for another layer of security, boosts your password enforcement capacity, 404 detection and plugin scans, timely scheduled WordPress backups, and more.
Cost: iThemes Security Pro pricing begins at $80/Year.
2.  Wordfence
Wordfence is another jaw-dropping WordPress security plugin that is here to save your WordPress site from potential intruders. And the good part is that it comes with a completely free version so you can start today! Some of its basic features include, you can secure multiple sites, monitor the hacker's IP address, origin, time, and a day spent on your site sending timely email notifications, and limit failed login attempts. The feature list continues if you plan to upgrade to a pro version which lets you control all sites from a central dashboard.
Cost: The Wordfence security plugin is available in both free and paid versions. The paid version begins from $99/Year.
3.  BulletProof Security
BulletProof Security as the name suggests is a heavy WordPress security plugin that fetches you all the standard security features free of cost. In our feature list, we have malware scanning and firewalls, an easy-to-use wizard, foolproof login protection, idle session logouts, and timely email notifications.
Cost: BulletProof Security let you use its powerful features for free.
4.  All-In-One WP Security & Firewall
It is an all-in-one free WordPress security and firewall plugin that is mostly used for WP small business site protection. This tool is very basic and provides an array of useful features like Login lockdowns after repeated failed login attempts, IP filtering to block hackers, scanning of malicious patterns, user account monitoring, and generation of strong security passwords.
Cost: All In One WP Security & Firewall offers its security services for free.
5.  Google Authenticator
Two-factor password authentication is a smart way to keep your website secure from external threats. Google Authenticator among a very few other security plugins lets you enable this feature on your site. It adds extra protection to your account login. You can pick up shortcodes to make custom login pages for easy access.
Cost: Google Authenticator is a completely free tool.
Final Thoughts –
Setting up weak passwords can put your WordPress account on the verge of serious security risks. To lessen these risks and heighten your chances of security protection we advise you to set up a WordPress Password Policy Manager. This dream tool comes with some free handy features that allow easy password policy enforcement. Some notable features include setting specific password criteria for strong password creation, the generation of one-click password resets, and the addition of timely password expiration dates. All these are general features but to get more enhanced features you can upgrade your plan to a premium version at any time.