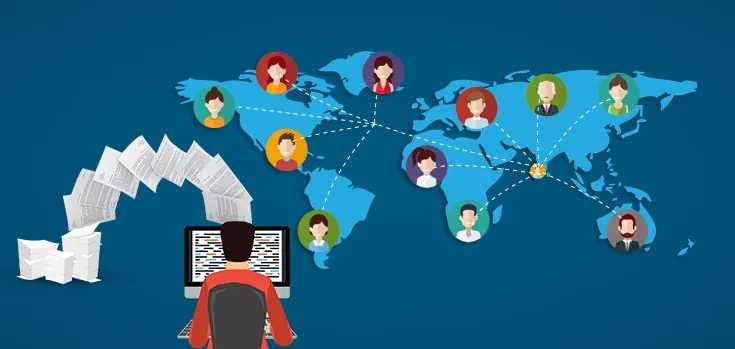 Extract and Convert Valuable Data with Professional Form Processing Service for Business Growth
From all the Form Processing Services, Form Conversion Service has gained massive popularity with an increasing trend of form filling and further processing in every domain. Automated Form Conversion assists in converting PDF formats into adaptive formats that are otherwise really hard to access. ITS is highly commendable in offering device-friendly and responsive HTML 5-based forms. You can leverage all your already existing PDF Forms and XFA to more appropriate and functional layouts.
During Layout following conversion, processes take place that is essential to convert all sorts of information present in the form both internal and external to reputable adaptable formats.
Saving manual effort is required to convert print forms to adaptive formats.
Further patterns are applied and appropriate validation is made sure off during conversion.
Generation of Document of Record during conversion.
Group commonly occurring fields into reusable form fragments.
Enables Adobe Analytics during conversion.
Supported PDF forms and languages
Form Processing Service at Information Transformation Service (ITS) supports non-interactive PDF Formats. Forms whether they are created whether for interview's sake or for loan withdrawal, AcroForms and XFA can create all such desirable formats in a blink of an eye. Latest trends in editing and conversion technology have enabled many shortcuts formation format creators such as Adobe LiveCycle and AEM Forms. The service can convert only English-language forms to adaptive forms. You can translate the generated adaptive forms to another language using AEM Translation Workflow.
Conversion workflow
Most of the conversion operations in the automated form conversion service are supported by Adobe Cloud. You connect AEM instance with forms to convert and upload them to the AEM instance. The workflow takes place in the following format.
Set up the Environment
As the conversion process runs on Adobe Cloud. Configure your organization with special reference to a Professional Form Processing Service that can provide excellent conversion rates in a minimum timeframe. ITS enables, the user to set up an environment that is favored to communicate faster and to convert forms into multiple formats as per clients' needs. There are many local methods to convert Forms into formats but all of them can really be a tedious job on their own.
Convert PDF Forms to Adaptive Forms
Structured formats with well-defined columns and fill in spaces and on the other hand forms with no stipulations can all be formatted as desired with our conversion expert team. Not only this, the formats are interchangeable anytime. From where can you get such amazing and certified services like ITS? We provide broad spectrum services for all domains and are not at all restricted to the old traditional means. ITS, believes in innovation with comfort. Hence, we provide you with excellent form processing and form conversion solutions at an affordable cost.
Review Converted Forms
All forms whether coupon redemption form, membership application form, survey forms, or Tax forms and the list goes on! ITS will benefit you with extra-defined results. With ITS by your side, there is nothing to worry about outsourcing your huge Form Processing Projects. We will streamline all processes for your organization, And guarantee the utmost level of accuracy, Will provide cost-effective solutions, Will provide an end-to-end solution for form processing which will be aimed towards enhancing the efficiency of clients' operations.
How ITS can help you with Form Processing Service?
Information Transformation Service (ITS) does not promise you empty words. With over 30 years of excellence and remarkable service our top data conversion scientists, dig through data deeply, analyze it, and stores it well in your favorite format. Being in business with renowned names in Digital Marketing, ITS can benefit you with Form Processing Service in the long run. Our services include data conversion of Data into HTML, PSP to PDF, GIF to TGA, Paper, and XHTML. Not only this but word formatting, documentation, scanning and imaging are our credential services. ITS works 24/7 round the clock services for quick turnout time that helps the client benefit for the time zone advantage.
Form Processing Services at ITS, are catered with the best conversion experts in town. If you are short on time and have really tight deadlines to meet at regular intervals then look no further than ITS Form Processing Service. Our services are celebrated by our thousands of clients from across the world. ITS Team is fully conscious of your requirements and needs to boost up your business. In addition, ITS also takes control over your desired outsourcing plans at economical rates with lead professional service providers. At ITS, the combination of highly skilled staff and the latest technology along with the consistent enforcement of the quality standards helps to ensure very efficient and smooth form processing in a short period of time. You can rest all the tough work on ITS shoulders and feel the pleasure of having everything well sorted and compact in your asked formats.
With ITS, It Is Just That Easy!