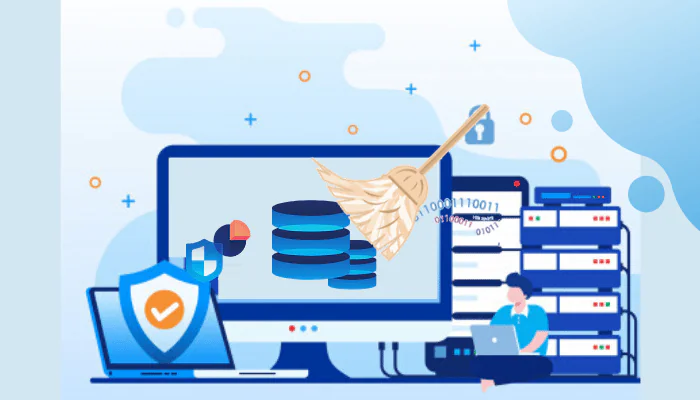 Best Data Scrubbing Software Tools In 2022
If you are planning to remove incorrect data from your company database after a long while, then stress not as there are tons of data scrubbing tools that you can lay your trust in to maintain high data quality. Data scrubbing and deduplication software apps are trending to make your data cleaning work easier by automatically removing data duplicates and other discrepancies that need to be dealt with in time. In addition, a data scrubbing tool validates your customer email information, addresses and matches algorithms, etc.
Here is a list of a few notable and trending data scrubbing software tools that will help you to maintain your data integrity to the highest level –
DataCleaner
An easy and agreeable way to employ a data scrubbing tool is by granting it access to profiles and letting it analyze your company database. The software solution will highlight all missing values, character sets, patterns, and other features of your data within a few minutes. Some of the key features of DataCleaner include;
This tool helps to detect duplicate data in the form of multiple repeated entries within the system.
You can single-handedly deal with small and big data and feed your own data cleaning rules in the software program to directly target databases.
It maintains a data quality eco-system.
Data health is uncompromised during the data scrubbing process.
Cloudingo
Cloudingo is another trending data scrubbing tool to get rid of data duplicates within one go. With this software tool, you can readily clean, scrub and maintain data records all in one system. This tool is suitable to handle business databases of all sizes. Its automation features ensure that data is scanned and updated as per pre-set organization rules.
Key features of the tool include;
Deletion of unnecessary and redundant information.
Simple and secure data deduplication.
Data validation as per company standards.
System connection via API.
Regular updating of records in bulk.
Melissa Data Cleansing
When it comes to data cleansing this is one tool that you would regret missing out on. Melissa Global Intelligence is a notable provider of data quality tools. This is an all-in-one platform for carrying out standard data cleansing and reformatting of all data types.
Key features of the tool include;
Using this tool, you can clean any sort of data for high data warehousing, analytics, and integration.
You have full control over your data.
Let's customize your data cleansing rules to standardize the data scrubbing process.
IBM InfoSphere QualityStage
Another noteworthy data scrubbing tool is IBM InforSphere Quality Stage. Using this software solution you are better able to investigate, manage, and clean databases with guaranteed results each time. This tool allows you to build consistent views of important business areas like vendors, customers, products, locations, etc.
Key features of the tool include;
It offers data profiling, data standardization, data matching, and data enrichment all at one stage.
It supports seamless information governance at all times.
Data quality assurance checks allow users to check results consistently.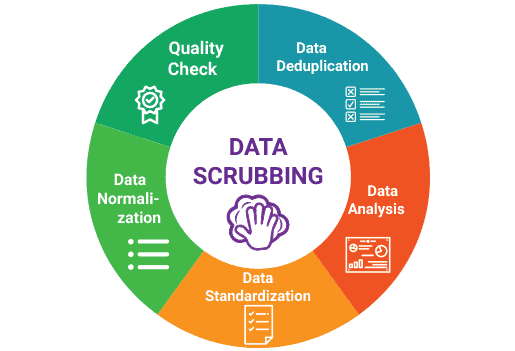 Siftrock
If you require efficient and intelligent email reply solutions for your marketing projects then Siftrock is the right tool for you. This software automates your database B2B email reply and database cleansing processes to save your time and effort. In addition, Siftrock supports automated data cleansing of databases and surfaces new leads and sales. This tool is opted for by many B2B marketing giants such as Mulesoft, Frontier Communications, Survey Monkey and Hubspot, etc.
Key features of the tool include;
It promotes data cleansing and enrichment by validating emails, signatures and phone numbers, etc.
This tool lets you sync your database with your MAP.
Reply to emails to support 2-way email engagement and manages the data all in one place.
Data mining is done from email auto-replies to ensure you get 20% potential sales.
Data Ladder
Data Ladder offers a simple and easy-to-use UI to help users professionally manage data cleansing. This tool supports Semantic Technology to manage and recognize unstructured information. Easy data classification and organization are made possible with seamless machine learning capabilities. Companies of all sizes can leverage their data-related projects to Data Ladder and reduce their company cost overheads.
Key features of the tool include;
Data ladder is an economical data cleansing tool that elevates your database quality by removing inaccurate entries, its latest feature is DataMatch which cleans data by matching duplicated information.
This tool supports matching algorithms for up to 100 million records, with high matching speed and precision.
OpenRefine
OpenRefine is an excellent solution for all those in search of open-source and free software that works best to treat messy data. This software helps transform information from one format to another without any kind of data loss. Also, you can extend its functionality by combining it with other web services.
Key features of the tool include;
One of its renowned features is 'Explore Data', which lets you search big datasets.
Rematching of data and reconciling data feature allows you to link datasets with other web services.
Using this tool you can upload cleaned information back to your central systems.
OpenRefine works 2x fast as many other data cleansing tools.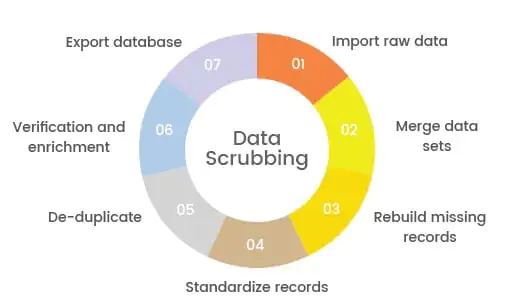 WinPure
Winpure is among top tier reliable data scrubbing tools that assist in data cleaning tasks for careful removal of duplicates and inconsistent data. This software solution is best suitable to streamline unorganized information and that too in a large amount. Now you can clean data related to marketing, emails, databases, spreadsheets, CRM, etc. Moreover, it is a testified fact that Winpure is a high-quality and professionally acknowledged tool that has won many awards on international forums.
Key features of the tool include;
It provides full customer service support.
Assists in accurate data matching with advanced data cleansing capabilities.
It supports an easy-to-use user interface and can be accessed without any professional-level training.
The multi-lingual edition is also available over the Internet.
Super affordable data cleansing solution.
Conclusion –
If you happen to work or are associated with a field of data management in one way or the other you will be well aware of the importance of data cleansing. It is something that is required to be done to maintain our databases in a smoothly operational way. All of your data management efforts go to waste if you are working with corrupted data. As more and more businesses are taking cautious measures to cure their database of inaccuracies because eventually the success of companies is linked to high-quality data. Information Transformation Service (ITS) delivers efficient Data Cleansing Services 24/7 around the clock to solve all your bad data problems. If you are interested in ITS Data Clean-Up Services, you may ask for a free quote!