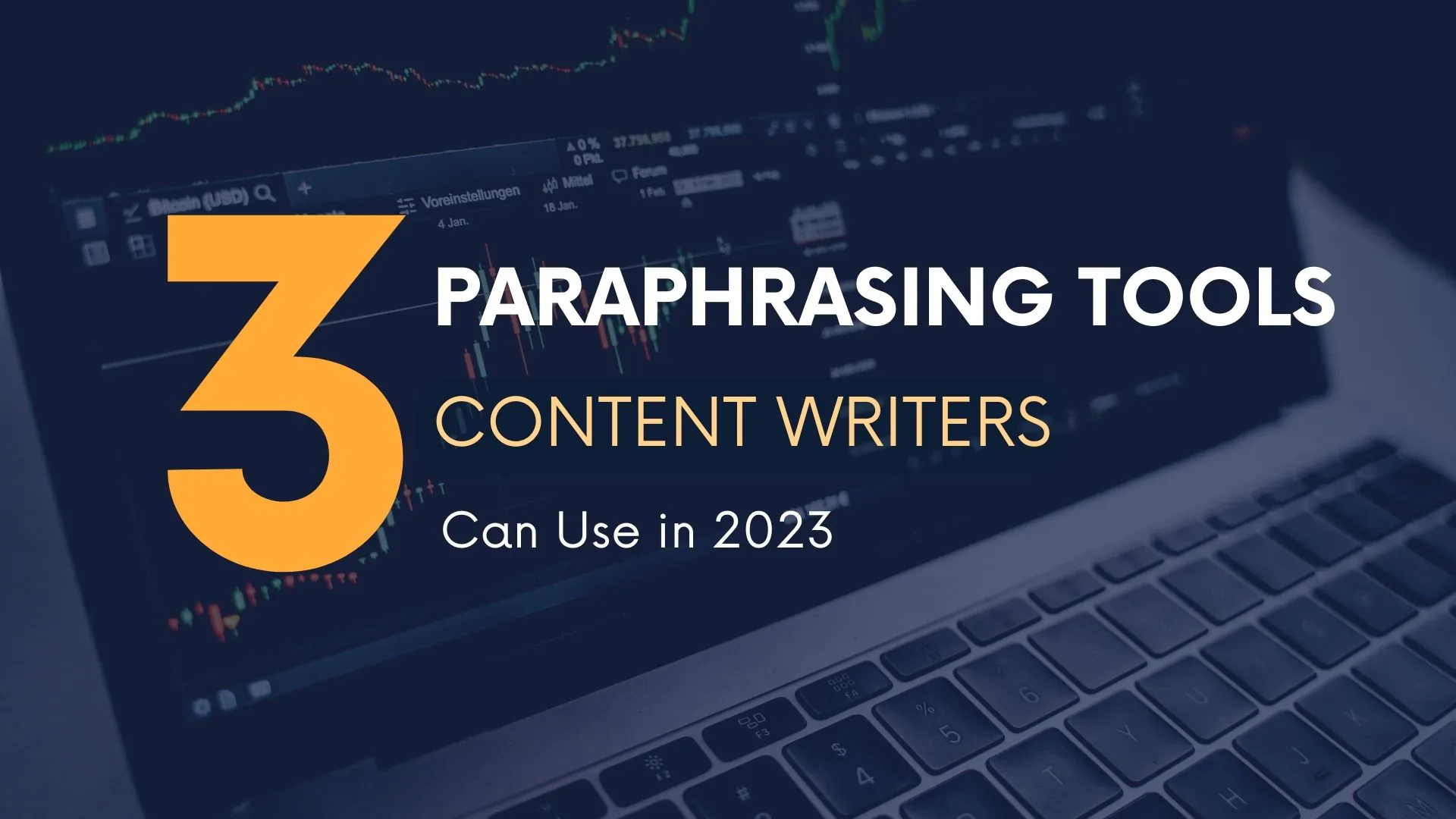 Your content must be original and high-quality regardless of whom you are writing for or what sector you are working in.
Google penalizes duplicate or poor-quality content, so you must always ensure it is up to the mark before publishing it on any platform.
Today you can find content written on almost every topic and category, which is why it can be hard for you to come up with something unique.
No matter how much expertise you have in writing, there is always a chance of similarities in your work with another person's write-up!
This problem can be tackled with the help of the paraphrasing technique.
Paraphrasing refers to explaining already written content or ideas in your own words that are different from the original.
Manually paraphrasing content requires much time and effort; also, your content may be flagged as duplicate.
The best way to paraphrase content today is with the help of an online paraphrase tool.
With a well-reputed paraphraser, you can ensure originality and quality in your drafts.
Top 3 Reliable and Friendly Paraphrasing Tools for Content Writers!
There are several paraphrasing tools in the market, but we have listed the three most ideal choices.
ParaphraseTool.ai – The Most Popular Paraphrasing Tool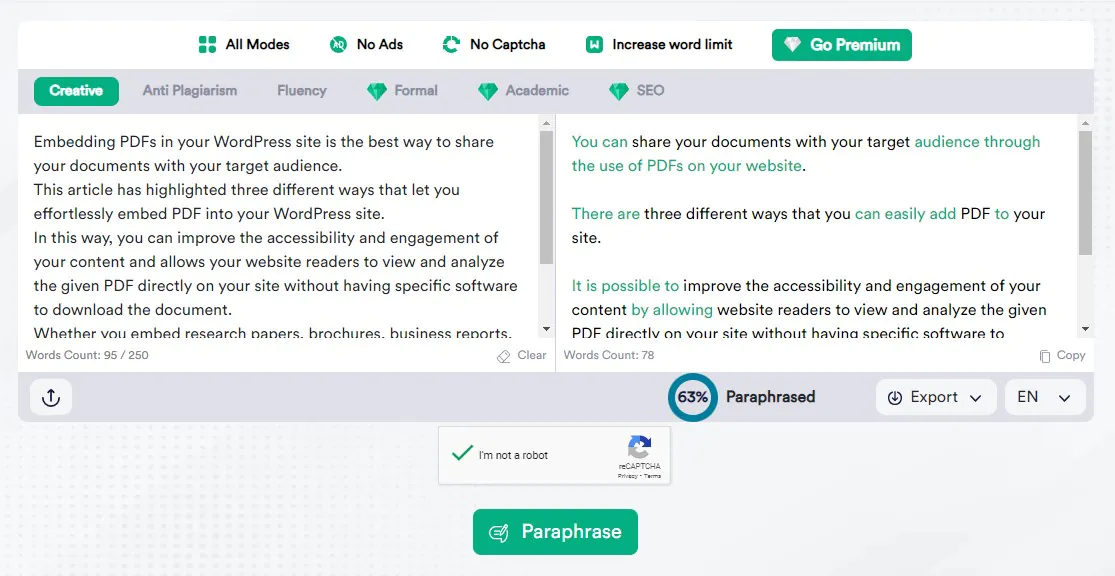 This advanced AI paraphrasing tool can help you paraphrase articles, blogs, social media posts, emails, assignments, and even dissertations.
The tool always provides plagiarism-free and good-quality content.
Paraphrasetool.ai tops the list because it doesn't just paraphrase sentences but also completes passages and even articles.
For those of you who want to paraphrase their content in different styles and tones, they can choose from the six different modes of this tool.
With this paraphraser's free version, you can recompose 250 words in one go.
The details of these modes are mentioned as under:
Creative
This is one of the basic modes all users can use.
The tool replaces words with synonyms, modifies the sentence structure, and makes other amendments to create new content.
Anti-Plagiarism
This mode is designed to create logically ordered and unique content.
The tool ensures that the content it creates is free of both intentional and unintentional traces of similarities.
Fluency
This mode is meant to make your text more fluent and easily understood.
One can change complex drafts into simple and expressive ones with this mode.
Formal
This phrasing mode is designed to paraphrase casual and informal write-ups into formal ones.
The tool would remove wordiness, slang, and other unnecessary elements from the text.
It is perfect for creating email content.
Academic
Academic phrasing mode is meant for students and researchers who want to paraphrase essays, assignments, and research papers.
The tool retains all references, citations, and quotes in this mode and creates content that meets academic standards.
SEO
The SEO mode is programmed for SEO experts and writers.
The phrased content with this mode would be unique, error-free, and have the keywords.
You can freeze keywords while paraphrasing text in this mode.
This is undoubtedly one of the smartest paraphrasing tools on the web because it uses machine learning and natural language processing algorithms to understand input content and generate new text.
The tone of the text created by this tool would always be close to a native writer.
What we liked most about this tool was that it provides unique outputs without changing the context or the original meaning.
Quillbot – Runner-Up Text Rewriter
Quillbot is another online paraphrasing tool that you might have already heard of.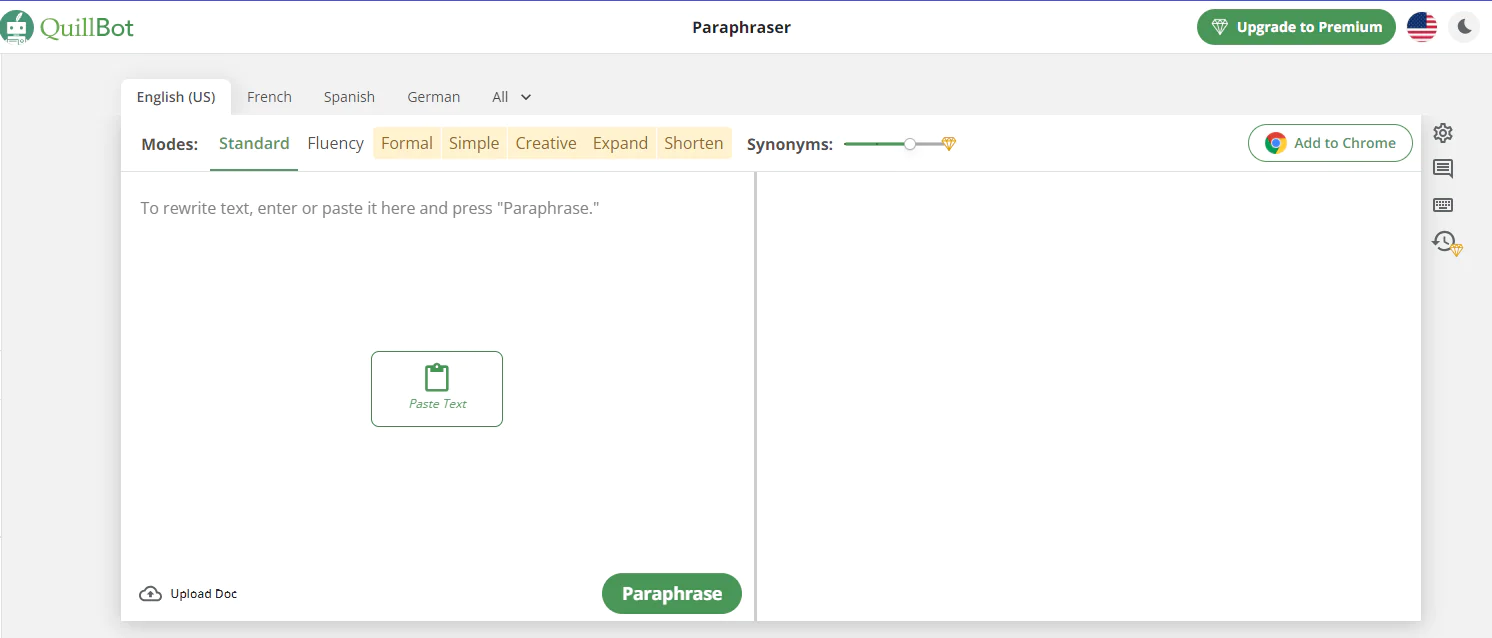 This online paraphrase tool is available in multiple languages, so it is commonly used globally.
Quillbot comes in both free and paid versions.
However, with the free version, you can only paraphrase up to 125 words in one go.
Just like the paraphrase tool, Quillbot also offers different phrasing modes.
The standard and fluency modes are available for free.
The formal, simple, creative, expansion, and shortened modes can be used under the premium plans.
The working of this tool is quite simple, and even a new user can learn how to paraphrase.
All you have to do is type or paste the text in the input box and click the "Paraphrase" button.
The tool uses advanced technology to phrase content in unique words within seconds.
The thing that we liked most about this paraphrase mode is that it lets you recompose the same text multiple times.
You can keep paraphrasing text as many times as you want with this tool.
Other than the paraphraser, you are also going to find a free grammar checker, co-writer, and plagiarism checker tool on Quillbot.
Rephraser.co – Best for Preventing Plagiarism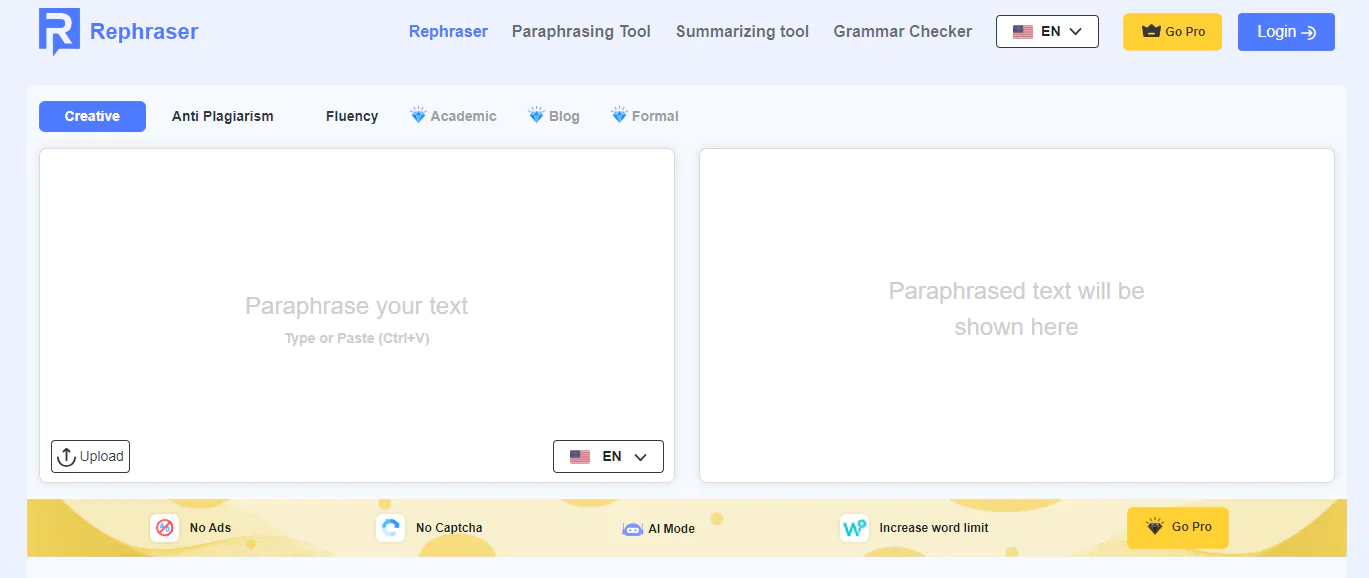 This is another paraphrase online tool that can help you revise content in better quality and can ensure uniqueness.
You will find three free modes on this rephraser, including anti-plagiarism, fluency, and creativity.
You can use these modes and rephrase up to 250 words in one go.
The content created by this tool would be free of all kinds of plagiarism.
The tool uses artificial intelligence to rewrite content in different words without changing the original intent.
The content would always be written in a very simple language and would have a human tone.
A common reader cannot detect that the new content has been generated by a tool and not a native writer.
You can use this sentence paraphraser for:
Removing plagiarism
Improving the quality of text
Creating human-like content
The tool is best for students, digital marketers, students, bloggers, and writers of all ages.
You can use this paraphrase tool on any device you want via the website.
You can also install the application for Android or iOS devices for free.
Conclusion
Paraphrasing tools are the most helpful tools for content writers in the 20th century.
Even the most expert writer can make mistakes in their content which is where online paraphrase tools can be a game changer.
These online tools can be used to remove plagiarized content, you can improve the quality of a poorly written draft, and you can also use a paraphrasing tool to repurpose an old article in different words, new style, and tone.
Paraphrasing tools are no doubt helpful assets for writers, but while using these tools, one should not forget the importance of credit.
Whenever you are borrowing content or ideas to paraphrase with these tools, you must always give them proper attributions.
This would increase the credibility of your write-ups and prevent any penalties related to plagiarism.