Benefits of Animation for the E-Learning Industry
The eLearning industry has evolved exponentially in recent years especially during this pandemic period. New technologies are refining the online knowledge-sharing process and making it more reliable than face-to-face learning. The primary aim is to deliver uncompromised education to children and youngsters belonging to remote sectors around the world. Using animations to make education more creative and interesting has become a new norm. Today, government organizations, private educational institutes, business leaders have taken a great many initiatives to promote creative education to students. For this very reason, eLearning platforms are hiring professional animators to create enticing educational animations to simplify the learning process.
Animation-based eLearning has been seen as a great source of grabbing students' attention. In educational fields such as banking, IT, science, and other animated video lectures have gained positive feedback. Research surveys predict that incorporating animation in the eLearning domain has made the learning process more engaging and interactive. You can efficiently create educational animations using specialized animation tools and integrate them into eLearning strategies.
Benefits of Animation in E-Learning Education
Animation provides a good range of eLearning benefits. It is proven research that students retain more information when they visually see the process like the ones disseminated through videos and pictures. Have you ever felt that you remember commercials more often than bookish material? This is due to the use of perfect visuals fitting the subject theme that makes us use all our senses. It helps us refine the overall learning process by making it more amusing and simple to understand. The benefits of animation for the eLearning industry include –
Breathes life into Content
Animation makes the learning process more efficient and livelier. It allows learners to absorb the learned content more reliably than to cram texts and plain books. When you add graphics, pictures, visuals to make the content more vibrant and self-explanatory the process becomes smooth. In this way, learners can trust your institution more and relate to the content even faster.
Simplifying Complex Information
The animators devise appealing and creative animation concepts to be integrated into the eLearning courses provided to learners. It allows the breaking up of information into modules to fill them with animated demonstrations to further simplify complex information. Learners can easily interpret information (complex functions) based on motion graphics. The eLearning animation technology is constantly being improved by the production and manufacturing industries. Teacher training is being conducted to make them able to teach using animation technologies and digital platforms. For instance, in automobile industries, trainees are taught how to operate using animated materials.
Securing Attention
Every business platform struggle to seek user/learner attention, traditional methods have failed to provide learners enhanced performance results. This is the reason why most eLearning platforms use animation techniques to explain content details. The best way to attract user attention is by incorporating eLearning cartoon animation. In addition, it allows learners to maintain attention during the whole session.
Explaining large Content in Less Time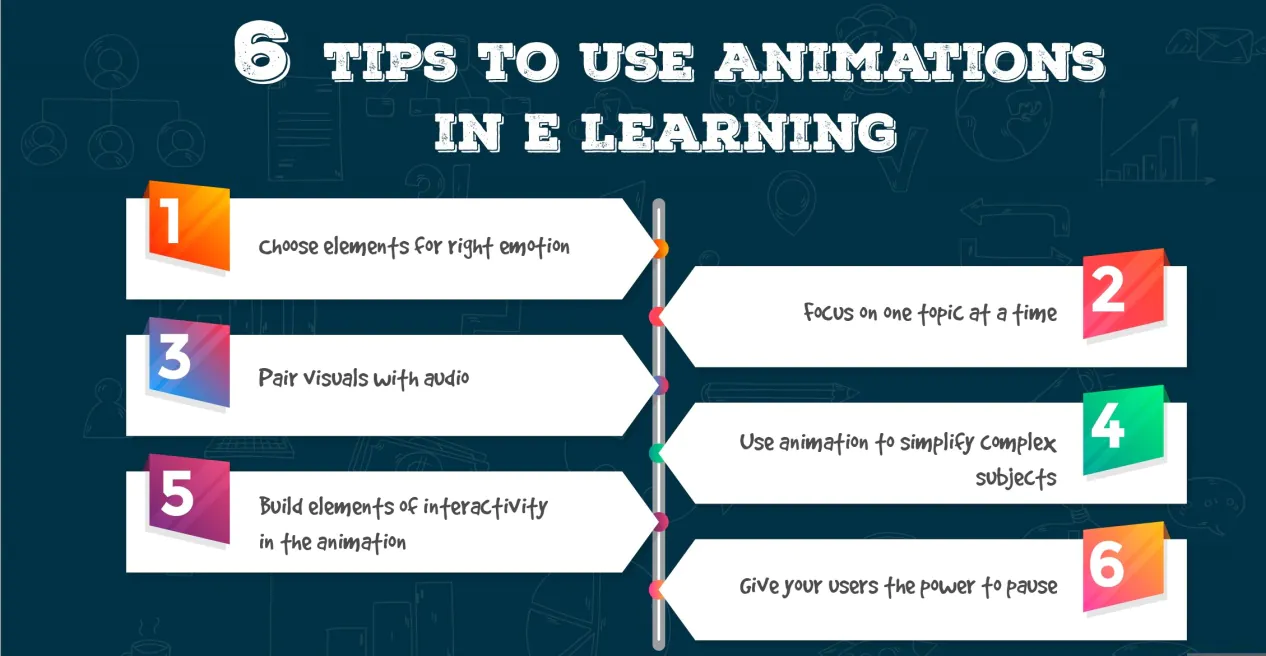 Every learner has a different tendency to understand and retain things for a longer period. Teaching complex subjects can be tough especially when you are teaching to a variety of learners using the digital medium. By using the animated material you can better explain larger concepts which otherwise would take many hours. Hence, it is in your interest to seek 3D animation services from trusted companies and make your learners become professionals with lucidity.
Powerful Learning Mechanism
Unlike traditional modes of learning, animated programs have opened a new corridor of powerful learning mechanisms for learners. The multi-sensory learning experience includes narratives, visuals, images, and so on. This allows learners to concentrate on the subject matter more than physical classes.
Demonstrating the Subject Visually
The animation course blesses both educators and learners. One of the main advantages of the method includes a visual demonstration of the subject effectively. In case your subject demands a function, task, or procedure, you can employ animation as an effective tool to trigger active learning.
Learning with Entertainment
Integrated multimedia elements within animations promote effective learning of complicated subjects. The animations can be presented simply or entertainingly depending upon the learner's age group. Professional animators come up with new variations in animations. For example, you can use whiteboard animation for educational purposes to convey the intended message to learners. The technique simplifies the learning process and makes it more enjoyable to retain subject memory.
Accessibility for the Users
The eLearning process gives you an edge in adding creative animations to the video lectures. You can even pause or rewind the animation to make students catch up from where they have left. Furthermore, animations can be changed at times adding various other smart effects. Similarly, the movement of motion graphics can also be changed. The animators often break down materials into sections to cater information like nuggets. This strategy allows the learner to get immediate access to the information through their PCs & mobile phones. If you are new to this, you might as well want to reach out to a 3D design studio for support in eLearning animation.
Easy to Understand
The learners find it comparatively easier to comprehend complex information presentation via animation. By using an animation technique content can be broken into simpler parts and becomes easier to tackle within a limited time. Students can get access to all materials at any time. All the smart animation lectures are compatible with smartphones and other digital devices. Although hard work is required in creating design concepts and developing animation, still it proves vital for students to retain knowledge for a longer period.
You can easily make use of whiteboards to reduce cognitive pressure on learners. They can take as much time they want to grasp the core concepts of the subject matter. This allows them to deal with new concepts without mixing them with other ones. Reputed service providers employ advanced eLearning mechanisms and animation software tools to create remarkable animations for every course module, therefore leveraging the best learning experience combined with learners' comfort.
How ITS Can Help You With 2D and 3D Animation?
Information Transformation Services pledges to provide you with the best error-free and accurate service that comes with quality assurance. With over 2000 satisfied customers we have all the expertise to transform your valuable data into an intriguing experience for your users. Being a member of this diverse and augmented team of professionals, I guarantee you the latest and efficient services and that too in the shortest turnaround time possible. Here at ITS, The environment and our Team are well suited to your comfort to favor communication. ITS offers ISO 2700 Certified BPO Services to make you feel, that your product and idea are in the safest hands. Not only this, we offer initial package estimate consultations to convert your interests into blueprints. If you are interested in ITS 2D and 3D Animation Service, to proceed further ask for a free quote!